I strive to keep myself busy, even when quarantine means nearly all waking hours must be spent inside. When boredom strikes, I tend to fill the void with cooking and eating. As tempting as it is to just open a bag of chips and go to town, I find it more rewarding to cook a more nutritious meal with the satisfaction that I didn't catch my house on fire doing it.
Here are six recipes that will keep you full, focused and satisfied:
Smoothies (5 minutes)
Strawberry Orange Mango
1 cup orange juice

1 cup milk

½ cup vanilla yogurt (add more for desired thickness)

1 mango

A clump of frozen strawberries
Chocolate PB Banana
1 cup milk

2 tablespoons peanut butter

1 to 2 bananas

1 heaping scoop of Nutella

Optional: 1 scoop chocolate protein powder (for a post-workout drink)

Optional: ¼ cup yogurt (if you want it to be extra thick)
Pile ingredients into the blender. Place the lid firmly on the blender. Blend until smooth.
Amatriciana French Omelette (15 minutes)
2 (or more) eggs

Salt

Pepper

2 cooked strips of thick-cut bacon, roughly chopped

¼ red onion, finely chopped

¼ cup sun-dried tomatoes OR 1 teaspoon marinara sauce

Optional: parsley
Place a medium-sized pan on a burner with low-medium heat. Lightly butter the pan.
Saute onions for 5 minutes. While these are cooking, crack the eggs into a large bowl. Whisk the eggs until whites and yolks are completely beaten together.
Gently pour the eggs into the pan. If there is a sizzling sound from the egg-pan collision, the pan is too hot. Keep the eggs moving to prevent sticking. Stir in bacon and sun-dried tomatoes/marinara sauce.
Once the eggs start to consolidate, let cook for 1 to 2 minutes.
Fold into thirds, taking a portion from each side and gently maneuvering to the middle of the pan. Garnish with salt, pepper, parsley, etc.
[Read more: Here are the perfect alcohol-pop culture pairings for quarantine]
Chicken Noodle Soup for one (30 to 40 minutes)
16 ounces of chicken broth

½ cup of your desired noodles (I use wide egg noodles)

1 large carrot, finely chopped

½ onion, finely chopped

½ stalk of celery, finely chopped

½ cooked chicken breast, shredded

1 clove garlic, finely minced

2 tablespoons olive oil

Dash of thyme

Dash of chopped parsley

Salt, pepper to taste
Pour olive oil in a large stockpot on medium-high heat. Saute onions, celery and carrots for 5 minutes until soft. Add garlic and saute for 2 more minutes.
Pour the chicken broth into the pot, and let it come to a low boil. Add thyme to the mix.
Once boiling, pour the noodles in and stir well to prevent sticking. Cook for 8 to 10 minutes until desired texture is reached.
Toss in your cooked chicken breast about 5 minutes after the pasta goes in to cook it down and tenderize it a bit more.
Take the pot off the heat, and serve. Add garnishes as you see fit. Keep the pot on low heat if there is soup left in the pot and you plan on going back for a second bowl in the near future.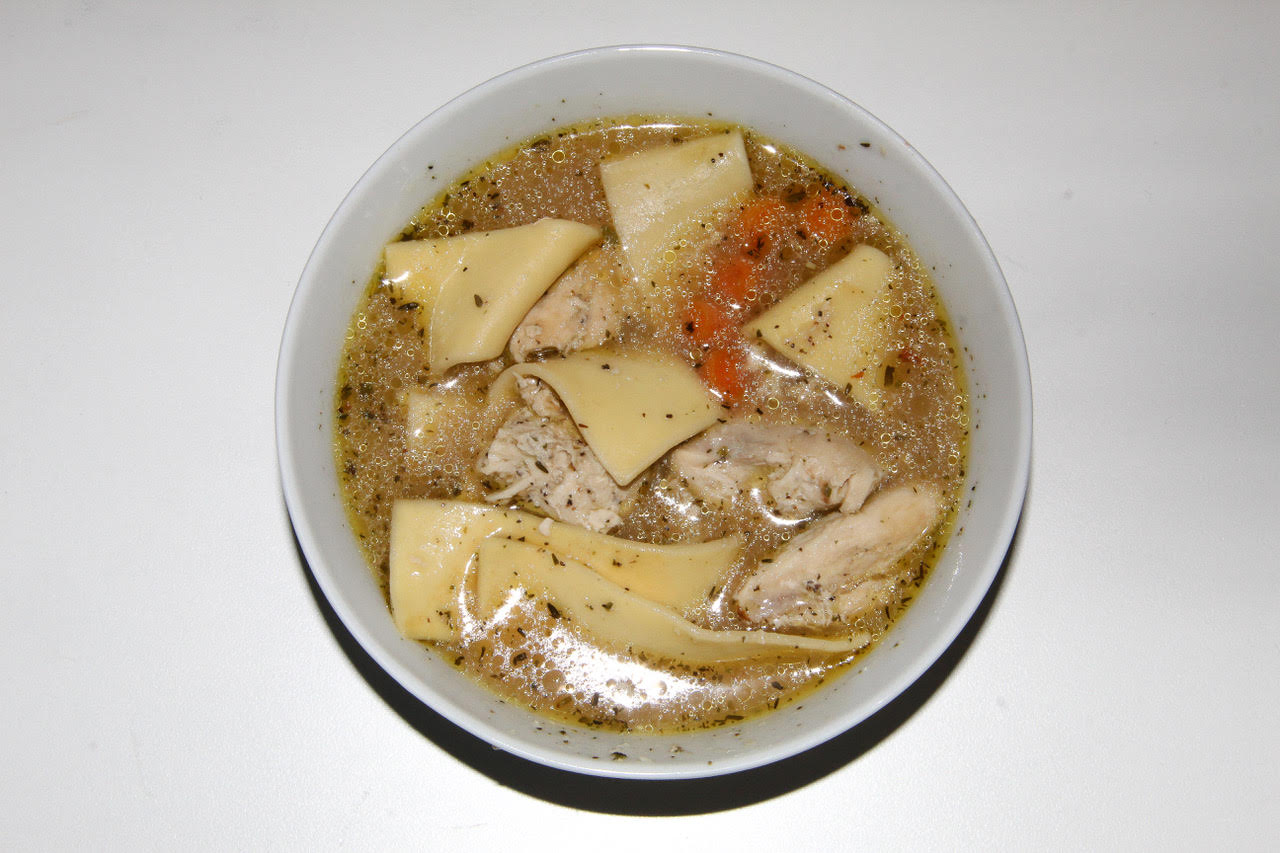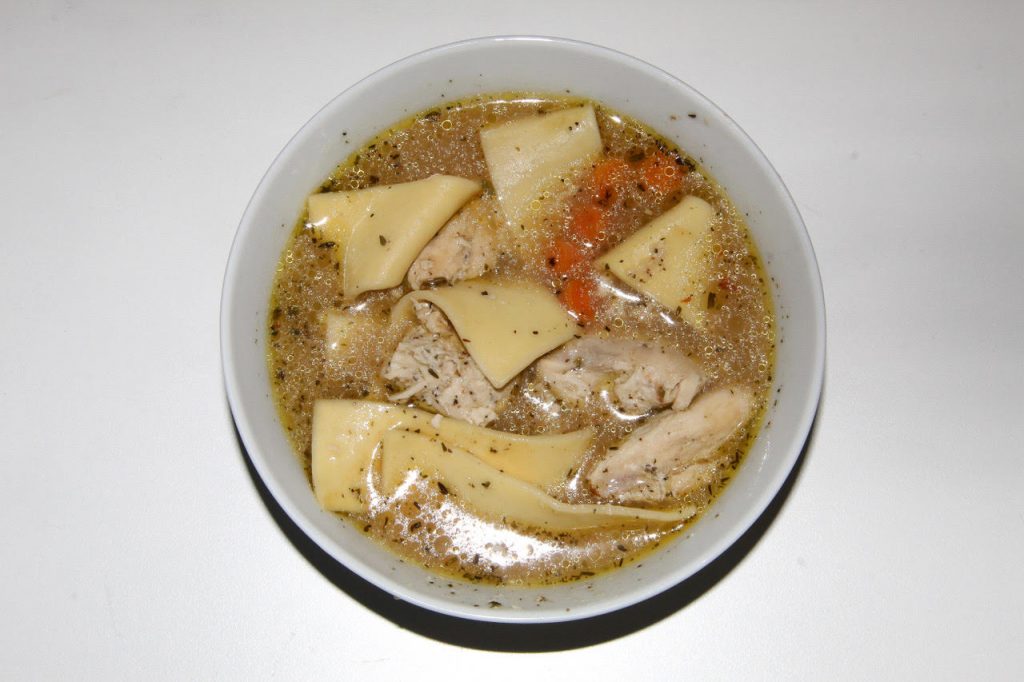 Rice & Beans (30 minutes) 
½ cup rice

2 tablespoons olive oil

1 cup vegetable or chicken/beef broth.

If you don't have broth, water is a fine substitute.

1 can black beans, drained and rinsed. Pinto beans are also a good option. 

1 clove garlic, minced

Dash of cayenne pepper

1 teaspoon onion powder.

I add this because perfecting a cooked onion's texture when cooking rice and beans can be difficult.

½ teaspoon garlic powder

½ teaspoon cayenne pepper

½ teaspoon cumin

Optional: diced tomatoes
Pour olive oil in the pan. Saute garlic for 3 to 4 minutes on medium heat. Add the rice in, and saute for 2 more minutes. Add the broth, and bring it to a boil.
Once boiling, cover the pan and lower the heat. Add black beans, tomatoes and spices, and let cook for 20 minutes.
Remove from heat. Mix well, and serve.
[Read more: Viral trends and the futility of trying]
Grilled Mac & Cheese on Cheesy Garlic Bread (15 minutes)
1 box pasta

Thinly sliced cheese of your choice

Two pieces of bread, buttered on the outside.

Loaf bread works best. 

1 ½ tablespoon butter (1 tablespoon for garlic butter spread, ½ tablespoon for toasting)

1 teaspoon minced garlic OR 1 teaspoon garlic powder
Melt 1 tablespoon butter in a small bowl. Once it's fully melted, stir in your garlic. Lightly spread the butter onto the insides of your sandwich halves.
Boil water. Lightly salt the water beforehand to prevent from over-salting later. 
Once boiling, cook the pasta for 8 to 10 minutes on high heat, stirring every few minutes and checking consistency.
Strain the pasta. While this is happening, melt butter on low heat in a pan large enough to fit all your pasta. Keep your original pot on low heat as well for when the pasta goes back in.
Transfer the pasta to the buttered pan, and stir in your preferred cheese. Give it a few stirs around the entire pan.
If you would prefer the sandwich without cheese bread, simply stir the cheese into the pasta in the same pot it cooked in, instead of the pan where the sandwich will be toasted.
Once your pasta can officially be called mac and cheese, move it back to its original pot. 
Place bread buttered-side down in the pan on medium heat. Layer cheese on the side that is face up. Toast for 1 to 2 minutes.
Make sure the pan has enough cheese sauce remnants to stick to the frying bread. Carefully spread mac and cheese onto one of these pieces of bread. Take the other piece and place on top.
Macaroni falling out of the sandwich in the pan is common. Just make sure you are careful if you want to open the sandwich and scoop more in while it's toasting.
Flip once or twice until the sandwich is golden brown and the cheese is fully melted. Remove from the pan and enjoy.