By Jonathan Tercasio and Clara Niel
Staff writers
Mitchell Wolinsky often spends four or five days each week at different Whole Foods stores, stirring two pots of chili and serving samples to curious customers. When the pots of chili — which have no meat, gluten or soy — run out, the University of Maryland alumnus drives his refrigerated truck back to his home in Princeton, New Jersey.
Wolinsky's job, CEO and head chef of Manolo's Best Farmstand Chili, a vegetarian and vegan chili company, is a pivot from his previous career in finance. But after years of working as a businessman, Wolinsky said he's grateful to finally be able to sell his own product, even if it means making less money.
"In the food industry, if you're in it for the money, you're not going to succeed," said Wolinsky, who says he hasn't taken a day off since he started the business four years ago. "It's gratifying and rewarding to do what I do — meet people, talk to them and sell them healthy chili at the lowest possible price."
Lately, though, Wolinsky has had to adapt his sales strategy as the novel coronavirus rapidly spreads across the country. He's shifting his focus to Amazon Prime, promoting his chili as an all-season food and becoming "a member, not a vendor" of the community.
"I feel that I've allowed myself to be boxed in. And now, we're going to get creative, think out of the box … so we're gonna, I'm gonna focus on e-commerce and I'm coming up with new recipes," Wolinsky said.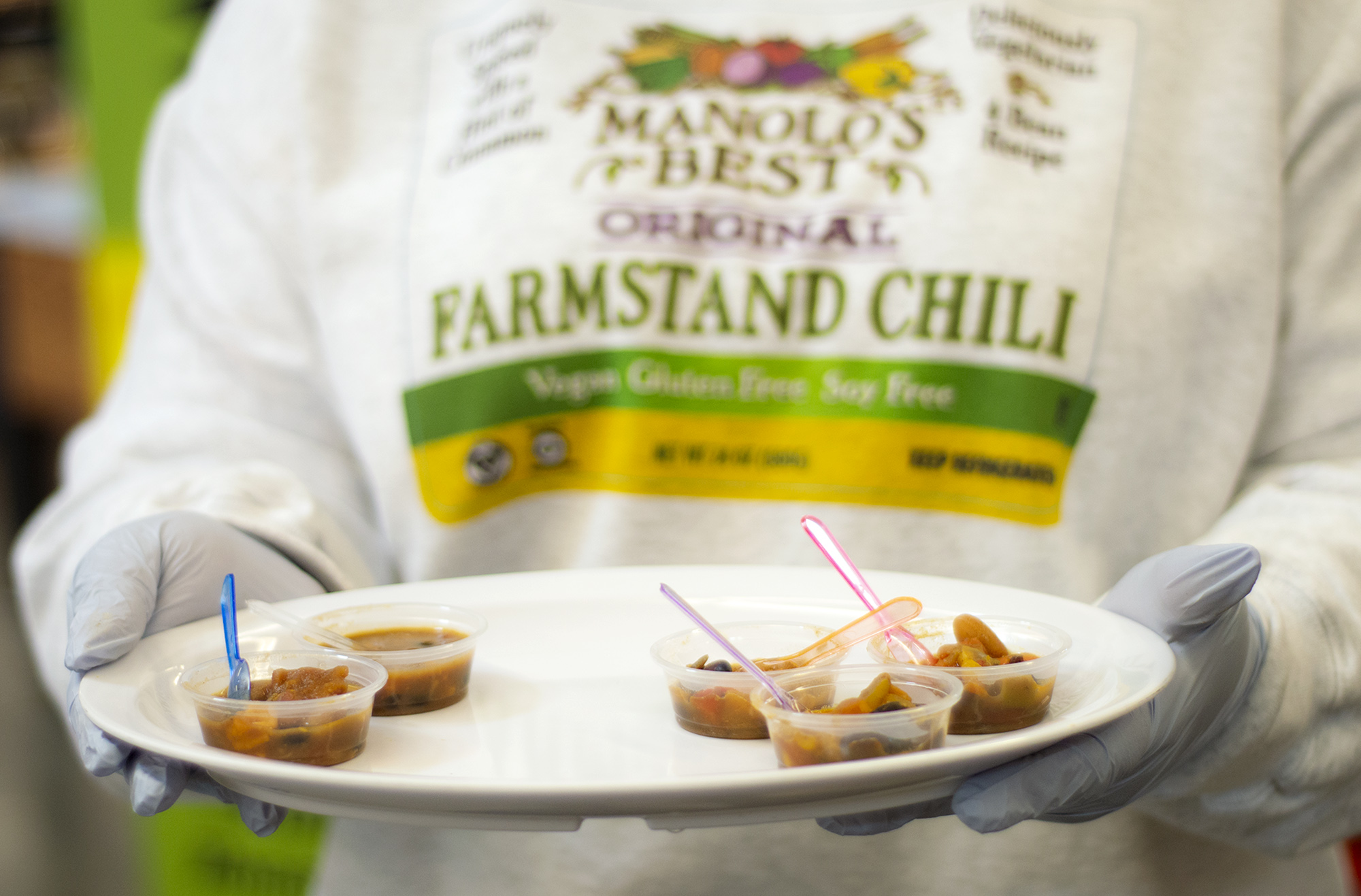 Wolinksy became a chili aficionado back in the late 1970s, when he was still at this university, studying transportation and management. He would make chili for his roommates, and they would always talk about starting a chili business after getting out of college.
Nearly four decades later, Manolo's Best Farmstand Chili is quickly becoming popular. In July 2019, two of his chilis — a sweet-potato-based recipe and a cinnamon-based recipe — went from being in 18 Whole Foods locations to 62 in just one day.
"It's hard, because I've had to learn so fast," said Wolinsky, who had no previous experience in the food industry. But he said he's gotten some advice on how to grow a business from Michael Dermer, who authored The Lonely Entrepreneur. Wolinsky now calls Dermer his mentor.
In 2011, Wolinsky decided to become a vegetarian in order to lead a healthier lifestyle. But when he went to Whole Foods and tried to find vegetarian chilis, he was unsatisfied by the selection.
"There was just one narrow column in the refrigerated food section, and I thought this is really going to be impossible unless I teach myself how to cook really well and learn all about food," Wolinsky said.
He started making his chili for friends, family and charities, but his wife, Yvette Donado, pushed him to start his own business.
Her family is the reason why he decided to include "Manolo" in his branding. They're from Puerto Rico, and when Wolinsky met Donado's mom he says she asked him for the Spanish translation of his first name.
Donado also inspired Wolinsky to prioritize inclusion in his business model — back when he started Manolo's Best Farmstand Chili, she was working as the diversity and inclusion officer at a nonprofit educational testing and assessment organization. Wolinsky's chili is halal for those of Muslim faith, and can be enjoyed by practicing Hindus who are vegetarian.
"What I've learned is that we need to embrace everyone. We need to embrace each other," Wolinsky said.
Wolinsky's chili made its debut in Whole Foods about four years ago. After he started serving his creation at a location in Cherry Hill, New Jersey — which hosts a space for small business owners to sell their products — he says the chain invited him to start selling the chili in the Whole Foods prepared food department.
Now, Wolinsky wants to give back to his alma mater by providing students with healthier options for meals. Not only is his chili vegan and vegetarian, but it's also gluten-free, and he doesn't cook with salt or sugar. He says the flavors of the soup come naturally from the spices he uses, such as curry, cinnamon, chipotle and cumin.
Wolinsky's longtime friend and investor Matt Eventoff, who graduated from this university in 1995, said that seeing Wolinsky develop his product from scratch and live out his dream is a "beautiful thing."
"It's very cool watching a fellow Terp take this to the next level," said Eventoff. "The entire team is driven about healthy eating and around utilizing high quality ingredients."
Since starting his business, Wolinsky said he's tried to put customer service first. The label on his chili includes his personal phone number, and he says many who call are shocked when Manolo himself answers the phone.
Wolinsky also endeavors to support charities and social causes with his business. His brand is partnered up with the Yellow Ribbon Fund, which is dedicated to supporting injured post-9/11 service members. He said he's hoping to hire more people who are caretakers of veterans to help financially support them.
Marie Gibson, for instance, takes care of her paralyzed husband, who was an Osprey helicopter mechanic, and works for Wolinsky at sampling events. Her husband was in the Marine Corps, serving in the Middle East.
"I'd work with [Wolinsky] every day if I could," she said.
Wolinsky said Eventoff taught him a saying: "Do good, do good." That's precisely what Wolinsky is out to do, he said.
"I'm always open. I want to support that any way I can," he said. "So, if anybody needs me and they got a legitimate charity, a legitimate reason to raise funds … sure, I'll feed a crowd."