Blair Watson couldn't wait any longer — her curiosity was consuming her further and further with each passing moment.
So, even though her appointment was scheduled for noon, she went early.
A day before, she was at the peak of her basketball life, thriving on the court in her sophomore campaign with Maryland women's basketball. The former McDonald's All-American was the Big Ten's most improved scorer at 13.8 points per game, plus-10.9 more than the previous season through the first 17 games of the year.
But, for reasons Watson can't explain, she felt something terrible coming. And when she got a steal in practice on Jan. 10, 2018, and went up for an uncontested layup, the unusual sensation she felt as she collapsed to the floor gave credence to those misgivings.
"[It] felt like a flat tire," Watson said. "It literally felt like I put my knee in a microwave and it exploded."
Now, she needed to know what the future held. She couldn't wait any longer. So, she went to her appointment early and anxiously asked a trainer to read her the results of an MRI from the night before.
"I was devastated," Watson said. "I just broke down, started crying. I was like, 'This is the worst thing that could ever happen. I can't even believe this happened.'"
The diagnosis was a completely torn ACL and meniscus, all from a fluke injury sustained in practice. It derailed Watson's second season with the Terps — one that seemed so full of promise. But it didn't derail her demeanor. It didn't stop her from growing on the court. And it certainly didn't stop her from growing off of it.
The Old Blair
Back then, Watson wasn't the expressive leader and defensive anchor of the fourth-ranked team in the nation that she was in her senior campaign, constantly communicating on the floor and a favorite interviewee of the media.
Watson described that younger version of herself as "closed off" — a shy, reserved person who didn't give much merit to her own words. Even with her newfound success in basketball, she was still a college kid trying to figure herself out.
Her hushed persona often aggravated coach Brenda Frese. She would occasionally pull Watson off the court and berate her for not talking to her teammates during competition, knowing that developing the 6-foot guard's communication skills would take her play — and the team's — to the next level.
"I think sometimes when I open my mouth, people don't really care what I have to say or it's not really valued," Watson said. "I kind of feel like I hold onto judgement a lot of what people are going to think of what I say or who I am or judge me as a person."
[Read more: Blair Watson's role is understated, but her defense sets the tone for Maryland basketball]
Sitting off the floor forced Watson to take a step back and evaluate not only herself, but also her role on the team.
She missed significant time during her freshman year, having had shoulder surgery during her senior year of high school, but this knee injury required a more prolonged recovery — both physically and mentally.
To make matters worse, after already having played more than half her sophomore season, Watson didn't qualify for a redshirt. Now, she had only two seasons of college eligibility left to make her mark on the Maryland basketball program she had appeared on track to thrive in.
"Mental health, I never really thought about it until I went through that [knee] injury," Watson said. "Getting that different perspective of the game [taught me] to always know that you have to come in with a positive attitude, because if you're not then things are just going to be that much more difficult."
The Process
Not wanting to miss a second of her upperclassman years on the court, Watson immediately got to work with athletic trainer Megan Rogers to return to game action.
The two went through a month of prehab — a process meant to reduce swelling and help regain full range of motion, which Rogers described as similar to the first month of rehab — prior to Watson's surgery, with the then-sophomore enjoying time with her cat and a newly acquired flat-screen TV at home.
Watson dedicated herself to improving what she could and vowed not to let her situation bring down the rest of the team. She lifted weights every day and saw her body become stronger and more stable as she encouraged her teammates to step up in her absence.
[Read more: Since regaining her starting role, Blair Watson has been a spark for Maryland basketball]
Having already worked with Watson once before for her shoulder, Rogers felt comfortable telling the doctor to repair the guard's knee as tightly as possible. Although doing so would likely result in her knee eventually regaining full strength, it causes more pain during the recovery process that some athletes can't handle.
Still, knowing that Watson could handle it, Rogers told the doctor, "She's good. Do whatever you have to do."
After her operation in February, Watson and Rogers worked two-plus hours a day to get the guard back up to speed. Single-leg exercises, strength training, conditioning, circuits. Whatever Rogers told her to do, Watson did with maximum effort.
"She's a phenomenal worker. … She was fun to work with because she's so athletic and such a driven and motivated person," Rogers said. "She's extremely appreciative of everything everyone does to help her."
Then came the "bending process."
About eight weeks post surgery, it was time for Watson to test her full knee flexion and bend her heel to her backside. The movement, commonly considered more painful than the injury itself, weighed on Watson's mind in weeks approaching the date.
When the time came, Rogers cranked a worrisome Watson's leg back fast while her teammates held her down on the hospital bed. She flung up screaming into the arms of forward Aja Ellison, and the then-redshirt junior consoled her.
"In those moments you kind of have a self-talk of like, 'Oh my goodness, I think this is the worst pain in my life and I don't think it can get any worse,'" Watson said. "In the months after that, I just got a whole bunch better. It was like I had that one milestone of pain and then it was like, 'Okay what's next?'"
The Struggle
Watson was cleared for full basketball activities in April, and continued to work tirelessly with Rogers to be ready for the start of her junior season. Rogers got Watson into peak cardiovascular condition and did all she could to simulate game-like situations during practice, but the mental component became the most difficult hurdle to overcome.
Frese repeatedly reminded Watson that she needed her to play and she was healthy, but the junior struggled to trust her leg. She often unnecessarily jumped from two feet on layups instead of one, which she said concerned not only herself but frightened many of her teammates.
Less than 10 months after her injury, she was back. But she didn't look the same. Her statistics dropped across the board. She wasn't the impact player on either end she once was and couldn't get out of her own head on the court.
"Her junior year, she was never 100 percent Blair," Frese said. "She had the crutch of any time she went in for a layup it was 50-50 … So it was a lot more mentally taxing on her, and she had lost a step. You can't rush that process to be able to come back and heal it."
One day, though, Watson saw a picture of Frese talking to her on the bench during a game, reminding her to focus on her play and not her injury. Something clicked.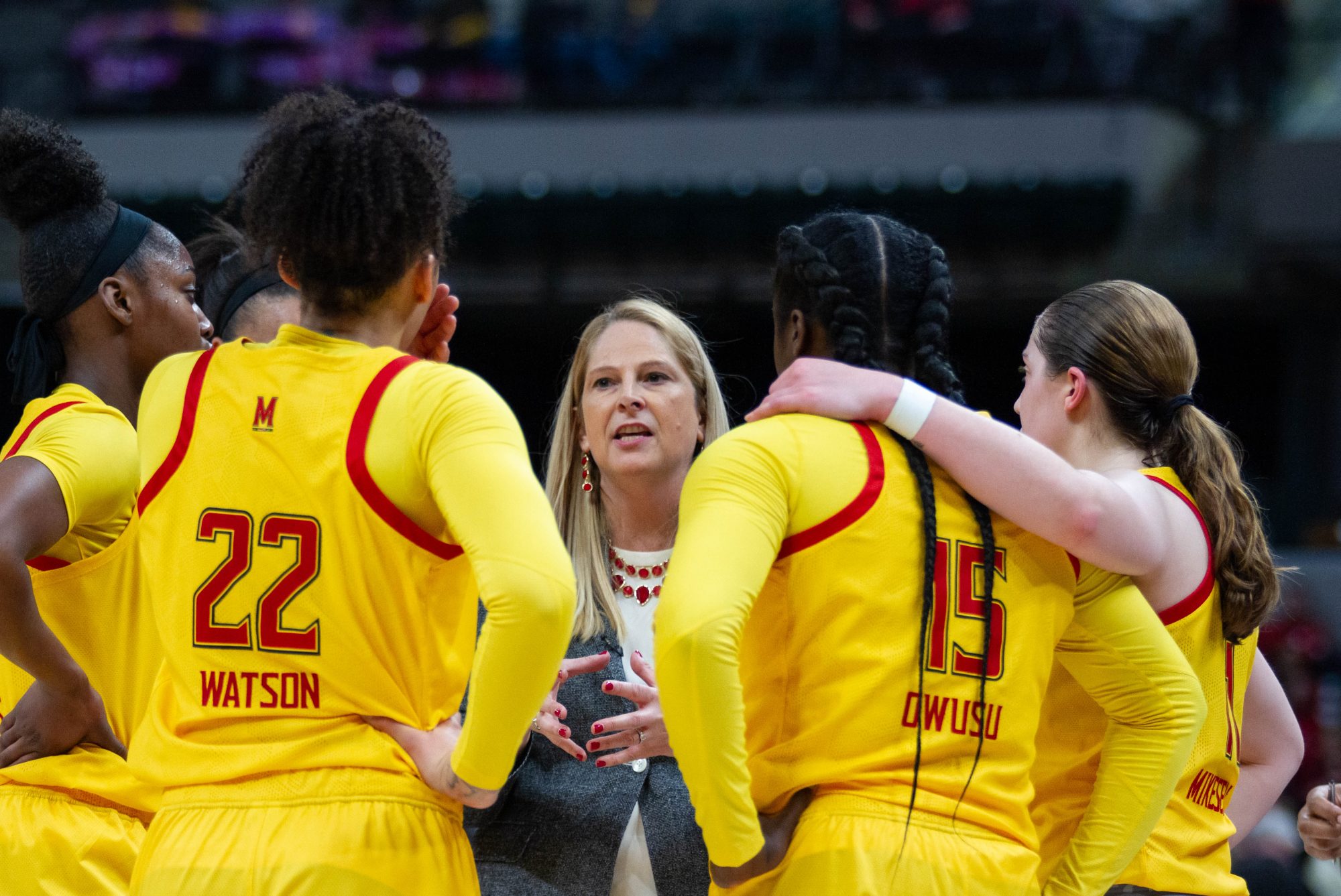 So she made the photo her phone background to serve as a constant reminder that she could be 'that' player again. Her confidence took off from there.
Redemption
The Terps fell short in the Big Ten tournament championship game and in the second round of the NCAA tournament in 2019. Frese then made the switch to a new trapping press defense and brought Watson in before the start of this season to define her role as the head of it.
"[My offense didn't matter] as long as I come out and give 100 percent on defense and 100 percent effort and then I'm having a positive attitude," Watson said. "That's all I ever wanted to do and all she ever really asked me for."
As a senior this season, Watson played her role to near perfection. She led one of the best defenses in the country to 17 consecutive wins and the conference regular season and tournament titles while averaging just under three steals per game.
Watson's efforts earned her the first weekly, midseason and yearly recognitions of her career. In her final season as a Terp she was a member of the All-Big Ten Defensive Team and Naismith Defensive Player of the Year Midseason List, received an All-Big Ten Honorable Mention and made the Big Ten Player of the Week Honor Roll on Dec. 2.
But for who Watson is now, those accomplishments don't mean much. She admits they're flattering and she feels assured that she's doing something right, but they had never seemed to be in store for her.
What Watson took away from her injury, from the hours grinding to get back only to have an up-and-down junior season, was to never set expectations.
"Once you set expectations, then you automatically set a result," she said. "[The game has] been taken away from me so many times that it's like, 'Okay, just go out, have no expectations, have fun and whatever happens, happens.'
[Read more: A year after a torn ACL, Maryland women's basketball's Blair Watson is returning to form]"
Behind that philosophy, Watson became a leader for Maryland as well as a defensive powerhouse. Where she used to fade into the background, she now lets her voice be heard.
Her hounding defensive style of play reflects that of a player who's had the game she loves stripped from her and took it back by force, racking up 91 steals this season. Watson's willingness to sacrifice offensive output for the betterment of the team helped the Terps push past their early-season woes to come together as a collective unit without ego.
"You couldn't write a better story of where she is," Frese said. "Her leadership, her spirit. She's authentic when she speaks. You get the soul of her, of who she is and how much this team means to her. Everyday I just cherish."
The Next Chapter
The abrupt ending of the college basketball season due to the coronavirus thwarts the chance of Watson making perhaps one last case for WNBA consideration, but she continues not to bother with things she can't control.
Whether it's overseas, coaching or other options, Watson desires to stay around the game. She and former Terp Sarah Myers used to joke about taking Frese's job one day, but she's positive that working with kids and seeing them light-up for basketball brings joy to her life.
No one has a bad word to say about the senior. Frese is proud of who her once-tentative player has become, and said Watson's mother thanked her in early February for how much her daughter has grown over the last four years. Rogers said she will miss working with Watson, whom she calls a "genuinely good person."
Watson said one of her friends in the area might open a gym, which she sees as a good opportunity to give back to the Maryland community she now calls home. Maybe she'll work there for a while after graduation. She confesses she doesn't know what the future holds.
All Watson is certain of now is that she's a better, happier person today than before her rising basketball stardom came crashing down two years ago. And that's all that matters to her.
"I had the best four years of my life and I could never say anything bad about it or anything bad about anybody on my team," Watson said. "Absolutely I could never have any regrets. No way. No room for them."