Will Clark didn't have time to think when the ball reached him underneath the basket. And for that, he's grateful.
He recalled coach Mark Turgeon urging him forward on the break, yelling "Go, Will! Go, Will!" So Clark figured he was open. But even then, Hakim Hart had the ball and seemed to have a path to the hoop himself, and Clark thought his freshman teammate would be the one who'd lay in the transition chance.
Instead, the ball whizzed into Clark's arms. And before he could ponder just what he was about to do, he laid it up as he had so many times before — at Loyola Blakefield, where he played varsity basketball for three years; on Eppley Recreation Center courts, when he thought pick-up games were the extent of his basketball future; for the club team, after a chance meeting led to a roster spot; and in practice for Maryland men's basketball, as a reserve piece for a Division I squad.
But he'd never done it in a game for the Terps, never done it in front of 12,989 people at Xfinity Center.
That is, until the ball banked off the backboard and fell through the rim, a mere footnote in Maryland's 30-point victory over Oakland in November with 31 seconds remaining. The two points hardly registered with the crowd, who'd just seen fellow walk-on Reese Mona sink back-to-back jumpers. The two points didn't affect the outcome of a blowout, nonconference matchup.
But for Clark, the two points represented his first official stat line as a Terp. He never thought he'd be here, not after spurning Division III interest to focus on academics at a larger school. But here he was, scoring on the biggest stage of his career. And while he didn't have time to think when the ball first reached his hands, he soon realized what he'd just done after the ball left them, jogging back on defense to see out the remaining seconds of a game long over to all but those on the floor.
"Oh wow," he thought, the gravity beginning to sink in, "I just did that."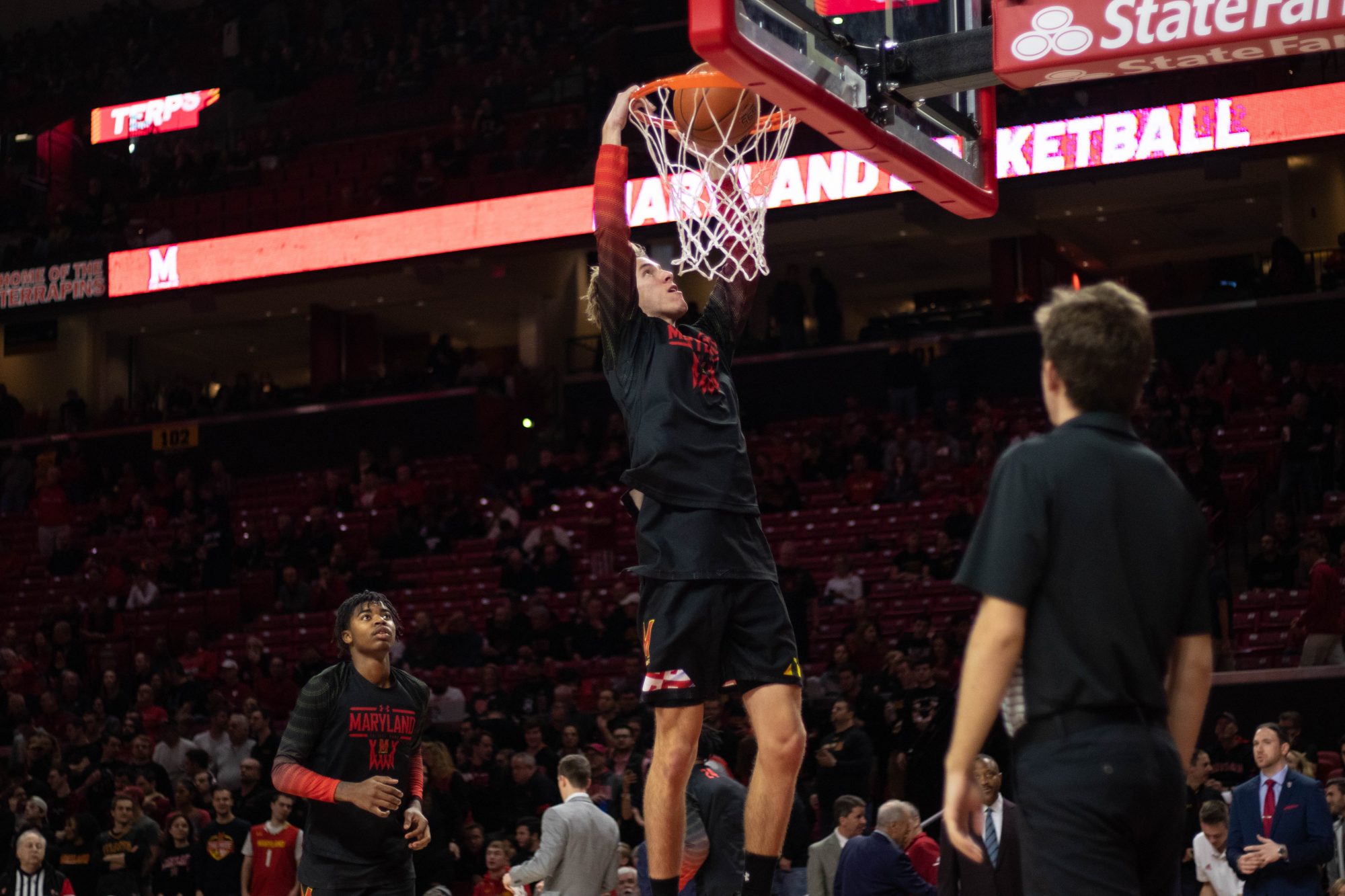 "Just playing at Eppley"
When Drew Tawiah showed up at the Eppley courts, it was for more than just a chance to play basketball. He'd look for fellow players who might have the skill — and most rare, the height — that could help his club basketball team. As the organization's president, Tawiah often approached players and gave his pitch: "Have you ever heard of club basketball? You should come play club basketball. We practice Mondays and Wednesdays."
So when Tawiah got to Eppley in spring 2017, his eyes were drawn to Clark. He saw a player with size, someone who clearly had basketball IQ and a jumper to accompany his length. He saw a player he wanted to play with.
"Why is he just playing at Eppley?" Tawiah wondered. "Why isn't he playing on an organized team?"
Clark might have found himself as part of a Division III squad rather than playing pick-up games at Eppley, but he quickly realized in his senior year at Loyola Blakefield he wanted to attend a big school.
It's a frequent dilemma for high school players who are a cut above most of their competition but aren't dominant enough to warrant attention from most high-level college programs.
"Do you go to a school that maybe you don't like so much and you're definitely going to play basketball?" Loyola Blakefield coach Josh Davalli said. "Or do you go to a school that you just love and it's a good fit in other ways and then you figure out the basketball as you go along?"
Clark opted for the latter option, winding up at Maryland and living in the small, non-air conditioned Chestertown Hall. That cramped dorm fell in the shadow of Eppley, making it even easier for him to head to the courts several times a week to continue playing basketball.
And while Davalli said Clark could've dunked over opponents in high school, yet frequently chose less flashy scoring methods, Clark loosened up at the rec center. He played a run-and-gun style, pushing the pace and pulling up from three-point range.
"Some days it's decent shooting, some days it'd be 1-for-10," Clark said. "But I was pulling it up regardless."
As Tawiah watched the 6-foot-8 forward control the Eppley court — hitting from deep more often than not on that occasion — he prepared his club basketball recruiting pitch once more.
"You never know who's watching," Davalli said. "Everything you do, there's a reason for it. And it can turn into something great if you do it as well as you can."
[Read more: "It's about Maryland": After roster turnover, Terps basketball's focus turns inward]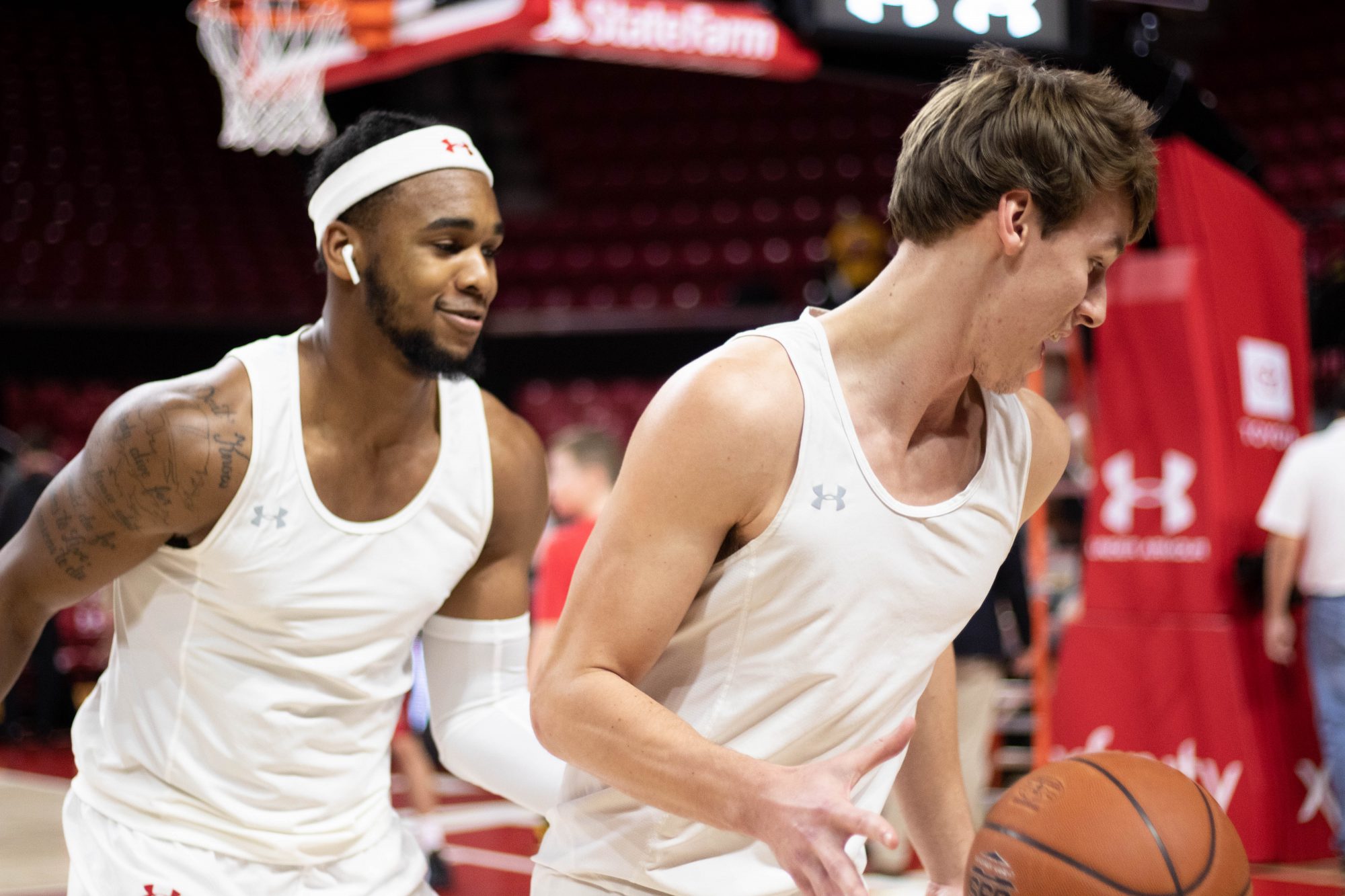 Falling into place
For Tawiah, an important goal for the club basketball president is to get the word out that a club basketball team actually exists. He'd gather phone numbers from a plethora of players, trying to enlist former high school standouts to continue their basketball careers in a more organized setting than the Eppley courts.
But he didn't really expect too many of them to consistently show up at practices. And even when he got Clark's number, he wasn't sure if the forward would appear at tryouts in the fall.
There he was, though, when club basketball picked up again. While Clark needed to make it through the tryout period, Tawiah knew there'd be a spot for him — size is hard to come by on club teams.
Once Clark made the roster, the then-sophomore hardly ever missed a practice. As part of the National Club Basketball Association, they'd play games against Virginia Tech and Georgetown, among others. And with then-Maryland women's basketball guard Ieshia Small as the club team's coach that year, Clark and others were exposed to how Division I practices were run.
As Davalli recalls, Clark can be a reserved character. He won't brag about his ability or put himself out there. But when he takes the court and plays sound basketball, onlookers notice the little things he does right — the screens, the give-and-gos, the solid defense and flashes of athleticism inside a 6-foot-8 frame.
And as Clark went about his business, the next opportunity would come to find him, just as Tawiah had inside Eppley. In addition to being a scout player for the women's basketball team, Tawiah had helped with their summer camps. During the summer of 2018, however, he filled in for a friend and helped out during the men's camp.
That's where he met Maryland basketball's director of operations Mark Bialkoski. Early the next school year, Bialkoski called Tawiah inquiring if the club team had any big men who might be willing and able to make the jump to the varsity squad as a reserve option. Tawiah's answer came easily.
He thought of the player he found by chance at Eppley, the one who showed up consistently and gave it his all each time. He thought of the big man who could splash from outside but still battle down low. He thought of the former Loyola Blakefield forward who had given up his Division III interest to attend Maryland.
"I didn't think of anybody else but Will," Tawiah said.
[Read more: No more pizza in CP: How Maryland men's basketball cuts out junk to shape up their bodies]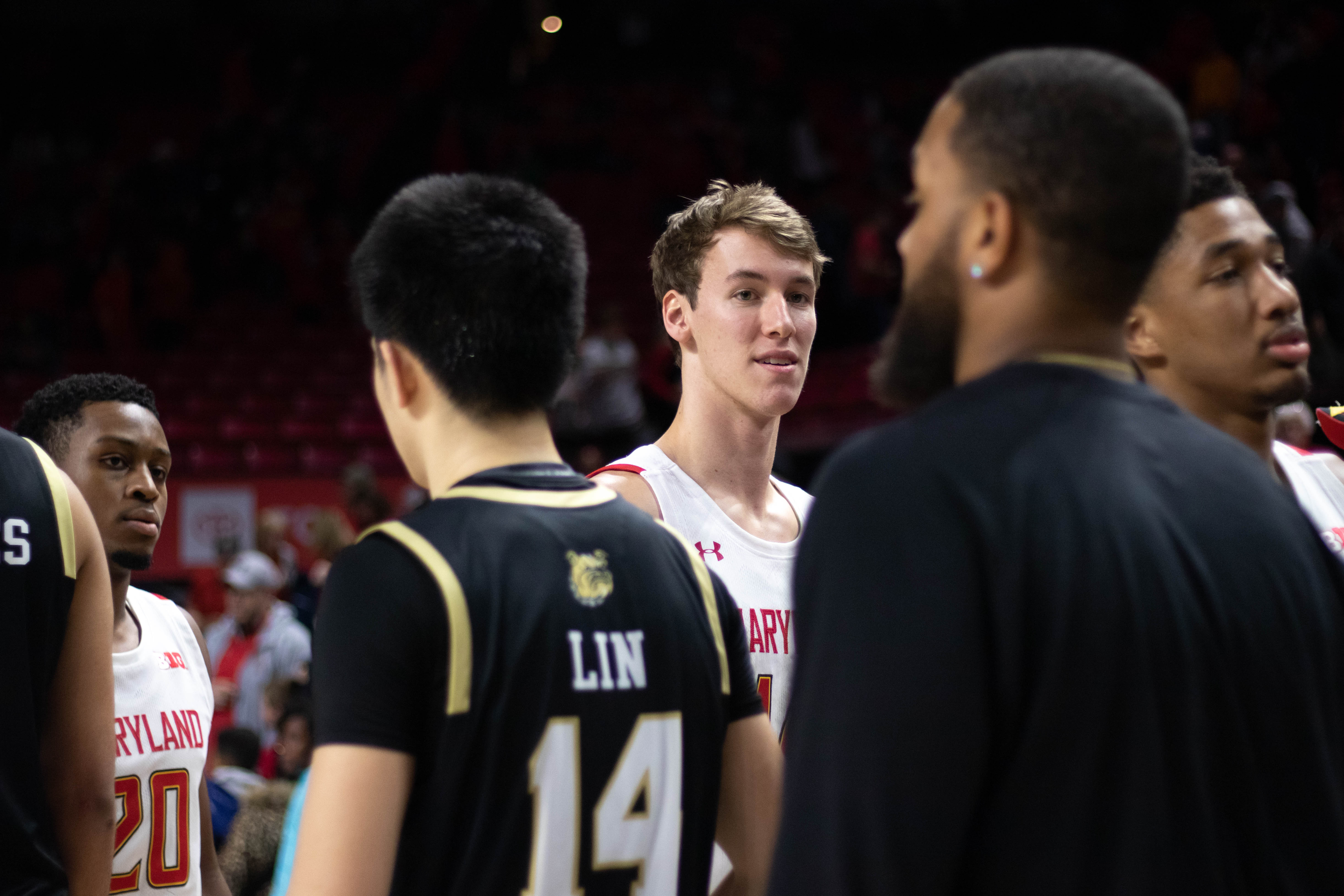 "This doesn't happen magically"
Clark stood in front of a side basket, on the Xfinity Center court for the first time. He'd been up in the stands before, looking down to where he now was. The Baltimore native had listened to games on the radio or watched them on TV growing up, too.
But now he was down there, warming up ahead of his first tryout. Clank, his shot missed. Clark was nervous. His ball went clank again and clank another time.
"All right, come on," Clark said to himself. "I've done this my whole life; I can shoot."
A lot had changed for Clark in the last few weeks, though. Before a club practice in September 2018, Tawiah remembers approaching Clark to tell him Bialkoski and Maryland basketball were interested. There was no guarantee that Clark would find a place on the team, and they didn't know when he might get called in for a workout. But for a club player, any interest at all was a step closer to a dream.
It was Clark's response that impressed Tawiah most, however — the way Clark acted as if nothing had changed. He was shocked when Tawiah first told him, but quickly reverted back to the calm and humble player he had been since joining the club team. There was no cockiness. He was all business.
And that signaled to Tawiah that he had recommended the right person to try out for Turgeon's squad.
"He's not one to kind of gloat about himself," Davalli said. "This doesn't happen magically."
Maryland needed a depth piece, someone who'd compete hard in practice against 6-foot-10, 240-pound forward Bruno Fernando and someone who understood playing time would come sparingly, if at all. Tawiah believed Clark fit that description. 
So while Clark waited for his chance with the Division I team, his club teammates worked him extra hard in practice to prepare him for what was to come.
"We knew Bruno wasn't a scrub," Tawiah said.
Clark got his chance, shook off the nerves he first felt when he took the Xfinity Center floor and competed in scrimmages with the Terps toward the end of practice as a tryout. He received a call from Bialkoski as he walked out of a night class a few weeks later. He heard the words but didn't truly comprehend them. He walked into his old dorm and talked to his roommates.
"I think I might have just made it," he said, "but I don't want to get my hopes up yet."
But the next day, when he walked into the locker room and saw official team gear piled on a seat waiting for him, his hopes became reality.
"Oh, my goodness," Clark recalled. "That's my seat. That's my gear."
[Read more: First-half run pushes No. 7 Maryland men's basketball past Oakland, 80-50]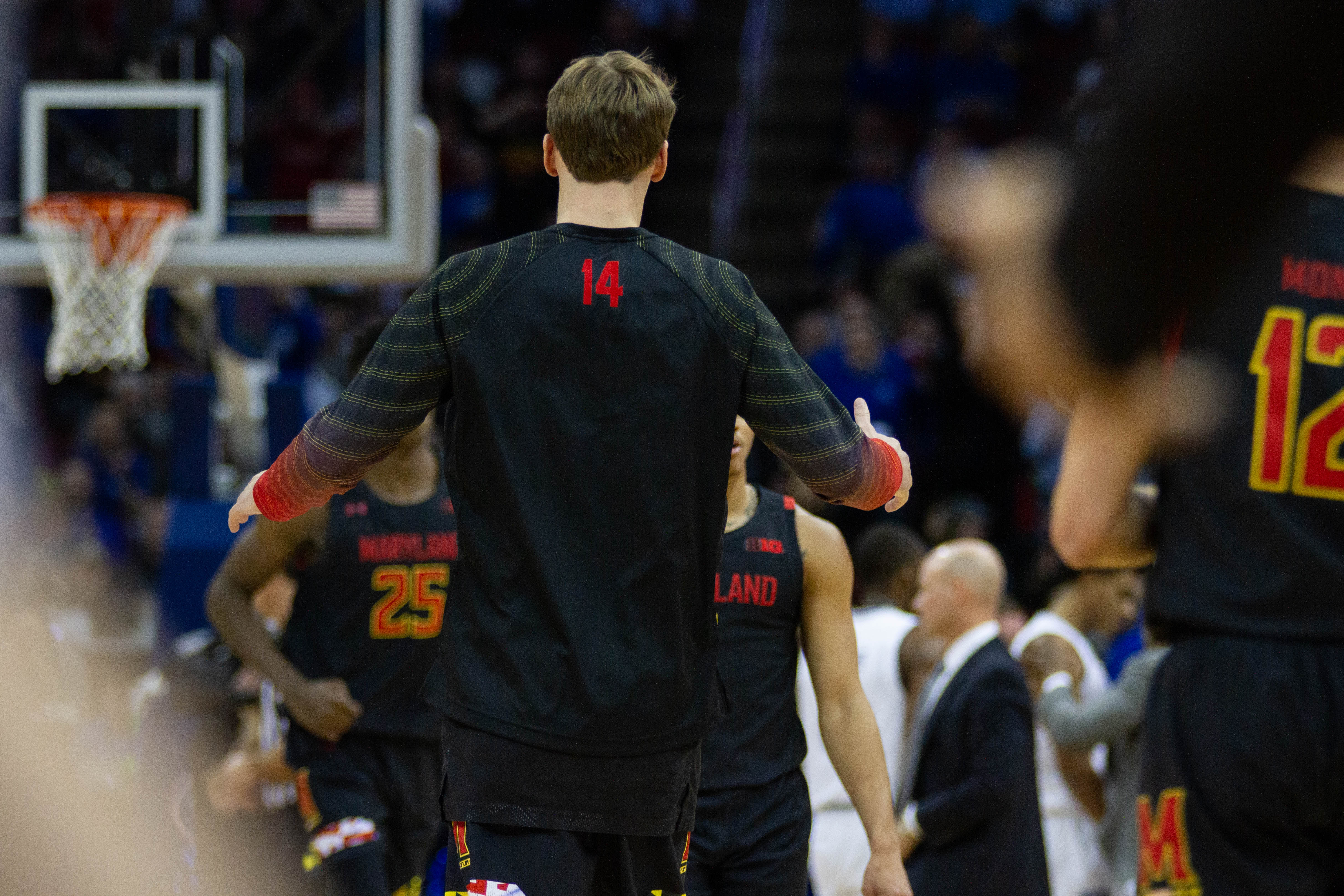 "The ultimate team player"
Once upon a time, when Clark was just a freshman starting out in College Park, he'd tell his friends his dream: he wanted to walk on to the Maryland basketball team, to keep playing the sport he loved at the next highest level.
"What are you going to do about that?" they'd ask Clark, hesitant to poke holes in their friend's fantasy. "How are you going to do it?"
Clark didn't have those answers, so he went to Eppley instead.
He would've been satisfied there, playing pick-up games and pulling up from three-point range as often as he wanted. And he would've been satisfied on club basketball, after a fortuitous meeting with Tawiah presented him with an opportunity to play the sport competitively again.
But Clark's dream — one that seemed so unattainable at first, even to himself — materialized through a litany of lucky breaks.
"It is kind of like a story tale kind of thing. But, you know, it starts with what he's able to do," Davalli said. "He's the ultimate team player."
At one point, Tawiah had dreamt of walking onto the Terps, too. It's not a unique wish, especially for local products who played high-level high school ball but fell short of the hype needed to reach Division I eyes. Tawiah never made it; the closest he managed was becoming club basketball president and a scout team player for the women's squad.
But Clark's story — and the role Tawiah played in it — satisfies Tawiah, who's now at Elon University School of Law. It also keeps a glimmer of hope alive for all those who come next, dreaming of the improbable.
"Now, they know that it's possible to do things beyond scout or club," Tawiah said. "That opportunity may never come again. But, I mean, it's gonna at least push people to stay involved with their passion. Because you never know what could happen."
As Clark jogged back on defense for the final 31 seconds against Oakland in November, the significance of what just occurred began to sink in. He's played six career games for all of 10 minutes, combined. He may not see the floor again until his Senior Day cameo later this season.
But he has those two points from his transition layup beside his name forever. And he has a lifetime of memories, courtesy of a roundabout journey to a destination he never expected.
"I was already going to be happy with my decision to go to a big college without basketball," Clark said. "So this is just a whole other level that I never imagined."