By the time a 3-year-old Anissa Mose bounded off the church stage and reached her mother in the crowd, her thoughts had already returned to the place she had just vacated.
"I wanna go back on stage," she told her mother.
In her daughter's first dance performance, Chandricka Mose had noticed it, too.
"Not to brag or boast," she said, "but she was good at it from the start."
It would ignite Anissa's love of dance, joining a competitive team and even performing on the world stage. But it would also incite conflict.
She took up soccer just three years after her first dance performance, and her skill was apparent. So while she managed to balance both passions through the years, each began to grow in intensity, leaving her with a looming decision heading into high school.
Anissa chose to invest in soccer, accepting a high school scholarship and ending her competitive dance career. While one door closed, another opened; her constant work ethic helped her enjoy a standout high school career, one that brought her to Maryland women's soccer as a frequent feature in the starting 11.
Still, the decision was far from straightforward.
"It was the hardest choice for the longest time," she said.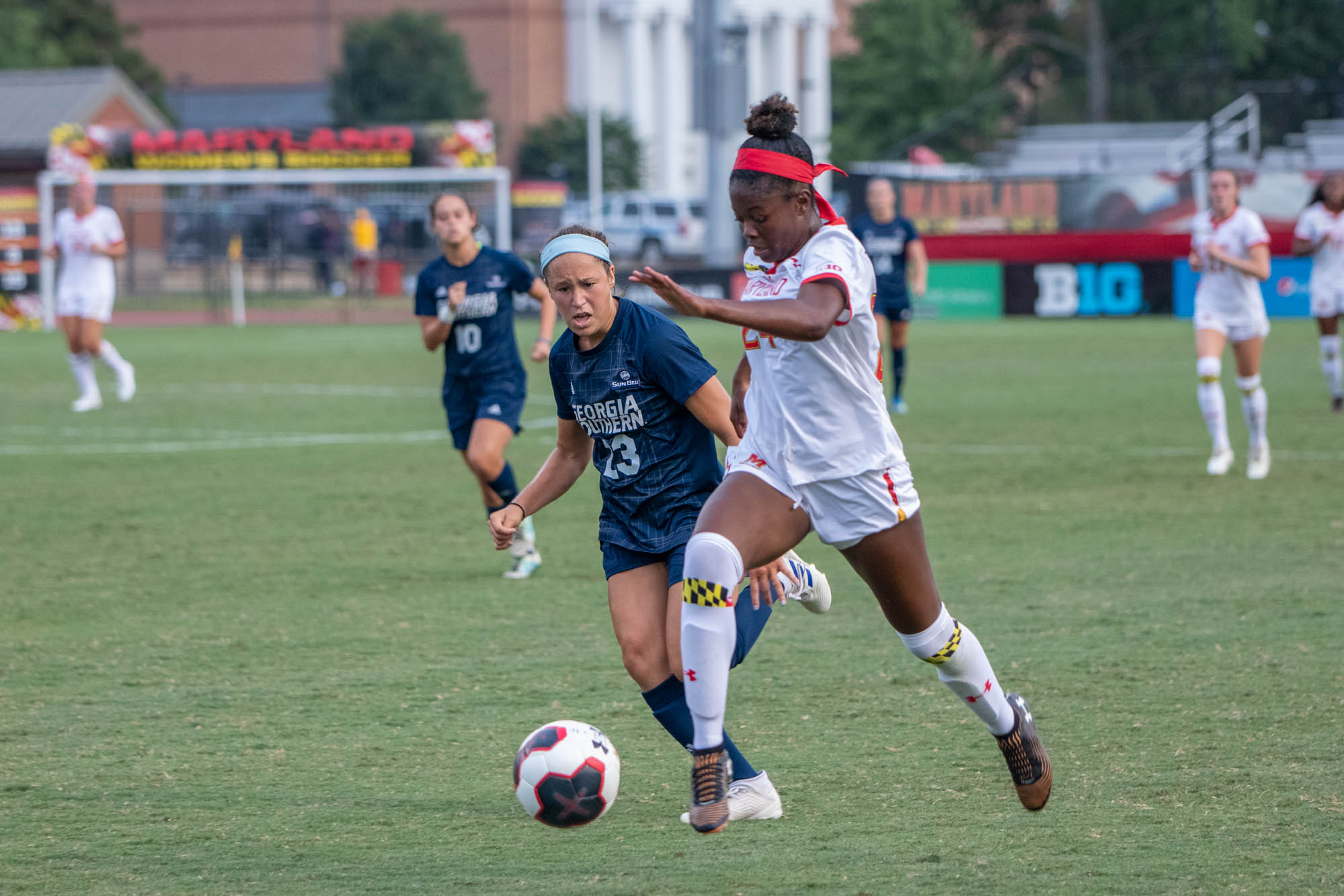 Dance prodigy
Mose's initial success as a dancer led to her taking classes at Stars Studio in Laurel, Maryland. Following a handful of lessons, she caught the attention of the studio owner, who invited Mose try out for their competition team.
"She almost had an effervescent personality on stage," Anissa's father, Carl Mose said. "She was bubbly, her smile was organic, she stood out."
At just five years old, Mose kicked off her competitive dance career.
She would typically have to learn four to five dances each year, with a mix of solo, duet and team performances. She performed a plethora of styles — such as tap, jazz, lyrical, contemporary and hip hop. Mose would practice her routines from September to December before the competition season would begin in January, taking her around the state to compete.
Soon, it would take her much further.
In 2009, Mose's team qualified for the International Dance Organization World Show Dance Championships in Riesa, Germany. The IDO is a world dance federation representing over 500,000 dancers. The group competed in Maryland and New Jersey to earn their opportunity at performing on the worldwide level.
Accompanied by her mother, Mose traveled to Germany over Thanksgiving weekend to compete on the world stage for the first time.
"I always joked that Anissa took me places … I would never have gone before," Chandricka said. "Riesa, Germany was not a place I would have ever chosen to go to, but it was magnificent. The different countries, seeing all the kids dancing … it was fantastic."
The team had been working on its routine for two years before the final product reached Germany. Mose was slated to take part in the larger production set to Aaron Carter's "That's How I Beat Shaq" and a jazz duet set to "Hit the Road Jack."
The routine was changed multiple times to accommodate a larger stage, adding more dancers and different parts. And the team began renting out separate studios to continue practice leading up to the competition.
"We practiced it constantly," Mose said. "Everybody knew everybody's parts, that's how well we knew it."
And their hard work came to fruition.
Mose's team earned the silver medal in the large production category, and she finished 16th overall in the duo category. The magnitude of performing under such an intense spotlight didn't resonate with Mose initially.
"It hit me when we won," Anissa said. "Woah, we're second in the entire world. We're from a tiny city in Maryland and we're in Germany. We just placed second in the world."
Mose returned home and continued to hone her craft. She continued to perform at a high level, and while she was seen as a quiet person by her parents, her energetic personality flashed on stage.
"I was a proud parent," Chandricka said. "It was an honor to be able to see her progress over those years. Go from a somewhat reserved [person] to this dynamic dancer who knew she could dance, and she danced with that confidence."
But with Mose's intense passion for competition from an early age, one sport wasn't enough.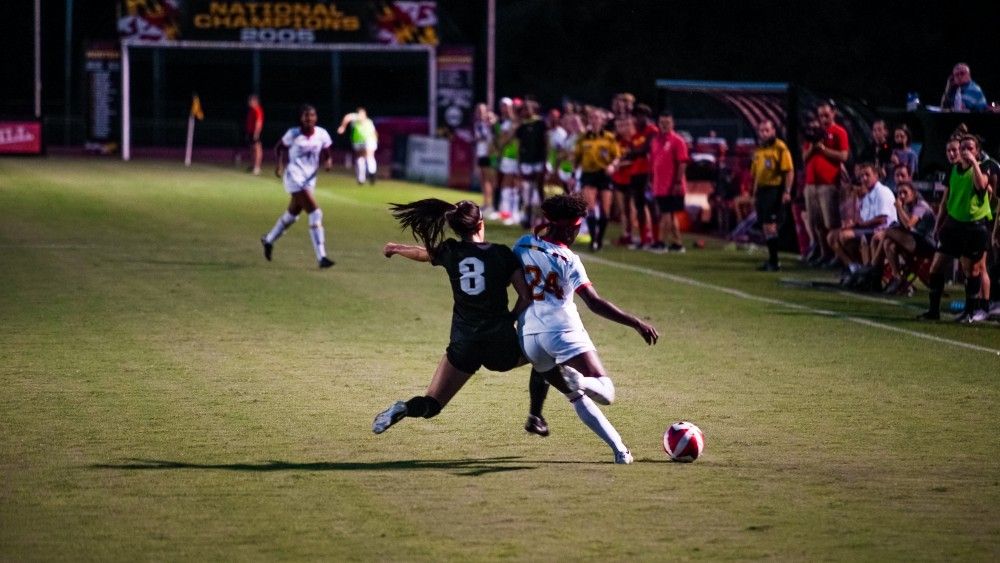 'The hardest choice'
Just like dance, Mose was a natural at soccer, which she began playing at 6 years old. And the same passion she applied on stage propelled her on the pitch.
"Anissa is very athletic," Carl said. "She's not the most skilled soccer player, but she's tough, she was fast."
For years, Anissa balanced soccer with competitive dancing, but the rigorous nature of each forced her into a decision — one she was aware she would need to make before high school.
In the end, it came down to practicality for her future.
Mose attended Bishop McNamara High School — a private school in Forestville — on a soccer scholarship. She didn't let herself drift too far away from dance, though. During her junior and senior years of high school, Mose joined the African Music & Dance program at Bishop McNamara.
Mose said that her time in competitive dancing has had a profound impact on who she is and her growth as she began to venture further into her soccer career.
"I grew to appreciate it more as I got older," Mose said. "The experiences and the things I learned competing, life lessons like time management, social cues, and social development, they're all things that dance taught me."
Something that has carried Mose through her success is her work ethic, something that her parents, teammates and coaches have all praised.
"It's real," Carl Mose said about his daughter's passion. "Anissa is so self-motivated and driven in everything she does. She doesn't tolerate mediocrity from herself or her teammates. She's hard on her teammates, she's hard on her dance team."
Mose led Bishop McNamara in goals her senior year in 2016-17, leading to a first-team selection by the Washington Catholic Athletic Conference. And it led her to Maryland women's soccer, too.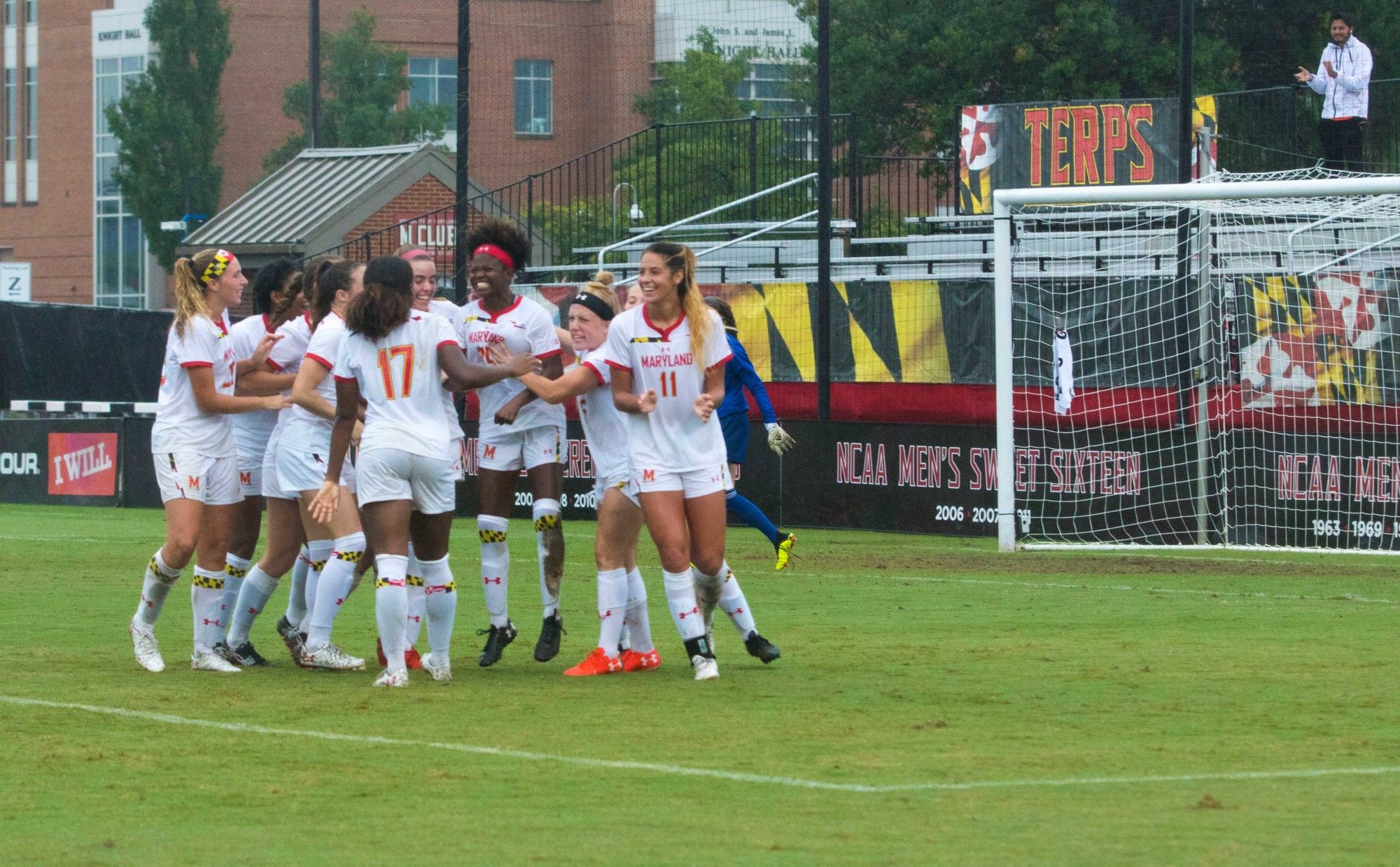 'It is who I am'
Coach Ray Leone, who arrived at Maryland one year before Mose, has been working to rebuild the Terps soccer program. And players like Mose, now a junior, are helping to set the example he wants in his squad.
"She brings so much emotion to the game," Leone said. "I can feel how bad she wants it."
Mose has played in 55 of Maryland's 56 games since her arrival in College Park, cementing herself as a staple in the lineup from the onset.
While she doesn't fill the statsheet — with three goals and two assists in her college career — Mose's mere presence is a boost to her team.
"Anissa is one of the most exciting players to play behind," Maryland goalkeeper Erin Seppi said. "Someone who can put in that much effort throughout the game is clearly passionate about the sport."
In the Maryland locker room, Mose's teammates said they've seen her break out some of her old moves and show off, as Seppi said, her "unique talent."
"Even now, you can catch me dancing a lot," Mose said. "I record myself dancing in my room, even if it's in the locker room or at a party, I'm pretty much always dancing. It's one of my passions, I miss it all the time. It's a way to express myself. It's just fun."
Although Mose misses her days as a dancer, her love of soccer is never in question.
"You invest so much time into something, this is your life," Mose said. "Sometimes I'm like, 'Ugh, I don't feel like going to practice,' but then during the summer I can't wait to play soccer again. It is who I am. When my time is up, I'm going to miss it a lot."