They're seemingly always there, nestled alongside McKeldin Library: a group of students, lounging on the pavement or on metal benches, surrounded by wafts of smoke.
The people and their backpacks sketch a rough circle around a manhole as they take drags on cigarettes or vapes. And when they're not smoking, they talk animatedly:
About the one guy who comes to smoke, but never talks — he wears a leather jacket and glasses all the time. (They call him "jacket glasses." Technically, they've heard him laugh once.)
About being only five years old when 9/11 happened — it's weird to talk about the national trauma they barely remember themselves.
And about the evolution of Lady Gaga — she went from being a pop star who once wore a meat dress, to the VMAs, to performing classical duets with "fucking Tony Bennett," they say.
They have a simple answer when asked what brought them all together.
"It's because of this," said Paola Williams, a junior sociology major, motioning to her cigarette. "Nicotine."
In fact, the place is one of four designated smoking areas on an otherwise smoke-free campus. It's perhaps the most popular; or, at least, the most well-known. And for the people who have made it something of a home, it's come to represent more than just a spot to get their fix: It's a place of community and learning and the best kind of weirdness.
Listen to their conversations on the first episode of Offbeat, The Diamondback's new podcast:
Often, passersby will throw a glare or a fake cough toward the smokers, they say. But Willliams said it doesn't phase them. And anyway, she added, the people of the spot are very much aware of the health effects.
"I don't think anybody here plans on smoking forever," she said.
[Read more: Vaping could soon be banned in UMD dorms]
To be clear, not everyone who hangs out at the smoke spot is a smoker. Some people have quit. Some vape instead. One who swung by and handed out cigarettes said he was switching to nicotine patches.
But there are benefits to smoking, the group said, and people from around the circle added their two cents in rapid fire.
People who smoke are "less ugly, and more politically aware," said one, laughing.
"It also makes you cooler," said another.
Being a smoker comes with its own kind of self-awareness, Williams said.
"If you're aware that smoking is bad for you and you still do it, that's why you're more aware of other shit," Williams said.
Jake Beardslee, a senior art history and women's studies major, said he's queer. When he started coming to the smoke spot toward the end of his sophomore year, he said he felt accepted immediately.
"It's always been inclusive for me," he said.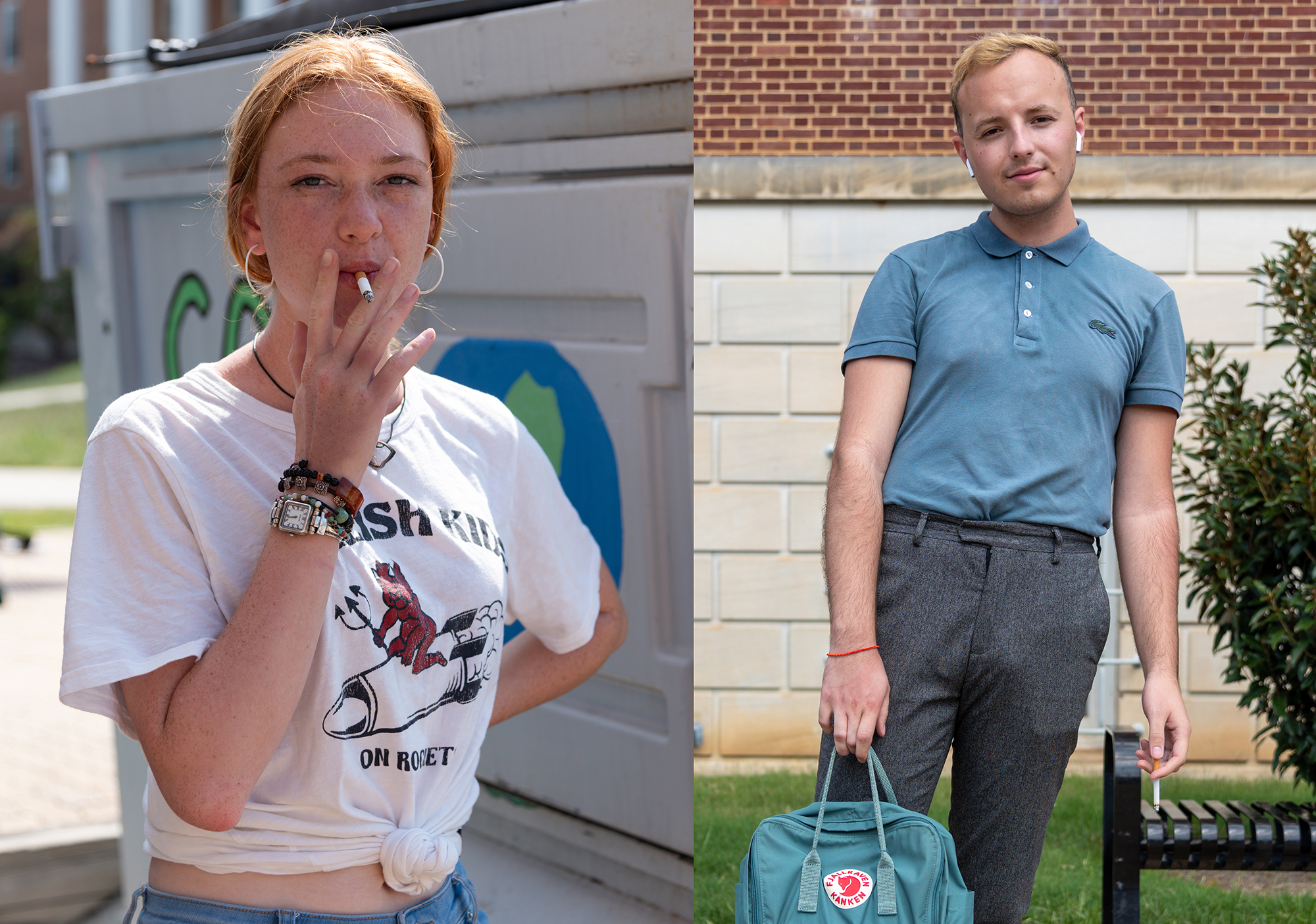 It's the kind of environment that's fertile ground for all sorts of digressions — from discussions of "90 Day Fiancé" to long-winded exchanges on the nature of existence.
"It's called worm theory," Ariel Levchenko said matter-of-factly one sunny afternoon. He's a senior government, economics and — yes — philosophy major.
"Here, I can draw it for you," he continued, retrieving a notebook from his backpack before he walked over.
If you can subdivide a person into smaller moments of their life, Levchenko explained, and if each of those slices still arguably has its own past, present and plans for the future, each slice is kind of its own person, worthy of moral consideration.
Basically, he said, if you get drunk on a Friday, there's a separate Saturday "you" that doesn't appreciate it.
[Read more: Despite hateful rhetoric, the McKeldin demonstrators were allowed to stay. Here's why.]
The smoking spot's apparent permanence as a McKeldin-adjacent fixture belies its fluid nature. People come and go constantly, and even from two visits across two consecutive days, the group's composition was never exactly the same.
One arrival on the first day was Ronnie Lyles, a senior history major. He sat down and joined the conversation as another student played a Kelela song in the background.
The spot's crowd even varies with the season, said Lyles, a four-year smoke spot veteran.
"Around midterms and finals, this place really starts to get full," he said. "You got hella shit to study for, plus papers. You're like 'I gotta finish this code!' Or whatever. People are just out here, feeling the same thing, man."
A "big mixture of people" come to the spot, Lyles said. He added that it even serves as a kind of locus for students from other countries.
"A lot of times with those kids, believe it or not, we're like their first taste of America," he said.
Many students come from cultures where smoking is much more prevalent, he said. And when they get to College Park, they inevitably end up looking for a spot to smoke. They find it tucked beside the bike racks outside the library, and it becomes something of "a medium for them to get to know people, break outside their shell and experience American culture," Lyles said.
Beardslee said that it's hard to provide a single "snapshot" of the spot's regulars.
"Oftentimes the people who tend to smoke today kind of exist in a liminal space, on the margins of society in various ways. And that gives them a really unique perspective, and that's why I love meeting the people here," he said.
People graduate, new students arrive in the fall. Life events get in the way of school. There are a few smoke spot mainstays, though. And despite the revolving door of people, "the sense of cohesion remains," he added.
Williams said she's been coming to the smoke spot for two years. It's there where she met all of her closest friends and her boyfriend.
Williams used to commute to school, she said, and living off campus made it difficult to become friends with other freshmen. The spot made it easier for her.
After all, when everyone's there to smoke, you might as well talk.
"Here," she said, "you can just start a conversation about anything."