KEEDYSVILLE, Md. — University of Maryland researcher Bryan Butler is proud of the empty beer cans in his basement.
Standing in the half-acre hop yard he helped plant at this university's Western Maryland Research and Education Center in Washington County, he said the cans symbolize the culmination of a project that first began in 2015.
Butler, who has worked as an extension agent in the agriculture and natural resources college for more than 25 years, has been planting hops since 2016. Flowers of hop plants are used to add bittering and flavor to beer. Along with grain, water and yeast, it's one of the four key ingredients needed to make the beverage.
Initially, the East Coast Hop Project had challenges. In the United States, the crop is typically grown in the Pacific Northwest. Butler was thus skeptical about whether hops could be produced on the East Coast — especially with Maryland's humid, insect-prone weather.
"[I was] like, this is so stupid, I don't want to do it," Butler said. "This is going to waste people's money and time and everything else."
Over time, though, he's gotten excited about the possibilities of an East Coast hop, and his project has found a partner in the state's largest brewery, Flying Dog. Now, Butler and the company are working on determining which hop varieties are best suited for growth in Maryland and providing the full spectrum of research — from planting to processing.
[Read more: Meet the UMD professor who spent 28 years developing a new type of apple]
Last fall, the brewery released "Field Notes," a pale ale using several of the 24 varieties Butler planted. This spring, a second batch was released, and Butler's team is currently harvesting this season's crop, which should be ready sometime in October.
Still, Butler's found another obstacle along the way: At times, he's felt like this university is reluctant to promote his research and associate itself with alcohol.
Butler said working with the school has been difficult. He had hoped to make the beer available at the Sept. 27 football game against Penn State, but the university declined.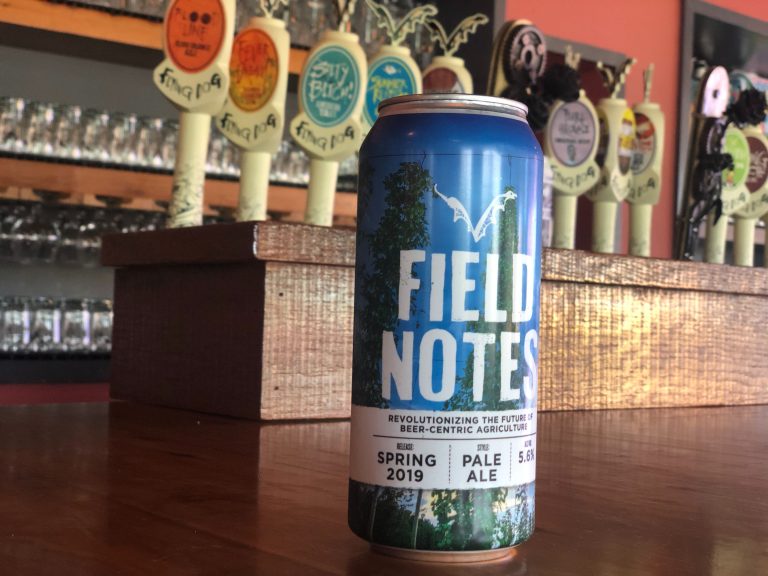 "People would go nuts, they'd lose their minds," Butler said. "Maryland beer at a Maryland game at the Maryland Stadium, the university doing research, helping people, working with a partner, you know?"
In response to a request for comment, a university spokesperson said the school "does sell Flying Dog at our football games" and didn't address whether the request to sell Field Notes was denied.
Purdue University, a fellow land grant institution and Big Ten member, promotes beer produced in partnership with its food sciences department and a local brewery, with a portion of those proceeds being funneled back into the research program.
Brian Farkas, Purdue's department head of food science, said he would understand Maryland's caution. Purdue-branded beers are not produced on campus, he said, and brewing is only a small part of fermentation sciences — a field Farkas considers the future of manufacturing.
"Are we endorsing a culture of drinking? No, we're not endorsing a culture of drinking," Farkas said. "It is promoting a culture of science."
Graham Binder, a spokesperson for the agriculture and natural resources college, disagreed with the idea that the university hasn't supported Butler's project, citing promotional pieces from The Baltimore Sun, Smithsonian Magazine and Terp Magazine, among others, that the school has helped with.
But Binder said the beer is only a small part of this university's partnership with Flying Dog.
"The beer angle is sort of a non-starter," Binder said. "To me, it kind of clouds the impressiveness of this partnership. It's more to help growers and farmers, it's not really about generating a beer."
And making a trendy drink isn't at the crux of Butler's mission, either, he said. He's not a craft-beer fan, but a self-described Budweiser man. As an extension agent, though, his job is to bring science into communities — and he wants to find a way for agriculture to help the economy, farmers and brewers.
[Read more: UMD awards record amount of funding to support campus environmental projects]
So at the end of each season, Butler and Flying Dog publish the "Maryland Hop Growers Guide," a comprehensive report detailing all of the data from that season — both the university's research and flavor analysis by Flying Dog.
From there, Flying Dog puts the hops to work.
"They're the growers, we're the chefs," said Justin Tarnow, a beer professor at Flying Dog's brewery in Frederick.
While he said it's too soon to note definitive differences in the hop varieties grown locally, Tarnow said the brewery is eager to learn more.
"I'm just too curious as to what the next new hop could be," he said. "What if there's a variety that smells and tastes one way, as it's grown over West Coast, but then the second we exposed it to this unique climate and terrain out here, all the sudden, there was this little subtle nuance that made that hop completely different?"
Yet another of the project's challenges, Butler said, is that the hops that grow well in the Maryland climate, such as the Canadian Red Vine — with its hints of old grass and freezer-burnt berries— don't have the flavor profiles that brewers want. Meanwhile, the hops that brewers covet can't withstand the local weather.
A main goal of the research is to find the balance between the two.
"It's very rewarding," Butler said. "Oh yeah, it's almost like you have a baby."
While the stigma associated with beer drinking is an obstacle that may always linger, Tarnow said part of Flying Dog's mission is to demonstrate all of the complexities involved in beer making — chemistry, agriculture and artisanal creativity.
"Beer can be just as sophisticated, can deserve a place on the dinner table right next door to some really awesome, locally-grown ingredients," Tarnow said. "It's nothing new to us that there are people that perceive beer in kind of an old-school light."
Butler, though, isn't deterred. Even though he considers himself to be one of those "old-school" beer drinkers, and despite the litany of hurdles his research has faced — he's grown to be quite satisfied with his progress on a project that once seemed impossible.
And, of course, with his personal monument to that progress: the collection of aluminum in his basement.
"I don't win many awards or things like that," he said. "But I've got the beer cans."