After Nataly Romero visited the University of Maryland on an elementary school field trip, she slapped a giant red "M" onto her "dream journal."
Romero, whose parents are immigrants from El Salvador and did not attend college, said it was her childhood dream to attend this university.
More than a decade later, Romero, now a sophomore mechanical engineering major, sat on a picnic blanket at McKeldin Mall on Wednesday's national First-Generation College Celebration Day and recounted her journey of attending college.
Romero is part of about 20 percent of students at this university who are the first members of their family to attend college, according to the university's institutional research, planning and assessment office. This university recognized these students with celebratory events across campus on Wednesday.
"I'm proud to be a first-generation student," Romero said. "I feel like that opens doors to my generation or my kids."
University President Darryll Pines, a first-generation college graduate, said in an interview with The Diamondback that first-generation students are "trailblazers in their family."
Romero said many of her classmates, which primarily consist of male students, have parents who are doctors or engineers. Her father is a plumber, she added.
[New UMD Native and Indigenous employees hope to enrich student experiences]
She noted this reality made transitioning to college all the more difficult.
Romero also emphasized that applying for college was a stressful process because she did not personally know anyone who attended college.
"I felt lonely because everyone else seemed to know what they were doing," Romero said. "I was just kind of thrown into the fire."
Ashley Cortez, a sophomore enrolled in letters and sciences who transferred from a university in Massachusetts, said her parents also immigrated from El Salvador.
Cortez highlighted that when she was accepted to this university, her mother said "you actually made my dream come true."
Cortez said her parents always emphasized that "education is the key for everything."
She recalled her father yelling at her for her first "C" on a report card. A significant part of being a first-generation student is figuring things out individually, she said.
"You're always walking in the dark. I didn't even know I had to pay a fee for applying to colleges," Cortez said. "It was a confusing time, but at the end of the day, I figured it out like I always do."
Cortez said this university presents many opportunities for students. She added that she hopes to major in psychology and help support those like her parents by getting involved in grassroots activism.
"My dad didn't even graduate from high school," Cortez said. "So being able to graduate from college and being able to walk across the stage is one of the most important things for me."
Mu Yuan, a sophomore enrolled in letters and sciences, transferred to this university from a school in China. Yuan's father, an engineer, stressed to him from a young age the importance of technological knowledge, spurring his interest in studying computer science.
Yuan said he hopes that attending college will help make him more social and beneficial to society.
"As a first-generation college student, I have more responsibility to be a better person in university," Yuan said. "I need to do something meaningful, useful to … society and my parents."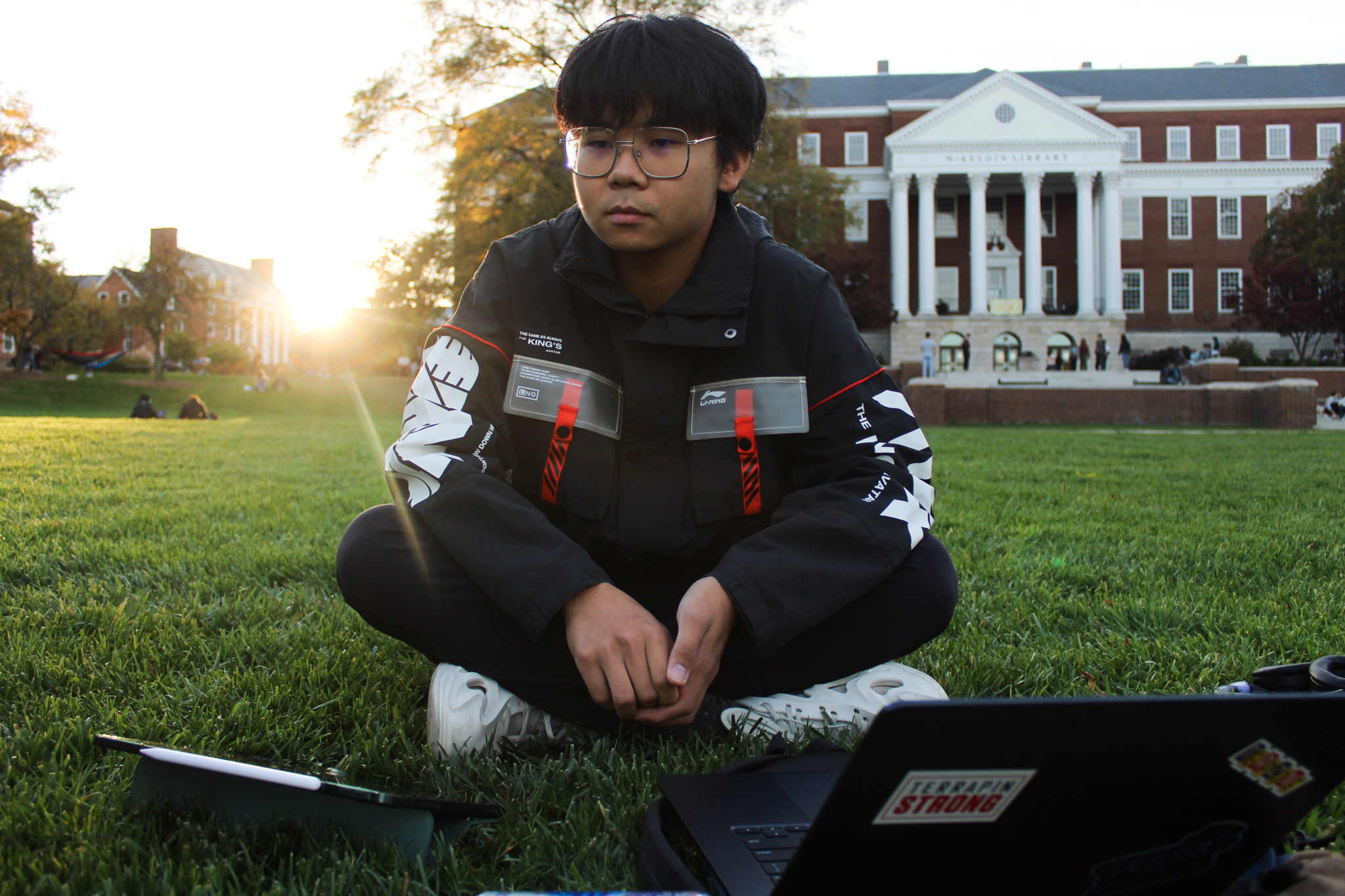 [UMD student groups react to Washington Quad event restrictions]
Several first-generation students also gathered at the 251 North Dining Hall on Wednesday for a dinner hosted by the university's Residence Hall Association.
Sophomore accounting major Michael Nino-Aguilar, who attended the dinner event, said that he feels proud to walk around campus knowing that he "defied the odds."
Nino-Aguilar, who attended a college preparatory high school, said his parents were always strict about education.
"I feel like [my parents] wanted the best for me. They've been working since they were teenagers, and they know what it feels like to be on the short end of the stick," Nino-Aguilar said. "They wanted me to have that security, and that security comes with education."
Nino-Aguilar said he is the first among his parents and three younger sisters to attend college. He added that applying to college was a stressful process, especially because his parents do not read or speak English.
One challenge of being a first-generation college student is worrying about your future and questioning if you are "good enough," Nino-Aguilar said. But he noted that the additional pressure motivates him to perform better in school.
Freshman criminology and criminal justice major Vanessa Sandoval, who also attended the dinner, said one of her biggest motivations for completing college is inspiring her younger siblings.
Moving forward, Sandoval said that she hopes to help immigrants like her parents, from Guatemala and Honduras, by studying criminal justice.
Sandoval said it feels "amazing" to attend a school that recognizes first-generation students.
"It's essential to understand that first-gen students are very important in college community," Sandoval said. "They are a part of people who are breaking generational curses. They're a part of people that are starting a new life for their families."