More than 300 people marched on McKeldin Mall at the University of Maryland Tuesday for a walk-out and protest organized by this university's Students for Justice in Palestine chapter.
At the demonstration, community members called on the university to "rectify their narrative" regarding the ongoing violence in Palestine and to be transparent about its investment holdings, according to a Students for Justice in Palestine member who wished to remain anonymous for fear of retaliation. Protest attendees also advocated for a ceasefire in Gaza.
One protest speaker called on the university to "release a revised statement that reflects the full and unbiased truth of the situation" in Israel and Palestine.
The protest started in front of the university's Thomas V. Miller Jr. Administration Building around noon. Protesters chanted "Free, free Palestine" and "UMD you can't hide. You're complicit in genocide" as they marched. Some also held signs that read "We stand with Palestine" and "UMD divest from defense contractors. — A Jew against Zionism."
"The main thing was to rally the community together to demand that … our rights are recognized by the university administration, given that they took a one-sided stance," the anonymous Students for Justice in Palestine member said. "We want to call on them and raise awareness to the entire campus community that our voices have not been recognized."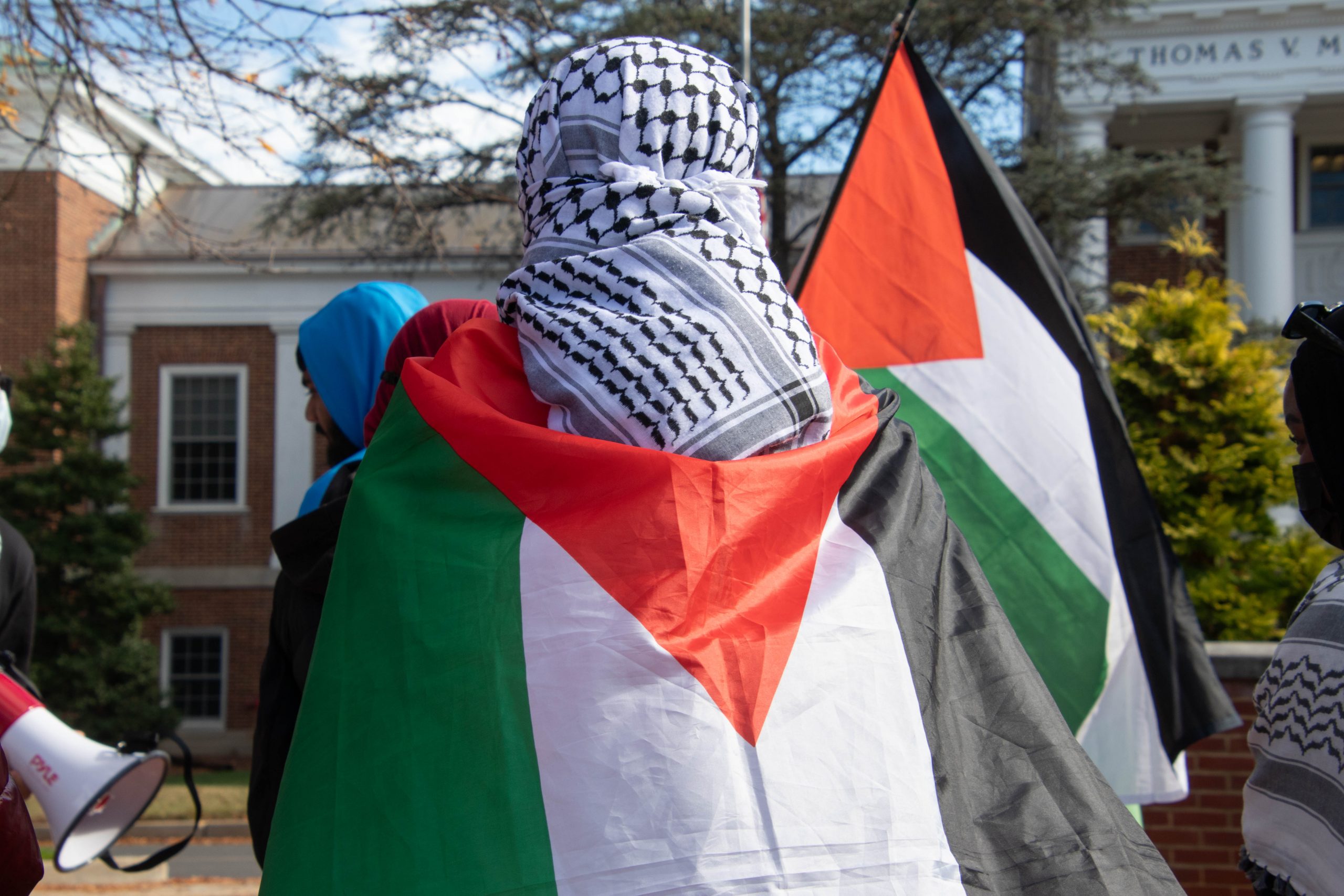 Patty Perillo, this university's student affairs vice president, sent an email on Wednesday to parents and families acknowledging the two public demonstrations that happened Tuesday — the Students for Justice in Palestine protest and a "Day of Kindness" event hosted by Terps for Israel on Hornbake Plaza.
This university's student affairs staff engaged with both groups of students in advance, Perillo said in the email. The University of Maryland Police Department and student affairs staff monitored the events "to protect the community and our constitutional guarantee to First Amendment rights," she said.
[UMD community members author multiple letters in response to violence in Israel, Palestine]
Tuesday's demonstration is one of dozens that have occurred on college campuses across the country after the recent surge of violence.
On Oct. 7, militant group Hamas launched an attack from the blockaded Gaza Strip that killed hundreds, the Associated Press reported. Israel declared war on Hamas the next day and has since launched thousands of airstrikes, according to the Associated Press. More than 9,000 people in Palestine and 1,400 people in Israel have been killed since Oct. 7, the Associated Press reported on Thursday.
Israeli ground forces progressed into Gaza on Monday with tanks and other armored vehicles, advancing into the territory's main city, the Associated Press reported. Forces largely cut off electricity from the region Friday night, creating "a near-blackout of information," the Associated Press reported.
As protestors marched past McKeldin Library, some carried a red ribbon inscribed with about 1,000 names of children killed in Gaza. On Oct. 26, the Gaza Health Ministry released the names of more than 6,700 Palestinians killed, according to the Associated Press.
Perillo watched part of the Students for Justice in Palestine protest from the administration building steps.
Senior information science major Hassan Edwan attended the protest and told The Diamondback that he could not contact his family in Palestine after a communications blackout. Edwan added that many of his cousins have lost friends in recent weeks.
"We have a family WhatsApp where we can talk, and so for two days there was nothing and I didn't know what was going on," Edwan said. "Whenever the news comes out where they bombed a new area, my heart sinks a little bit when they bombed the area that my family lives in. It's just hard to focus."
Edwan said university administration's stance on the violence has been unacceptable considering its significant Arab and Muslim population.
A speaker at the event addressed administration's reactions to the surge of violence. The speaker said that Pines appeared at an Oct. 9 vigil Jewish student groups held in front of McKeldin Library, but not at an Oct. 12 vigil and teach-in hosted Students for Justice in Palestine hosted on McKeldin Mall.
"In an email President Pines sent out a few weeks ago, he acknowledged the loss of innocent Israelis with minimal mention of Palestinian lives," the speaker said. "President Pines, do the grievances of Palestinians not deserve equal consideration?"
In a statement to The Diamondback, this university said it has "connected" several times with representatives from the Muslim Student Association and Students for Justice in Palestine "to discuss their concerns, provide counsel and offer ongoing support during these challenging times."
[UMD students hold vigil and teach-in to remember Palestinian lives, call for liberation]
University president Darryll Pines sent two campuswide emails last month in response to the violence in Israel and Palestine. In the first email on Oct. 9, Pines extended his support to "the Israeli, Jewish, Muslim, Christian and Palestinian members of our community, and their loved ones who are facing this tragedy firsthand in the Middle East."
Pines' second email on Oct. 13 said this university condemns Hamas' attacks and that some students fear for their safety in recent calls for violence.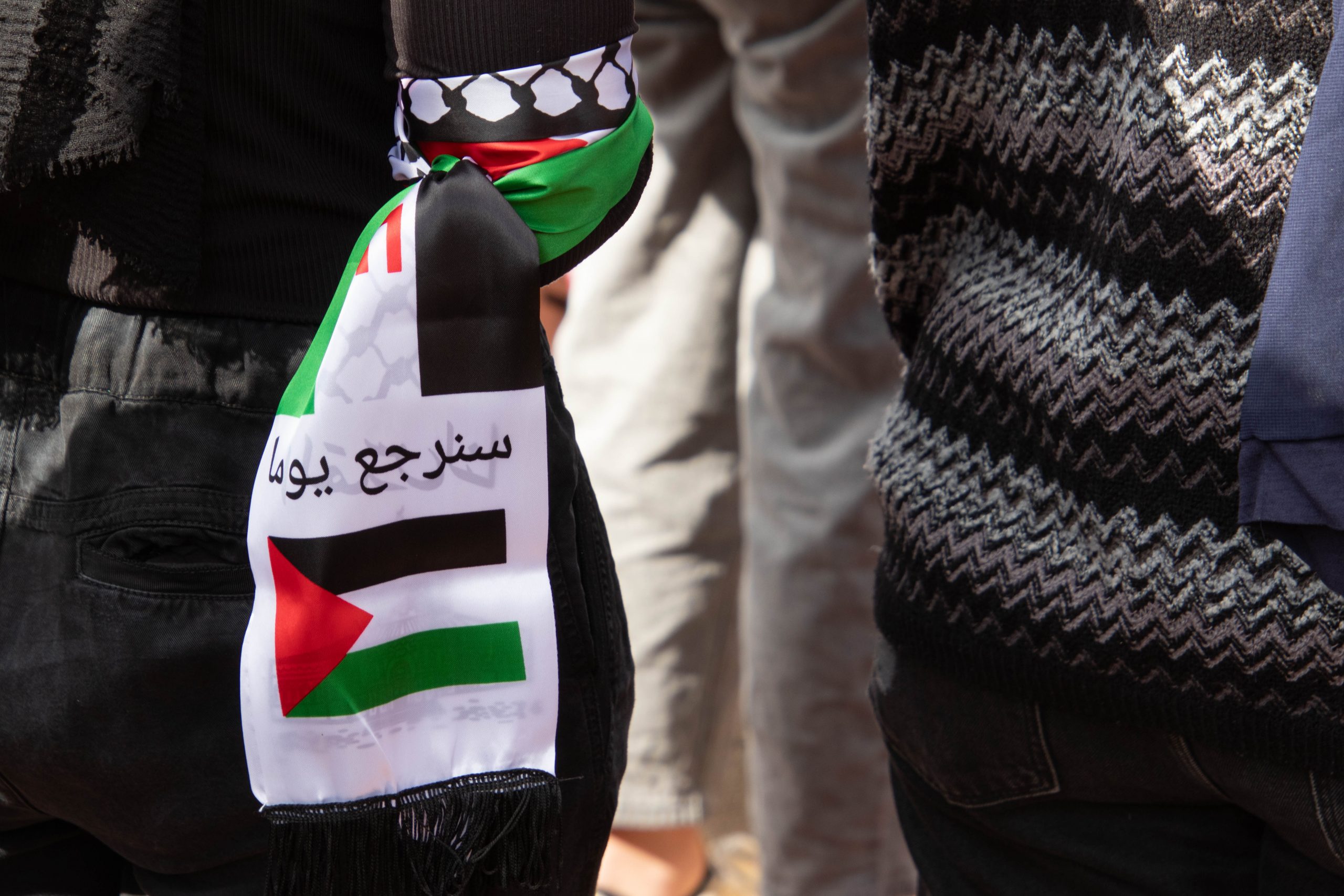 Abdullah Najjar, who volunteers with Muslim student groups across the country, said he traveled from Houston for protests at this university and Howard University because of the schools' proximity to Washington, D.C.
Najjar said his grandfather is from the West Bank and his mother had severe emotional distress as she migrated from Palestine to Kuwait with other Palestinian refugees. Some of his friends are from Gaza, he added.
"Every day they are expecting to hear that someone from their family died," he said. "Some of them have uncles and cousins and nephews and nieces [who] have died."
Sophomore computer science major Abdulrahman Albeladi, who came to the United States from Saudi Arabia two years ago, said he has been educated about Israel and Palestine since childhood. He added that he has been "heated" since Oct. 7 as he has heard about people suffering in Gaza and watched misinformation spread.
Albeladi attended the protest, in part, to urge others to seek the truth, he said.
"I think my goal from coming here is telling the people the truth. I want people to recognize the truth," Albeladi said. "I want to encourage everyone who is a human to look for the truth."
Senior staff writer Marijke Friedman contributed to this story.