There are nearly 1.7 active permits for each parking space in the University of Maryland's Lot 1, according to an analysis by The Diamondback.
There are more than 1,500 parking spots in Lot 1, according to a recent count of all spaces in the lot conducted by Diamondback staff. But more than 2,500 active permits for Lot 1 exist as of Oct. 5, according to university data. Of the available parking spots, dumpsters or construction obstruct at least a dozen as of Oct. 30.
This university typically sells somewhere between 1.5 and 1.8 permits per space in commuter lots because those spaces "turn over at a higher rate" and "a single space can be used by more than one parker daily," a university spokesperson told The Diamondback. There are about 0.6 parking spaces for every active permit in Lot 1.
"If we sold permits at a 1:1 ratio with spaces, a significant number of students would never be able to purchase a parking permit, while spaces sat empty everyday," the spokesperson wrote in an email to The Diamondback, adding that students are also permitted to park in Lot 4, a designated overflow lot.
[UMD students attribute more than 43,000 parking citations in 2022-23 to overcrowded lots]
After the semester started, DOTS manually surveyed lots to see which ones were at capacity and make adjustments based on that data. In September, DOTS granted students with Lot 1 permits access to 90 additional parking spots in Lot JJ and Lot Z to alleviate crowding in Lot 1, the university spokesperson said. This change "resolved crowding issues in the lot," the spokesperson said.
But students with permits say it's a daily struggle to find parking spots in their assigned lot, particularly in Lot 1.
"This semester, I kid you not, like 20 cars are hunting for a space all at once," said Trevor Norton, an international relations graduate student who is a commuter. "Like, there is no parking at all."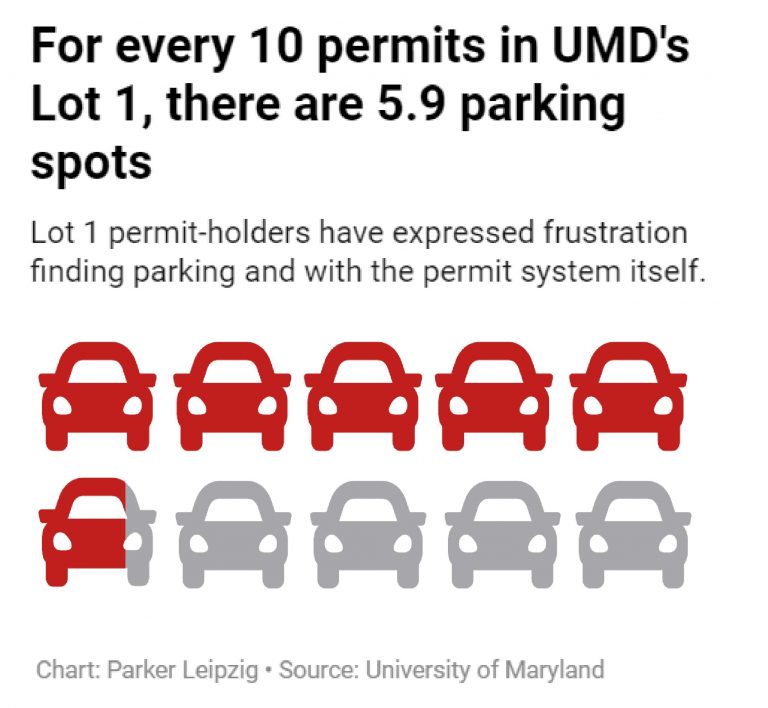 Each year, this university's Department of Transportation Services considers past permit sales to calculate the ratio of how many permits to sell each lot.
"What our Department of Transportation tells us is that there are a surplus of parking spaces still on campus," university president Darryll Pines told The Diamondback in a September interview. "They say that there [is] enough parking throughout the day for all students who are registered and that we roughly know are trying to seek parking."
Union Drive is closed from Campus Drive to Championship Lane to allow for Purple Line construction, leaving one entrance to Lot 1 blocked. Presidential Drive usually ends in Lot 1, but construction currently blocks that entrance. Campus Drive has two entrances to Lot 1, one of which is also inaccessible as of Oct. 30.
The closed entrances mean students have to enter the lot through the two remaining entrances.
Kassandra Kiger, a junior sociology major who commutes to campus, said waiting in the traffic around Lot 1 is a consistent issue for her. She has to often drive around to find an efficient way into the lot, she said.
Pines said he sympathizes with student struggles getting around construction.
[UMD DOTS leads bike, e-scooter tours around campus to promote safe riding practices]
"Getting around the construction is a whole different challenge," Pines said. "You used to be able to go to Lot 1 and have no trouble getting around Lot 1, but now you've got to go one way, go around another way to get to the other side. And it's just challenging. It's challenging for me."
Purple Line construction is projected to be done in 2027 and construction in Lot 1 is projected to last through spring 2024, according to the university spokesperson.
Students who cannot find a spot in Lot 1 should park in Lot 4, the spokesperson said. Lot 4 is near the Xfinity Center and is a two mile drive from Lot 1.
Separate from overflow parking, there were 804 active commuter parking permits in Lot 4 as of Oct 5, according to university data.
Kiger said she is often forced to park in overflow lots such as Lot 4.
"It could be seen as somewhat of an accessibility issue if someone had to park in Lot 6 because it takes about 30 minutes to walk to at least the sociology building," Kiger said.
Students have also expressed frustration with the permit system itself.
Since there is a limited amount of parking in each lot and some lots are more popular than others, students with more credit hours have earlier access to purchase permits. Some students who chose their parking spots early said they regret their purchases because it's now difficult to find a parking spot.
"I'm a graduate student so I literally had more options than any other student. I could have picked any lot and I chose Lot 1 because that has the most parking and it's the one I'm most familiar with," Norton said. "They oversold the spaces immensely."
The Student Government Association's transportation and infrastructure committee has brainstormed ways to improve the system, such as creating a smart-parking app that helps direct permit-holders to available parking when they get to campus.
Parker Leipzig and Victoria Stavish contributed to this report.