The University of Maryland's SGA elections are underway, as voting is scheduled to run until April 26 at 4 p.m.
The Student Government Association's student body president's race headlines this year's election, with Aspire Maryland's Scott Cronin and United Maryland's Alexandra DeBus campaigning for the role.
The Diamondback reached out to both candidates to learn more about their vision for this university. Candidates are listed in alphabetical order by last name.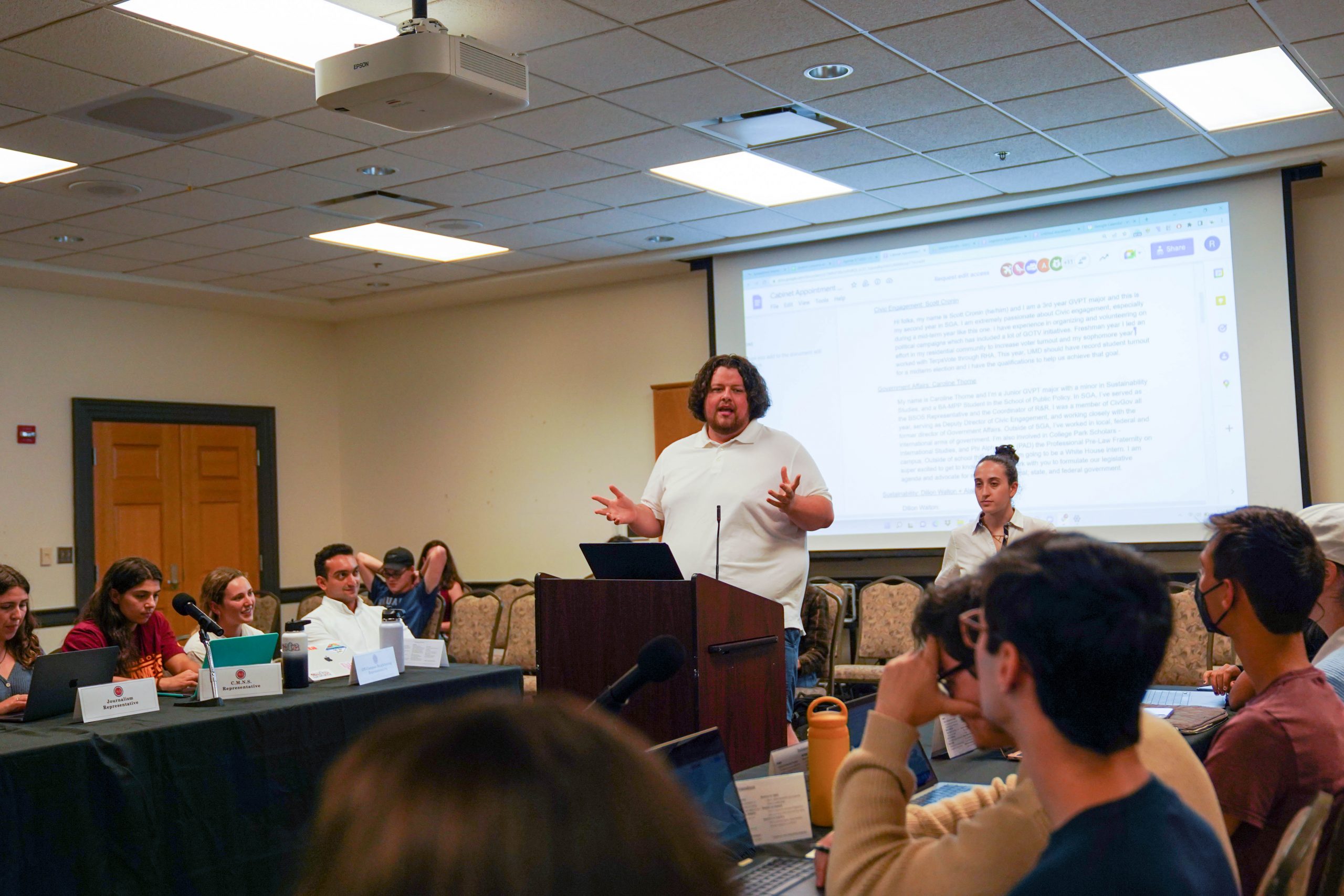 Scott Cronin
Scott Cronin, a junior government and politics major, is running for SGA president after serving as this university's Residence Hall Association president for the past two years.
At Cronin's high school, the student government did not advocate for students and mostly focused on organizing events. But when he arrived at this university, Cronin saw student leaders making meaningful change. After Cronin began to understand SGA's significant influence at this university, he decided to run for SGA president.
One of Cronin's primary initiatives, if he is elected president, is bringing students from across campus together for important discussions about the future of this university.
"One of the biggest things that SGA fails to do is meet students where they are at and engage the campus," Cronin said.
To further student engagement, Cronin emphasized the importance of expanding office hours accessibility for students, hosting outreach events, and creating a digital platform for students to communicate with SGA.
[UMD SGA executive candidates emphasize student well-being, sustainability in debate]
Cronin also hopes to apply his past experiences as RHA president to his potential role as SGA president. He touted his work in RHA to reduce increases to the DOTS shuttle fee last semester.
Cronin said he has firsthand knowledge how the burden of extra fees can affect a student's time at this university.
"I almost had to withdraw from the university last semester because I wasn't able to pay my bill and there were just no clear paths forward," Cronin said. "Every increase is too much."
Cronin's candidacy has garnered support from several students at this university.
Aadhiti Vallatharasu, a junior government and politics major, has worked closely with Cronin during her time directing the SGA's sexual misconduct prevention committee. She was excited when Cronin shared his plans to run for SGA president with her.
"When he told me, it was a conversation of 'this is why I'm running, and this is what I envisioned for SGA,'" Vallatharasu said.
Similarly, Quentin Hoglund, a sophomore government and politics major, served as a senator-at-large for RHA and collaborated with Cronin on numerous initiatives.
Cronin's ability to be a "strong leader" in group settings and facilitate conversations set him apart, Hoglund said.
With the election in full swing, Cronin sees himself as a leader who will elevate student voices.
"We can come up with as many ideas as we want," Cronin said. "But ultimately, if those are not the things that students want us to be working on then we shouldn't be working on it."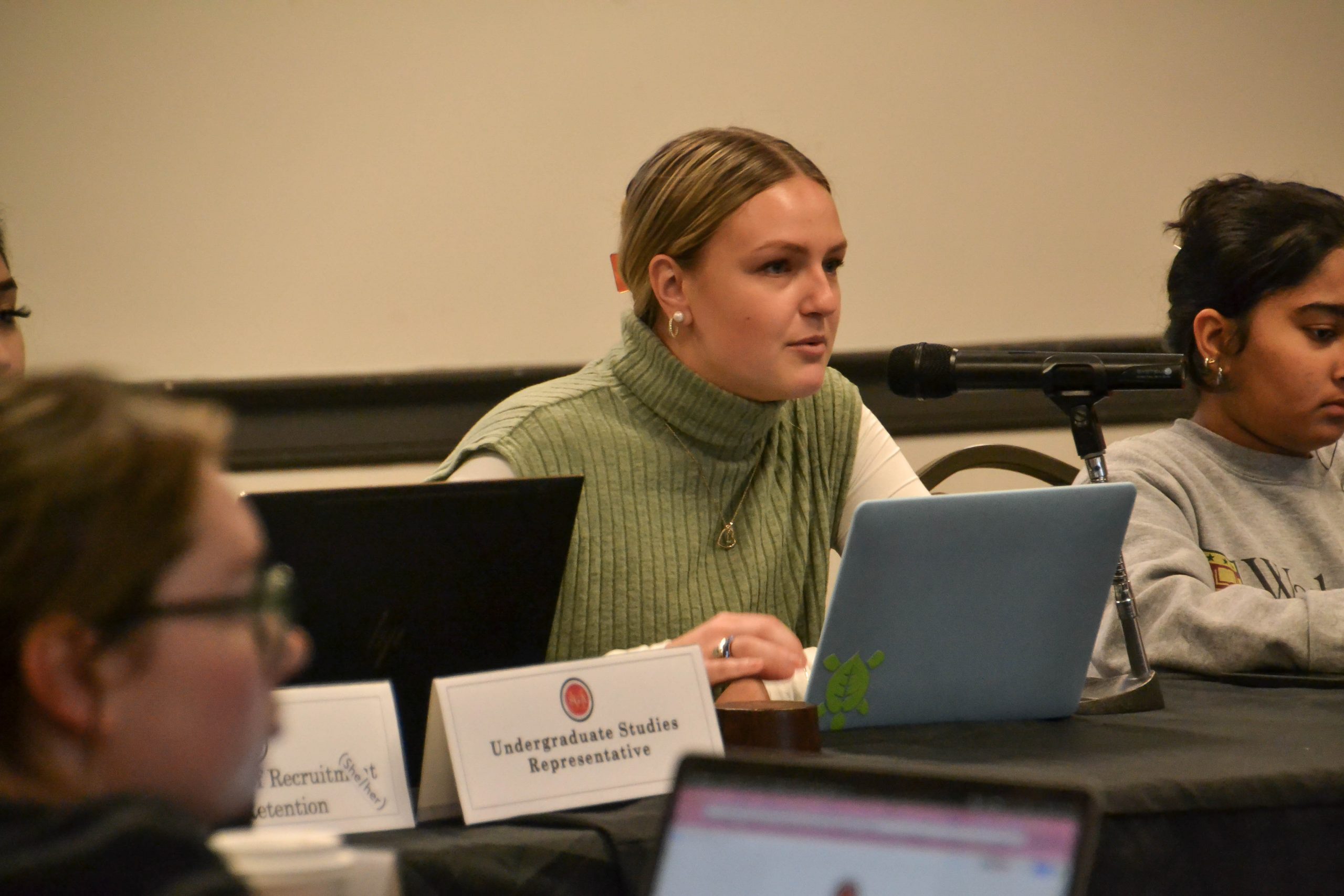 Alexandra DeBus
Alexandra DeBus, a junior biochemistry major and SGA's current vice president, is also running for student body president for the 2023-2024 school year.
DeBus highlighted how her diverse academic background gives her a unique perspective as a candidate.
"Oftentimes, the best student leaders are the students who are here, not for any professional benefit, not for any recognition, but because they actually care about the campus needs and the well-being of students," DeBus said.
As SGA president, DeBus hopes to address rising tuition and healthcare costs, micromobility concerns on campus, and campus security.
To accomplish these initiatives, DeBus emphasized the importance of ensuring student voices are heard.
"At the end of the day, SGA representatives are elected by the student body and we're here to represent the needs of the student body and what students on this campus actually want," she said.
To uplift student voices, DeBus hopes to work with different student groups through outreach committees and student advisory councils. She also hopes to give students a chance to participate in conversations with this university's administration.
[UMD SGA candidates begin campaign for 2023 elections]
"[We want to bring students] to the table whether that be with administration, whether that be with SGA representatives, whether that be with collaborating with other organizations here on campus," DeBus said.
DeBus emphasized her extensive experience in working with this university's administration on several student advisory groups, including the Stamp Advisory Board and the SGA's student fees review committee.
DeBus' supporters cited her past activism with SGA as a strong argument for supporting her candidacy.
Paisley Brockmeyer, a sophomore physiology and neurobiology major and the director of SGA's transportation and infrastructure, has collaborated with DeBus on previous SGA initiatives.
"We all knew that she was very dedicated to SGA and really working for the students," Brockmeyer said. "I am very happy to hear that she is running to take on more responsibility in the organization."
DeBus grew as a leader throughout her time on the SGA this year, Brockmeyer said.
DeBus hopes to continue serving this university by building upon initiatives she has worked on in the past.
"I have really been able to guide students within SGA and outside of SGA and pave the way for new student initiatives that we've both seen before here on campus and new innovative ones that have only recently just started," DeBus said.