TikTok star and internet personality Chris Olsen took a trip back to his home state of Maryland to participate in Student Entertainment Events' Spring Lecture series Thursday evening.
Olsen, the 25-year-old who identifies as a member of both the LGBTQ+ and Asian American and Pacific Islander communities, talked to University of Maryland students at Stamp Student Union. He talked about everything from his rise to fame and his favorite TikTok trends to discussing his time in rehab and providing advice on how to live authentically.
When asked about what being an influencer means to him, Olsen replied, "At the most basic emotions, it's about spreading joy and about just trying to make people's day better through your content, sharing yourself, being relatable."
Olsen joined TikTok in 2020, around the time the COVID-19 pandemic started, and he quickly rose to fame by posting singing and comedic videos about his life experiences. He said he did not actively strive for fame or have a specific goal in mind when joining the platform, but rather his success on TikTok was circumstantial and serendipitous.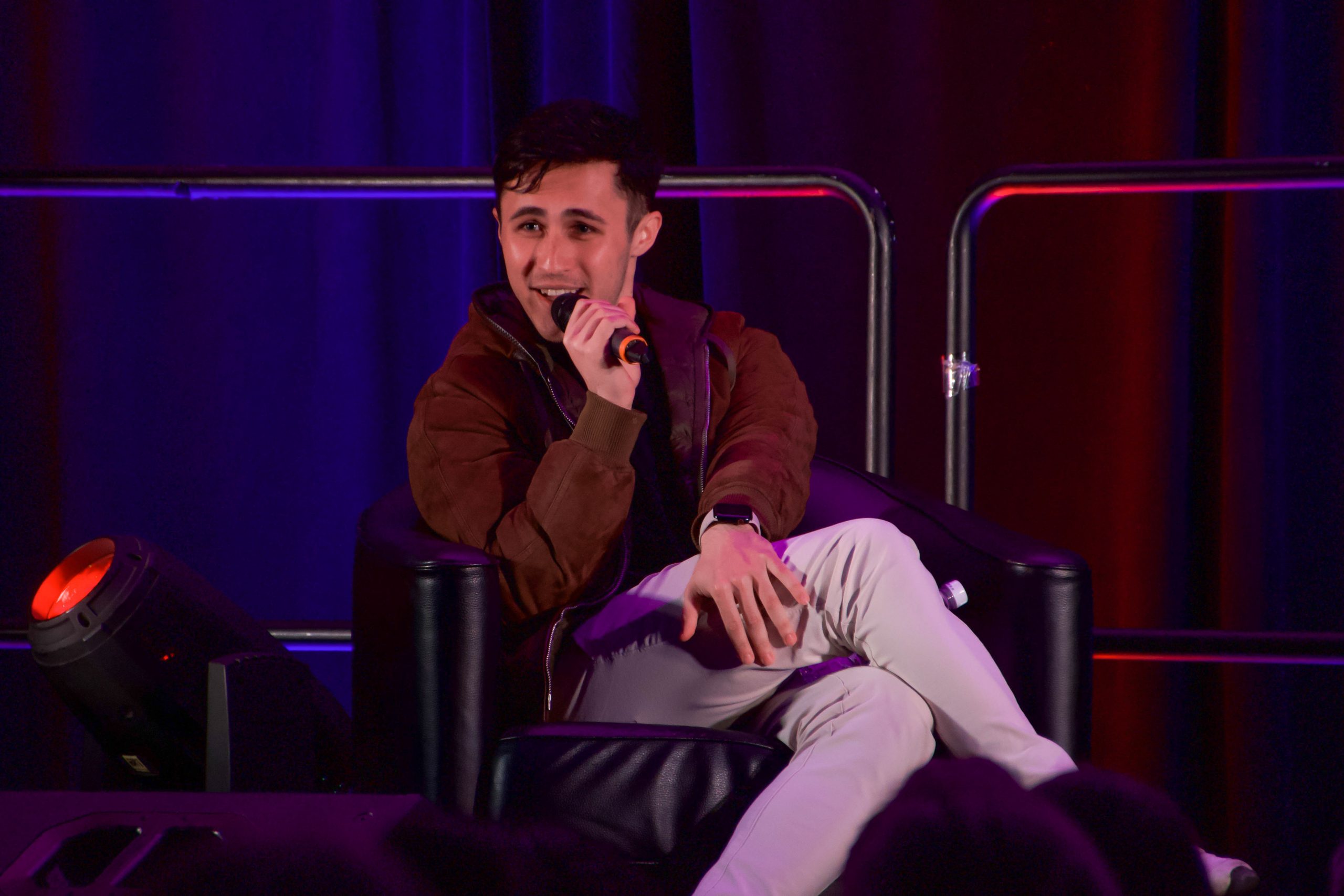 "I'm always blown away by the things that are able to happen from TikTok," Olsen said. "I would never have expected to be able to even work with Meghan Trainor at the level that I am … Working closely with a lot of these people … It just consistently is very surprising to me."
Olsen and pop singer Trainor formed a close friendship as a result of their interactions on social media. He also described meeting and working with many other celebrities, opportunities he never would have dreamed of without his journey on TikTok.
"The app just provides opportunity to anyone, no matter what your background is, to get into this position where you're able to achieve so much of what you hoped for," Olsen said.
Olsen's lecture audience was enamored with him, as he kept people laughing the entire time. Several audience members asked pre-approved questions to Olsen after the main Q&A portion of the event, which offered a deeper personal connection with him.
"I love watching interviews for fun, so it was fun to see one in person," freshman journalism major Kaya Bogot said.
Throughout Olsen's lecture, he truly connected with the audience. One member dropped their phone, and having heard the sound, Olsen paused to make sure the phone and its owner were okay. He also took a BeReal photo for one audience member, freshman biology major Brooke Berry. BeReal is a social media app in which users post unfiltered photos once a day.
"Chris inspires me to be open and honest with myself about how I'm feeling," Berry said.
Beyond these humorous ways of bonding, Olsen still feels like a normal person. It is evident he tries to relate to people around the world through his screen.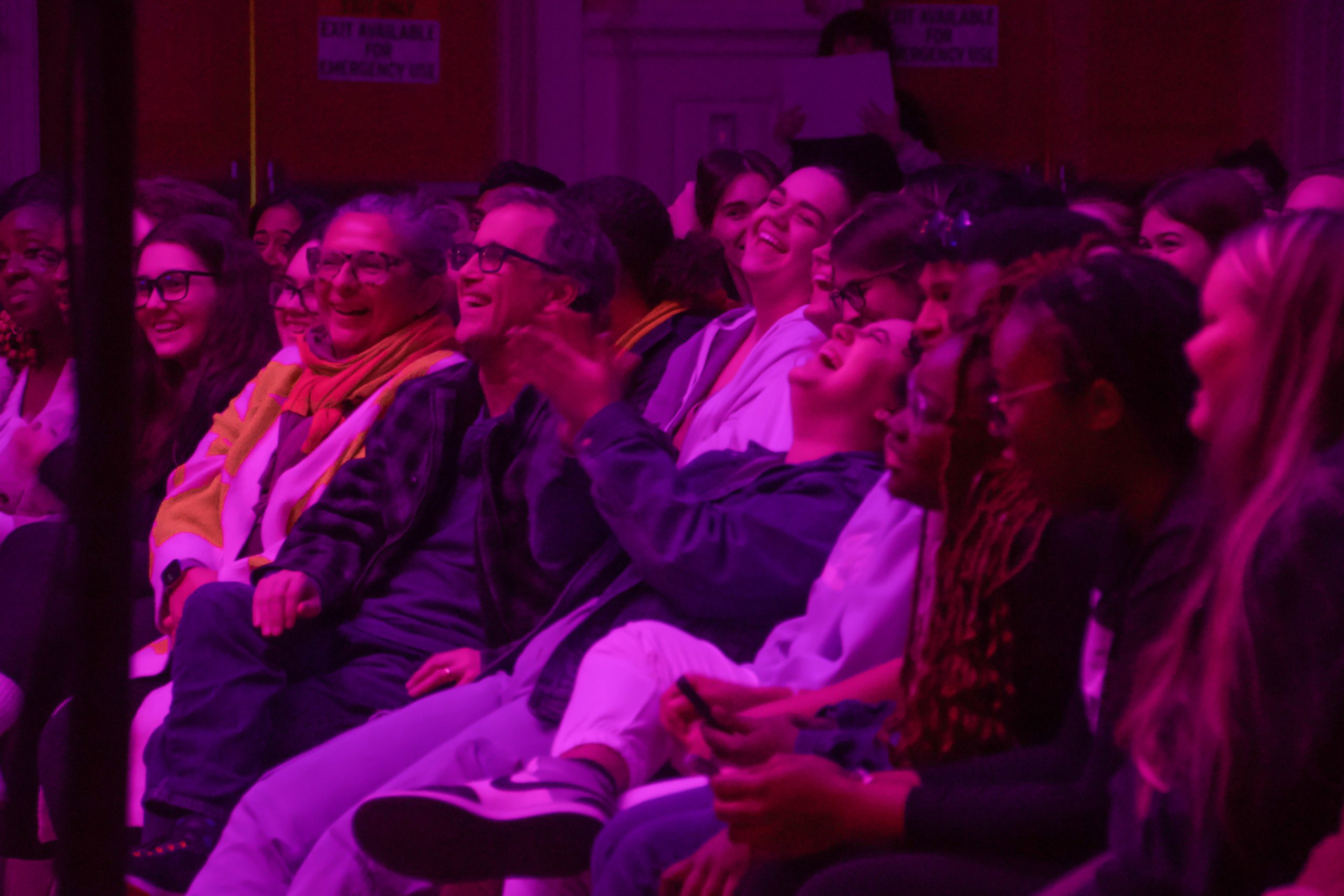 Olsen was very open about mental health, both on his platform and during Thursday's lecture. He talked about his experiences in rehab and therapy, mentioning he is five years sober during the lecture. He finds it important to share this information and his experiences with people.
"Anytime I have been in tough positions, when I've heard people speak on them or relate to them, it's always been the most comforting to me," Olsen said. "And so if I had this platform and didn't do that, I feel like I'd be doing a big disservice to the people who have helped me and to the people who may need help."
Olsen also finds solace in connecting with fictional characters in books. During the interview, he described how he read the novel The Seven Husbands of Evelyn Hugo by Taylor Jenkins Reid in a single sitting on an 11-hour flight from Paris to Los Angeles a few months ago. After reading the book, he found himself "openly weeping" on the plane.
"I only want to read books that make me sob. I want to really cry because it feels good to have that release about … something that does not relate to you at all, because most of the time we are crying for ourselves," he said. "One of my acting teachers always told us that we store the feelings in our bodies anyway. So if you cry about something else, you're still releasing any of the things that you've held onto, and it's just in a much more cathartic and almost safer way rather than when you allow everything to build up and then cry."
Olsen, a performer at heart, graduated from Boston Conservatory with a degree in musical theater. He described his love for theater and performance dating back to his childhood, performing for his family, going to theater camp and boarding school and eventually pursuing musical theater in college. He felt that even if he is not actively involved in theater at the moment, TikTok can offer a space for him to flex those creative and performing muscles.
"I've been so thankful for TikTok because it does feel very artistic … [and] so creative, and that's what feels so good about it," Olsen said. "So I don't feel like I'm losing out on that side of me by just doing TikTok, but I do look forward to doing more on the performing side in the future as well … I do feel like I can authentically be myself."
In continuing his track record of success, the TikTok star has recently created his own coffee brand called Flight Fuel Coffee, which is inspired by his love of travel and a trend he started on the app in which he delivers coffee to his friends and fans.
"Coffee has been such a big part of my life for so long that when I started creating it, I just felt very excited about it the whole time from creation to launch," Olsen said.
Olsen said he's seen continuous support with fans of Flight Fuel and finds it fulfilling to deliver this coffee to more people.
Olsen advised that if the audience takes anything away from the lecture, it should be to make sure they are living their lives to the fullest and taking advantage of every opportunity that comes their way.