It's common for wrestlers to cut weight during the season to ensure they are inside the parameters for their weight class. But two of Maryland wrestling's heftiest members face a different challenge.
Graduate student Jaron Smith and redshirt freshman Jaxon Smith compete at the 285- and 197-pound weight classes, respectively. It can be difficult for the two to keep their weight through workouts. So instead of shying away from meals, they eat extra. The pair's secret to keeping the added pounds on? Raw egg yolks.
"It actually started with me because I found it a lot easier when I was gaining weight to drink fluids, you know, as close as eggs are to fluids," Jaron Smith said.
He sent a video to the team's group chat of him downing egg yolks. Amid the expected responses of calling him crazy, he saw one that surprised him.
"No problem. I can do the same thing," Jaron Smith recalled the freshman saying. The two traded videos of their yolk consumption, adding more and more eggs every time.
The banter displays the wrestlers' competitiveness in all forms, a desire to excel that's formed a bond between the two.
[Maryland wrestling's decision to keep Jaxon Smith healthy paid off with automatic NCAA bid]
Jaxon Smith entered this season after being redshirted his true freshman year. He took over Jaron Smith's spot at 197 pounds in the lineup. It's one challenge to compete in the nation's best wrestling conference but another to replace a stalwart who has been with the Terps for about eight years.
But Jaxon Smith did both with the teammate he replaced, Jaron Smith, helping every step of the way.
"I'm definitely very blessed to have a guy like Jaron in the room," Jaxon Smith said. "He's taught me a lot. Just about the ins and outs of college wrestling, and especially when it comes to weight management … He's helped me a lot with getting up to size for me and also obviously just techniques."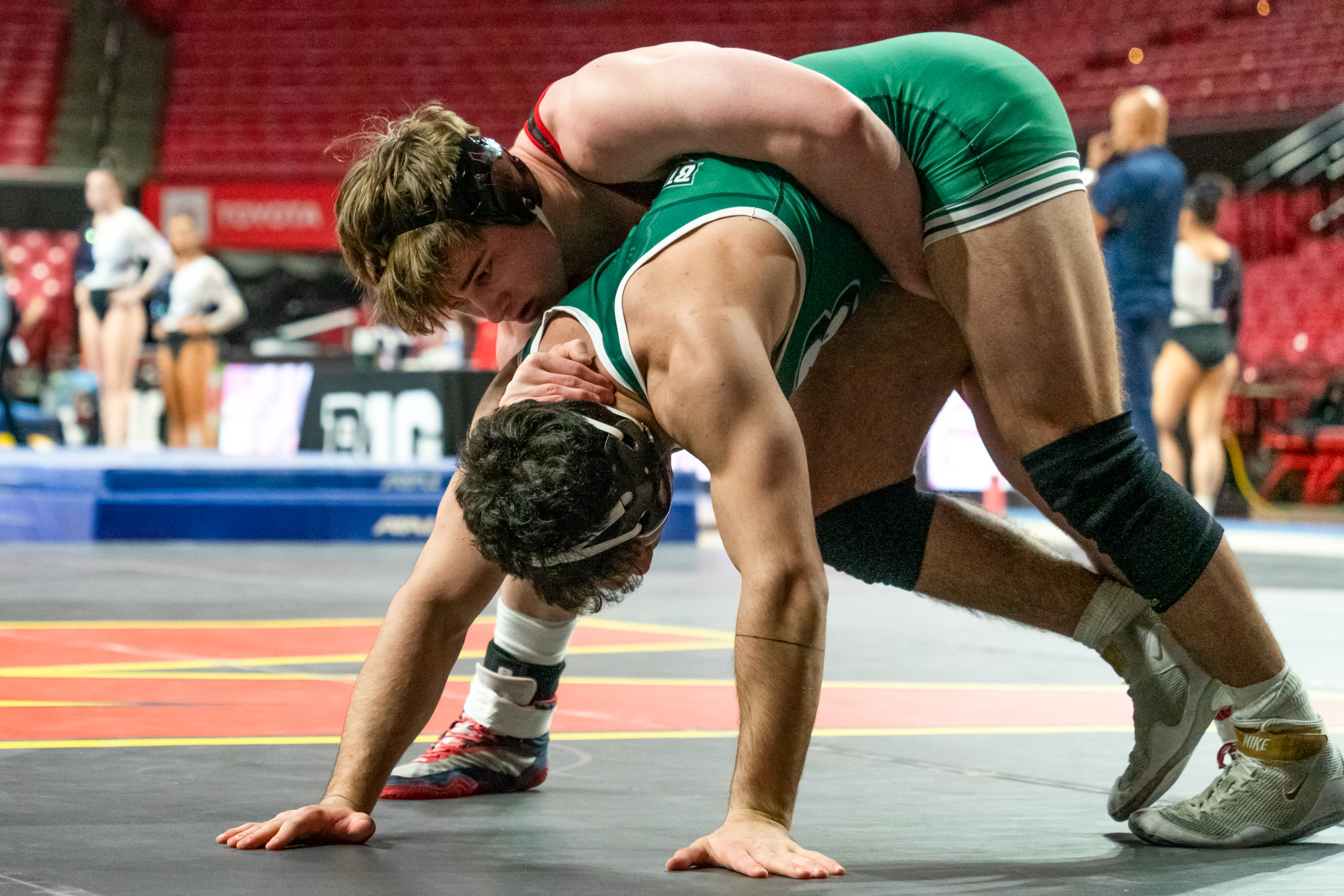 Coach Alex Clemsen says both are each other's best partners on the mat. This relationship has allowed Jaron Smith to mentor the redshirt freshman in another area he unfortunately knows too well: injuries.
Jaron Smith has dealt with his fair share of ailments during his time at Maryland. When Jaxon Smith suffered an injury midway through the season, his teammate was there to help.
"[Jaron Smith] helped [Jaxon Smith] with injury stuff," Clemsen said. "He's mentored Jaxon and given him some little wisdom here and there or a little guidance … just kind of checking in on his buddy, and it's been good."
[Maryland wrestling places last at Big Ten championships, earns three NCAA championships bids]
The duo carries their strong on the mat relationship into their everyday life off the mat. From board games like Catan to various video games, the two are inseparable.
"I kind of look at Jaron as like an older brother … showing me the way, being able to hang outside of the room," Jaxon Smith said.
The two's friendship is unlikely due to their age difference and background, Clemsen said, but is a testament to the power of sports.
"A kid from Atlanta, Georgia, that was born in 2002, is now friends with a kid from Columbia, Maryland, that was born in 1995," Clemsen said. "Those two guys should have never gotten to know each other. So it's pretty cool to see what sports can do."
The Smiths turn their attention to the NCAA championships in vastly different places. For Jaron Smith, it's his last opportunity to make a deep run at an All-American place or a national title to cap off an eight year career. For Jaxon Smith, it's his first opportunity to potentially begin his reign as the next great J. Smith to don the Maryland singlet.