Fear rarely crept into Jahmir Young's heart. The dynamic guard punished and slithered through opposing defenses like almost no other at his position in the Big Ten. Then UCLA made the cross-country trip.
The Bruins, who will join the Big Ten in about a year, interrupted Maryland's offensive rhythm with consistency. Young turned over the ball four times in the game's first 10 minutes.
UCLA jumped out to a 29-point lead at halftime. Young and other's turnovers boosted The Bruins, who romped to a comprehensive victory in front of Young's family and friends. For the first time in his then-96-game college career, the guard failed to convert a single shot from the field.
After the game ended, Young walked back onto the court alone. He said he needed to clear his mind, and he went back to work.
But the frustration hadn't ended yet. Young dribbled and shot like the Bruins still shadowed him and bounced a few balls off the rim. After a pull-up jumper clunked off the rim yet again, he turned away and yelled in frustration.
He had already elevated Maryland to colossal highs. His dramatic dagger against Big Ten foe Illinois with seconds to go sent the Terps to an 8-0 start in the Kevin Willard era, but adversity struck 12 days later.
Maryland suffered its largest ever loss at Xfinity Center against UCLA. Fans left but Young stayed and used his competitive fire to work toward coming back to inflict consistent pain on his foes — overcoming the rare occasion in which an opponent erased his impact.
He's typically hard on himself and it showed with his sweat after the buzzer. A tight family bond armed him to face the disappointment of losing out on earning a spot at his dream school, something that forced him away from home until a new coach prompted his return.
The UCLA loss was one of many bouts of adversity Young would overcome. It wouldn't stall his basketball journey.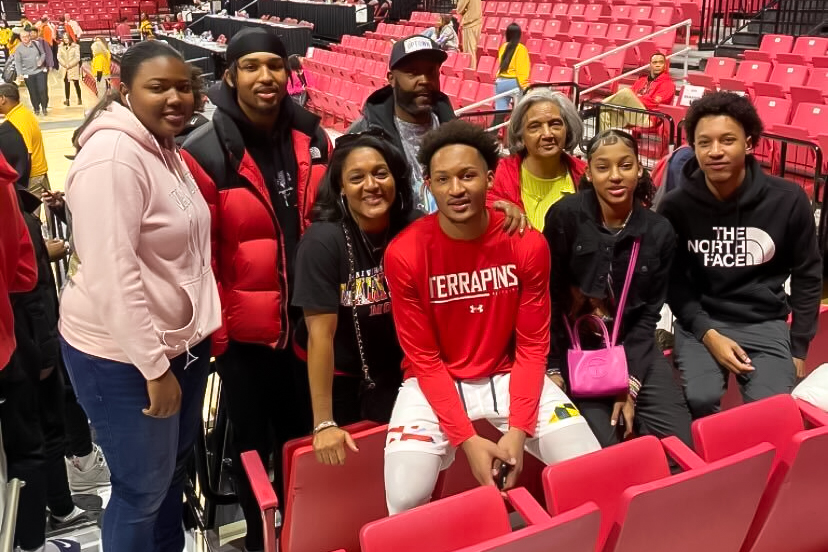 A familial drive
The Maryland point guard displays an unwavering and stern on-court demeanor. But anywhere else, his behavior unveils a person much unlike his playing persona.
Those closest to Young describe him as soft-spoken, silly and caring. He cherishes his family, a close-knit group. He has three siblings: Daesha Young, 20, Jabari Young, 18 and Nylah Young, 14. Their mother, Iesha Brewster-Young, helps teach children with disabilities in Prince George's County.
"There was never any competition between [the siblings]," Brewster-Young said. "They always loved each other."
Young is especially close with his youngest sister. Nylah Young plays on the same Takeover AAU team that he did and the Maryland point guard takes time out of his schedule to train Nylah Young and attend her practices.
"He inspires me to play basketball," she said. "He's more like a father figure to me, and he looks over all of our siblings to make sure we're good."
[Maryland men's basketball earns No. 8 seed in NCAA tourney, plays West Virginia in first round]
Without his father, Young felt he had to take on the "man of the house" role and mature quickly. Nylah Young took inspiration from him in basketball — a player who drenched himself in the game from a young age too.
His athletic gifts — his mother described him as "a child that could ride a bike with no training wheels," — spurred him into first playing basketball at the Bowie Boy's and Girl's Club at seven years old.
"He loved it," Brewster-Young said. "Jahmir has always been very, very competitive and an extremely hard worker. From early on, I knew sports was going to be his interest."
One of Young's mentors was his uncle, rapper Dave East. East, who has worked with 2 Chainz, Pusha T, Nas and Lin-Manuel Miranda,also played college basketball at Richmond and Towson. He played against Kevin Durant and Greivis Vásquez in AAU. Young has tried to emulate him, both in his goal to mentor those younger than him but also by using his success to take care of his family.
"[Being a role model] it's something that I enjoy, just being able to take them under my wing, trying to set a good example for them on and off the court," Young said. "It's something that I take pride in."
High school success and challenges
Young left his first high school St. Mary's Ryken because his coach, Patrick Behan, left for his current job at St. John's. Young knew then-DeMatha coach Mike Jones through attending his basketball camps at a young age.
"[Young was] always a dominant player, but never said too much," said Jones, who is now a men's basketball associate head coach at Virginia Tech. "A lot of the young kids ran their mouths a little bit talking trash, [Young] never really got into that. He just wanted to play."
Jones described Young as one of the best rebounding point guards he had ever coached.
Despite playing on a team that included Michigan's Hunter Dickinson, Villanova's Justin Moore and Bryant's Earl Timberlake, Young started every game he played for Jones. His AAU team included Dickinson, Duke's Jeremy Roach, North Carolina's Armando Bacot and several other Power Five commits.
Those talented players overshadowed Young. He didn't start for Team Takeover and some college coaches shied away from him because of his 6-foot-1 height. He only averaged about four points per game in AAU during 2018.
"I've been around talented players my whole life," Young said. "It elevated my level of play also — growing up playing with guys like Justin Moore and Hunter Dickinson, seeing them get high-major [offers], I knew I would slip through the cracks and eventually somebody [would] take their shot on me."
Young didn't receive national attention until a 16-point performance in the championship game at Nike Peach Jam, a highly-acclaimed part of the Nike EYBL circuit, during his junior year. That's when Charlotte and numerous other colleges reached out to him — Maryland wasn't one.
"[Former Maryland coach Mark] Turgeon wasn't interested in him, so we moved on," Brewster-Young said.
Charlotte coach Ron Sanchez, then an assistant coach at Virginia, said he frequented DeMatha but didn't think Young could play in the ACC. But when he became the 49ers head coach, he made the guard his first recruit.
[Maryland men's basketball is looking forward to its final challenge: the NCAA tournament]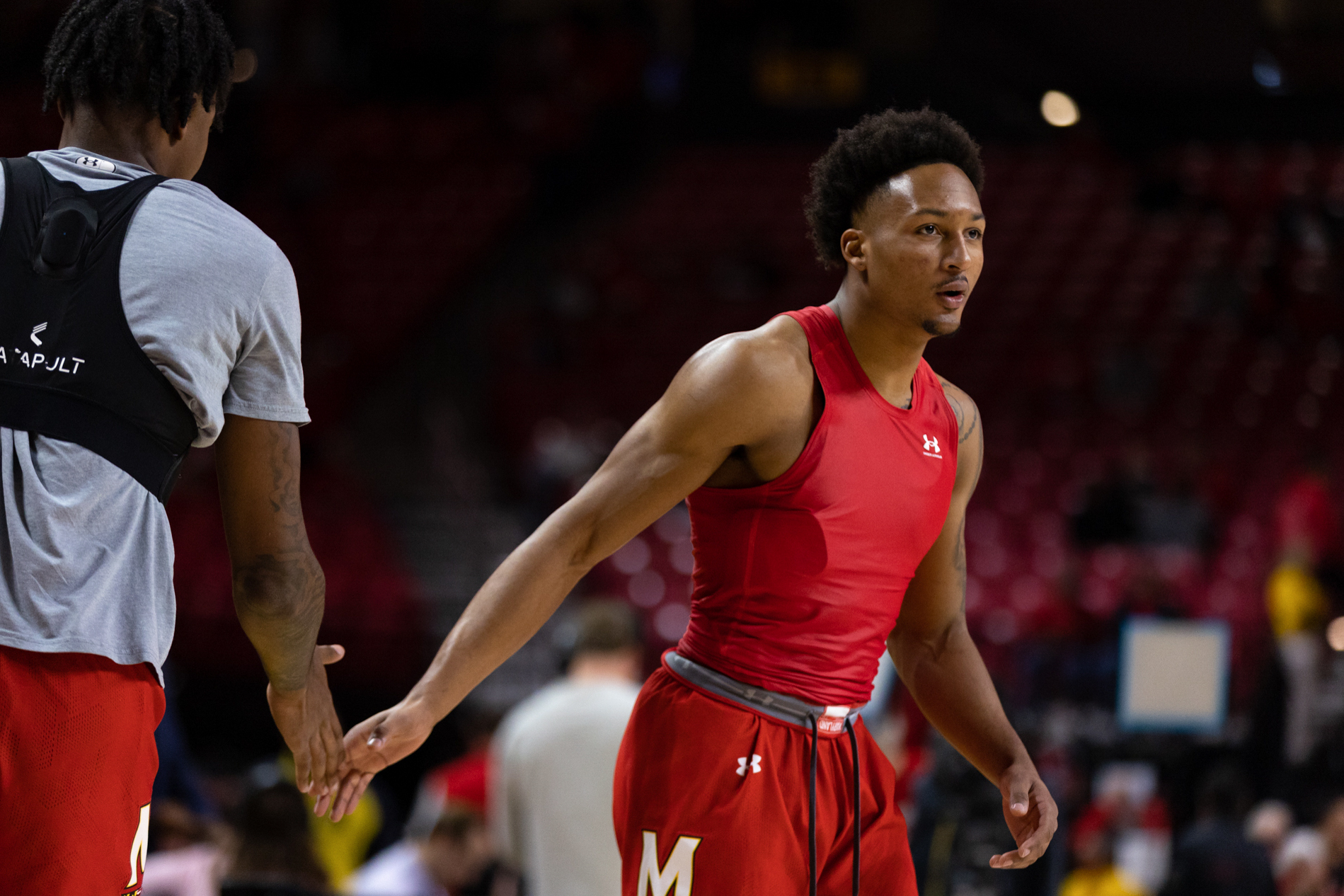 Flourishing at Charlotte
Young started his collegiate journey pissed off.
At least, that's what Jones said. It's not that he wasn't grateful for the opportunity Sanchez had presented him — he reveled in it. But Young, according to a few people close to him and obvious in his pride for the current letters on his jersey, never saw himself outside of the Terps' red, black and gold.
"He always wanted to go to Maryland," Jones said. "He always saw himself as a hometown kid and wanted to put that hometown on his jersey across his chest."
North Carolina felt far and unfamiliar. Young's family could no longer easily travel to a game.
"We would drive down, go to the games, and then go to his apartment, take a nap, and then drive back," Brewster-Young said.
His family couldn't be as routinely involved in his life, and at first, the texture of the new environment sanded down Young's spirit.
"The first semester was hard," Brewster-Young said. "The people in Charlotte were great, but it was different than the DMV. He was really trying to get used to it and make coach Ron Sanchez proud."
Despite the emotional hardship Young experienced early on at Charlotte, it didn't seem to affect him on the court. He played in 29 games and averaged double-digit points with over five rebounds a game. The guard was named Conference USA freshman of the year.
If Young longed for home, it didn't show in his play.
Sanchez felt the special bond he and Young had gave him the confidence to trust Young with the ball early on in his career.
"You have to give Young a lot of credit," Sanchez said. "The one thing that he's always done since he's been here was put in the time to get better."
Young jumped to a first-team Conference USA spot the next season after averaging 18 points per game. He earned the accolade again as a junior. One of Young's personal highlights in his final season at Charlotte was a 27-point, nine-rebound and four assist game against Wake Forest — a performance that proved he could perform against Power Five competition.
"He was really, really good for us against some really good competition," Sanchez said.
But Young never quite forgot about the separation from his family. In the rare moments he got with them, he would run on the track with his mother and little sister. Sanchez called it a "unique and nice dynamic" they had together.
But the distance proved too great and the guard planned to find a way to get closer to them through the transfer portal.
Maryland finally came calling. Young kept in communication with Sanchez about the process despite any potential awkwardness resulting from the departure and said he left Charlotte due to "business reasons."
"I'm so thankful that he spent the time that he spent here with us," Sanchez said. "And if my role in his basketball journey was to help him get to the Big Ten and be the best player that he can be in the Big Ten, then I'm thankful to have played that role in his life."
[Don Carey finds his form for Maryland as he nears the end of his sixth collegiate season]
A return home
Young returned to the DMV and had his family back within reach. Maryland coach Kevin Willard nabbed his first critical transfer player to tie together a roster with two key veterans in Hakim Hart and Donta Scott, along with the returning Julian Reese.
Young found relief in the stage and jersey he felt like he belonged in. Brewster-Young said his first game with Maryland brought a weight off the guard's shoulders.
"It's like a dream come true, really, just being able to be up the street from where you grew up from," the guard said.
He watched and looked up to Maryland guards like Vasquez, Anthony Cowan and Melo Trimble. Now Young had to process trying to fill their same roles — a task he fulfilled admirably.
"Usually when you jump conferences [there's] a drop-off," Young said. "It's more like a mental side to it. It's really the same basketball."
The guard contributed to Maryland's success immensely in their fast start, but his game-sealing three against Illinois on a national stage sent the Terps to 8-0 on the season. His mother said Young's grandfather made a poster with a picture of his shot on it.
Maryland was ranked No. 13 in the AP poll not long after.
A few games later, UCLA came to College Park. Young struggled and the Terps dropped out of the AP poll days after. It wasn't until after two non-conference games and further struggles, now against Michigan and Rutgers, that Young truly rebounded.
He shredded Ohio State for 30 points and 11 rebounds, tying his career-high in scoring. The game was one of a bevy of dominant performances from Maryland's top-scorer. Before Young's senior day, Willard reflected on his impact on the program.
"Jahmir Young has been instrumental in helping get this program back to where we want to get it," Willard said in a team Twitter video. "Not only has he been humble even on the court, but most importantly, he's been someone that, as a staff, we can depend on to help us recruit, to help young guys, to help this program get better every single day."
The guard later dropped 18 points, three rebounds and two assists on his senior day against Northwestern. 42 of Young's friends and family watched him take what could potentially be his last game at Xfinity Center. He still has his extra year of eligibility due to COVID-19 left, if he decides to use it.
His mother and sister always marveled at how the point guard can switch on his playing persona — an athletic guard that will drive in the paint against anyone, a beast, as Nylah Young says — and manage to switch off for his family.
Finally, after the roses, tears and sweat, Young departed the court he'd dreamed of playing on, the setting for many of his finest moments as Maryland's lead guard.