By Bridget Byrne and Akshaj Gaur
Hundreds stood together in Stamp Student Union Saturday as Piscataway-Conoy tribe member Rico Newman sang the Algonquian version of the Star-Spangled Banner on his tribe's ancestral land at the University of Maryland.
The powerful moment was the highlight of a day-long celebration, filled with singing and dancing, of Native American people's cultures at this university's 2023 Powwow. The event returned to this university after a three-year hiatus due to the COVID-19 pandemic.
"The key takeaway is diversity, that native people come from different parts of the United States and Canada and even Central and South America," said Dennis Zotigh, who served as Master of Ceremonies at the powwow.
Powwows are celebrations of Native American culture, where Native American people and nations dance, sing, rekindle old relationships and meet new people. The celebration at Stamp Student Union also included traditional arts and crafts vendors as well as raffles for Native American products.
This year's celebration was organized by the Multicultural Involvement Community Advocacy office at this university and this university's Native American Indigenous Student Union.
Hana Zewdie started her job as MICA's coordinator of multiracial and Native and Indigenous student involvement in October. Early in her tenure, she met with the Native American Indigenous Student Union to ask how she could support the community.
"The number one thing they had to say was powwow," Zewdie said.
[UMD community celebrates Thurgood Marshall at public policy building naming ceremony]
Jeremy Harley, a senior computer science major and vice president of the Native American Indigenous Student Union at this university, attended this university's powwow in 2019 as a high school senior. Harley vividly remembers dancing at the event and hoped to continue such traditions as a student.
Despite missing out on the celebration for the past three years, Harley finally delivered on his promise as a senior.
"It has always been my goal to bring back the powwow," he said. "As a senior in college, I am able to say that we brought it back."
The event has been in the works since October.
The event included dozens of traditional dancers, who hailed from states as far as Montana and other artists who sang and played the drums.
Zotigh coordinated the singers and dancers. He is a member of the Kiowa, Isanti Dakota and Ohkay Owingeh Pueblo Tribes and works as a cultural specialist at the National Museum of the American Indian. He started MCing powwows when he was a student at Brigham Young University. He incorporates education whenever he MCs, taking time to explain what the dancers and singers are celebrating and why, he said.
"The first-time visitor has absolutely no idea what's going on," Zotigh said. "Without education, there is no way to appreciate what you're seeing and hearing."
Zotigh said students and this university must represent Piscataway culture because the university was built on Piscataway land. At this university's powwow, the Piscataway Tribe's flag was featured in the Flag Song, which is performed to celebrate veterans.
"People don't know that native people exist right on their doorsteps," Zotigh said.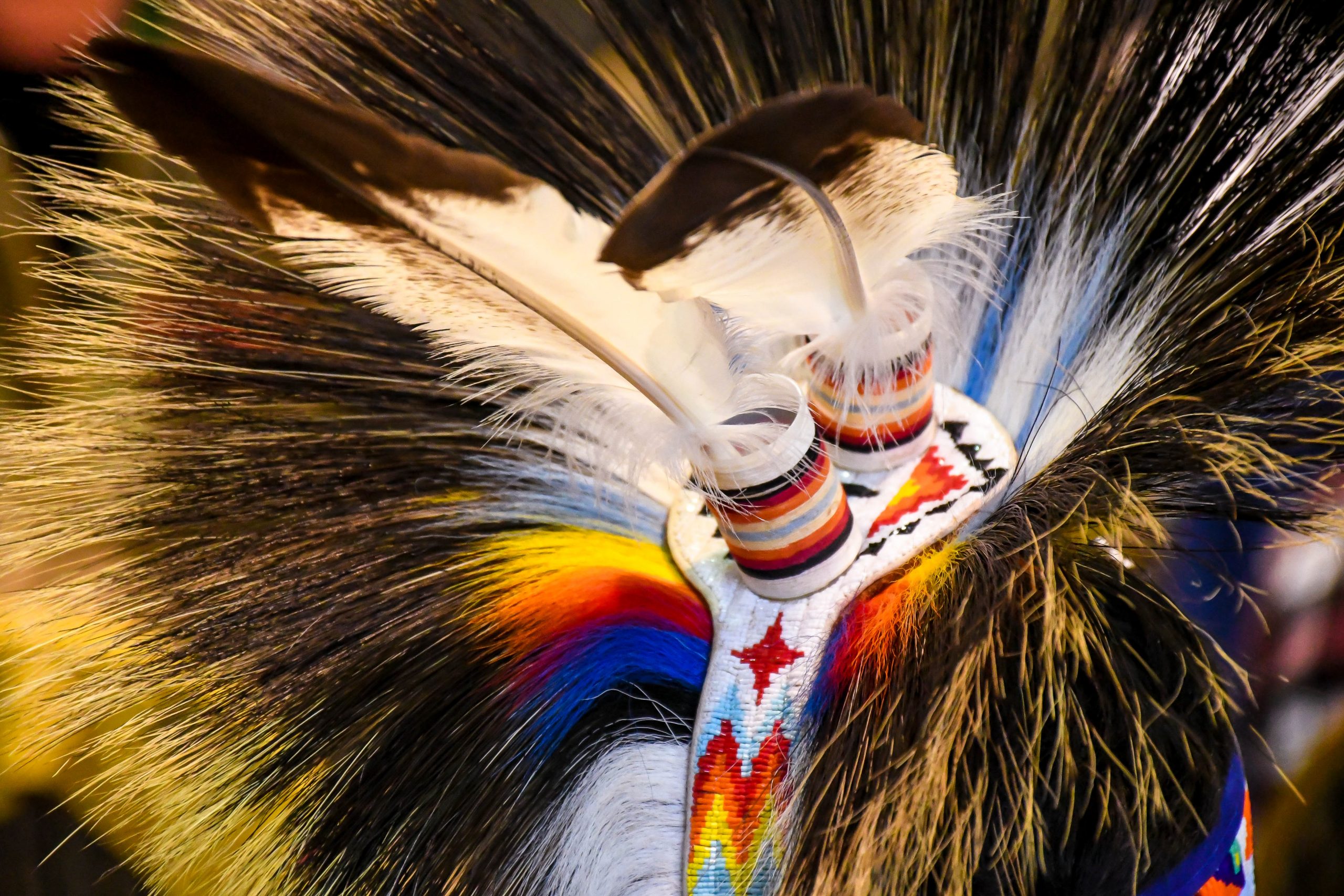 Traditional dancer Peter Brooks dances in powwows across the country to continue his ancestral traditions from the Piscataway and Tuscarora tribes. Brooks accepted the invitation to dance at this university as a way to keep traditions alive for future generations.
"It's just in your heart," Brooks said. "It is just something you feel. You feel like you're helping to keep the traditions alive."
The event also drew significant attendance from non-native members of this university's community.
[South Asian leaders in Maryland hope to inspire a new generation of politicians]
University President Darryll Pines was in attendance and said he hopes Indigenous students "know that they have support, that they can have events, that they can feel like they belong at the University of Maryland."
Others came from across state lines to learn more about Native American heritage.
Regent University student Aidan Baker-Miller visited the event from Virginia Beach, hoping to learn more about Indigenous people's history that was not taught in his history classes.
"I grew up in a small town in the middle of nowhere," Baker-Miller said. "So I never got the full scope of a lot of cultures mixing until I came here."
In addition to celebrating different Native American cultures, the powwow also raised awareness on issues affecting Native American communities.
Paulina Martinez's parents are descendants of the Mixtec and Puebla Tribes in Mexico. Martinez, a junior elementary and middle school special education major and treasurer of the Native American Indigenous Student Union, hoped to spotlight the Missing and Murdered Indigenous Women movement. The movement, which dates back to the 1940s, aims to spread awareness about violence against Indigenous women, with those living on reservations reported to get murdered at a rate 10 times higher than the national average.
Martinez led an initiative to share stories of Indigenous victims of violence at the powwow with a display of numerous traditional red dresses, each paired with a story of a victim of violence.
She hopes this year's powwow is the start of broader representation for Native American students on the campus.
"The Native American Indigenous Student Union is open to any student," Martinez said. "We are definitely looking for more people to join the union."