For most college football players, spring is the offseason, time spent training for the next campaign.
For Dante Trader Jr., it means a return to SECU Stadium with Maryland men's lacrosse.
Trader excelled for Maryland football in the fall. He finished the season with two interceptions, four pass breakups and 62 tackles and helped the Terps to their best season since 2010 in a campaign that ended with a Duke's Mayo Bowl victory.
Just 36 days later, the 6-foot, 190-pound Trader had a different look, swapping No. 12 for No. 5 with a stick in his hand as an impact midfielder for Maryland men's lacrosse.
"I essentially had less time to get my rust off enough to get ready for [the first lacrosse] practice," Trader said. "I was kind of scrambling … even though it's a hard thing to do I was like, 'Yo, you gotta work to be able to play with these guys.'"
Trader didn't play for the lacrosse program his freshman year and concentrated on football. It wasn't an easy decision, but he stuck to it, watching from home as Maryland went 18-0 en route to a national championship.
He needed to focus on one sport during his first season, his high school lacrosse coach Andy Hilgartner said. Football also gave Trader a chance to play earlier.
"That was an adjustment," Trader said. "I watched every single game but I refused to go even though I was here because it would just make me mad that I didn't go out there and play."
He'll be at the games this season, playing the sport he starred in during high school.
[Maryland men's lacrosse couldn't out-duel Notre Dame in latest edition of recent rivalry]
Trader was a three-star recruit for football and was ranked No. 600 nationally in the class of 2021. But in lacrosse, he was a five-star ranked No. 9 in the nation — the top commit in coach John Tillman's 2021 class.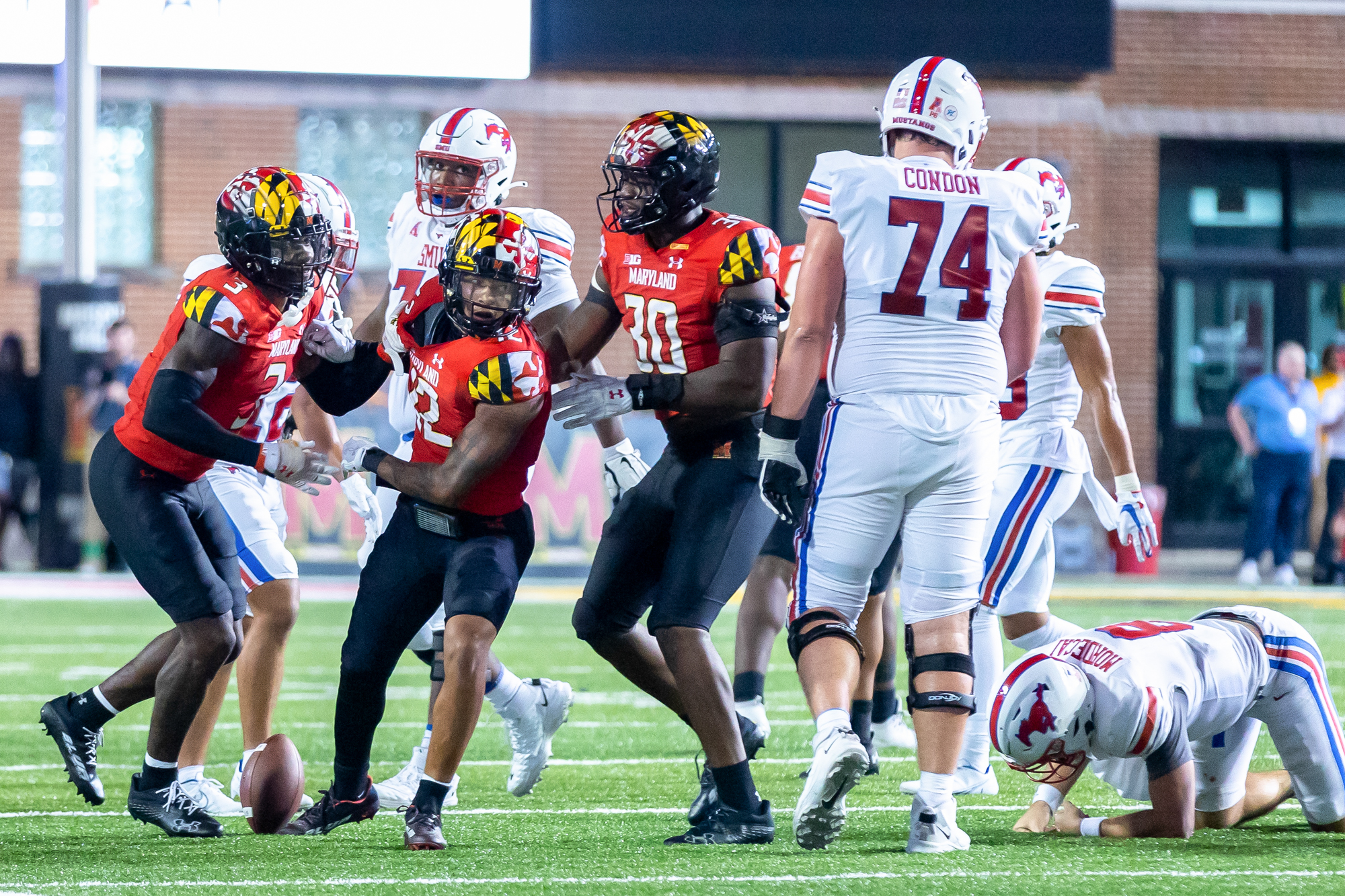 Trader transferred to McDonogh, a private school in Owings Mills that's about an hour away from the University of Maryland. He arrived at this university with the expectation that he'd play both football and lacrosse.
"When he came for a tour, it was actually the football coach and myself that showed him around," Hilgartner said.
Trader's impact was immediate, both as a playmaker and a leader.
"I don't recall a practice where he wasn't the first guy out there," McDonogh football coach Hakeem Sule said. "He led by example, and at the end of the day, he always produced. I could tell right away he was going to be a special player."
McDonogh football rolled to a perfect 3-0 start in Trader's junior season. The Eagles outscored opponents 110-23 entering a matchup against Bullis, where they got into an early 14-point hole.
"Give me the ball, and I'll make a play," Sule recalled Trader saying.
Trader snagged a screen pass and immediately turned up field. He forced two missed tackles and raced down the sideline before cutting inside near the 10-yard line, maneuvering out of a tackle as he found himself in the end zone for a 52-yard touchdown.
The play kickstarted a comeback victory; McDonogh outscored Bullis 23-7 following that touchdown.
[No. 4 Maryland men's lacrosse falls to No. 2 Notre Dame in triple overtime, 13-12]
The Eagles continued to flourish and finished 11-1 en route to a playoff berth. Trader drove much of that success, finishing as McDonogh's leader in receiving yards, receiving touchdowns and interceptions.
His impact extended off of the field. Trader was available to speak with underclassmen anytime — after practice, over the phone and more. He'd act as a "big brother," to them, he said. He worked hard to get to know his teammates as people.
"I was just being myself and I established myself as a leader," he said. "This is how I was raised … I like to take on the qualities of a leader."
He's continued as a leader at Maryland. Even as he's focused on lacrosse, he still helps his fall teammates through offseason training.
"[Trader] still feels a lot of pride to make sure he's helping in leading some of the football guys when they have workouts," Tillman said.
The sophomore has needed to adjust between the two teams, particularly in the different coaching styles that result from the much larger football team compared to the smaller lacrosse squad.
"You gotta understand, coaching 120 guys versus 50 is totally different, culture-wise, too," Trader said. "It's a lot harder to have a stronger culture with 120 guys … but the lacrosse guys, they're all great dudes. Coaching style is obviously going to be different."
Despite the year off and the need to adapt, Trader has played in all five games for Tillman's squad this season. He scored his first two career goals in the Terps' 15-12 victory over Syracuse, and scooped up a career high four ground balls in last week's loss to No. 2 Notre Dame.
"I think it's pretty amazing for a kid who hasn't played lacrosse for two years that he's stepping onto the best program in the country … and right away is establishing himself as one of their top defensive midfielders and also a leader," Hilgartner said.