Eddie Hacopian stationed himself near the right field line at a Maryland baseball game when he was in elementary school, hoping to catch a foul ball or get an autograph.
The Terps, still in the ACC at the time, hosted Florida State and then-Seminoles' assistant coach Mike Martin Jr. walked up to him.
But instead of a souvenir, Martin delivered a reminder of the young Hacopian's father's baseball talent.
"If you're half as good as your dad, we'll give you a full scholarship right now," Martin joked, according to Derek Hacopian, Eddie Hacopian's father.
Martin and Florida State knew Derek Hacopian well. He tormented the ACC during his playing days at Maryland, a career that included a conference player of the year award and setting single-season records in home runs and RBI.
Derek Hacopian's stories and memories surrounded Eddie Hacopian, fostering a passion for both baseball and the Terps while instilling a desire to follow the same journey his father took 30 years ago.
Eddie Hacopian is now Maryland's starting first baseman. The path he took to College Park, which featured a two-year stop at a California junior college, diverged from his father's but, ultimately, led him to fulfill both of their wildest dreams.
"It was always a dream to come here," Eddie Hacopian said. "But I wasn't ready out of high school. I had to go work my butt off in California and it just happened to work out."
Pushed aside
Eddie Hacopian and his younger brother Chris Hacopian, a senior at Winston Churchill High School committed to Wake Forest, have always been engulfed by the Terps. Derek Hacopian guesses he took them to at least 15 games over the years, a number that would be higher if not for their own hectic baseball schedules.
Winston Churchill coach Pat Skellchock was surprised to learn Eddie Hacopian was only a sophomore when he first saw him. The lanky infielder was already considerably taller than his peers, growing so fast his weight struggled to keep up.
His instincts impressed Skellchock, who immediately knew he needed Eddie Hacopian on the varsity squad. The sophomore played shortstop, second base, third base and occasionally pitched for the Bulldogs.
"Some kids are just winners, and they know how to win games," Skellchock said. "He was that type of player."
While the talent was obvious to those who worked closely with Eddie Hacopian, evaluators from the college ranks weren't seeing the same thing. Skellchock blames the shortage of attention on Eddie Hacopian's senior season being canceled due to the COVID-19 pandemic.
Derek Hacopian disagreed. He felt his son didn't have some of the key tools Division I programs look for. Despite his talent, Eddie Hacopian didn't have elite power or speed and didn't play a prime position, such as catcher, shortstop or centerfield, his father said.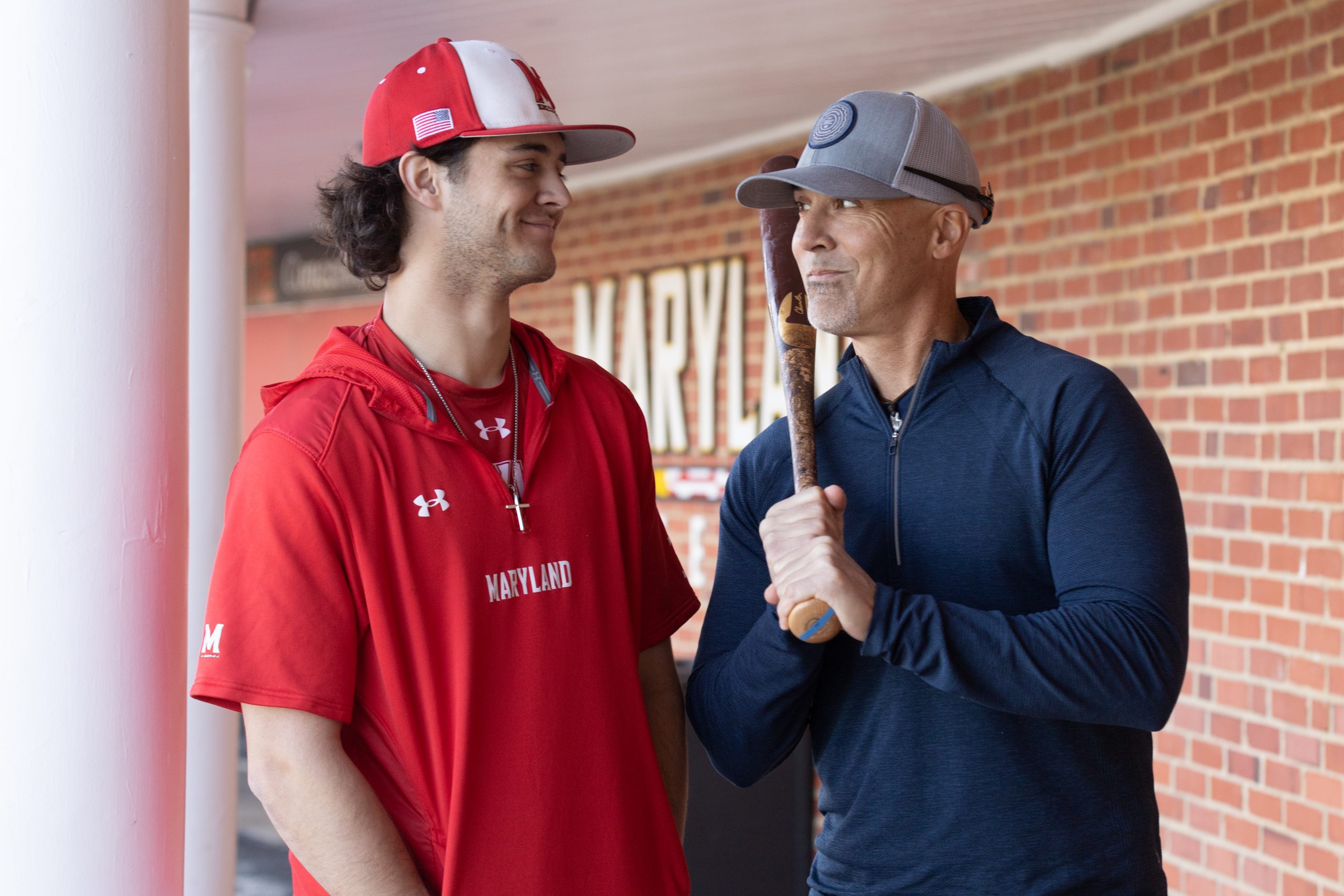 [Maryland baseball pulls away late to defeat UMBC, 12-6]
"Eddie, honestly, didn't have any of those tools really standing out," Derek Hacopian said. "He physically wasn't really mature enough yet, really hadn't come into his body yet."
But the disinterest from the next level didn't dim Eddie Hacopian's desire to become a Terp, and he never allowed it to impact his on-field demeanor, Skellchock said.
"He just wanted to find a place to play baseball, he didn't care where it was gonna be," he said. "Out of all the years and the different schools I've been at, I've never met a kid that loved baseball more than Eddie."
The father and son agreed they needed an uncommon approach to get to college baseball's highest levels. They decided on Cypress College, a two-year junior college in Southern California — more than 2,500 miles away from home.
Building belief
Cypress was scheduled to play just 28 games during the pandemic-shortened 2021 season. Eddie Hacopian didn't play a single one.
The freshman broke his wrist in the weeks leading up to the season. Coach Anthony Hutting chose to redshirt Eddie Hacopian with an already condensed season.
The decision held him behind as he entered his second season. He didn't begin the year as an everyday player and filled in sparingly through the first few weeks.
"Eddie certainly was in the mix of guys who were gonna get opportunities," Hutting said. "But at the beginning of that year, he really was not an established, for sure starter for us."
Derek Hacopian made the trip out to see a weekend series without any guarantee he'd actually get to see his son on the field. Eddie Hacopian didn't play in the first game but started in the next one. He notched three hits with his father watching and earned another chance the next day. He had three hits again, including his first home run.
"He really forced his way in there," Hutting said. "He didn't give us a choice."
Eddie Hacopian capitalized on the opportunity and seized the starting second base spot through the rest of the season. Those two games started a 24-game hitting streak. He hit .387 in his 41 games and was named first team All-OEC.
"I knew I wasn't doing enough to show those coaches to put me in the starting lineup," he said. "I knew I had to do more … Once I started playing my game, I got that confidence back."
The second year infielder was finally growing into his slender frame. With the hits grew Eddie Hacopian's confidence. A conversation between him and his father amid that dominating stretch showed Derek Hacopian his son's bolstered conviction.
When he asked Eddie Hacopian how the previous starting second baseman was doing after losing his role, his son's reply showed he wasn't even considering the competition.
"Dad, whatever," Derek Hacopian recalled his son saying. "I'm better than him."
"That was a statement," Derek Hacopian said. "This dude believes in himself."
Eddie Hacopian wasn't alone; Division I programs were also starting to believe.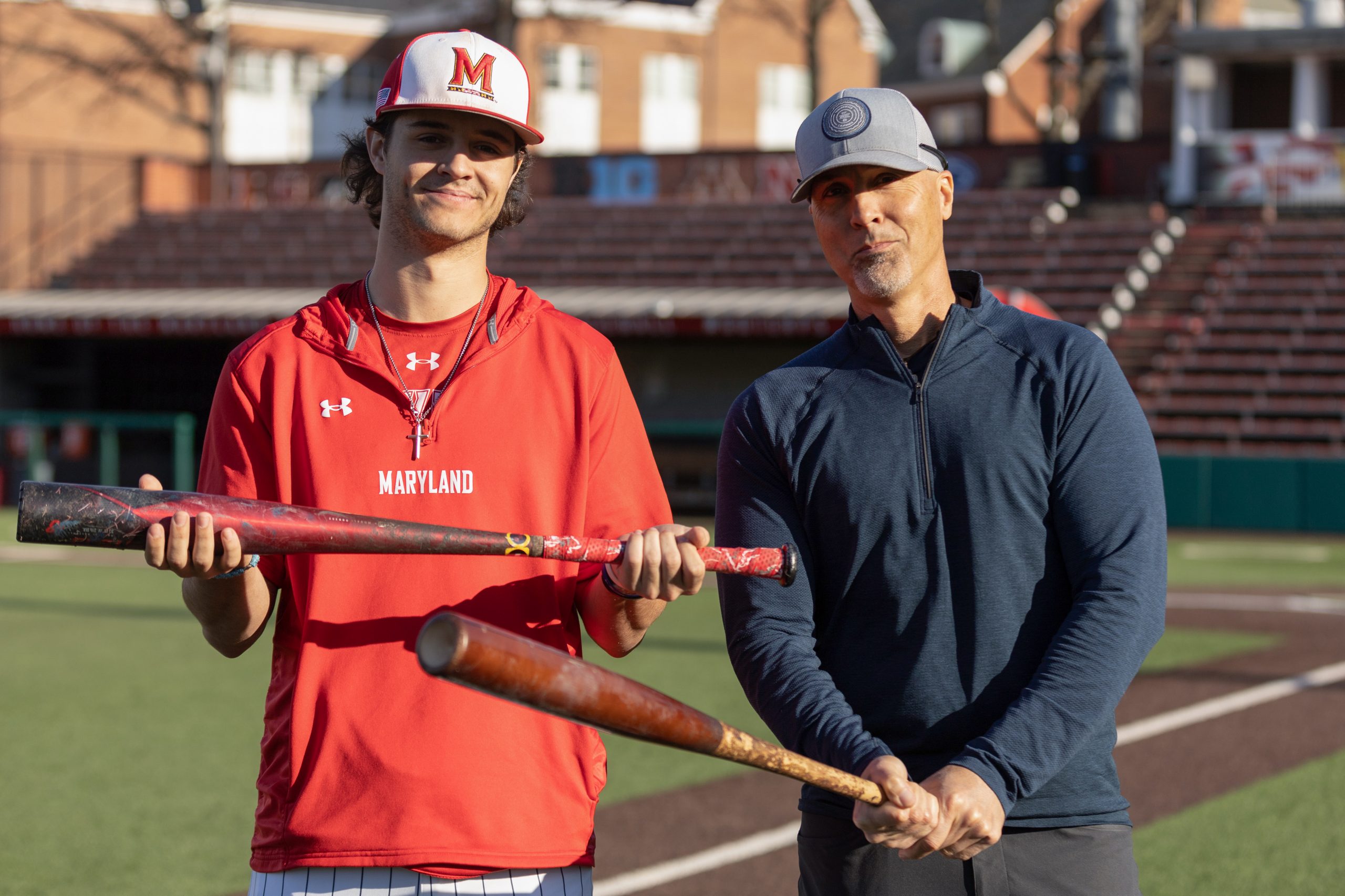 Bring him home
Eddie Hacopian's growth, both physical and mental, over two seasons at Cypress College earned him looks from top baseball schools.
Derek Hacopian said the first offer came from Coastal Carolina, the 2016 College World Series champions and perennial postseason participants. It was an attractive offer for Eddie Hacopian, who had to be convinced not to take it immediately.
[Eleven games into the season, Maryland baseball is floundering due to subpar pitching]
Derek Hacopian recalled his son's nerves when the Chanticleers made their pitch. He told Eddie Hacopian to relax before posing a question, wanting to know if his son still wanted to return close to home.
"Yes, I'd love to play at Maryland," Eddie Hacopian said, his father recalled.
"Well, just wait," Derek Hacopian said. "Let's see what happens."
He contacted the Terps' assistant coach Matt Swope early in his son's transfer process. Swope also played at Maryland after Derek Hacopian graduated. The two grew close during Swope's time as a player with Bethesda Big Train, the Cal Ripken Collegiate Baseball League Derek Hacopian managed.
He texted Swope to see if Maryland had any open spots in this season's incoming class and an official offer was sent a few weeks later.
"When Maryland came calling, I was like, 'That's where I want to be,'" Eddie Hacopian said.
He committed to the Terps in April 2022. Less than a year later, he's now thriving, starting every game so far as Maryland's first baseman. He's been a steady force in the middle of the lineup, reaching base safely in each game while hitting .300.
He also brought stellar defense. Eddie Hacopian has made a habit of snagging errant throws out of the dirt or extending for ones to his left or right. Those skills won him the competition for the position in the preseason over designated hitter Ian Petrutz, coach Rob Vaughn said.
"He competes really hard," Vaughn said. "That guy cares a lot."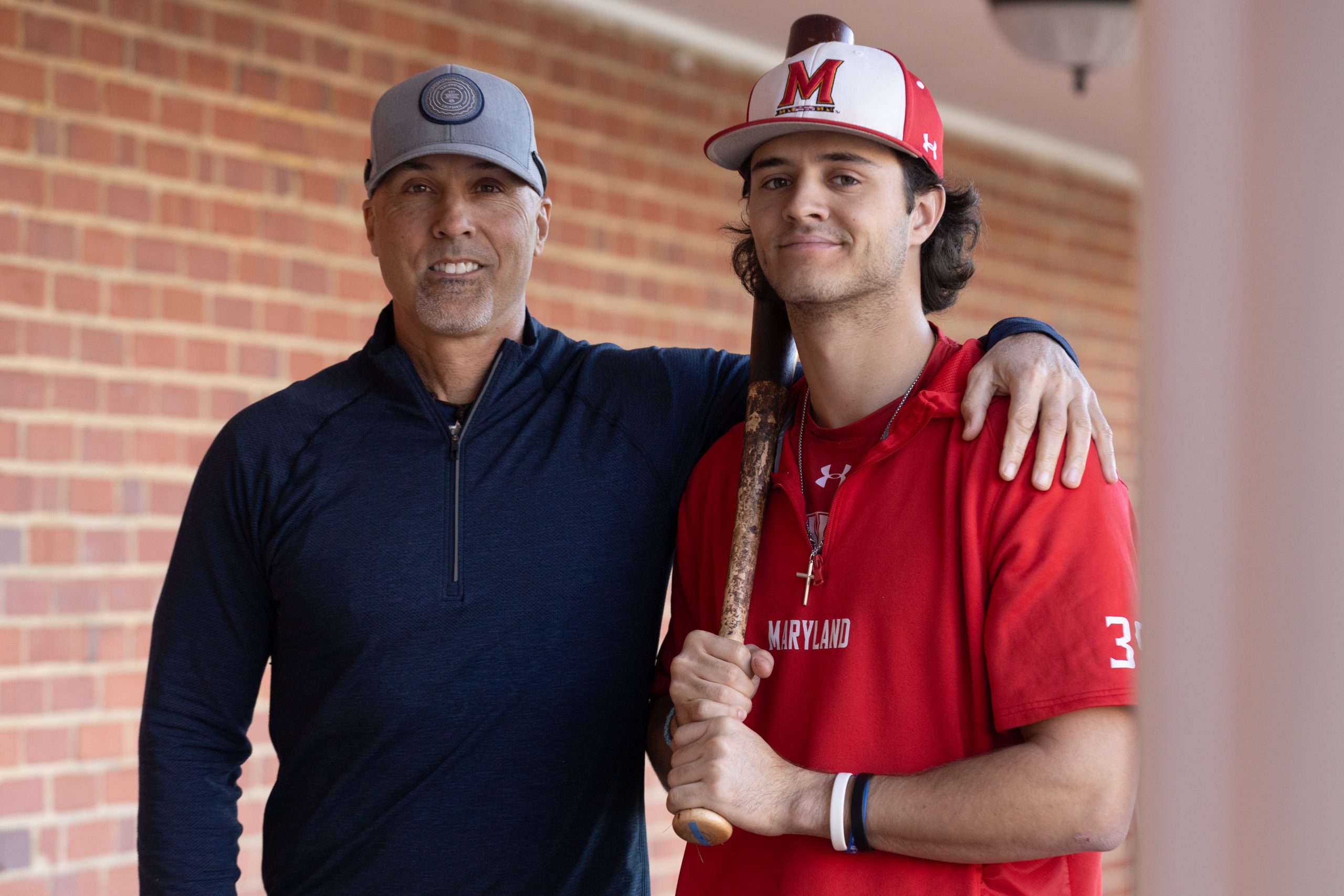 It's a full circle moment for Derek Hacopian, who now watches his oldest son play in the same infield he once did while donning the same No. 39 jersey, something Eddie Hacopian did to honor his father's impact on his life.
"I have to pinch myself every now and then knowing the journey Eddie has taken," Derek Hacopian said. "He's playing at Maryland, he's playing where I played, he's wearing my number."
The realization sunk in when Eddie Hacopian slugged his first homer as a Terp.
The ball flying over the right field fence marked the end of his unconventional path back to his dream school, one that first took him all the way to California but eventually brought him home.