When Shyanne Sellers hears her name called during the announcement of Maryland women's basketball's starting lineup, she hands out high fives while making her way through a tunnel of her teammates before stopping in front of Gia Cooke.
Sellers and Cooke smack their hands together down low, and Cooke brushes off Sellers' shoulders. The duo wraps up the handshake with a couple of high fives before Sellers takes her place on the court.
When the 2022-23 season began, Sellers stood in Cooke's position. She had the job of pumping up her teammates with custom handshakes during the lineup announcement before the start of games, continuing the role she started during a few away games last season. 
But when Sellers became a permanent addition to the starting lineup during the Fort Myers Tip-Off in late November, the Terps needed a new teammate to perform the handshake duties.
Others were hesitant to step into the role because of the need to remember all of the different handshakes, Sellers said. In the end, it was Cooke who volunteered for the position. 
A few months later, Cooke relishes her role as one of the last people to give her teammates an energy boost before tip-off.
[No. 8 Maryland women's basketball fends off late Michigan State rally in 66-61 win]
"We just get worked up, so I just try to be that stress reliever," Cooke said. "I just want to give that energy off and give it to my teammates."
At first, Cooke was concerned with her ability to remember the different handshakes, but it became easier once she put her own spin on them. Working with players such as Abby Meyers and Faith Masonius to create their handshakes convinced Cooke she could perform the job long term.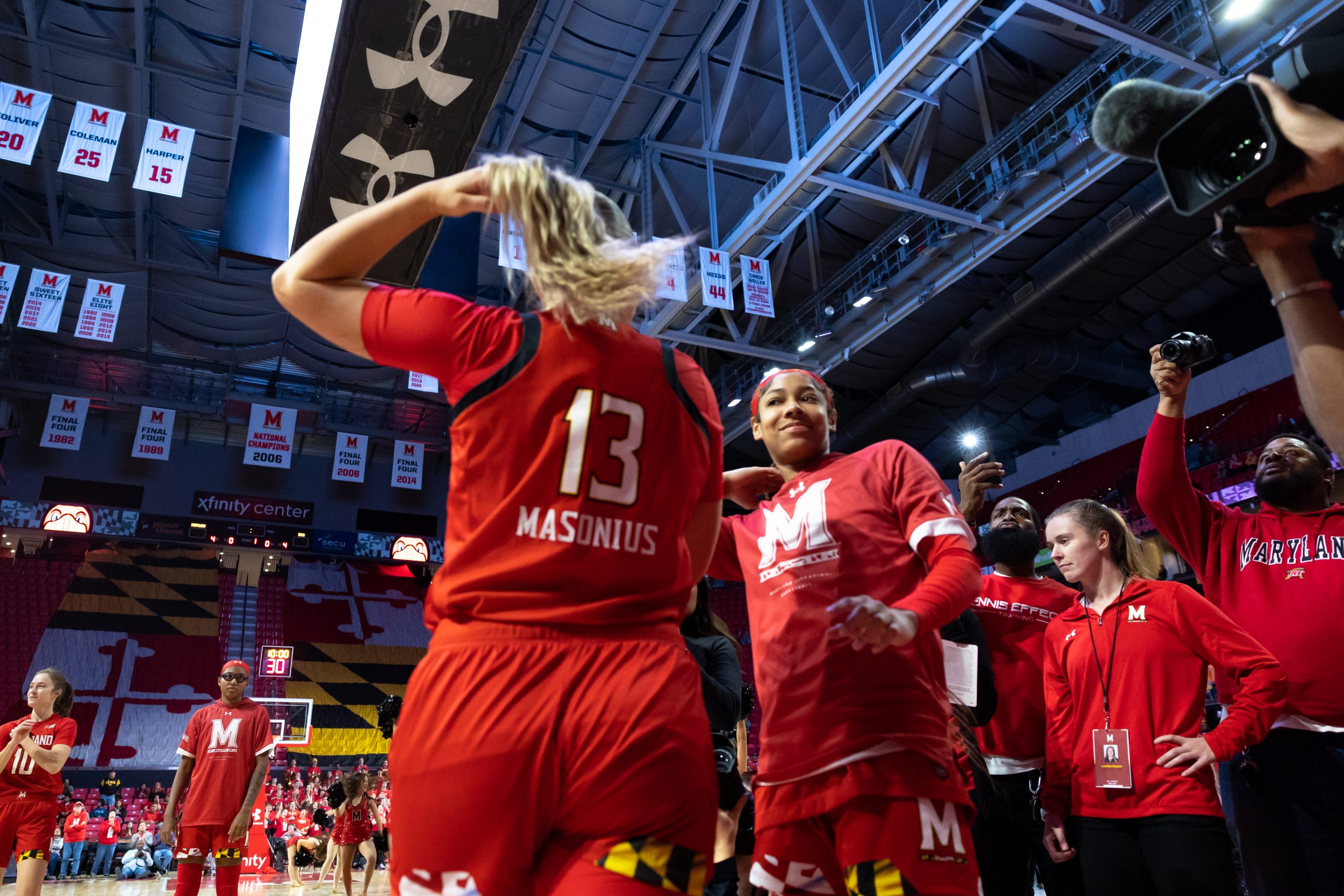 Masonius and Cooke's handshake shows off their "girly" side with synchronized ponytail flips after two high-fives.
"I just feel like that represents me," Masonius said about the hair flip. "I feel like I am a feminine basketball player."
Cooke loves the handshake for the same reason.
"It just feels like … you can still be super girly and still play basketball," she said.
[Maryland women's basketball didn't make a three-pointer against Illinois. It didn't matter.]
Cooke's other favorite handshake is Diamond Miller's. 
Miller and Cooke meet in the air for a chest bump, a big leap for Cooke who is listed  six inches shorter than Miller.
But while she has her favorites, Cooke has fun with all of the handshakes. She wants her teammates to have the same fun she has, which she tries to convey with her role in the team's pregame preparation.
"Once I give all the energy and stuff, everybody just feeds it off, and we be lit, we be having fun," Cooke said.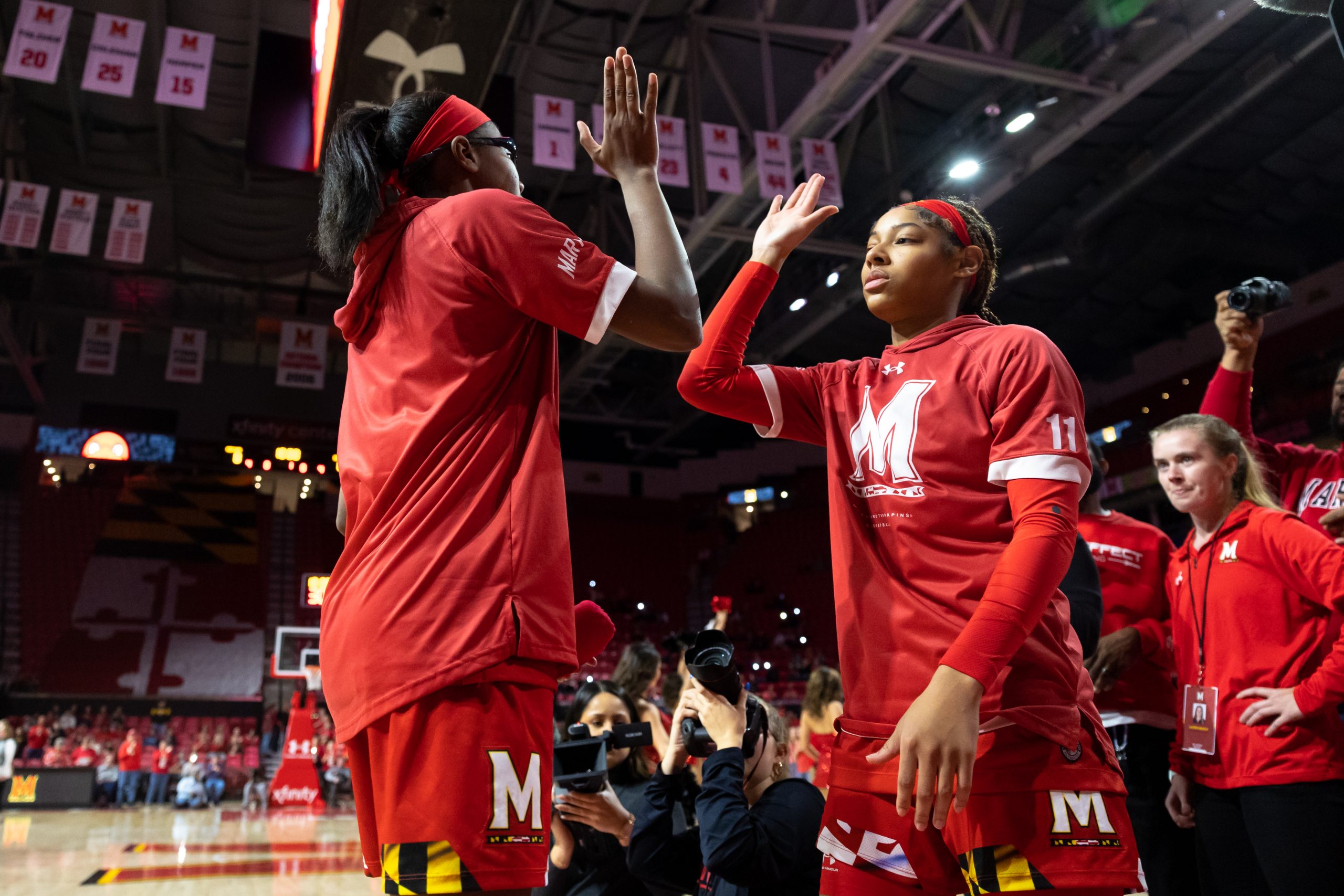 For Cooke, it's important for her and her teammates to have fun because they have the opportunity to play basketball together and shouldn't take it for granted, she said. Cooke has always seen herself as an energetic person and didn't want to change herself when she made it to the collegiate level.
Sellers thinks Cooke is doing a great job taking on the task of performing all of the handshakes. Performing the handshakes before each game "gets everyone going," Sellers said.
"Gigi is one of the best hype men, so I feel like she just enjoys giving us energy," Sellers said. " Gigi is always just giving good energy."