TV and film have an obsession with portraying dog shows as wildly competitive, complete with sabotage, trash talking and the like. But I attended the Maryland Kennel Club's dog show on Saturday and Sunday, and I can tell you none of that was true. Every single person I met was cheering the rest of their breed on, and talking about their friends and community. 
The show featured breeds ranging from three-pound Chihuahuas to nearly 200-pound Newfoundlands. All of them were beautiful in their own way, whether it was the artistic shaving and groom or the majestic strut as they made their way around the ring. I got to chat with a few of the dog owners, and realized dog showing is about so much more than just the animals.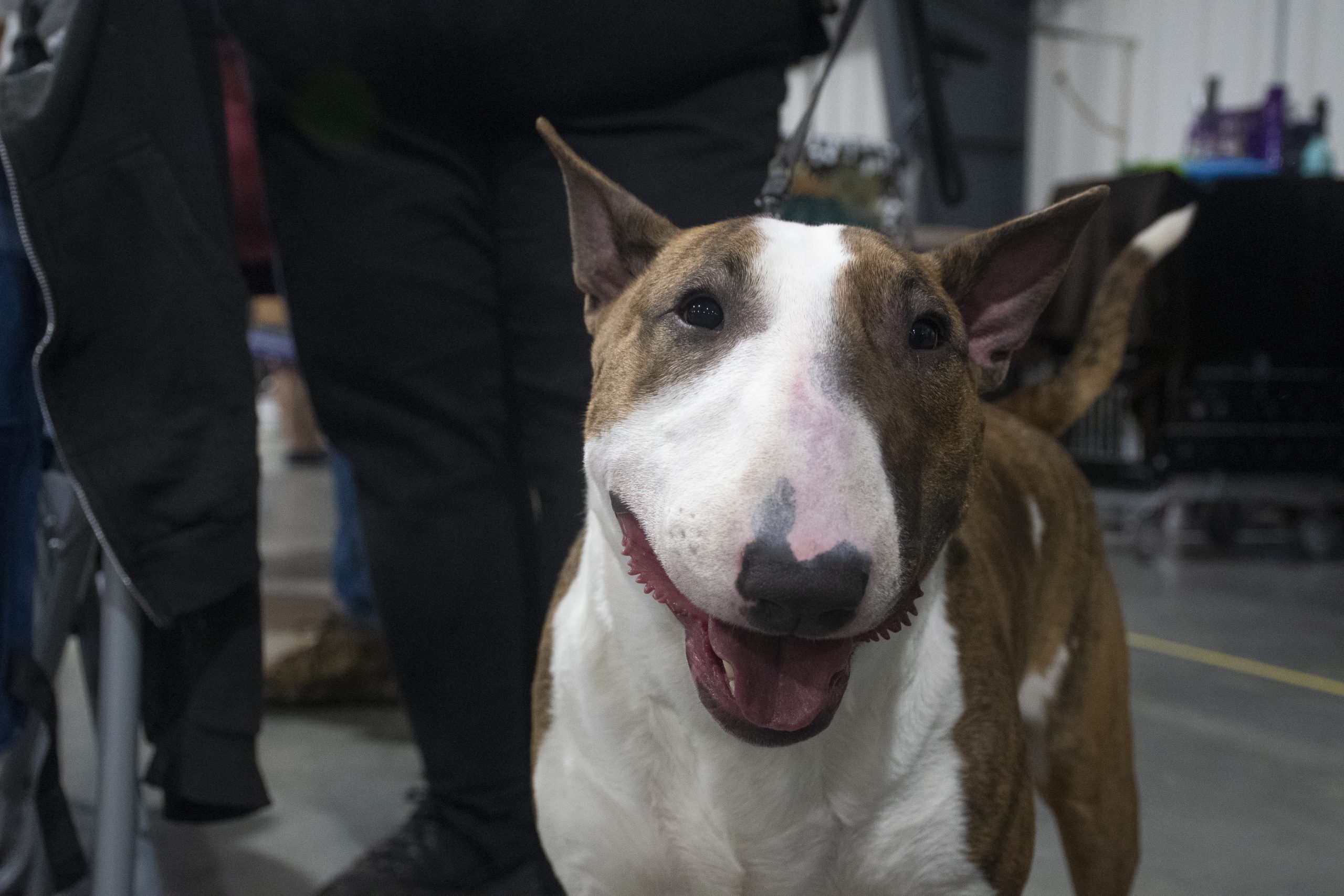 Cheese – 22-month-old standard-colored bull terrier
The winner of best in breed, Cheese — Registered Name: Behold, The Power of Cheese — was shown by Stacey Jones and her daughter Claire. Jones has been showing for more than 30 years, and said that bull terriers were love at first sight for her.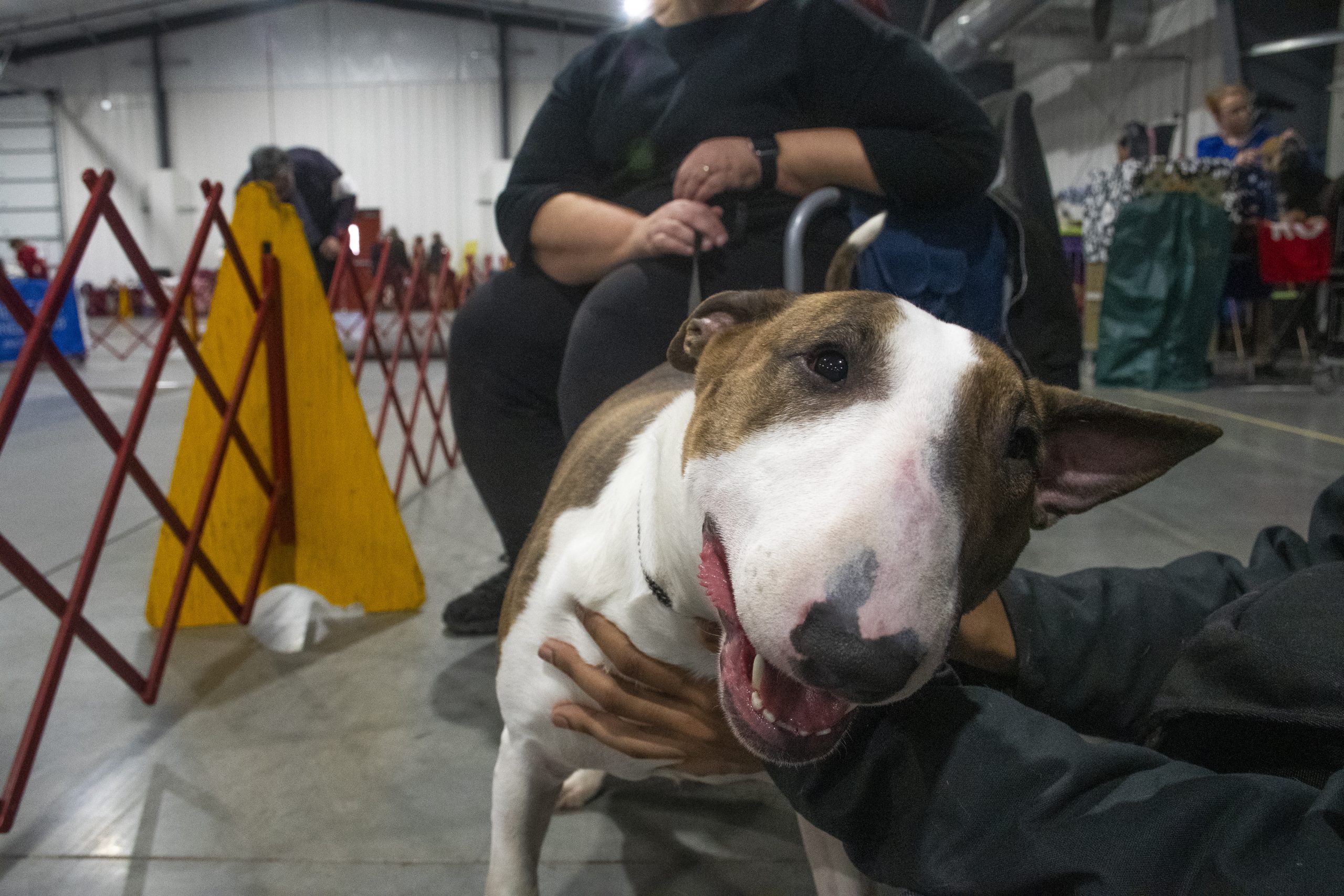 She's only been showing the breed for four years. Before that, she showed and bred bulldogs. She took a break to raise her kids, but when they were around 9 or 10 years old — the age they could start showing as junior handlers — she decided to get back into it.
Jones is a second generation breeder, and believes the safety and health of the breed is of the utmost importance. She ensures every dog gets tested for kidney and heart issues, along with a terminal disease known as lethal acrodermatitis.
[The Clarice's BlackLight Summit holds space for risk and rage to reach rejuvenation]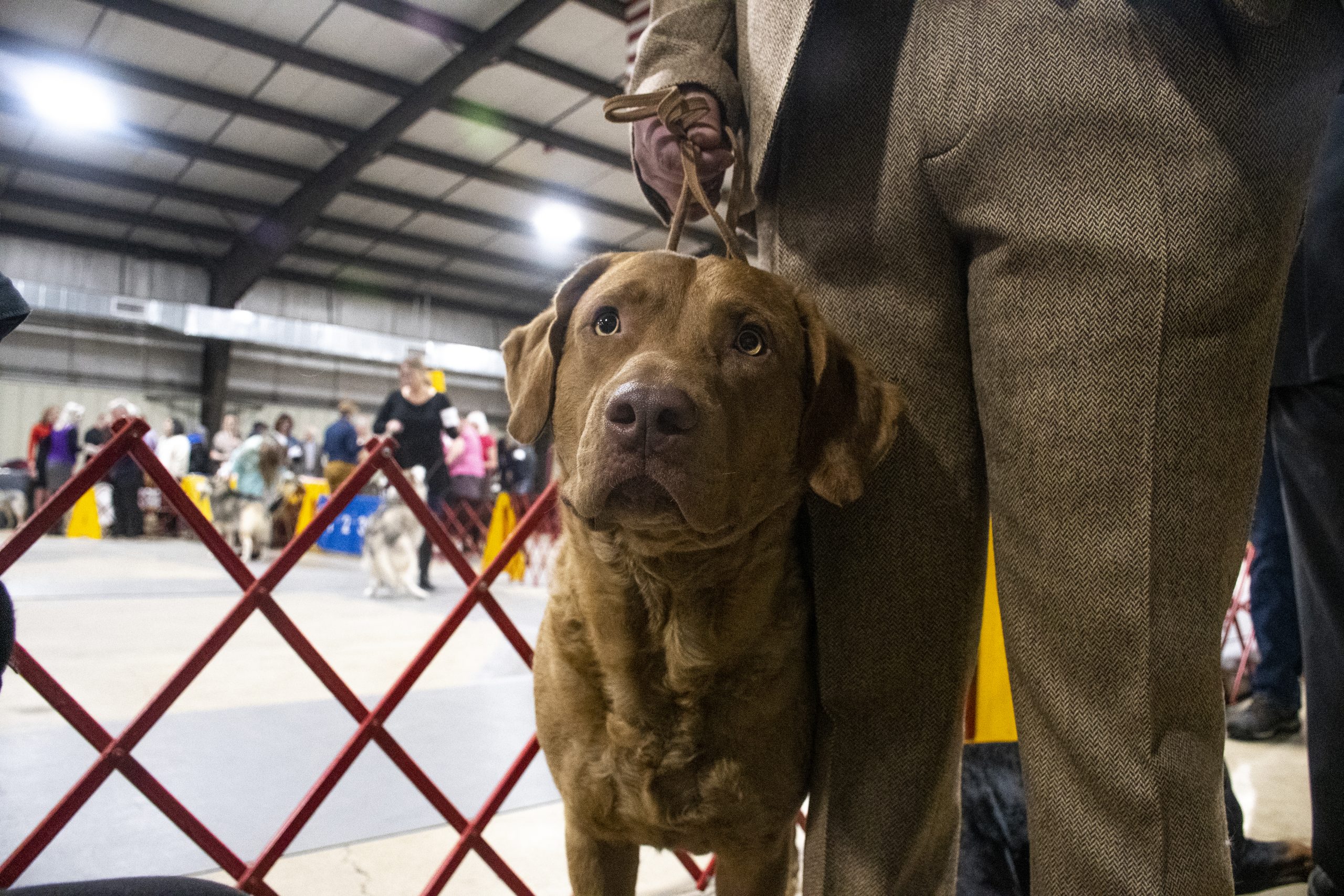 Grizzy – 20-month-old Chesapeake Bay retriever
Grizzy's owners, Allan Dawson and Sharon Sundue, only got into dog showing a year ago. Both Dawson and Sundue grew up with dogs, mostly rescues, and knew the challenges that rescue dogs can present. Their kids weren't as used to dogs, so they wanted to get a puppy. 
They also wanted to ensure their dog was well-socialized and well-bred. Dawson enjoys hunting, so they landed on the Chesapeake Bay retriever, a breed well-known for their waterfowl hunting skills. 
Their breeder suggested they show Grizzy, and it quickly became a hobby. The experience of showing is surreal, the couple said.
Grizzy, whose registered name is The Boss is Born to Run, is a big, powerful dog, but the couple says he is "amazingly gentle." At 95 pounds, he's just a big love, they said.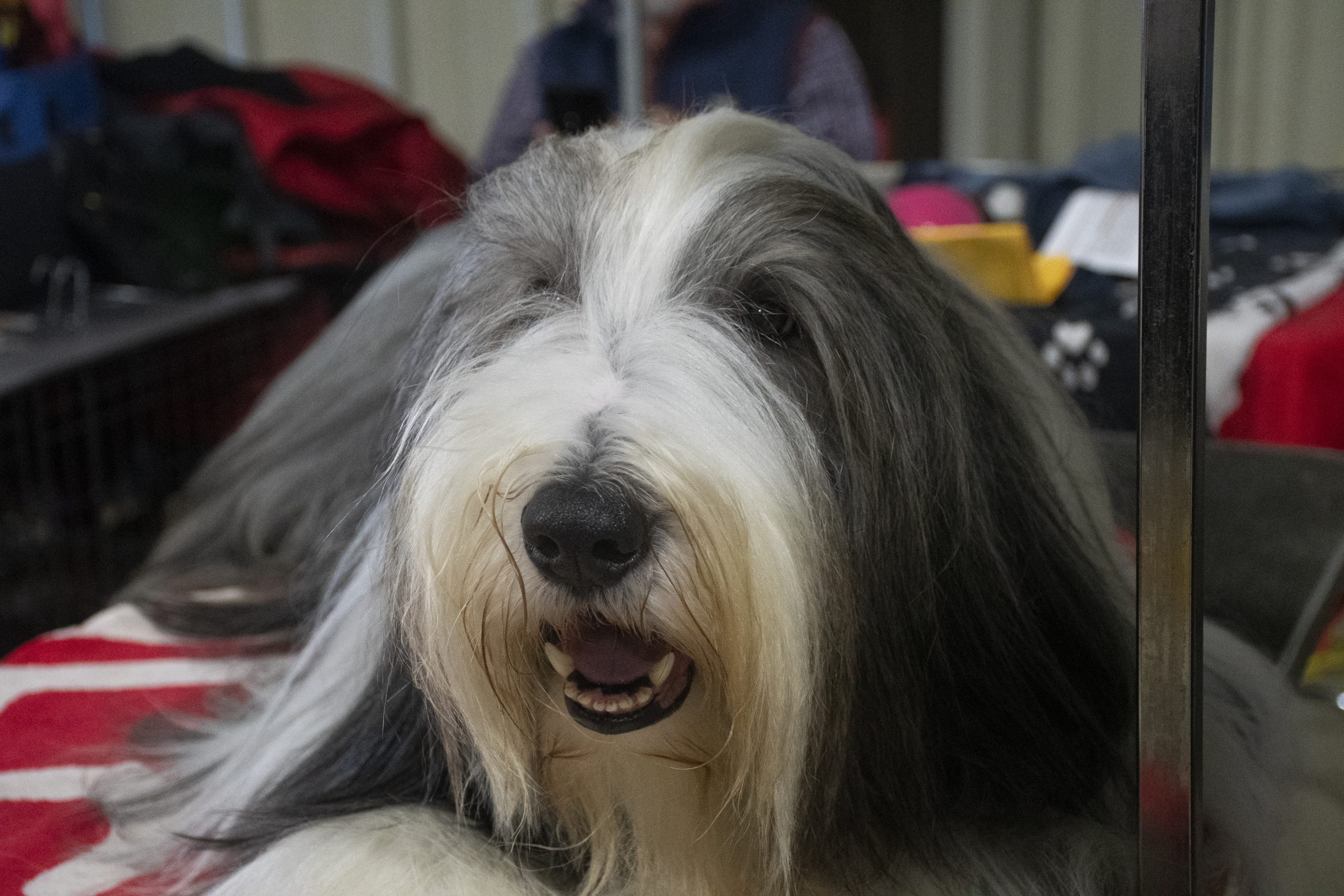 Archie – 4-year-old bearded collie
Archie is a bronze grand champion and has won various awards in rally and herding events. His owner, Lucy Campbell, got into showing when she was 14. 
Her parents brought her to a show at the Howard County Fairgrounds, and after it, she begged them to get an Afghan hound.
As a junior, she showed the Afghan hound and traveled with her family. In 1980, she made the swap to bearded collies.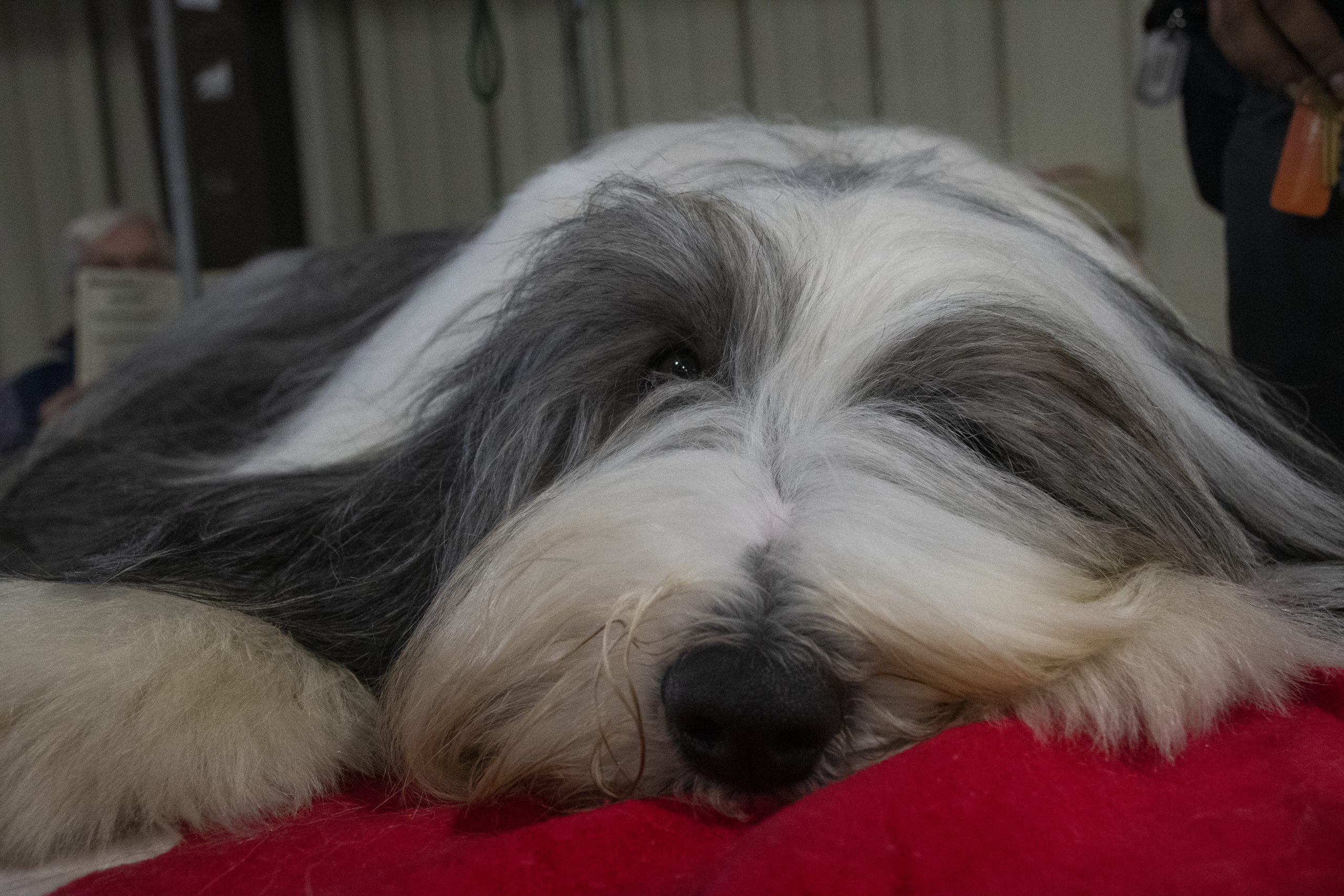 Archie, whose registered name is Dreamchaser Strathearn Acclaim, has silky, almost human-like hair, which Campbell says doesn't get very tangled. But every show day, it takes at least an hour to get him ready.
Unlike Afghan hounds, beardies will use their smartness to make their owners happy, Campbell said. She loves how Archie is so focused and devoted to her.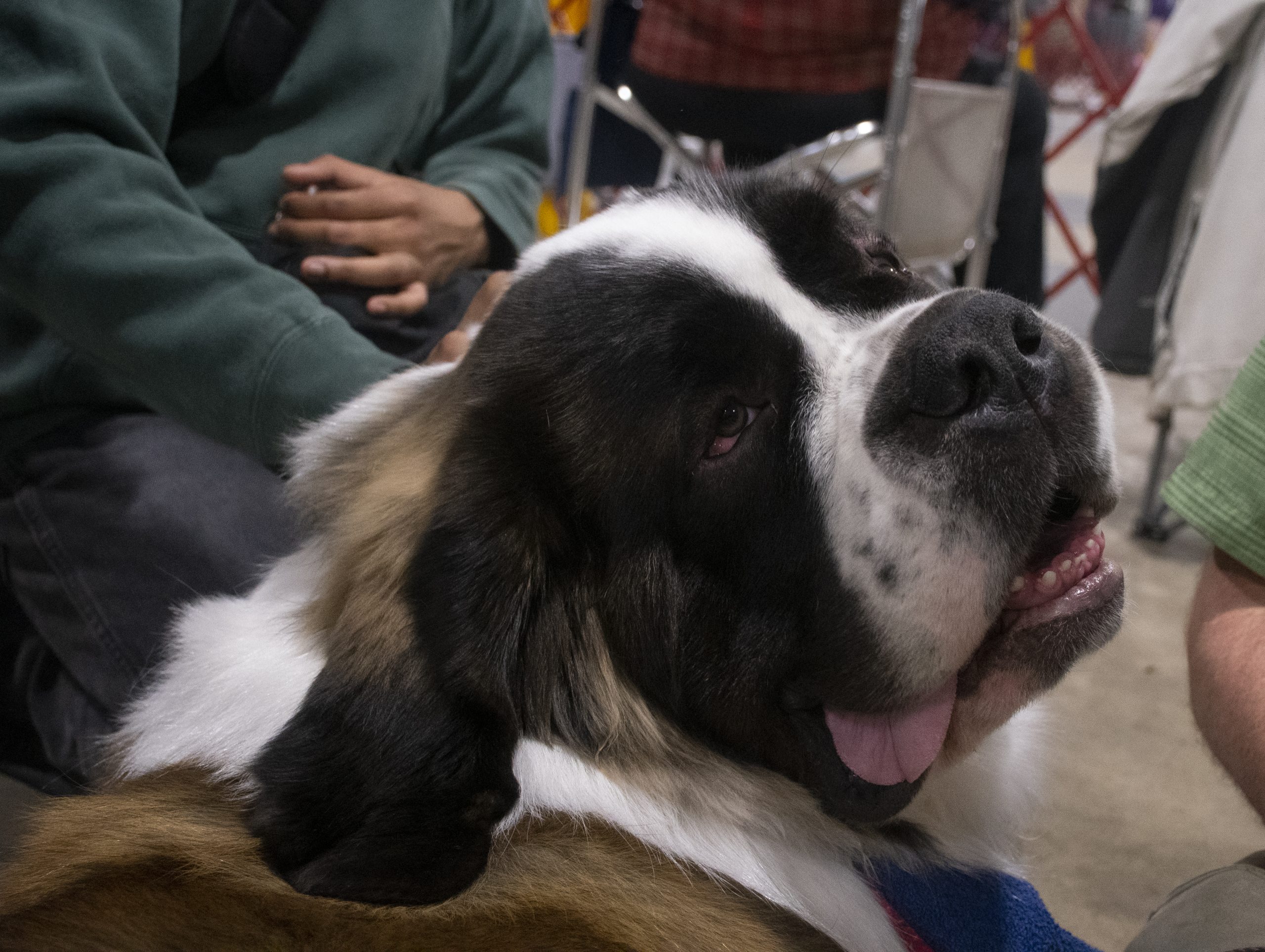 Jerrv – 15-month-old Saint Bernard
This 163-pound ball of love won his class of 12-to-18-month-old Saint Bernard's. Named after an army truck, Jerrv's registered name is Thunder Kegs Explosive Ordinance.
His owners, Sarah and Corey Collings, have two other dogs — a Newfoundland and Australian shepherd mix — and two cats. The Aussie runs the household, according to the couple.
The couple came to accept their home will never be fully clean, Sarah said.
When the Collings elected to get a third dog, Sarah wanted another big one, and Corey wanted a medium sized dog. They "compromised," and got a Saint Bernard.
Sarah has always been into showing, and she wanted to have a health-tested and well-bred Saint Bernard. To get a dog from a good breeder, she would have to be willing to show him.
The only thing explosive about him is the amount of drool he has. While he's a friendly and goofy dog, he's not a jumper. Sarah loves how playful he is, and that he's active for a big dog.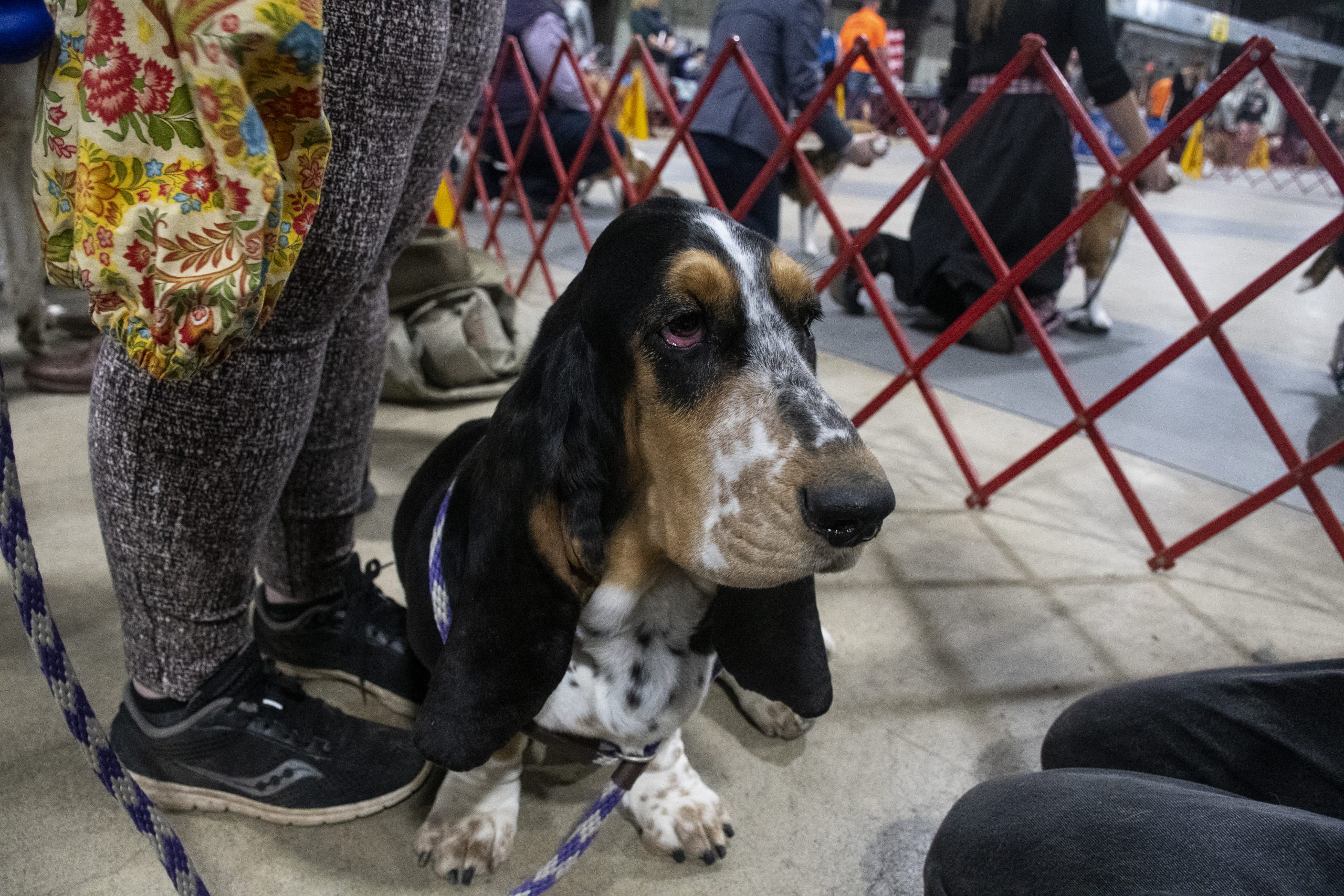 Millie – 1.5-year-old basset hound
Registered under The Law of Surprise, Millie's ears are about twice the size of her face and hang down near the floor without her snood on. 
The snood — an ear covering — allows her owner, Jessica Courtman, to keep Millie's ears clean before showing.
[Wakanda Forever Best Dressed Contest brings students together for a cultural celebration]
Basset hounds are well-known for their sense of smell, along with their short and stocky bodies. 
Courtman grew up with a basset hound, and when she decided to get one of her own she joined a club. The breeder suggested showing the dog. This was Millie and Courtman's first time showing. Courtman said she enjoyed the event and being able to see her friends. 
Millie is a quiet dog, but can be extremely stubborn, Courtman said. But, she's also the best cuddler.
Show dogs are required to be unfixed, and many of them are later bred. Courtman isn't planning to breed Millie, but wants her to get all of her titles and continue showing.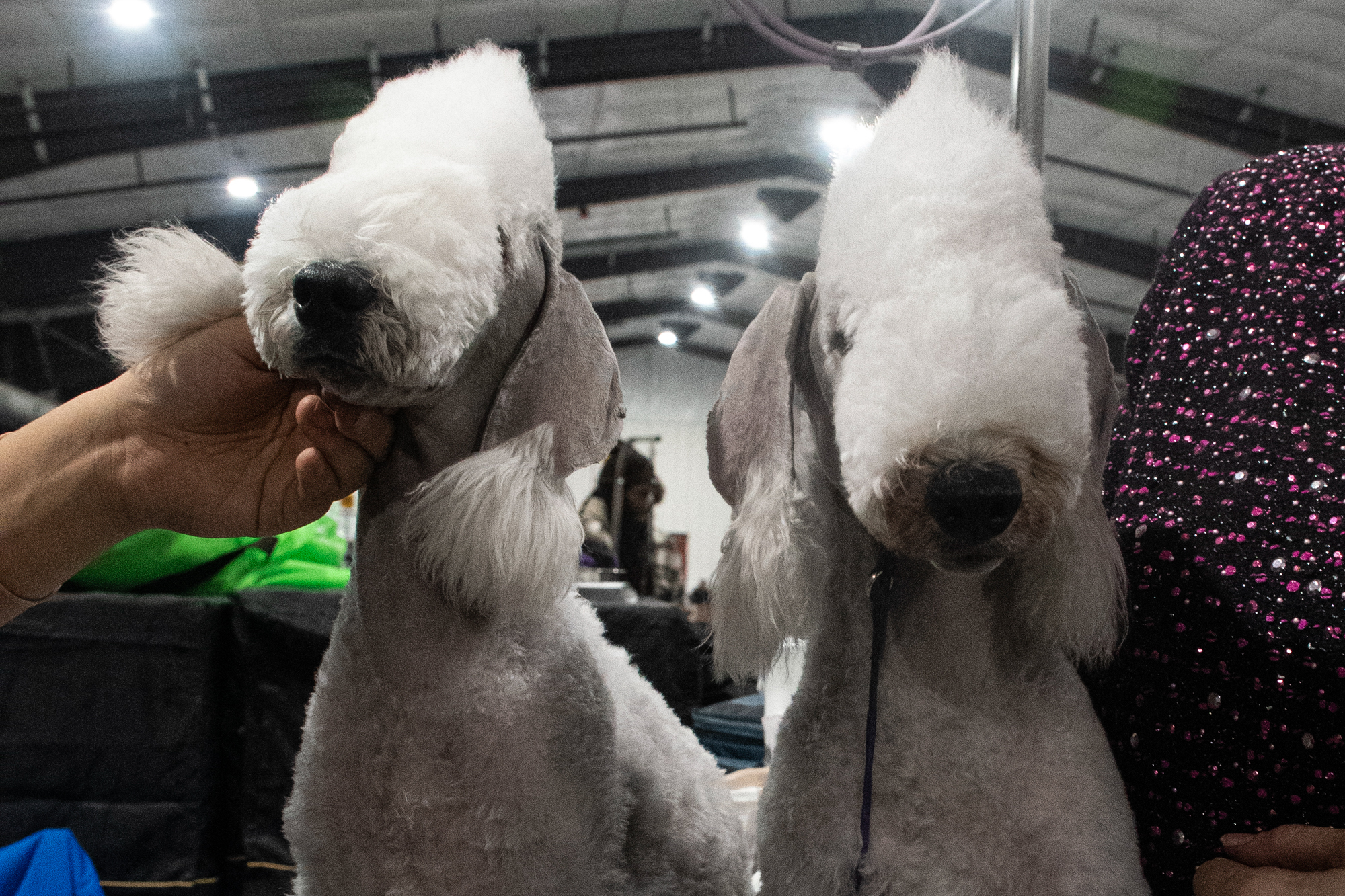 Tease & Sushi – 14-month-old and 2-year-old Bedlington terriers
Tease (left) won best of winners for her breed. According to her owner, Katie Cecilio, Bedlington Terriers are "diet terriers."
Cecilio first discovered the world of pure-bred and show dogs when she was 12. She wanted to compete in junior shows, but was unable. 
She started competing with two Australian shepherds and a pomeranian but when she became a groomer, she started to appreciate terriers.
She was introduced to Bedlington terriers by a family friend, and now has three of them. The oldest, Westley, is a 5-year-old male who retired in 2021 after competing in the Westminster Dog Show. 
They have the tenacity and drive of a terrier, but are also highly loving and expressive. They were originally a hunting dog, according to Cecilio, and the shave pattern allows them to protect themselves from prey, including otters and badgers. 
The breed isn't to be underestimated, even with its adorable cut and soft, fluffy fur. Cecilio said this dog has the head of a lamb and the heart of a lion.