Not many people have the innate ability to make a room full of a hundred people belly laugh, but comedian Atsuko Okatsuka brought her gift to Stamp Student Union Friday.
Okatsuka's performance was part of Student Entertainment Events' All Niter collaboration with Stamp Student Union at the University of Maryland.
She released her first hour-long standup comedy special, The Intruder, on HBO in December 2022 and is now touring the country with a new show, with stops at universities, comedy clubs and theaters. Cheerleader, offbeat and anthem were the three words Okatsuka used to describe her comedic style in an interview with The Diamondback. 
In her new set, Okatsuka touched on a variety of topics, including the terrifying world of teenagers, how to make friends, her time as a high school cheerleader and feeling like a "weirdo" in a society of so-called normal people.
Okatsuka became the second Asian American woman to have her own special on HBO, after comedian Margaret Cho.
"It took 22 years after Margaret Cho for another Asian American female stand up to have an HBO special, and that second person is me. Twenty-two years is a lot, " Okatsuka, who looks up to Cho, said.
If you didn't know her as a comedian first, you may know Okatsuka from the TikTok trend she created more than a year ago known as the "Drop Challenge." On TikTok, she posts variations of these challenges as well as clips of her standup bits and dance challenges with her husband, Ryan Harper Gray, which has prompted hundreds of thousands of imitation videos from other TikTok users.
"It belongs to the people," Okatsuka said in regard to how far of a reach her TikTok challenge has achieved. "I got into comedy because I want other people to feel seen and also, it's a service industry. I like making people laugh and making sure they have a good time. So, in turn, that's what I want to do with my videos, too."
"Fellow weirdos can find me," Okatsuka responded when asked about using TikTok as a platform for her work. "It's a very immediate interaction. I'm thankful for it. Because if you have to wait for execs and networks and traditional media to allow you to have space to do a stand-up special or try to reach an audience that way … if you wait for them, then you might never be able to reach your audience."
Okatsuka was raised by her grandmother as well as her mother and often discusses her Taiwanese and Japanese roots and culture in her material. In her sets, she often discusses how she felt she didn't fit in growing up, but she now uses that as momentum for her comedy. She feels there is a "relatability" to her content that her audiences can connect with.
"I was always trying to be normal," Okatsuka said. "In my comedy, it's about embracing all that now … feeling like you were raised differently and so you're stunted as an adult. But I think owning that and using that in my comedy is how I rally people, too, who also might feel that way."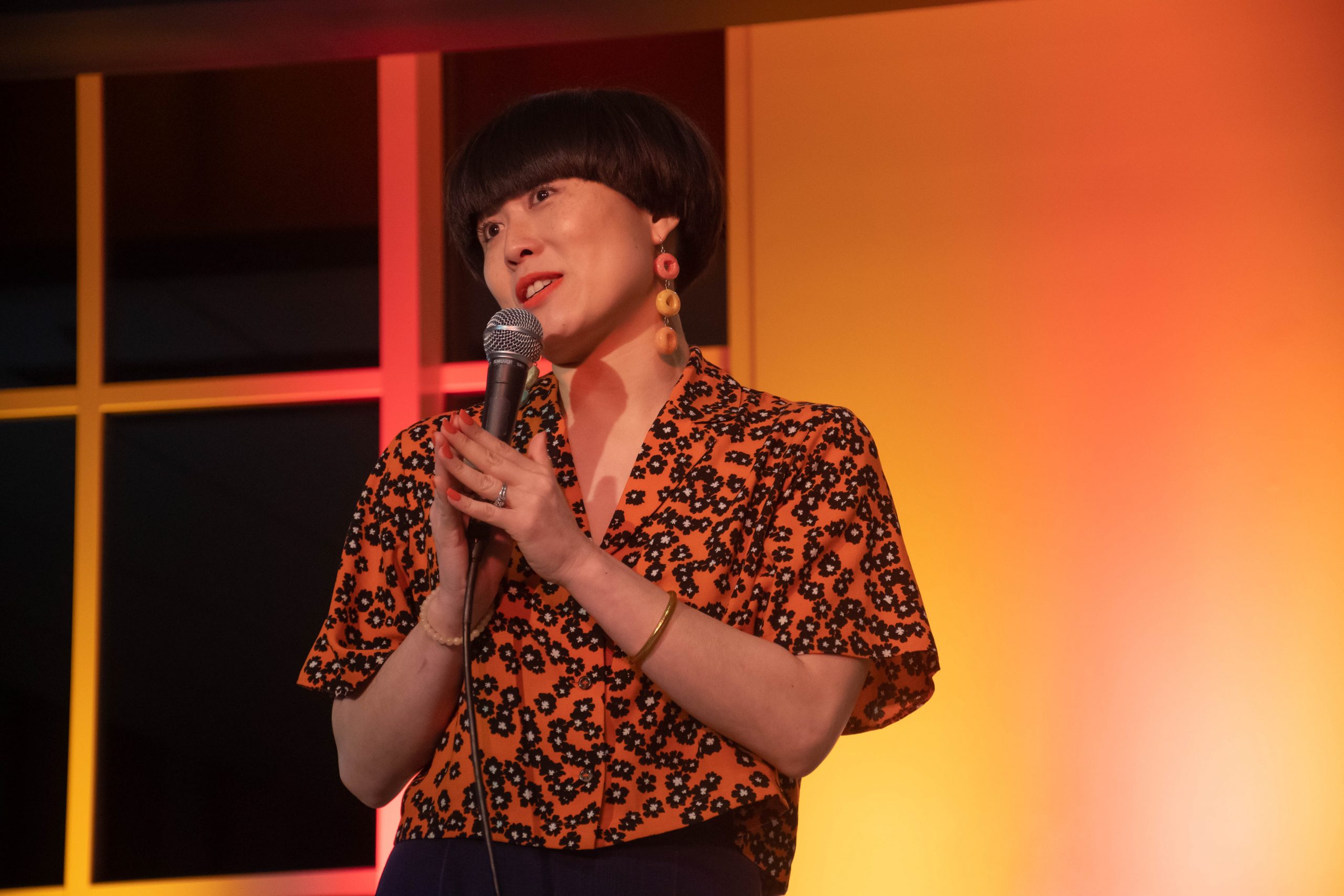 Just by opening her Instagram or TikTok page, it's evident Okatsuka has a distinct style. She often wears bright, blocky, bold colors. At her set at Stamp Friday, she wore a bright orange and black blouse, purple pants and Froot Loops earrings. 
"I do like colorful things. I think it's also the childlikeness of me," Okatsuka said. "That's what's coming out because I'm drawn to it. Again, I was trying to be so normal growing up and wanting to fit in, so that now, [I'm] really embracing all the things I really love, like wearing food jewelry and stuff like that, even though I am 30."
If there is anything University of Maryland students can learn after listening to Okatsuka's comedy, it is that you are never too old to be young. Embracing your inner child and being able to laugh at yourself is important in today's world.