More than 20 people gathered around the Lawyers Mall in Annapolis to voice their support for collective bargaining rights for graduate students at the University of Maryland on Feb. 3, 2023. 
Fearless Student Employees, an organization on campus that advocates for labor rights for higher education workers in the state, planned the rally in between meetings with Maryland state representatives and their staff. The meetings let students lobby for the passing of bill SB247/HB275, which will allow faculty, part-time staff and graduate assistants within the University System of Maryland to unionize.
FSE collaborated with the Graduate Student Government in planning the lobby day and meetings with the representatives. GSG additionally coordinated transportation for students who wanted to attend the rally and the meetings, according to Lizzie Irlbacher, the GSG vice president of legislative affairs.
Jan-Michael Archer, president of FSE, explained the reason that they are working for this right is so graduate assistants can have "an enforceable negotiable contract." He acknowledged that the university has been addressing graduate assistant grievances one at a time, such as higher pay and some parental leave. 
"The university thinks that it can keep this appeasement strategy of, 'Oh, we'll just kind of give you these things one at a time,' and that will put attention away from collective bargaining rights, but collective bargaining rights and a union are the bottom line," the environmental health science major said. "We want a voice in our workplace."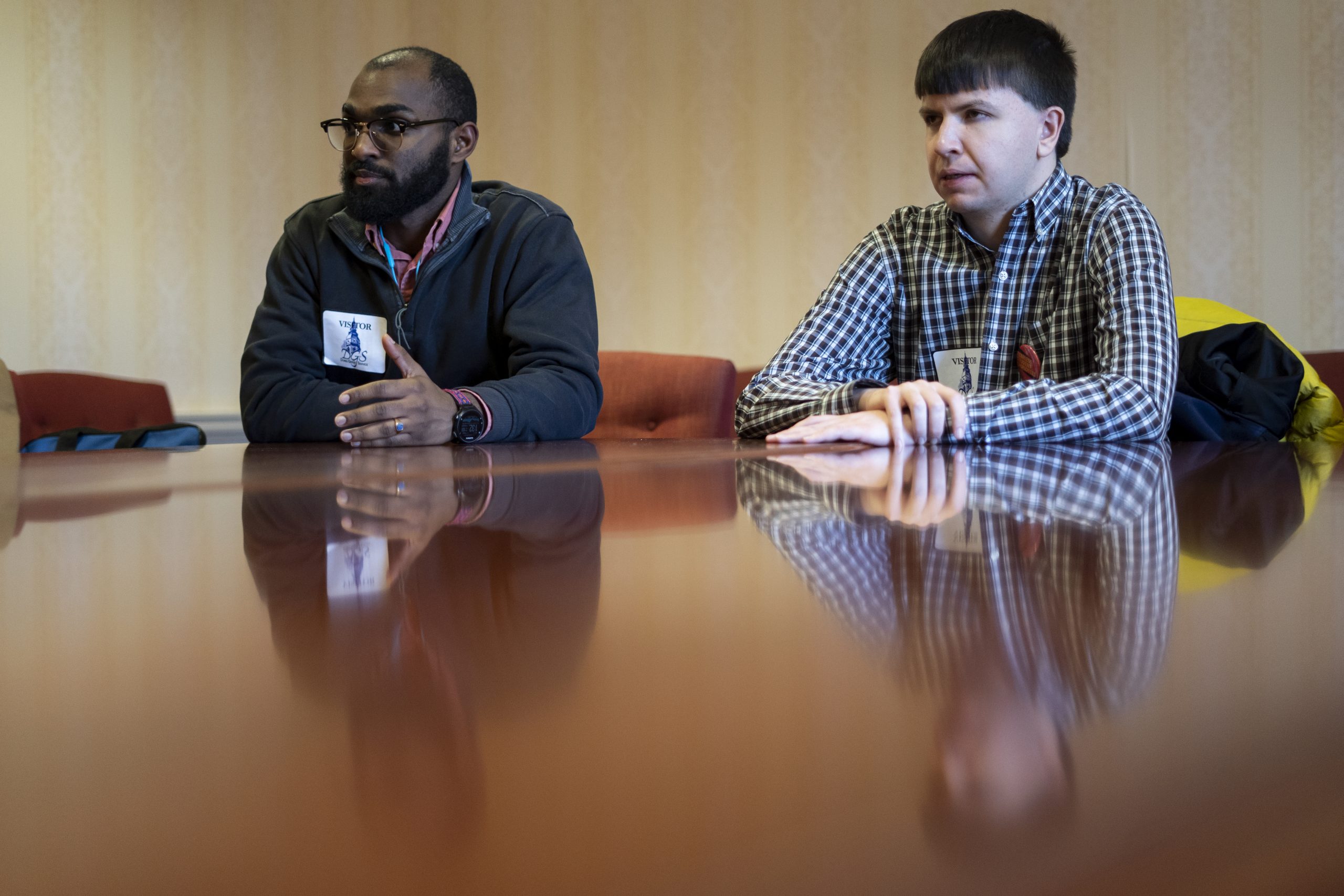 Some students who attended the rally felt the same about having a voice in the workplace. Others emphasized that having this right is not only beneficial to the graduate students but to the entire campus community as a whole.
"Maryland is lagging behind in a lot of the key things that graduate students need to have a productive experience," said Brandon Wallace, a doctoral student in the kinesiology department.   "[Things] that workers across campus need in order to live a good life and make the university function as it should." 
Andrea Gutmann Fuentes, a student getting a dual master's in history and library science, detailed that graduate students suffer from food and housing insecurity because of these poor working conditions, which can cause the undergraduate students they are teaching to suffer, as well. 
"If we don't have a good standard of living, it's more difficult for us to really give the attention that our students deserve as we work," she said. "We're really pushing for this not just for our own lives and for improving our working conditions, but also to improve the operations on the actual education that goes on at the university." 
Archer, Wallace and Gutmann Fuentes were joined by two other students who met with the staff of representatives, such as Malcolm Augustine and William Smith, after the rally. Other students also broke off into groups to attend their own meetings with other influential individuals. 
During the meetings, the students spoke of personal experiences they have had navigating working conditions as graduate students, and why having collective bargaining rights is so important. These students get agreements in place of contracts — a few students said it has become difficult to address these discrepancies and other issues, such as mistreatment, without fear of retaliation. 
After the lobbying sessions, some students felt hopeful about the trajectory of the bill. 
"We had some really great interactions with legislators in both the House and the Senate, and many of them knew about our bill already, so that's encouraging," Archer said. 
Henry Hausmann, a doctoral student in the atmospheric and oceanic science department, shared similar thoughts.
"A lot of people seemed genuinely impacted by a lot of the stories we told and some of the problems with the institutions and the systems," Hausmann said. "I have hope that they will take those stories and experiences forward when working with their other colleagues in the House and the Senate."
However, some fear that the bill will suffer the same fate it has in the past: failing to move forward. 
"My biggest worry is that the lobbyists for the University of Maryland will succeed in not letting this bill pass," Gutmann Fuentes said.
A spokesperson for the University of Maryland acknowledged that graduate students "are vital to the university's success." 
"We continue to invest in graduate education and graduate student life. Working collaboratively with graduate student leaders, we have made strides in improving the graduate student experience at UMD," the university wrote in an email. "The minimum stipends for graduate assistants increased by 32 percent last year, and by 58 percent over the last five years. These substantial increases were achieved without collective bargaining." 
The university also referenced that, in the past, the graduate school dean has stated that these bargaining rights would impact relations between graduate students and the mentors hiring them. 
"Our greatest concern is that collective bargaining would change the relationship from one of student and mentor to one of employee and supervisor, and that will negatively affect the educational experience," the university wrote.
The hearings for the bill are on Feb. 14 and Feb. 16. More information can be found on the FSE website.
"Everyone deserves a union, it's one of those things I was kind of raised on," Hausmann said. "I've just been led to believe that if everyone was in a union, the world would be a better place."
CLARIFICATION: This story has been updated to clarify Graduate Student Government's involvement in organizing the rally.
CORRECTION: A previous version of this story's photo caption misspelled Jan-Michael Archer's name. This story has been updated.