For the first time in seven years, Stromae returned to the stage for his Multitude tour. The multi-talented, Belgian musician is back better than ever with multiple sold out shows across the world, including The Anthem in Washington, D.C., on Dec. 3. 
Stromae — whose name is an anagram of "maestro," which is done in French slang, according to NPR  —  stepped back from the music industry in 2015 to focus on himself and other projects. 
This tour comes with the summer release of Multitude, a nearly 40-minute album full of songs that transition through genres, merging instruments of different origins and styles seamlessly. This album continues Stromae's signature of being candid and tackling hefty subjects, including solitude, honoring the working class, hollow romantic relationships and other common human experiences. 
You would think, after the delicately put together album that makes you want to dance but also deeply reflect — especially when you Google the translations, if you're like me — that this man could not be any more impressive.
After this concert, I was not just impressed, I was fully blown away. Quite frankly, I lost my mind. This show was so, for lack of a better word, awesome.
Not only was Stromae's performance actually perfect, but the opener he chose was an amazing pregame to the big show. South African rapper, singer and dancer Sho Madjozi and her crew's electric stage presence was the perfect hype necessary for preparing the crowd's spirits. 
The vibrant outfits, jovial attitudes and energetic music immediately captivated me, and she had me especially on her side as she asked the audience to post her on our Instagram stories so she can slyly show off her performance to an ex back home. 
The amount of work put into the entire production was magnificent. Everything was mechanical and futuristic. 
Robotic arms moved large sets of lights that doubled as screens; animations of Stromae, colorful shapes, stormy skies and more beamed across those colossal monitors. The four musicians Stromae had on stage with him played electronic instruments and everyone was wearing coordinated outfits. 
So, we have this incredible album and the legendary stage set, and the concert still kept getting better. As if this superstar could not dazzle me anymore, his vivacious stage presence was the sweet cherry on top. Strutting around with his braided buns and light pink pants, the singer commanded the stage and had the audience hanging on to every action. 
Stromae's gracious and kind energy flowed through the large venue. Each little smile he gave the audience felt personal and appreciative. He easily went from serving attitude and face, to acting stern or silly. 
I definitely was not the only one going absolutely bananas. Stromae had to pause multiple times due to the loud unrelenting cheers and applause from the packed venue. I tried to time the length of these applause breaks: One of them was about two minutes long. The enthusiastic praise did not go unnoticed.
Toward the beginning of the show, he commented on how Americans are very loud and, in turn, he received more well-deserved hoots and hollers. Members of the audience were not the only ones who were appreciative.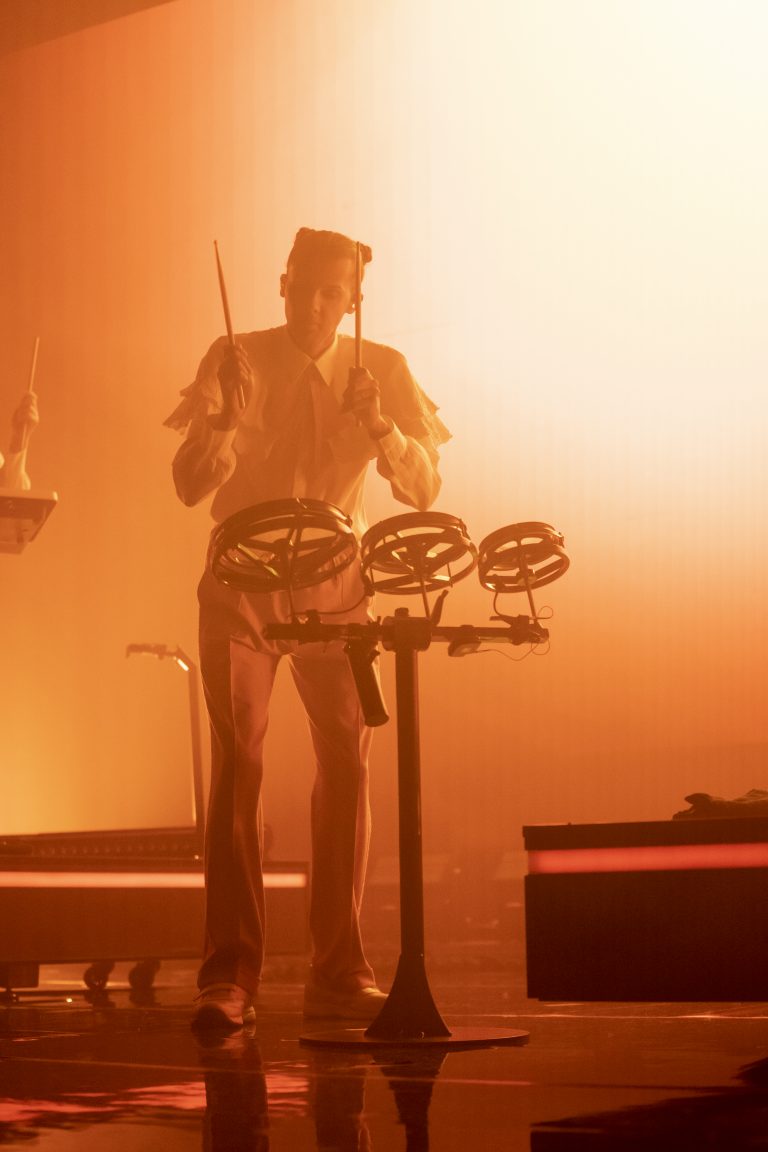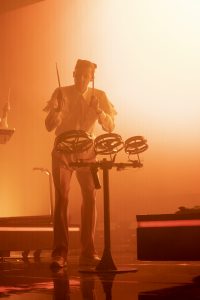 Stromae spent a portion of the end of his concert thanking his crew who helped put on this extraordinary production, most of whom he thanked by name. For an ensemble that had multiple moving parts, it was delightful to learn about the people involved and have them be recognized on stage. This act further emphasized Stromae's grace and goodwill. 
I have gone to as many shows as the years I have been alive. However, I do not think any show has or will ever match witnessing Stromae's full mastery of his craft. It was an honor to not only see his brilliance live, but to be able to document it. He absolutely lives up to his name in all senses of the word, and I cannot wait to see what he does next.