Spectators with cameras in hand watch horses trot around the Campus Farm during the Fall Fun Show Festival on Nov. 5.
The Maryland Equestrian Club, a student-run nonprofit organization, has been raising money to get a new horse. MEC hosted the festival to raise funds, allowing the University of Maryland community members to visit and see what they do as an organization and give the community a taste of what they may see during Ag Day, a tradition of the animal and avian sciences department, which is now part of Maryland Day.
The Fall Fun Show Festival featured club members riding horses around the obstacle course. Concessions and snacks were offered alongside MEC merchandise, pumpkin painting and a chance to pet and take a Polaroid photo with one of their horses named Rocket.
Kat Close, a senior environmental science and policy and studio art major and the MEC president, has been riding horses since she was 4 years old and has been a member of the club since her sophomore year.
"The primary goal of this entire club is to teach proper horsemanship," Close said.
Not only does the MEC teach students how to train and ride horses, but they also teach members how to care for horses as well as the barn in which the horses live.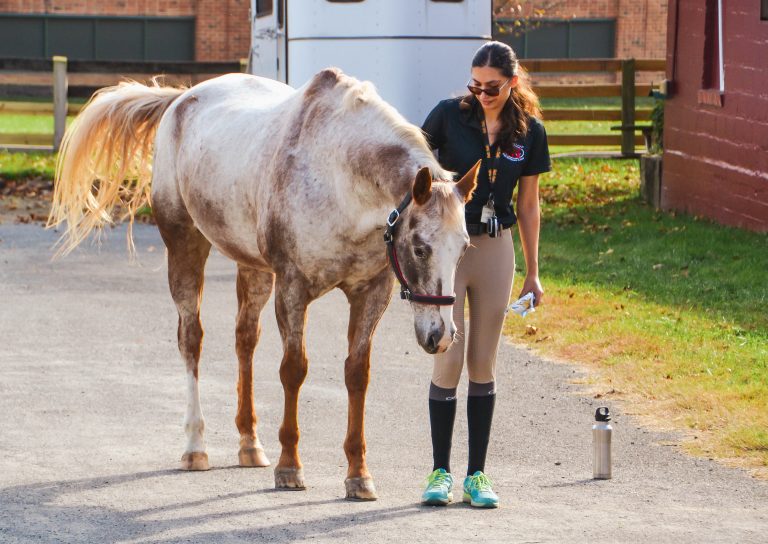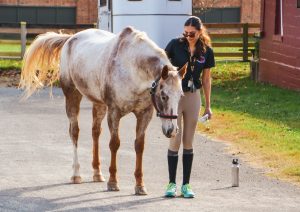 MEC gained nearly 50 new members this semester. Getting a new horse will help the club give more participants the opportunity to practice riding and learn how to care for horses. 
"We've been planning this event for a few months," Close said, describing it as a "test run" for Ag Day. "To practice in the fall, because we get new members every year, we host the Fall Fun Show."
Close described the Fall Fun Show as being a less serious or competitive form of the events that take place at Ag Day because they invite people to come watch and enjoy their practice as spectators. This year, however, the main goal is to raise money for a new horse for the farm.
The farm only has a few horses: five working horses, a few of whom are soon-to-be or currently retired, as well as Rocket, who is recovering from an injury.
"[Rocket is] our mascot today," Close said. He has a genetic issue that affects his front legs, so they are weaker than his back legs. Many animal science students work with Rocket to keep him healthy and provide injections that will help him feel better. With more horses on the farm, students will have more opportunities to care for them, and MEC will have more opportunities to ride.