UMPD has reported 17 indecent exposures this year, more than double the amount reported in 2021 and the highest number in the past decade, according to crime and incident logs.
This rise in indecent exposures comes as the University of Maryland Police crime and incident logs show crime rates are some of the lowest in recent years. While some have found the incidents to be a source of humor, campus advocates stress that indecent exposures are a form of power-based violence.
Lt. Rosanne Hoaas, the police's public information officer, attributed the rise in reported indecent exposure cases to the community feeling empowered to report cases.
[UMD identified more than 1,200 COVID-19 cases in first month of fall semester]
Of the 17 indecent exposure cases reported in 2022, four have resulted in arrests, one closed with no arrest, one is active/pending, two were unfounded, one has a summons issued and one has an investigation pending.
Seven of the indecent exposure case dispositions are not recorded in the police's crime and incident logs because campus police sometimes assist other police departments. Typically, only the primary agency records the disposition, Hoaas said.
Victims of indecent exposure should get to a safe location, disengage from the perpetrator and call for assistance, Hoaas said. When it comes to using self defense tactics and tools, such as pepper spray, Hoaas said it's important to consider that the perpetrator could press charges for assault and could have a severe medical reaction to pepper spray.
Grace Fansler Boudreau, the outreach and assessment coordinator at this university's CARE to Stop Violence office, said these incidents are issues of power-based violence, which is when someone tries to control another person to cause harm. A victim loses power in the situation when a perpetrator exposes themself without consent.
"We as a society may brush these issues under the rug as not being a big deal." Boudreau said. "But it is an issue of power-based violence."
Movies and TV normalized joking about indecent exposures and sexually motivated crimes, which is why some find humor in the crimes, Boudreau said.
University community members may have become desensitized to UMD Alerts, which have made it easy to joke about, said Damiana Colley, a junior criminology and criminal justice and psychology major and historian at Preventing Sexual Assault.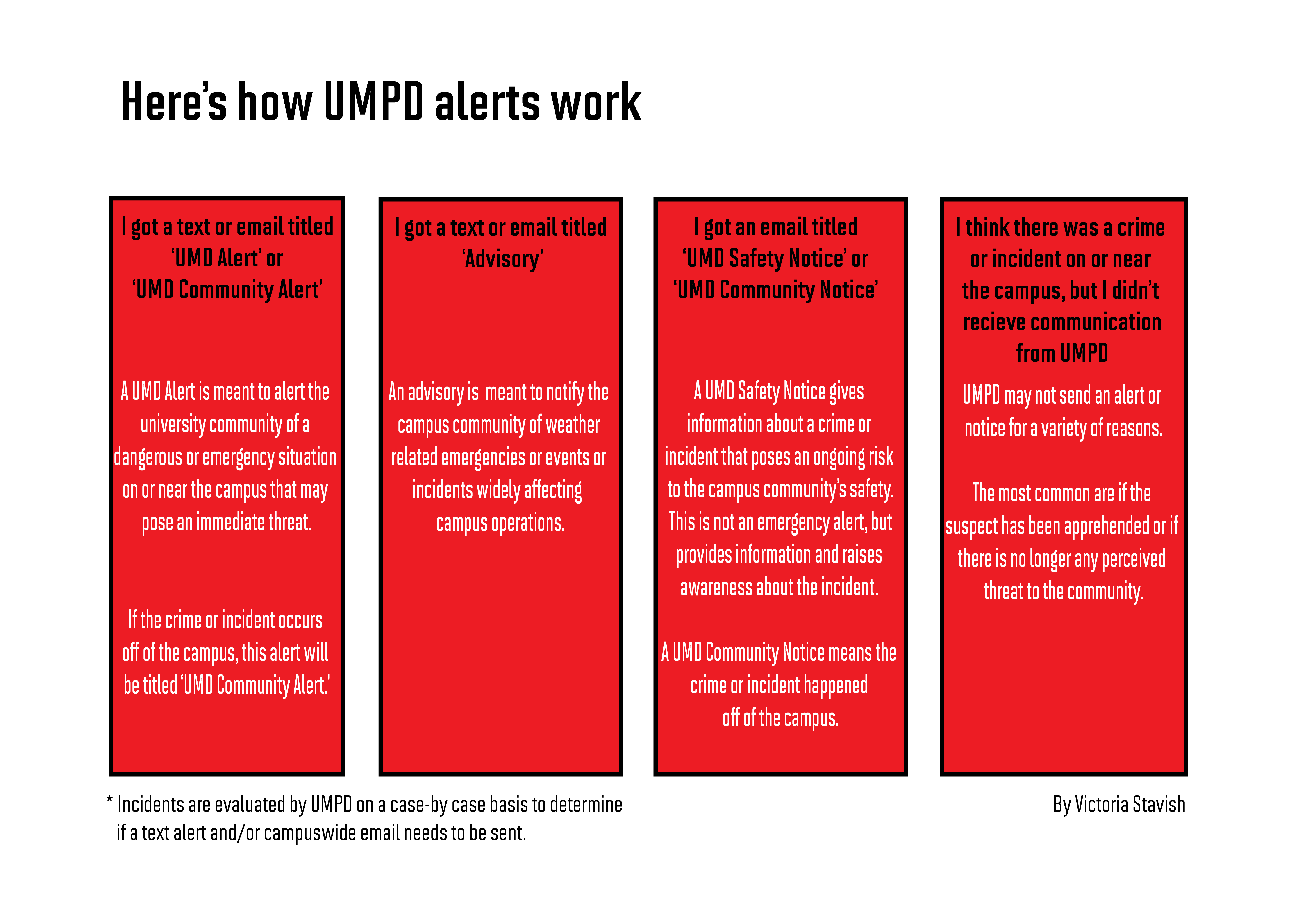 Colleen Rogers, a junior civil engineering major, has noticed more indecent exposure alerts and notifications from the police this year but said she may have noticed them more because indecent exposures have become "a meme" on the campus.
"A lot of people talk about [indecent exposure] like it's kind of funny and stuff, like a meme," Rogers said. "But I feel like that can be really traumatizing [for victims]."
[FRICK DOTS: UMD student codes program to avoid parking tickets]
Even though it seems easy for people to joke about indecent exposures, other types of sexual violence are discussed less frequently, Colley said. An open narrative about indecent exposures would work to destigmatize sexual violence and sex in general, she added.
When talking about indecent exposures and sexual crimes on the campus, a good first step is to try to understand why we talk about incidents we know are harmful, like they're not, Boudreau said.
"When we have to talk about serious and heavy issues, it's natural for some folks to bring a sense of humor or a sense of levity to those situations," Boudreau said. "But at the end of the day, I think we need to have some more purposeful conversations about why this sort of behavior is harmful."
Sri Kanipakala contributed to this report.