Until high school, Jeremiah Samuel used Head and Shoulders on his natural hair, only initially starting to experiment at the recommendation of his sisters. He found that olive oil holds his curls without drying them out.
"I think that's the fun in it, just like the journey of being able to see how everything's going, like your progress," the senior operations management and business analytics major said.
It took Samuel a while to understand how to keep his curls in place without drying them out, but he is not alone in this experience. Black students and university alumni say it took a lot of trial and error to educate themselves on their own or with the help of others on how to care for their natural hair.
Like Samuel, senior finance and information systems major Kayla Malone believes time is an important factor in the natural hair journey.
Malone said she previously found herself looking at other girls who wore their hair naturally and wished she could do the same. She then found resources on how to style her hair through Black women creators on YouTube such as Alyssa Marie and Bianca Renee. Marie has a playlist dedicated to wash-and-gos and another one on short natural hair. Renee also has different playlists with her videos, one of them focuses on braids.
"If you keep loving yourself and you're patient and you take the time to learn how to love your hair … I think you'll be very happy down the line looking back just as I am," Malone said.
When people start to learn more to do their natural hair, owner and CEO of N Natural Hair Studio Angela Walker said it's important to note that textured hair isn't "difficult," it's just different from what many people of color are used to.
"Is it too much work? Or is it just that you don't know what to do?" she said.
Walker explained that at a time when there are many options for products and resources, it will take some years, some educating and some experience to really figure out the best techniques.
Since 2010, the national retail chain Target, has actively expanded the products it offers for people with natural hair, according to a news release from Target. Some of the products first added to the retailer's shelves were from Miss Jessie's, CURLS and SheaMoisture lines.
In the following years, Target added more brands well-known to those with natural hair including Carol's Daughter. Some, such as The Mane Choice, are only available at Target. People can also find brands launched by Black celebrities there, such as Issa Rae's Sienna Naturals and Taraji P. Henson's TpH by TARAJI.
When new products come out and new hairstyle techniques become popular, the natural hair community is there to spread the word and share resources, sophomore psychology major Nana Buachie said.
Buachie said she has been learning how to do different hairstyles such as knotless braids on herself because constantly going to the salon can cost too much.
Since older generations were taught mostly to perm and relax their hair, Buachie said many people with natural hair don't know how to take care of it, including her mom. So, she had to learn how to do her hair by herself.
"I did [knotless braids to] myself because I don't have $200 because I'm a college student," she said.
Like Buachie, styling hair has given Morelle Ndileba a sense of independence.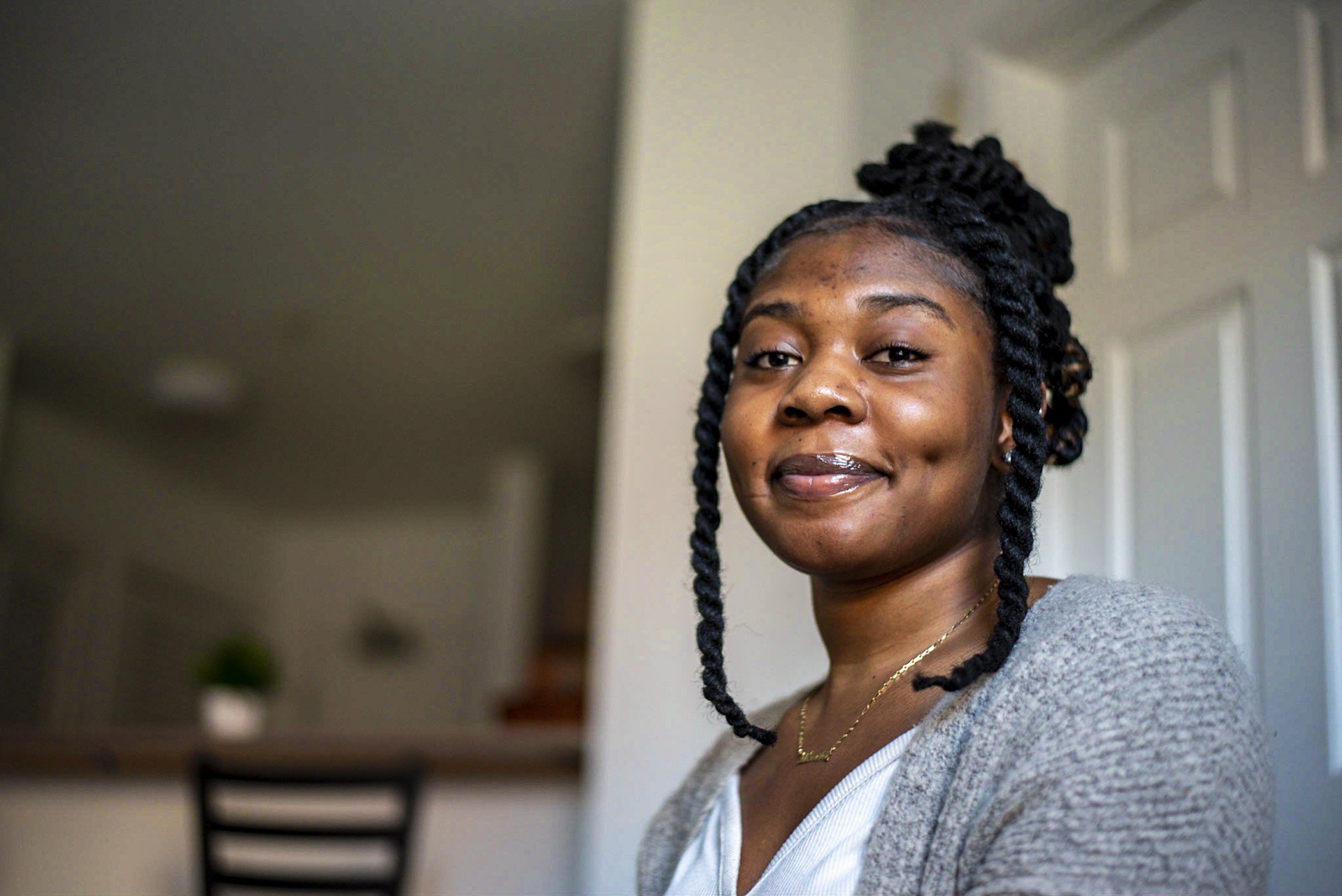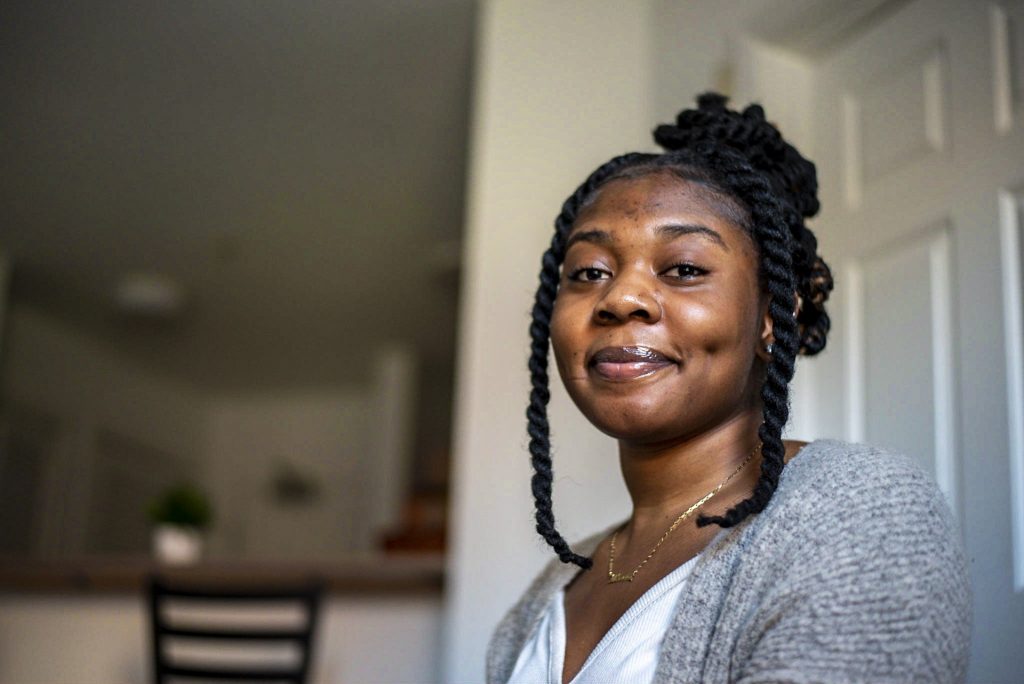 Ndileba, a senior information systems and operations management and business analytics major, learned how to do hair from her mother. Her mother had a natural styling business that started at home and then expanded to a salon space, Ndileba said. As a young girl, Ndileba started practicing braiding on dolls, and later practiced on her mother's hair, she said.
As her mother's clientele grew, Ndileba, now with much more experience, was able to make connections and start doing other people's hair. Ndileba now has her own business named RelleStylz at her home in Upper Marlboro, where she offers braids, twists and natural hair styling.
Ndileba, who is originally from Yaoundé, Cameroon, said a lot of her styles were inspired from her mother who learned to braid there.
"She actually started braiding on grass," she said. "From there she started doing my great grandma's hair."
Although she learned her mother's techniques, she also put her own spin to certain styles. She likes to experiment with different patterns with feed in braids such as zig-zags or hearts.
For those who want to learn to do hair on themselves but need some extra guidance, N Natural Hair Studio offers consumer and professional "Texture Experts" classes for those who can't go to the salon all the time, who simply want to learn or who want to start their own hair business.
"I tend to create things that I wish existed for myself, and I just wished I could have just gone to a school that just taught me about natural hair," Walker said.
The professional course is a combination of modules done over a few months and practicing natural hair styles. They start off with the history of natural hair in Africa, then they go into hair composition, different products, scalp conditions and more.
"It's a nice blend between what someone would learn in cosmetology school, coupled with a bunch of people's love for textured hair, and then a bunch of theory on textured hair," Walker said.
The consumer classes focus on products and how to use them, in addition to loc grooming and doing styles such as cornrows and flat twists.
Walker said she's excited to see how generations to come will take care of their hair, as she believes the term "going natural" might not even be a thing for them.
"We had to have that term because we're walking around with our hair straight. Then we went curly," she said. "But I think for them, they're only going to know their natural texture when they decide to straighten it with a hot tool or not."