Ever since fall 2019 when the University of Maryland made a partnership with Veo, scooters have become much more common on the campus. If you want to ride the trend and start using these small electric vehicles, here's what you should know. 
Rent or buy?
It depends on how you plan to use your scooter. If you're going to use it every once in a while to get from your dorm all the way on North Campus down to visit a friend on South Campus, then it's more cost-effective to find a nearby scooter and pick it up. 
Veo scooters are all over the campus and College Park, and they cost $1 to unlock and 25 cents per minute after that. That might seem cheap, but it's not if you ride them frequently. 
If you're planning to ride a scooter every day, it might make more sense to invest in buying one. There are scooters out there such as the GoTrax ​​GXL V2 Electric Scooter that costs $349 new and potentially under $300 used. 
But Sri Kanipakala, a sophomore computer science major, who owns a more expensive scooter, warned that getting a discount scooter might not be a good idea.
"They tend to not be as reliable, so they're gonna keep breaking down, battery life won't be as good," Kanipakala said. "I would recommend getting kind of in the mid tier of scooters around like, $500 I would say would be a really healthy investment."
Bird launched a monthly scooter rental service in 2019 that was popular in the College Park area. It cost $29.99 per month, but Bird has since paused that program. Right now, there isn't an option similar to what Bird was offering in 2019.
[Bike, Scoot, Skate: Micromobility at UMD]
What safety precautions do I need to take?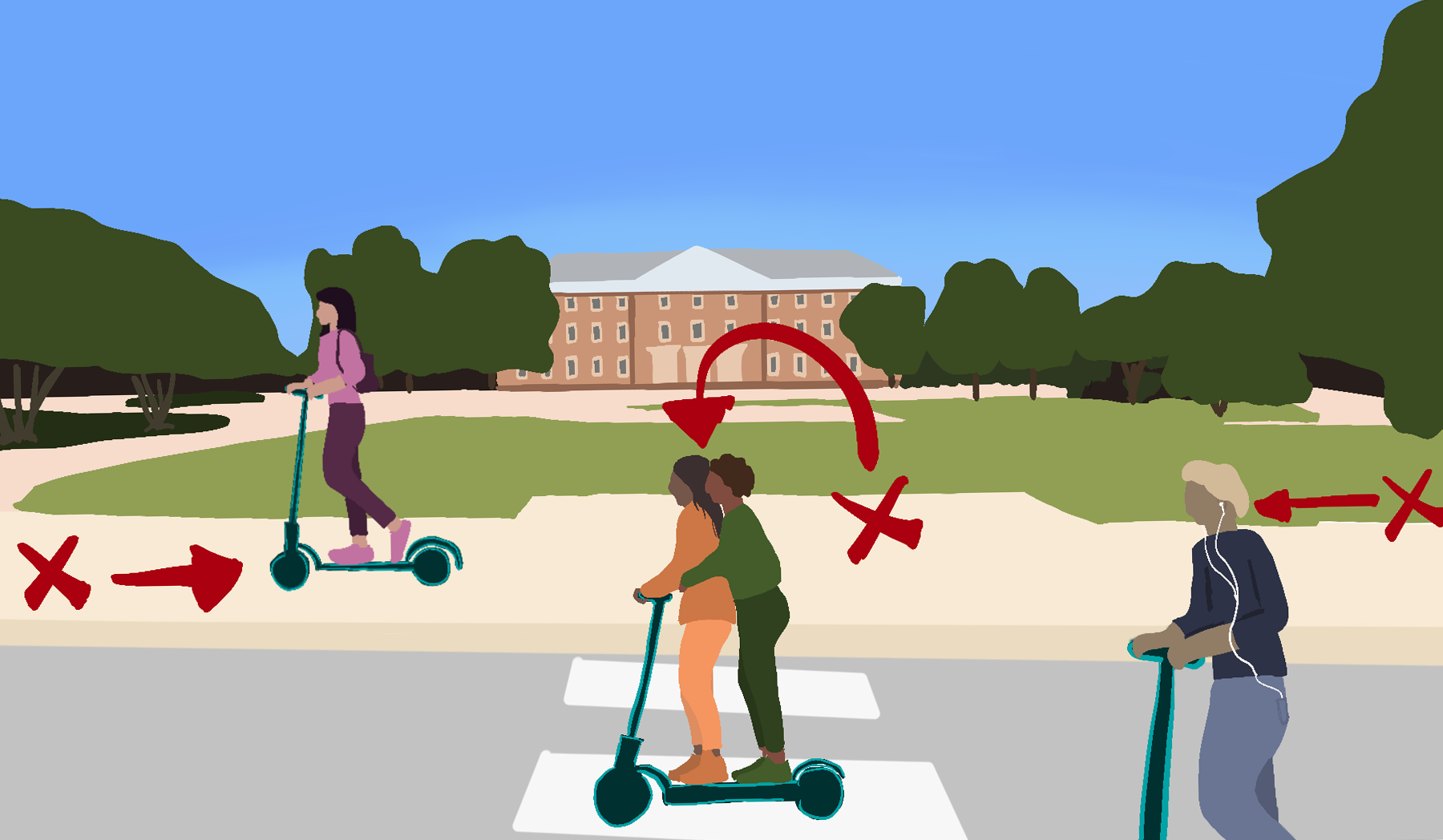 Scooters cannot ride on sidewalks or in crosswalks, according to the Department of Transportation Services. It's recommended that you use bike lanes when they're available, but if not, you can ride a scooter on the road.
Because the speed limit on the campus is 20 miles per hour, scooters can be driven safely on this university's roads. And just like when riding a bike, DOTS recommends wearing a helmet when operating a scooter.
Where can I park my scooter?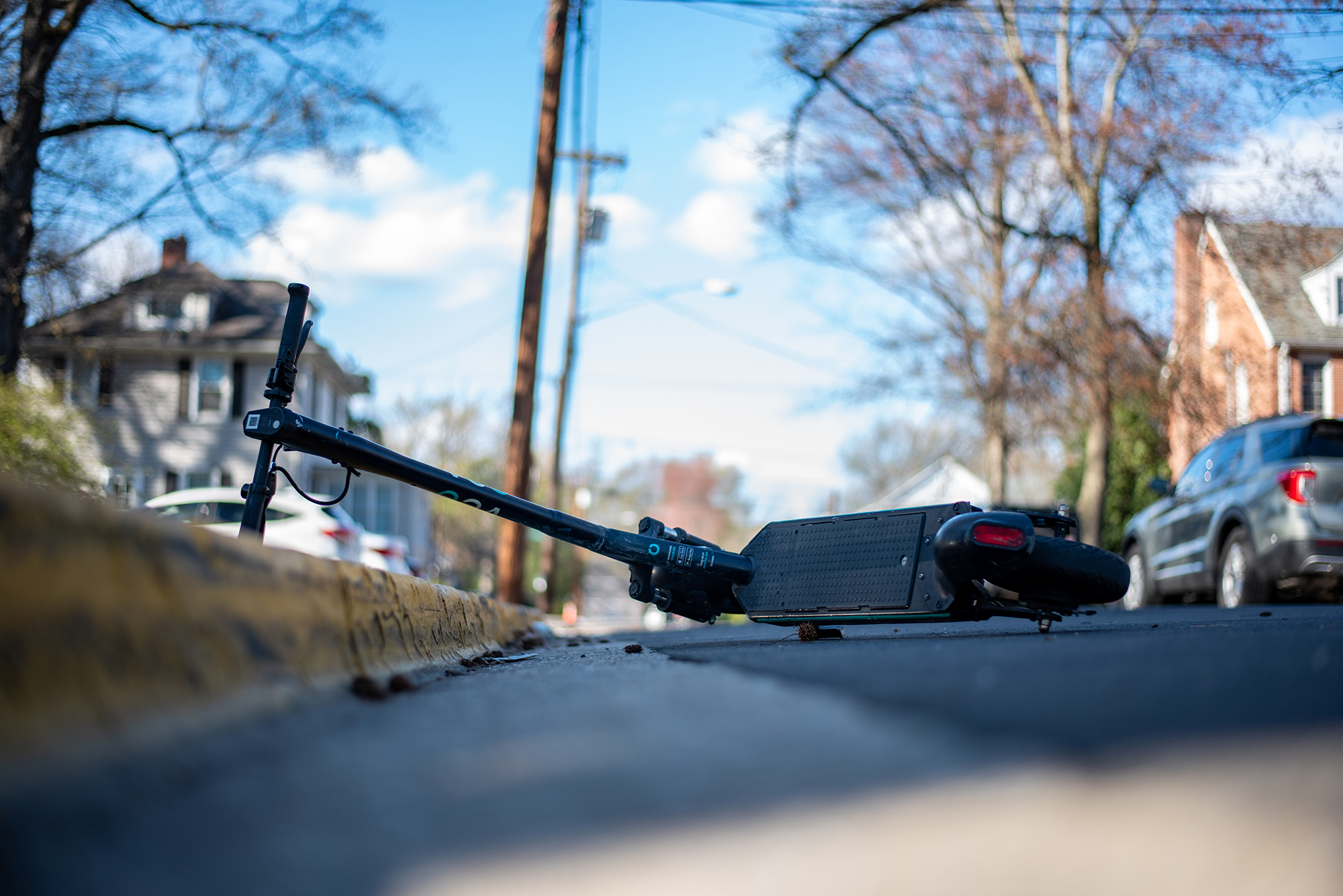 There are tons of places on the campus to park your scooter. There's designated parking throughout campus to park Veo scooters. However, if you have a personal scooter, you can lock it up on any of the bike racks on campus.
What kind of lock should I get?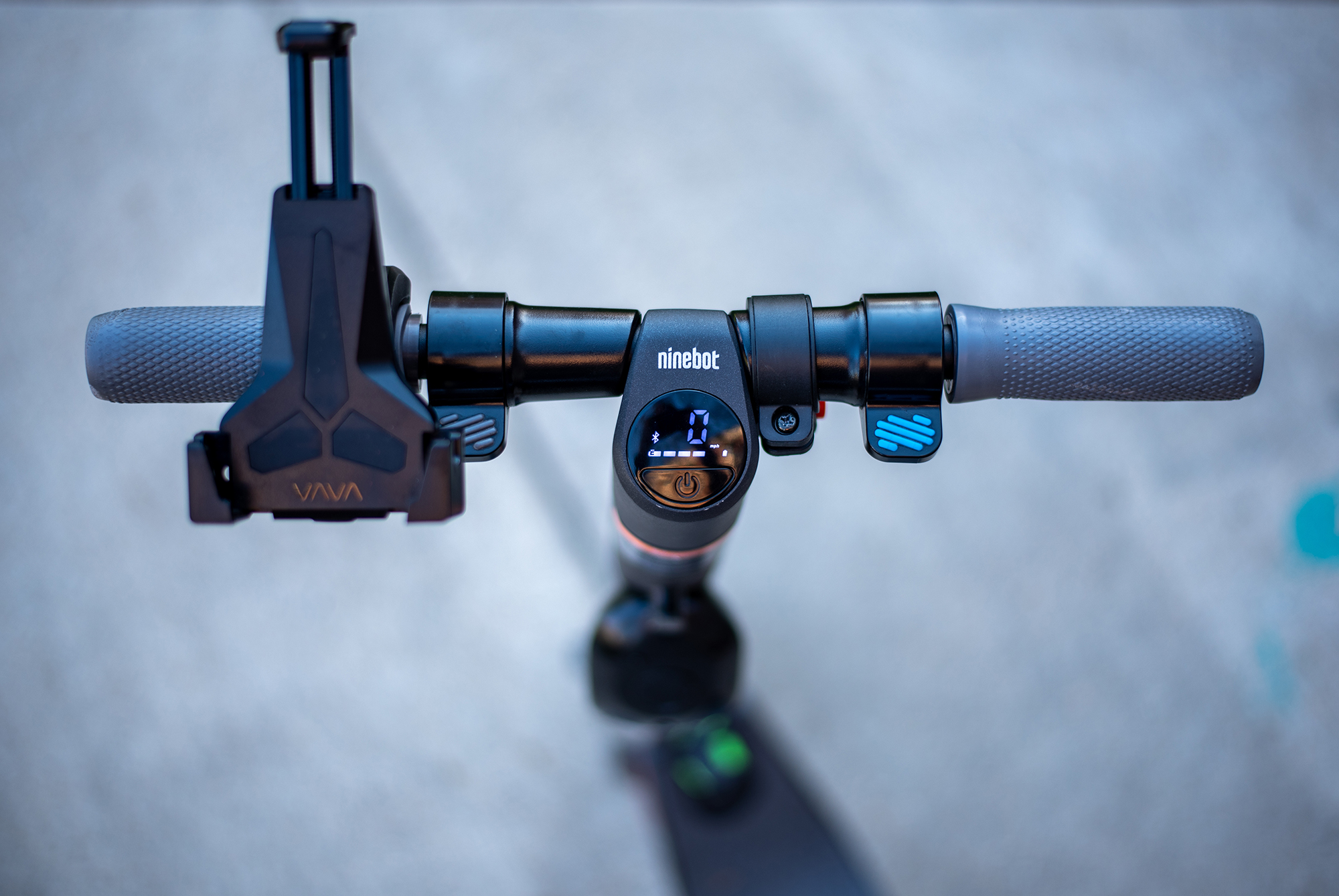 It's also a good idea to lock up your scooter to protect against theft. Kanipakala, who owns a Ninebot ES4 scooter, uses a coil lock to secure his scooter to the bike racks. On the campus, he's had no problems with anyone trying to cut his lock. But for people who commute from off-campus, he recommends getting a U-lock, which is much stronger than a coil lock.
Sgt. Rosanne Hoaas from the University of Maryland Police Department said cable and chain locks are easily defeated by a pair of cutters. She recommended a U-lock for scooters used both on and off the campus.
[UMD architecture school holds PLACEHack to rethink public spaces]
Where can I charge my scooter?
Students who live on campus aren't allowed to bring scooters into dorms for charging — but Kanipakala says there are workarounds.
For instance, you could buy a scooter with a removable battery. That would prevent you from having to sneak your scooter around your dorm.
But if your scooter doesn't have a removable battery, Kanipakala said it's common for students to charge their scooter while they're getting a meal at the North Campus Dining Hall and 251 North, where there are plenty of outlets.
"People just connect the charging port to those outlets and then tie it to the bike rack which is really close," Kanipakala said.
Do I need to register my scooter with DOTS?
Yes! Just like if you had a bike, you are required to register your scooter — but no worries, because registering won't cost you a dime. And you get the same benefits as someone with a registered bike.