CLARIFICATION: This story's headline has been update to better reflect both service animals and emotional support animals.
Maariyah Quadri and her poodle service dog Harlow were getting lunch at South Campus Diner when a girl Quadri didn't know approached her.
The girl began asking Quadri what was wrong with her that she needed a service dog. The sophomore animal science major said she began panicking, but the girl continued to ask.
"My brain stopped and was like, 'Wow, that's really personal,'" Quadri said.
The incident happened last semester when Quadri was very new to having a service dog. If the same thing were to happen now, she said she would have dealt with it much better. But numerous service and emotional animal owners at the University of Maryland said students lack awareness when it comes to the personal issue of their owners and distract the animals from doing their jobs.
Petting, making noises and startling a service animal are examples of distracting them, according to the Department of Resident Life Service Animal Etiquette guidelines. The guidelines state service animals are not pets and students shouldn't feel offended if owners do not want to discuss their disability or allow their animal to be pet.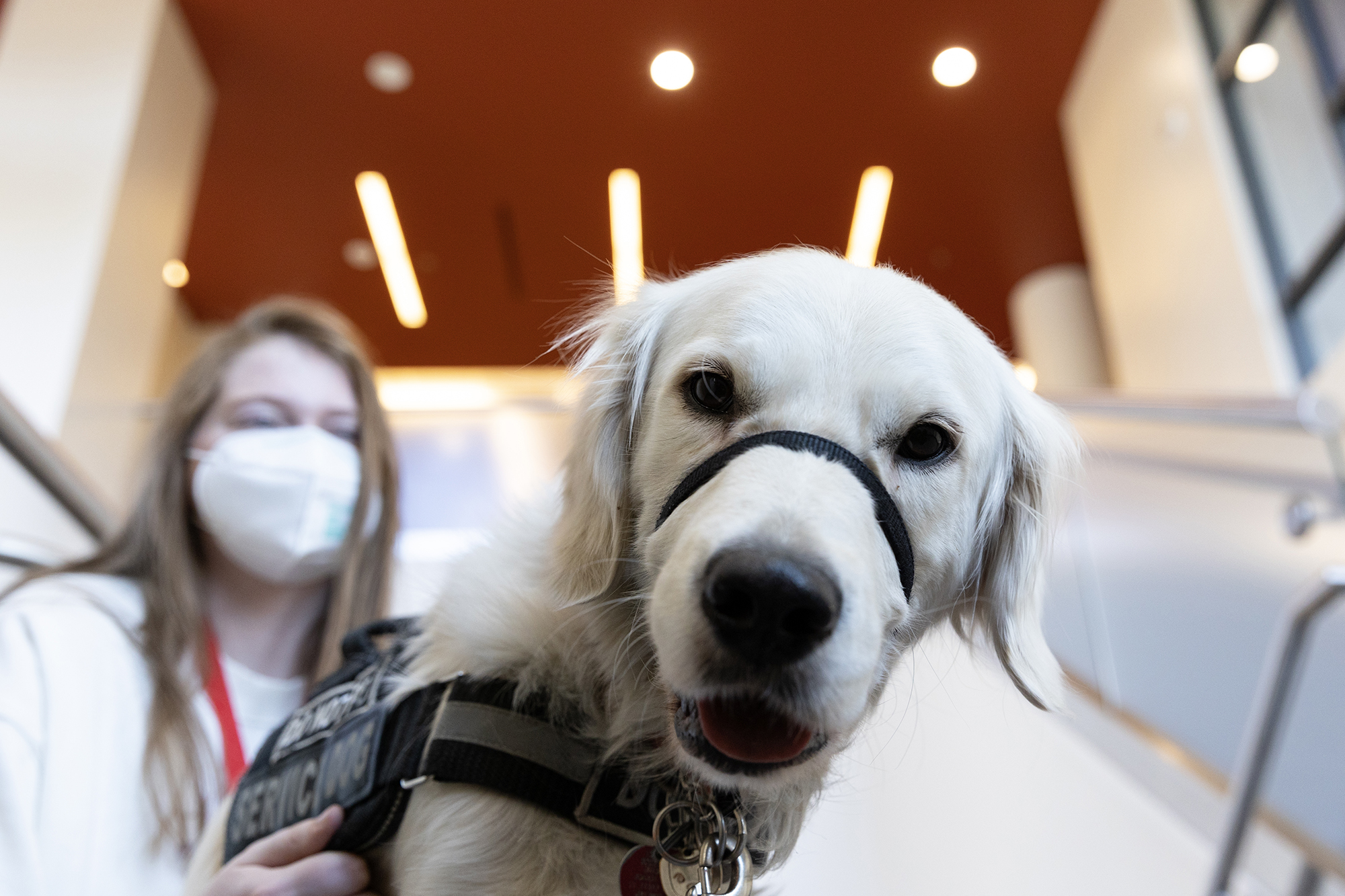 [UMD Senate discusses community's mental health moving forward]
Kylee Robertson, a junior psychology major, has had her service dog, Biggs, since she was a senior in high school. Biggs, an English cream golden retriever, is trained to alert Robertson if she's about to have an anxiety attack. She said a lot of her peers like petting Biggs, but when he is on duty, he needs to be focused.
"Once his focus is a little bit off of me, he's kind of not doing what he's supposed to be doing, and he might not be able to alert me or pull me out of a bad thought that has me a little stuck in my head," Robertson said.
When in public, Robertson said the university community doesn't exactly know how to interact with service animals, which can be difficult. She recently had to put a "Do not pet" patch on Biggs' vest after someone came by to pet Biggs without asking and kept walking.
People get excited to see the dog that it's like you're not even there, Robertson said. It's not the best feeling, she added.
"That's kind of frustrating, and … you feel a little less than because when people come up to you, they come up to you to talk to the dog, or they come up to you to ask but the dog," she said.
Kayla Abosch, a freshman criminology and criminal justice and psychology major, has an emotional support cat named Scruffy. Abosch adopted Scruffy a month ago to help alleviate her stress. It makes her laugh when Scruffy does his "zoomies" in her room, running around her floor and under her bed. He also meows at himself in the mirror. Additionally, taking care of an animal helps her get out of bed in the morning, she said.
Abosch said her cat has relaxed her and even some of her friends. However, she said sometimes her peers just want to see Scruffy and not her.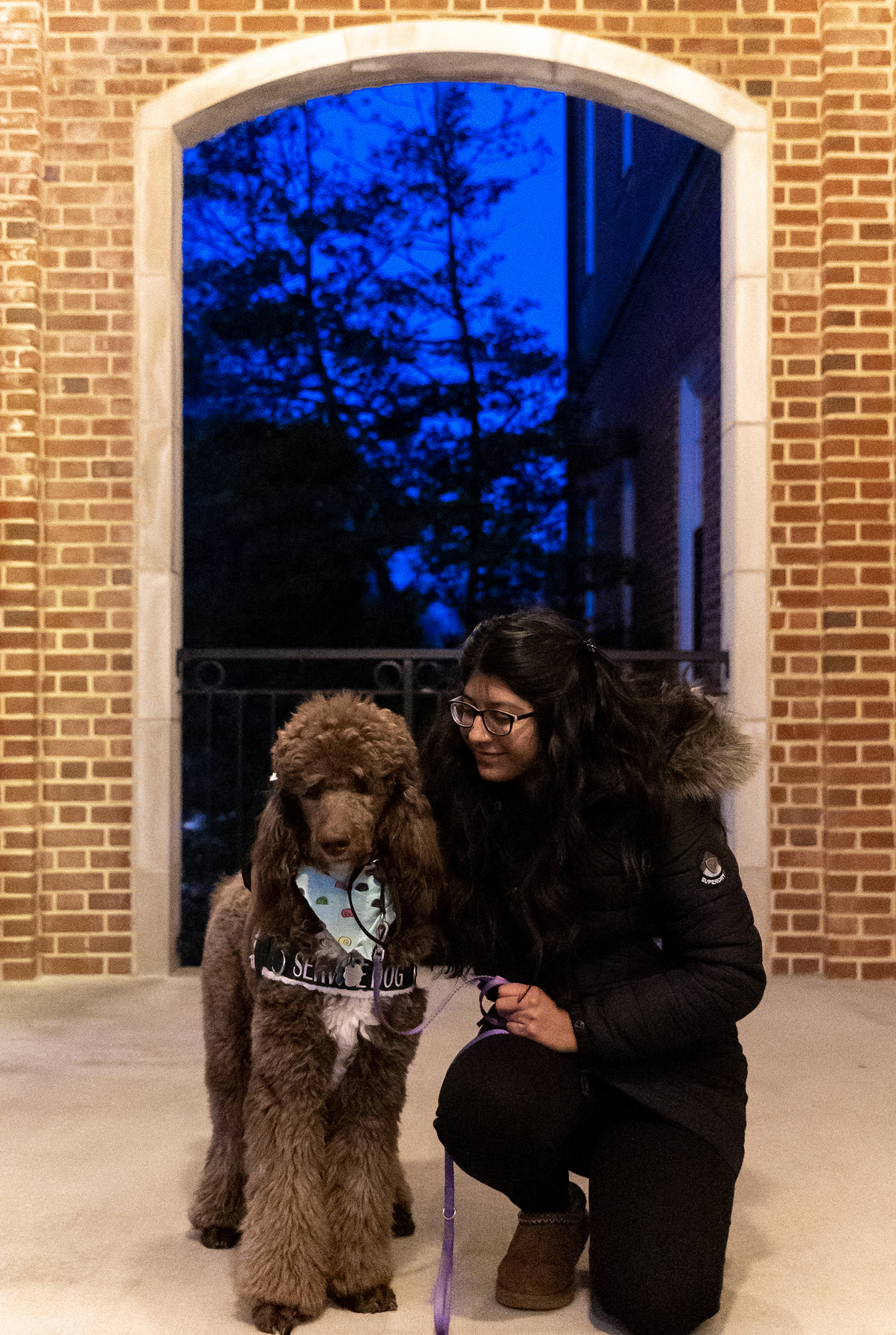 [UMD SGA lists mental health, student fees as key priorities]
"I got pretty annoyed with the fact I'll be walking in the hallway just like going back to my room and people are bombarding me to see him and I'm like, it gets too much," she said.
Since the service animals' presence is something that's emphasized in the public education system, Quadri said she wants to educate others herself about service animals.
"It's nice when I get a chance to like have a conversation with someone that is like respectful and be able to tell them a little bit more," Quadri said. "The next time they see someone with a service animal, they know kind of how to act around them."