With wheels grinding against concrete and the soft creak of a skateboard under their sneakers, a skateboarder catches air for a brief moment, only for their board to come back down and kiss the ground once again. 
For the onlooker, it's only one passing moment of a skater doing an ollie, but for the We Skate members cheering, it's a triumph over a greater issue facing the skateboarding scene at large. 
We Skate is a skate club for women, nonbinary, gender non-conforming and LGBTQ+ students at the University of Maryland that aims to empower groups that have been historically left out of the skate scene through group skate sessions and lessons.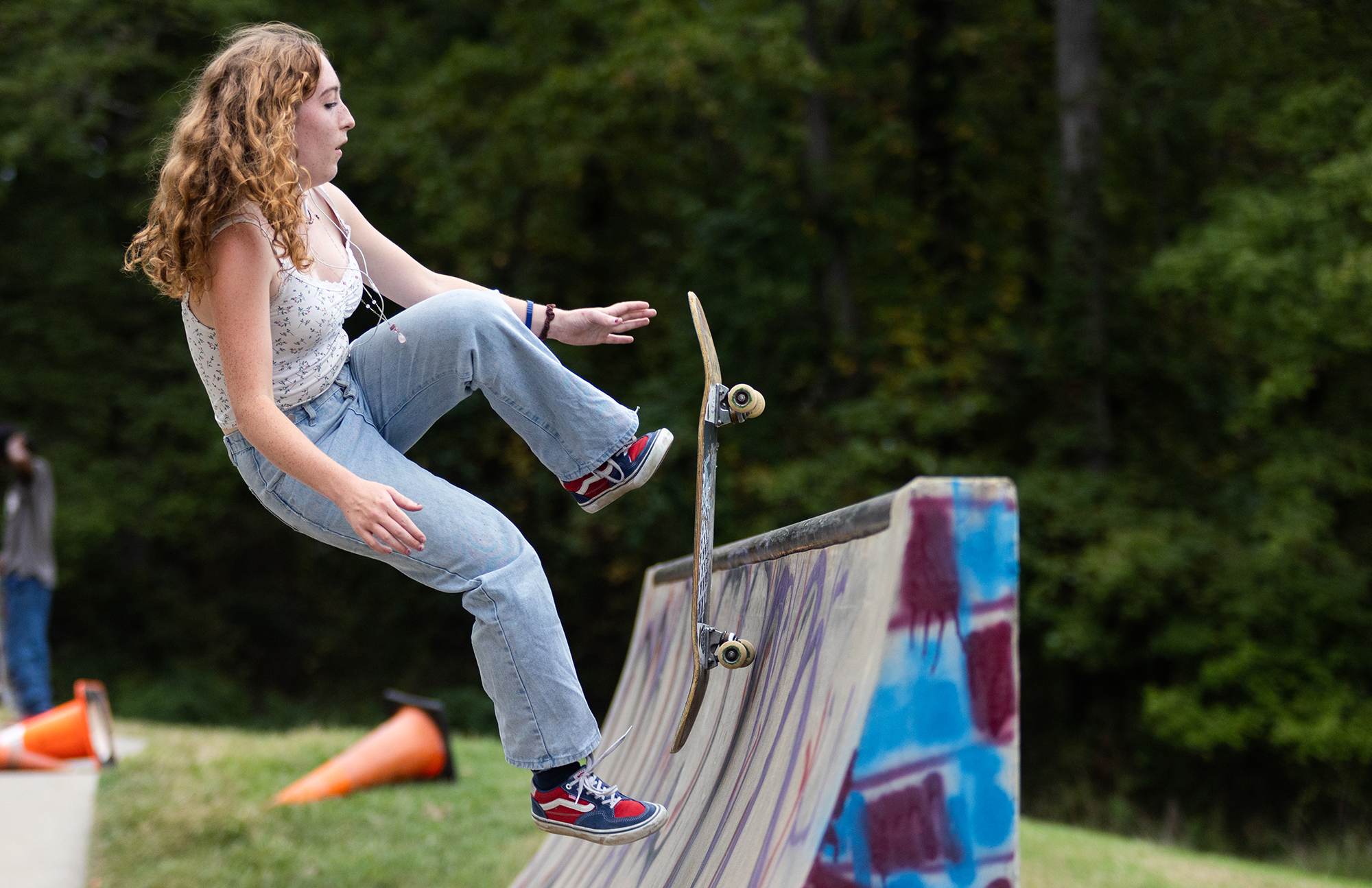 Skateboarding grew in popularity during the 1960s and 1970s after skateboards were mass-produced at a larger scale and skating competitions became more commonplace, according to the Strong National Museum of Play. While famous female skaters such as Patti McGee and Peggy Oki were icons, the skateboarding scene was heavily male-dominated. Today, female skateboarders in the U.S. make up about 27 percent of skateboarders, according to 2017 data from the Sports and Fitness Industry Association.
And it's not only women who have been traditionally excluded from skateparks. In the 1980s and 1990s, there were vicious attacks against LGBTQ+ skaters, including famous skateboarder Brian Anderson, who recalled being scared to talk about his sexuality because of the slurs he heard at the skatepark, according to the National Museum of American History.
Anna DiRienzo, a junior linguistics major, decided it was time to flip the script, and it all started with a few Facebook posts.
DiRienzo transferred to this university from another in Florida, where she was a part of a women's skateboarding club. She wanted to create a community of skaters similar to that club, but one that also included those who were nonbinary and gender non-conforming. She posted in Facebook groups asking if anyone would be interested in a club for women, nonbinary people and members of the LGBTQ+ community to skate and learn together.
Though DiRienzo said she was worried no one would respond, the response she received was overwhelming, and in April 2021, We Skate was born.
"There's so many people that have wanted to skate but never got the chance to try, either because they were too nervous, they felt intimidated by the skate scene, or maybe they just never put themselves out there," DiRienzo said.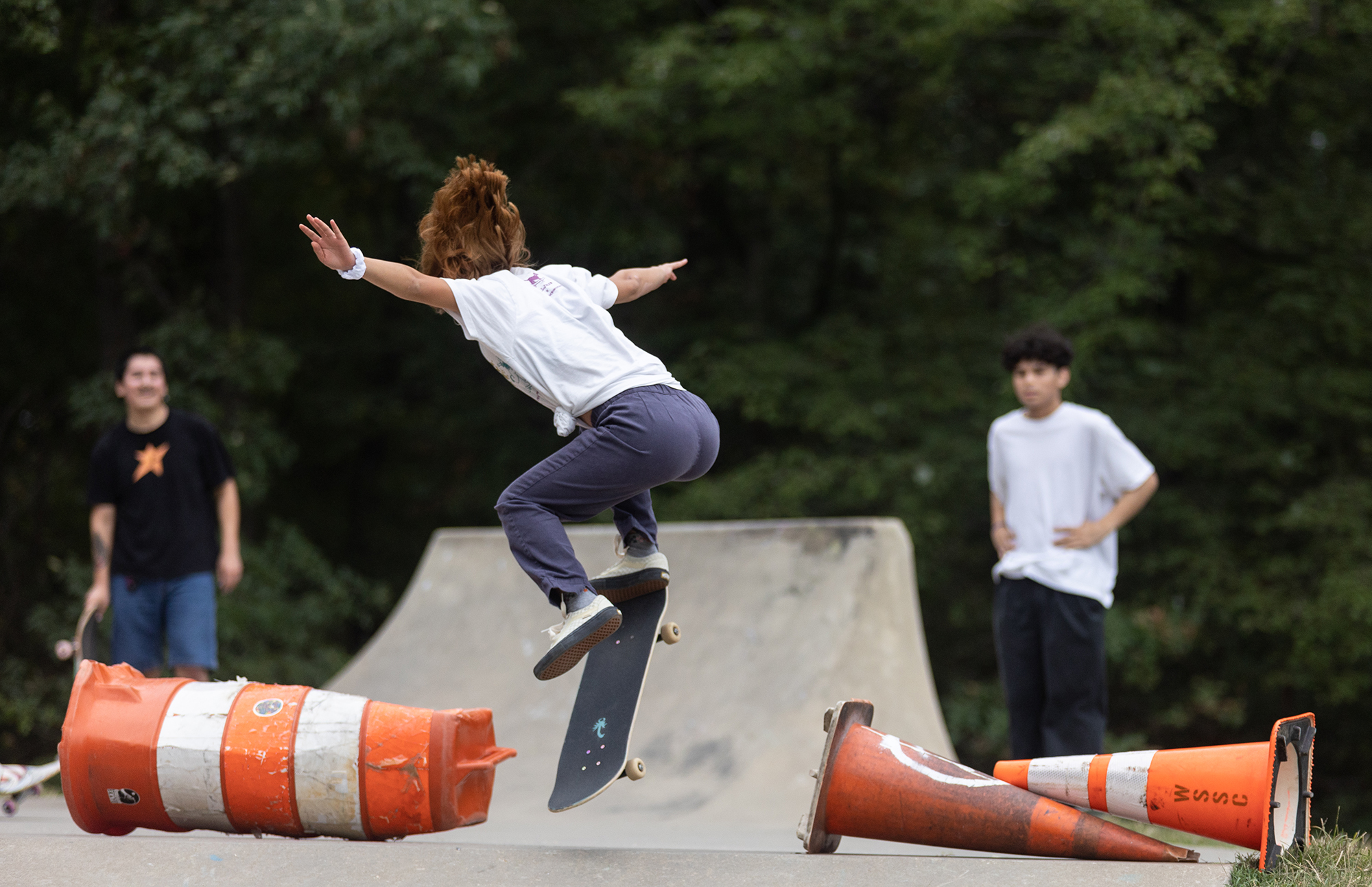 [UMD SGA introduces bill to propose outdoor recreation area on South Campus]
The organization has about 148 members in their group chat and 73 members registered on TerpLink. They also welcome those who roller skate, and the club has become a way to create friendships and build a community where everyone can feel comfortable, no matter what their identity is, DiRienzo said.
"When you go to a skatepark, it's heavily male-dominated, and it doesn't always feel the most welcoming," DiRienzo said.
We Skate's purpose is to make skateparks and skating in general less intimidating by fostering a supportive community. It's something Gillian Boline, the club's treasurer, recognizes as important today.
"When you first start skating … the scariest thing is going to the park and actually getting on your skateboard," said Boline, a junior Arabic studies and government and politics major. "For people who already faced exclusion in their lives, especially if you're in the LGBTQ community, it's a double whammy."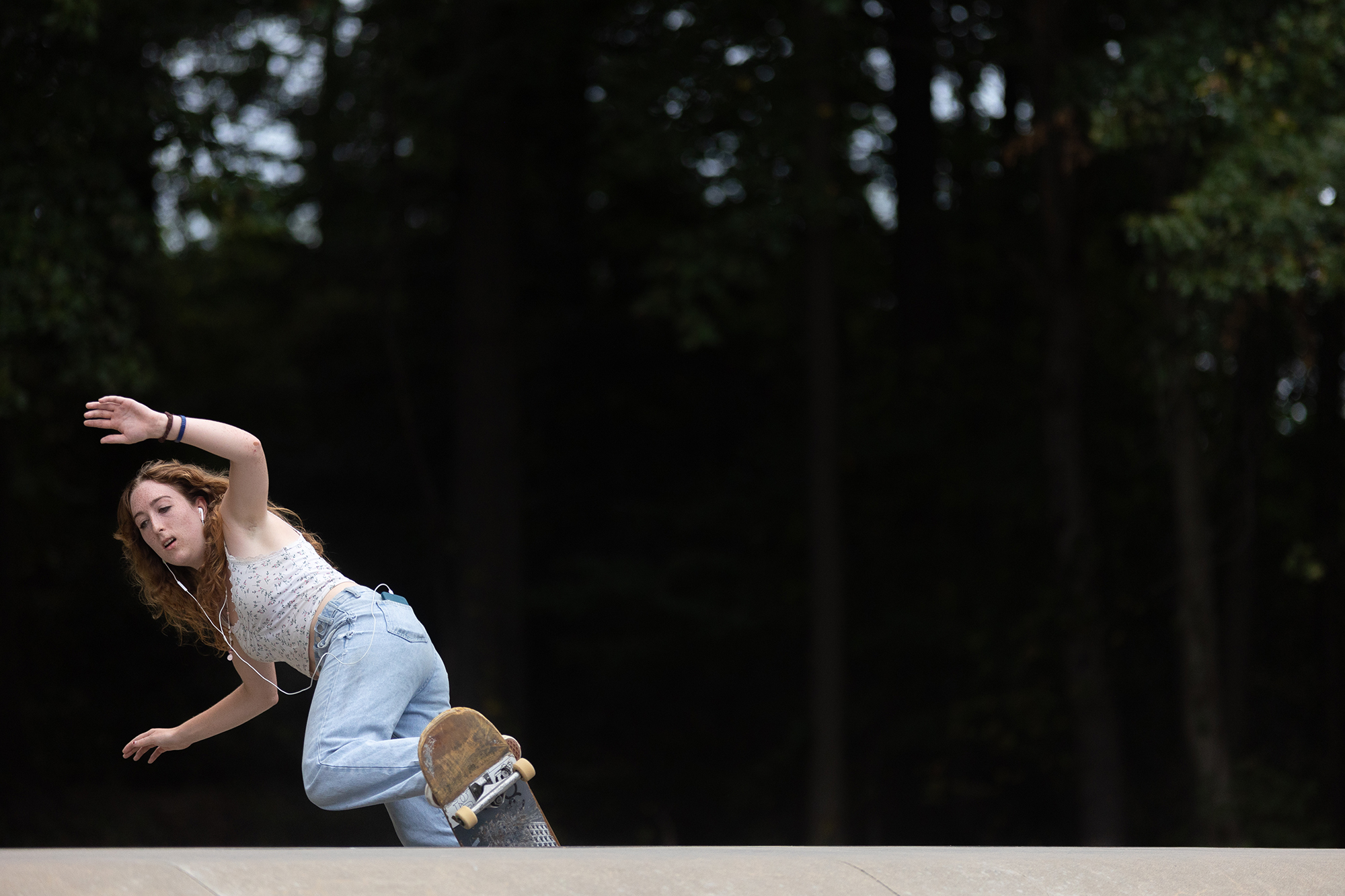 The club's secretary Emma Yockman, the club's secretary, said she has seen posts online where female and LGTBTQ+ skaters receive "malicious" comments. A pervasive stereotype that continues to circulate is that women skate because they want male approval, which minimizes what women enjoy and is "depressing" to see, Yockman said.
Though Yockman, a junior biology major, admits that no one has ever come up to her and said something like that, it's the threat of it happening that is anxiety-inducing.
"You go somewhere and you don't know anybody and you're like, 'What if people do think that about me?'" Yockman said.
Other times, the comments at the skatepark can take the form of unsolicited skating advice — or in the case of her friend, being misgendered, DiRienzo said.
Yockman said it's important to not minimize those experiences.
[UMD Women in Physics provides community, mentorship]
"It is sort of like those small things that build up," Yockman said. "It's like, 'Oh cool, I don't think this would be really happening if I was a male skater or if I was a straight skater or if I looked like I identified like … one of the two binary genders.'"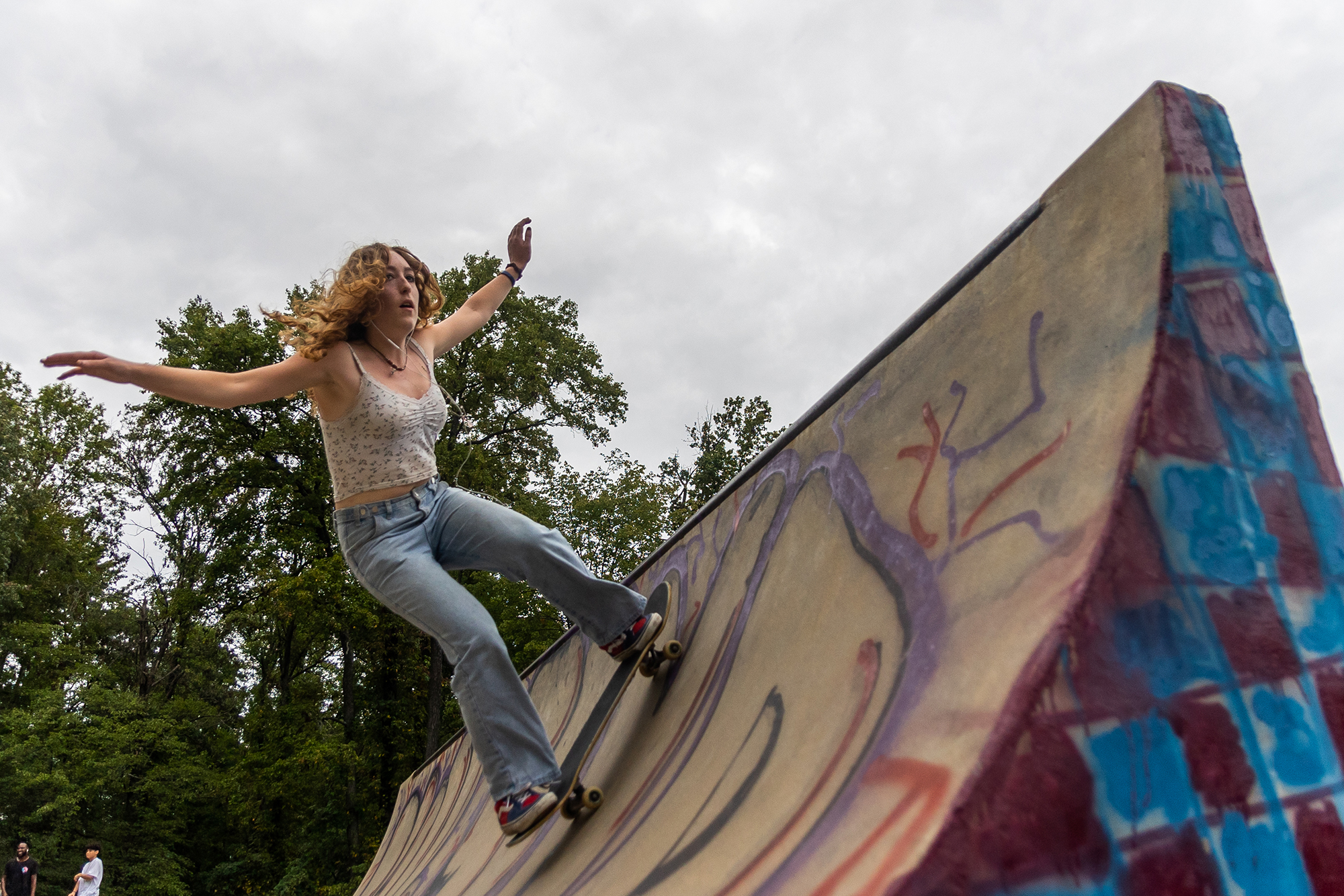 In recent years, the skateboarding scene – one which was assumed to be inclusive because of how skateboarding has been traditionally linked to the punk movement and the embrace of a counterculture – has made progress. This past summer, the United States sent a women's skateboarding team to the Tokyo Olympics, which consisted of five female members and one nonbinary member.
That representation sends out an important message to aspiring skaters who are women, nonbinary or part of the LGBTQ+ community, DiRienzo said.
"Greater representation will definitely encourage more people and more minority sexual and gender identities to come out and skate," DiRienzo said. "It's never too late to skate."
On campus, another skateboarding group, UMD Skateboarding Club, has been active for several years. When We Skate picked up traction, some online users outside the club messaged the group saying that creating another skate club felt "divisive," Yockman said. It made the group reexamine the club's purpose.
"We wanted a specific space that was just for us … it's like 'let's go skate with some friends' and also be very aware of the fact that everyone's nervous, so let's do the most to make sure they're not nervous," Yockman said.
Atem Benanzea-Fontem, a member of the UMD Skateboarding Club, agrees that having another club isn't divisive — it just gives skaters another option.
"It's really cool that there's a club on campus that provides an inclusive space for people who aren't the majority in skateboarding," the junior computer science major said. "It gives them a voice and a place to be their own and to try out skateboarding and to enjoy the fun of skateboarding together."
We Skate wanted to be beginner-friendly as well and have upcoming plans to do an "edu-skate" session where people can learn the basics, Yockman said.
"Whatever you ride, you can hang with us, and we're going to help each other grow and progress in our favorite hobby," DiRienzo said.
CORRECTION: Due to an editing error, a previous version of this story's headline misstated the skateboarding club's name. The group is called We Skate at UMD, not We Skate UMD. This story's headline has been updated.