Saturday night, the courtyard at The Clarice Smith Performing Arts Center was full of fog, lights, bass and drums — sights and sounds from most concerts. But this was different. An energy hung in the air, something fresh and exciting, as if everyone in the crowd shared the same unspoken secret.
On stage, the source of this energy jumped and ran from side to side, all eyes on him. Underground rapper redveil and his red-hot rapping completely captured the devotion of the crowd. We may not have known every word to every song, but we were more than happy to revel along.
The young Prince George's County native made it clear how special this performance was to him. He was on stage, on his home turf, with his crew behind him and his very own loyal crowd before him. At only 17-years-old, redveil's confidence on stage was inspiring, and his personality made the small venue feel like a stadium.
[Review: 'Montero' proves Lil Nas X is a cultural force]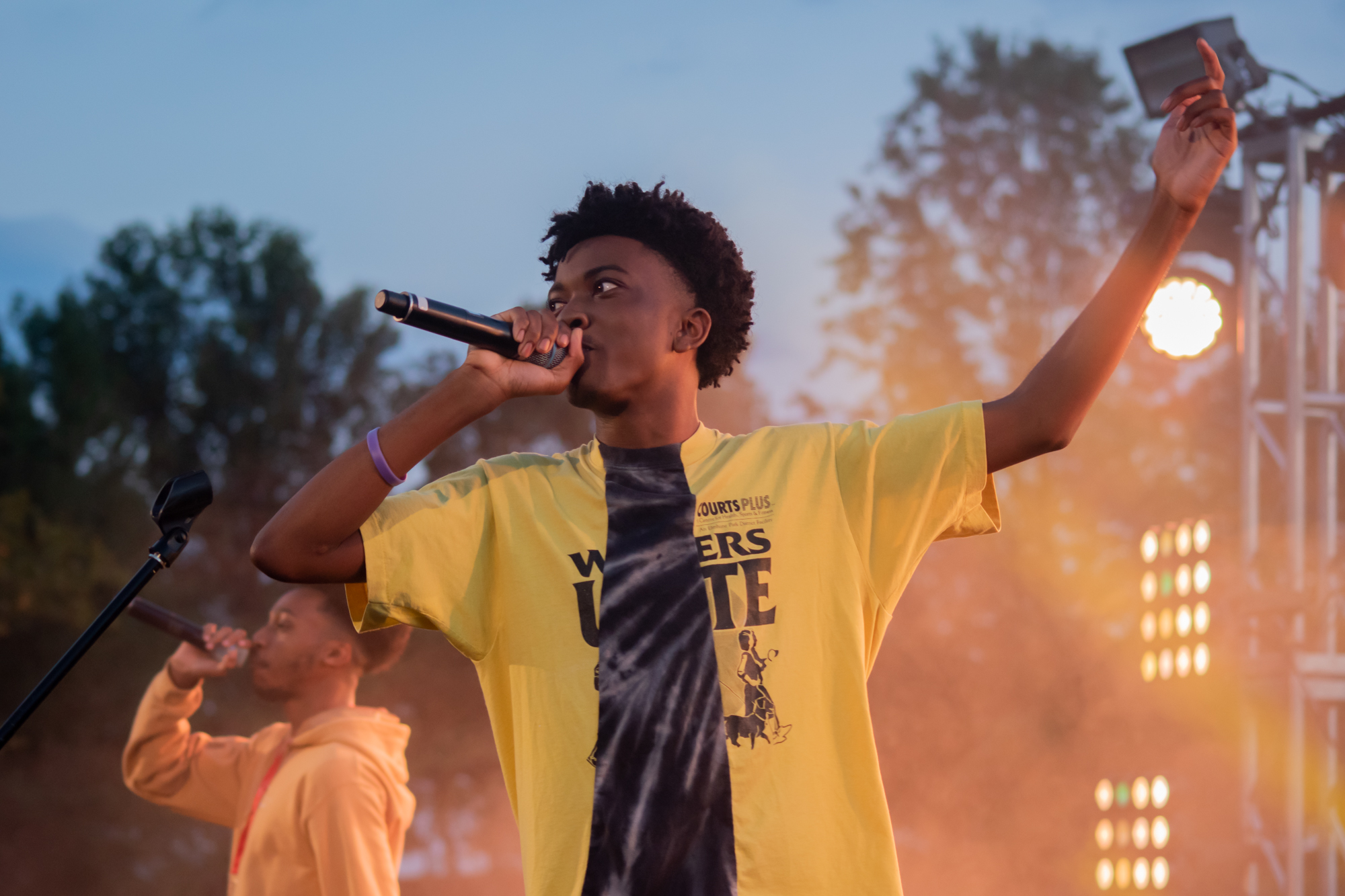 Even after the show, this sentiment was echoed by members of the crowd as they filed back inside. We witnessed something truly not seen before. The concert was free as a part of The Clarice's NextNOW Fest, though I'd have happily paid for a ticket to see this show.
The unique brand of rap redveil delivered includes a largely self-produced collection of sample-heavy instrumentals, complete with blasting bass and drums. On top of that, he lays lyrically dense verses with a characteristic flow and melodic hooks. 
Comparisons could be drawn to other underground rappers Earl Sweatshirt and MAVI, but as redveil continues to put out new music, he defines his sound as a class of its own.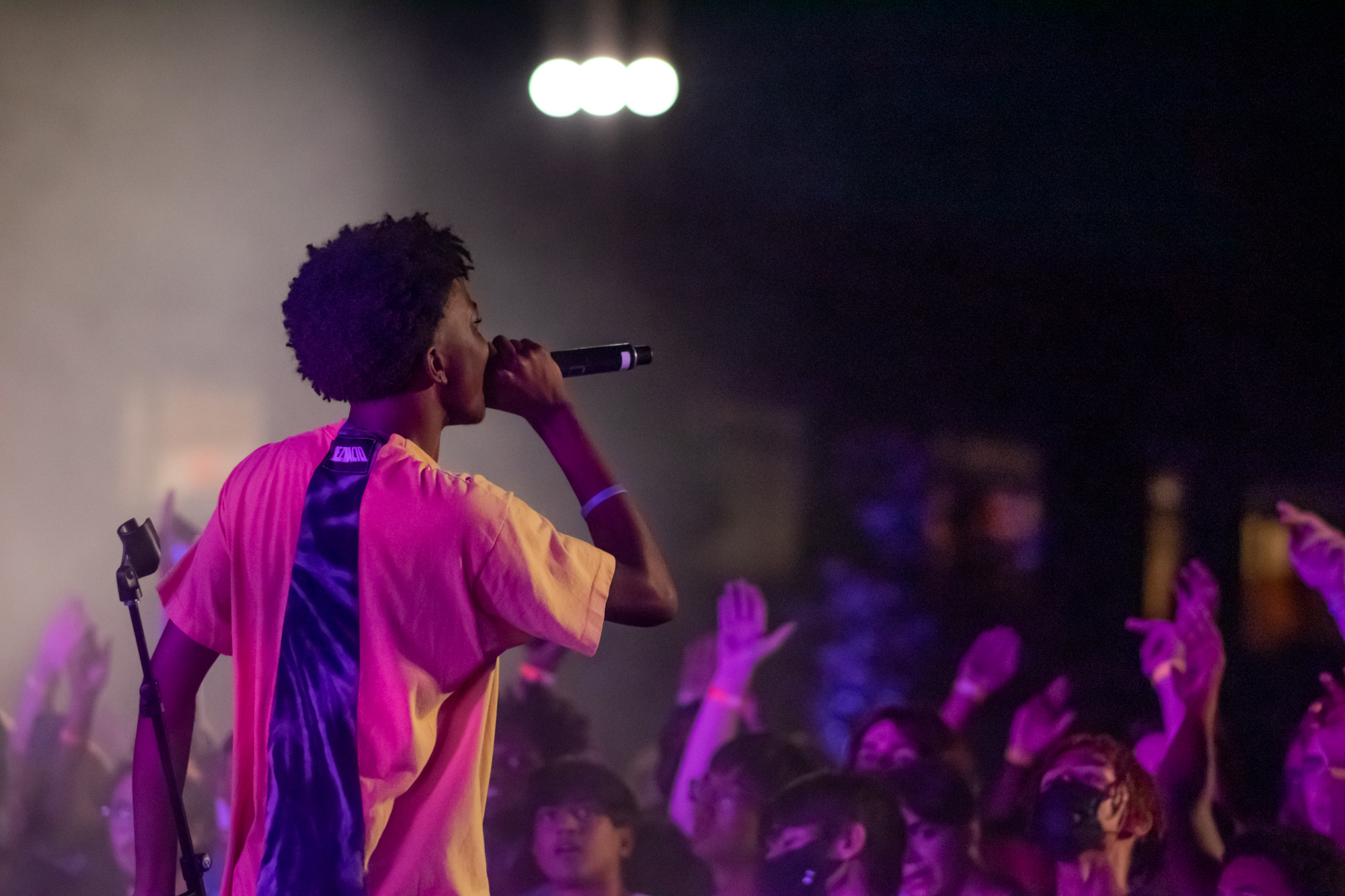 Despite only performing a 45-minute-long show, redveil made the most of his time. He performed several songs, including the raucous hit "Brother's Keeper" in which the rapper delivered an unrelenting flow over an equally invigorating beat. He was rapping so quickly and with such vigor that he needed to catch his breath before the next track.
He also brought on stage his frequent collaborator and singer D'mari Harris, and together they performed "Drown" and "Run It Back," the latter of which is one of my personal favorites. With a simple melody and chorus, thoughtful lyrics and a lighthearted tone, they strike a difficult balance. Nonetheless, the two artists successfully find beauty in minimalism.
[To listen, or not to listen? How to approach music from a canceled artist]
Also on stage were members of redveil's crew, his friends who came to help. Behind him, his hype man queued up the tracks and spurred on the crowd, eliciting some of the biggest reactions from the fans. He took the time to shout out each member of the crew, giving his love and thanks. They returned the favor by praising and supporting their gifted friend, which was a special moment.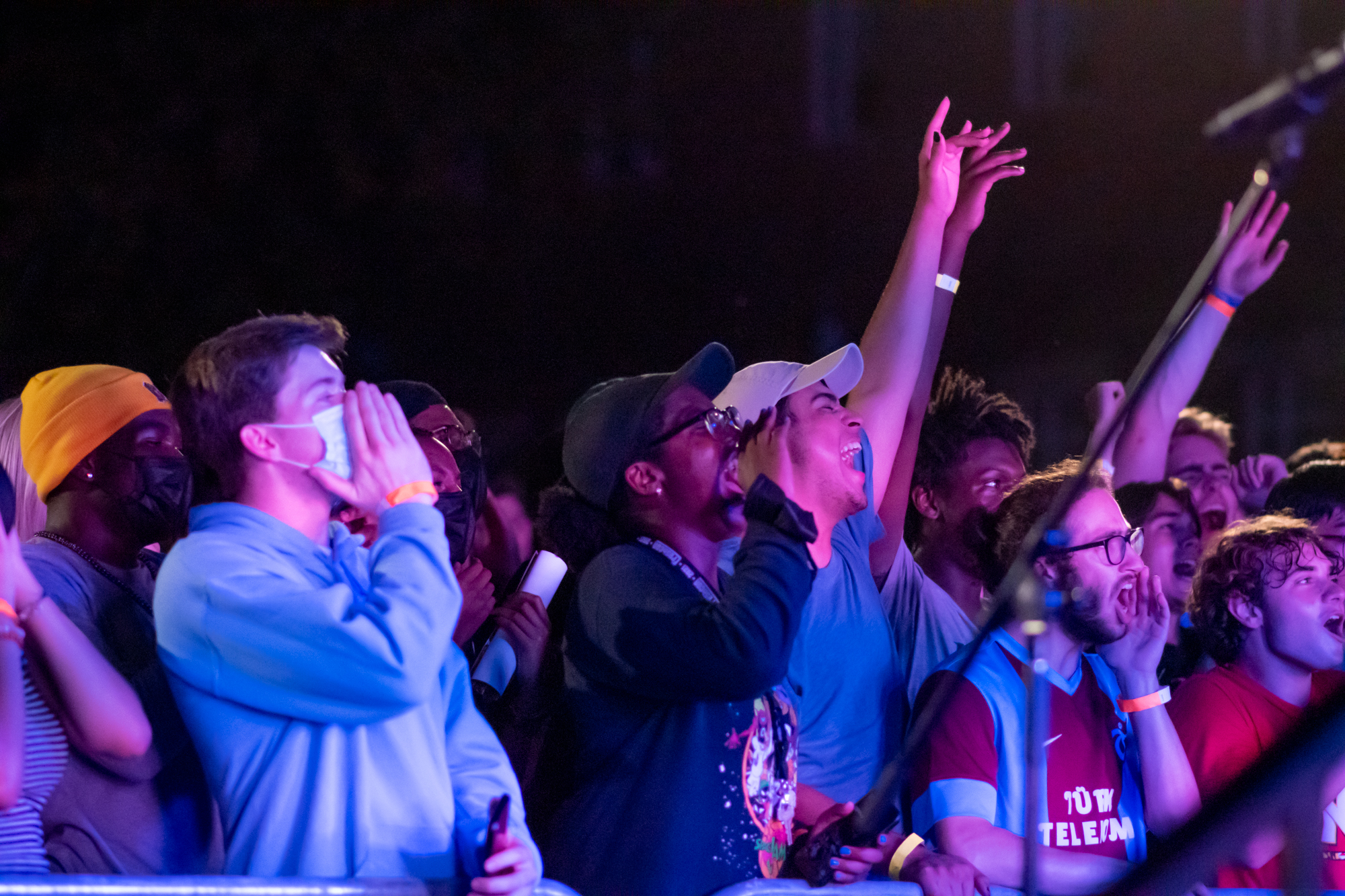 There were a few hiccups throughout the show, but they were all deftly handled by redveil and his team. During one of his most popular songs, redveil's microphone began cutting in and out. Once he realized the issue, he quickly swapped with one of the other mic stands and his voice came back through the speakers to applause and cheers.
After finishing his last song, which featured a miniature mosh pit when the beat dropped, the crowd screamed for an encore. After looking at his team for approval, redveil prepped to perform one more track, a new song that hasn't even dropped yet. Technical difficulties prevented the song from playing. The crowd dispersed, only disappointed that the concert wasn't longer.
Dripping with talent and potential, redveil's first solo performance over-delivered, packing 45 minutes with every bit of momentous energy and exuberance as possible. With hints of greatness already visible, time and practice will smooth out awkwardness and could make this DMV rapper a truly exhilarating live performer. I'll certainly grab a redveil ticket in the future and you'd be remiss not to follow suit.