By Victoria Stavish and Emily Williams
For Anu Faboro, the #141 Shuttle-UM bus to Gaithersburg is a lifeline.
Faboro had taken the bus to the University of Maryland since before the pandemic without issue. But when she arrived at the shuttle stop for the first day of classes Monday morning, what she saw was "a shock."
In place of the usual buses at the stop, there was a single shuttle bus that held 20 to 30 students, Faboro said. Faboro estimated there were about 60 students with no ride to the university, "just milling around trying to figure out what to do next."
"The school doesn't care about whether or not we get to school. I mean, they already said we would have to be in person and if I can't get to school in person, I can't attend school," the senior computer science major said. "Other than this bus there's no real transportation."
For the first two days of classes, many commuter students such as Faboro were left stranded at the Gaithersburg bus stop, leaving them without a way to get to the campus as many in-person classes resumed for the first time in more than a year.
The debacle comes after the university's Department of Transportation Services announced cuts to the #141 route. The bus currently runs twice in the morning on weekdays, departing from Stamp Student Union at about 7:30 a.m. and 9:15 a.m. and arriving at the West Diamond Avenue Park and Ride Lot in Gaithersburg just after 8 a.m. and 10 a.m.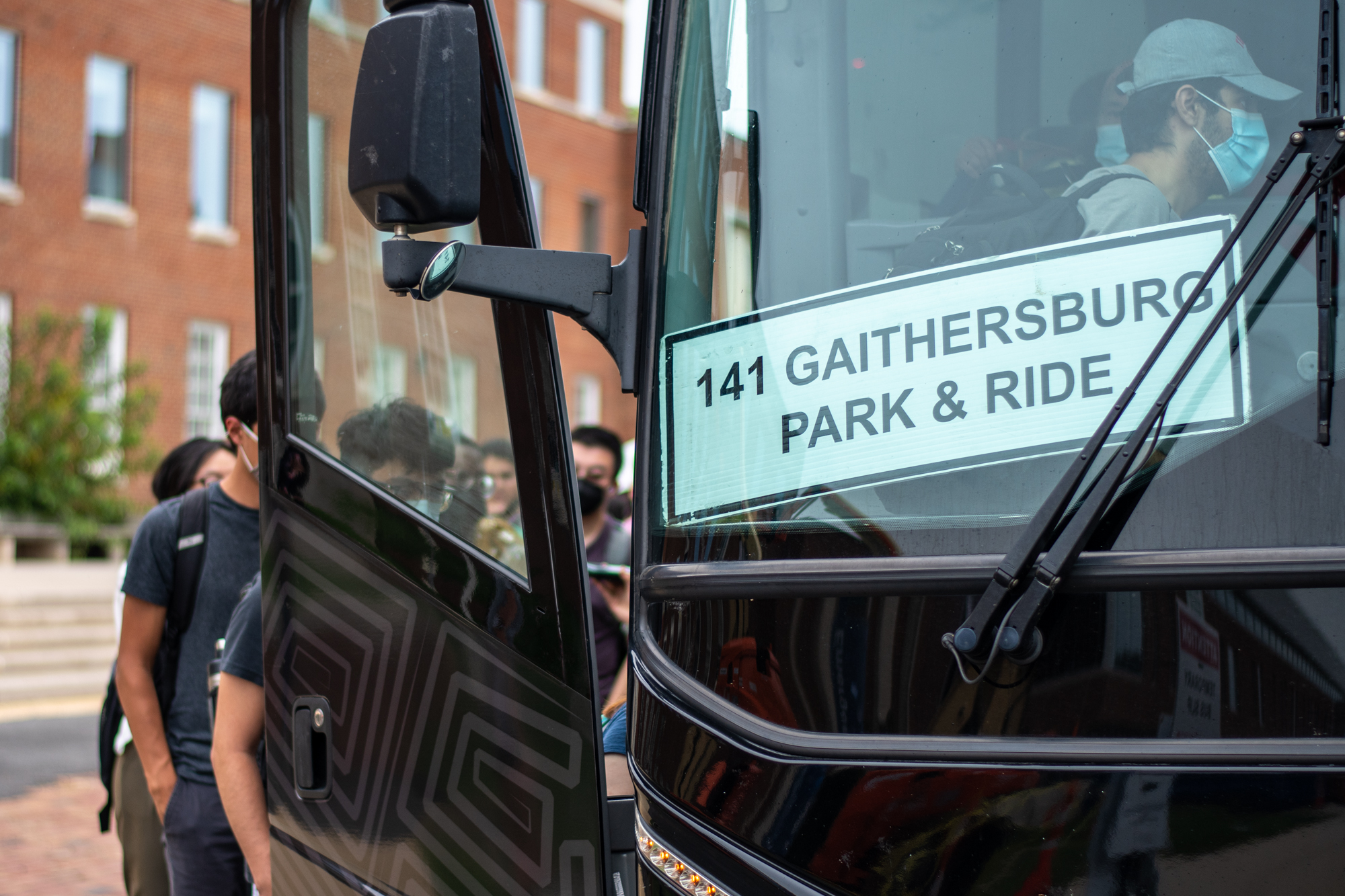 In the fall 2019 semester, the #141 bus left Stamp four times each weekday morning. In fall 2020, that number increased to six.
In a statement, the university said it is "working quickly" to address issues Gaithersburg passengers are experiencing at this time.
"As the university continues to work through the wide-ranging impacts of the COVID-19 pandemic, including significantly reduced ridership, we made adjustments to our bus schedules that would allow us to continue running each of our routes without completely eliminating any of them," the statement said.
[Here's how Shuttle-UM routes are changing this fall]
Jesse Shakarji watched as students ran after the bus on Monday, which arrived earlier than scheduled.
The next day, he was one of the last people to secure a spot on the bus, after people crowded at the front of the line, hoping to get on the morning shuttle. Around 50 to 60 people were left behind, he estimated.
Shakarji was able to get on the bus and make it to the campus on time both mornings. On Wednesday, he plans to get to the stop 45 minutes before the bus is expected to arrive, he said Tuesday.
"I think it's going to be even worse [Wednesday]," the senior computer engineering major said.
Matthew Marks was not as fortunate.
Marks didn't have money to go to college, so he decided to join the military to get his GI Bill benefits, which helped pay for school. He voiced his frustration in a post on the university's subreddit Tuesday morning, which included a picture of people left behind at the bus stop.
"I've been looking forward to [coming back to school] for like seven or eight years, and then to be kind of left there in the middle like no one cares," the senior public policy major said. "I'm just standing in the middle of this park and ride and [DOTS] are just like well, I have to figure it out. I'm just infuriated."
Marks shares his car with his wife, who drives to work during the week. He isn't sure how he will get to his classes the rest of the semester.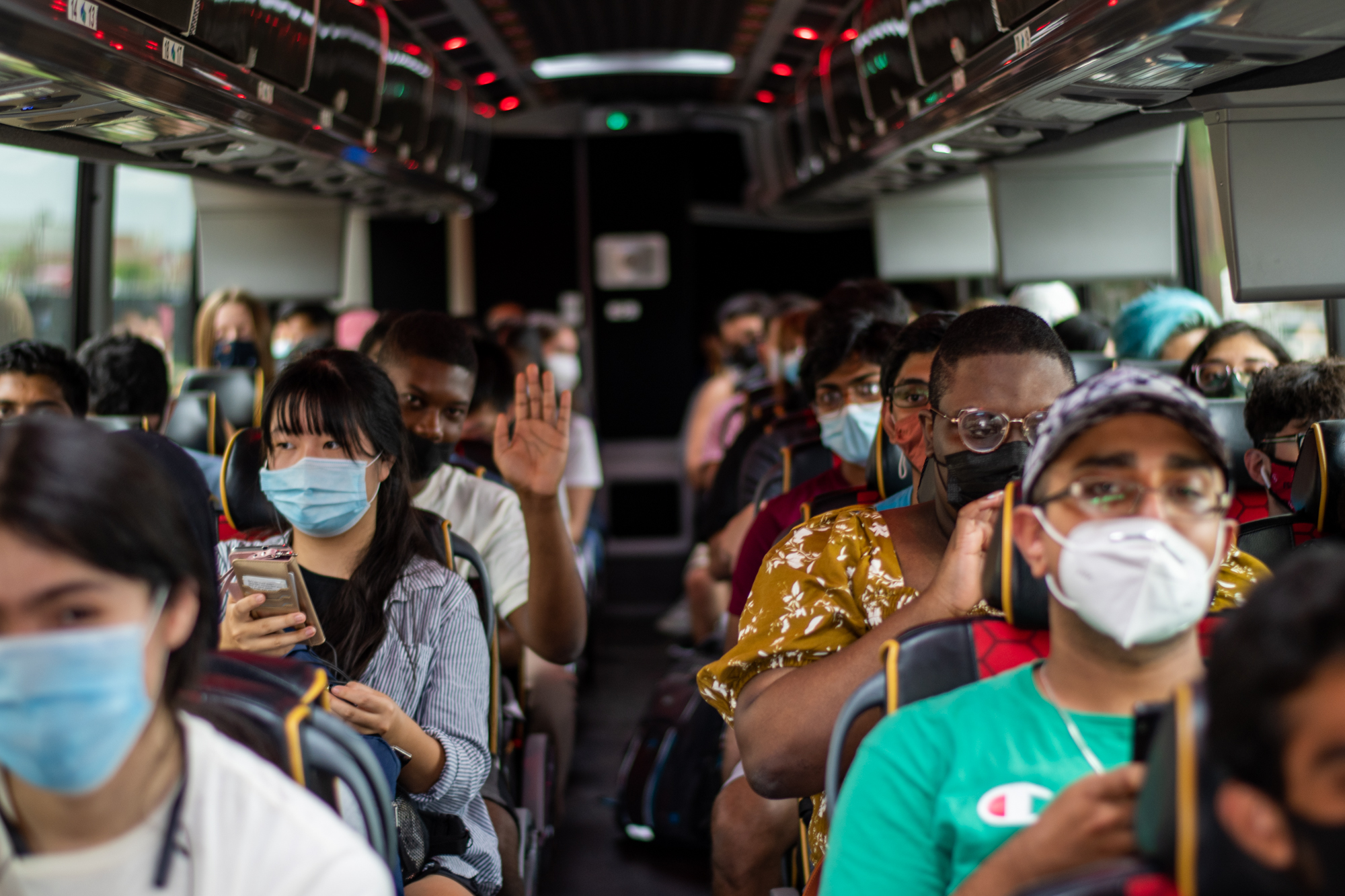 "These are dimensions that [the university] just [does] not think about when they're looking at spreadsheets and looking at dollar signs and adding money to the athletics programs, or building up new fancy facilities … while cutting necessary services that are just base level for getting people actually to campus to study, to be in the classes that … everyone pays for," Marks said.
Marks spoke to David Allen, the DOTS executive director, about his concerns. Allen said he would discuss the problem with Carlo Colella, the university's finance vice president.
For Tasfia Haque, this week was her first chance to go to school on a college campus. She missed the bus Tuesday morning.
The shuttle is Haque's only means of transportation from Gaithersburg to campus. While she was able to get a ride from a friend's parent Tuesday morning, Haque stressed that there should be clearer communication between commuters and the university.
[Here's how to travel to DC as Green Line Metro closures persist]
"It's frustrating because I don't want to miss class, and I don't want to miss doing work or hanging out with my friends just because the bus didn't come," said Haque, a freshman enrolled in letters and sciences.
Over the summer, the route cuts across Shuttle-UM were part of a protest from drivers, who also were vocal about wanting better bus maintenance and cleaning, as well as hazard pay.
"When I transferred to UMD, I expected the shuttle program to help me get from home to UMD, and I was relying on that," Shakarji said. "Thankfully, now I have other options … but still I heavily rely on the shuttle, so it's kind of disappointing to be told they have shuttles that are super reliable."