Elizabeth Katt, a second-year fine arts graduate student at the University of Maryland, is creating a visual representation of the number of lives lost to the coronavirus. To date, the virus has caused about 569,000 deaths in the United States.
In her piece "An Accounting," Katt makes a tally for every person who has died of COVID-19 in the United States. So far, she's gone through 27 rolls of accounting tape and recorded around 233,000 deaths, leaving her at the number recorded at the end of October.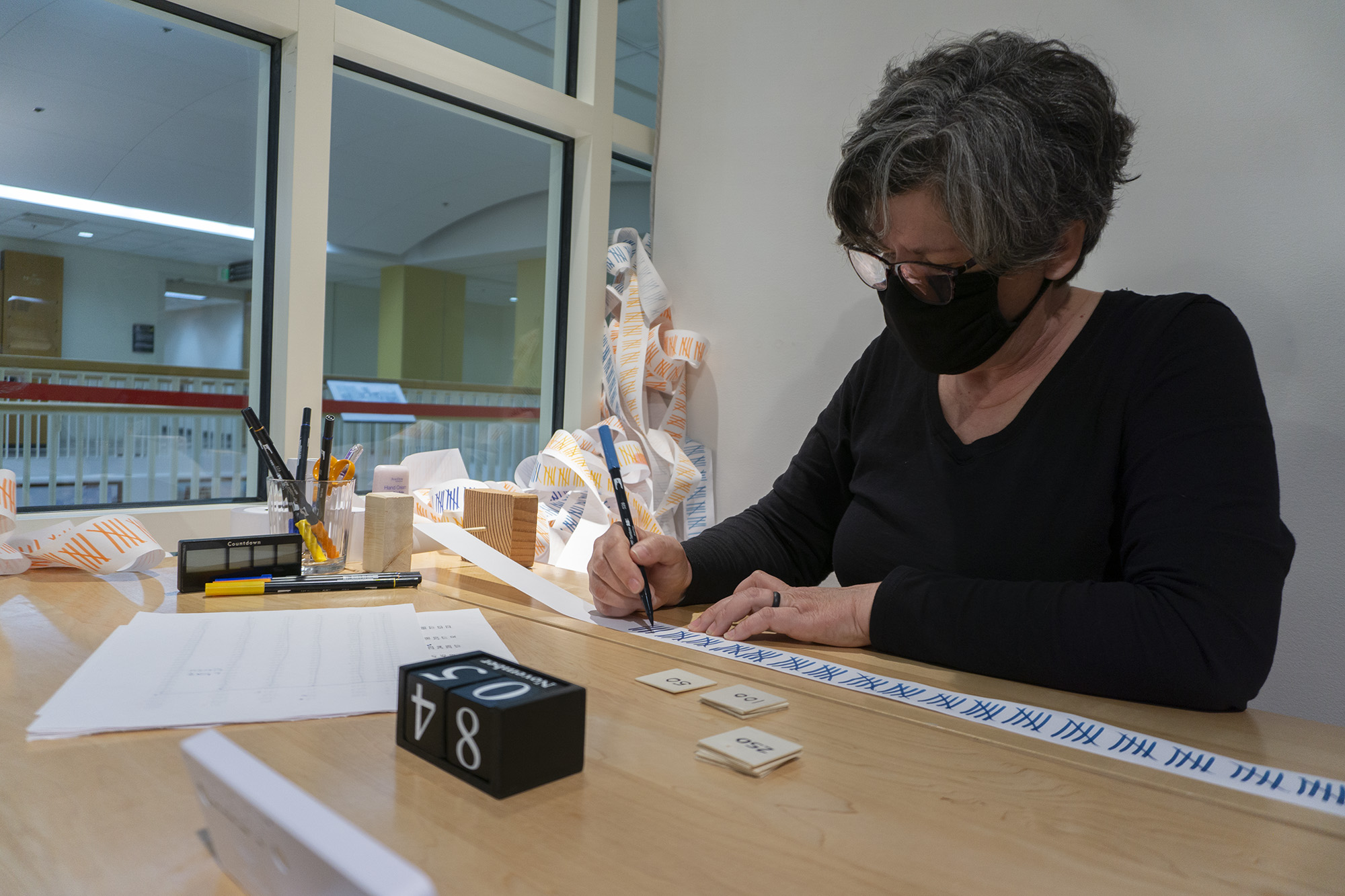 Katt is one of three second-year fine arts graduate students featured in "Amidst," a student art exhibit in the Stamp Student Union. The exhibit launched April 12 and will be on display through May 15.
The title of the trio's first-year art show was "Square One," because that's where they felt like they were, Katt said. "Amidst" refers to how the three find themselves in the middle of the pandemic, graduate school and other things in their lives, she added.
"We're in the midst of this pandemic, we're in the midst of our MFA, we're in the midst of so many things right now," Katt said. "Sometimes when you're in the middle of it … you're just trying to plow through."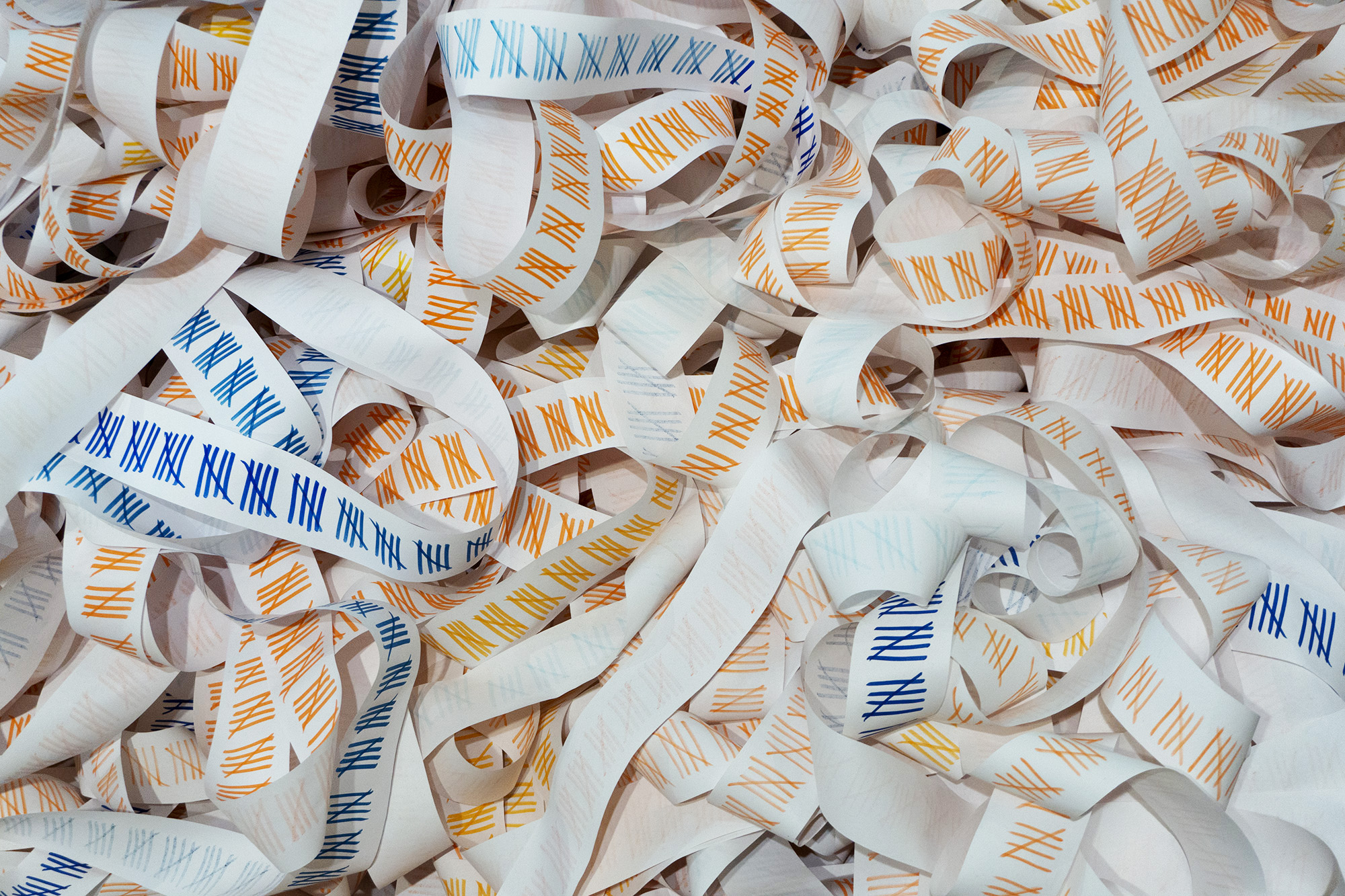 Katt tackles "An Accounting" in sessions, which she imbues with meaning. For example, she worked for 16 hours on Election Day to represent the amount of time between polls opening on the East Coast to polls closing on the West Coast.
"I did [a session] that was 12 hours long to recognize the healthcare workers that are so much a part of what's going on and I believe will have ongoing lingering consequences from taking care of patients," she added.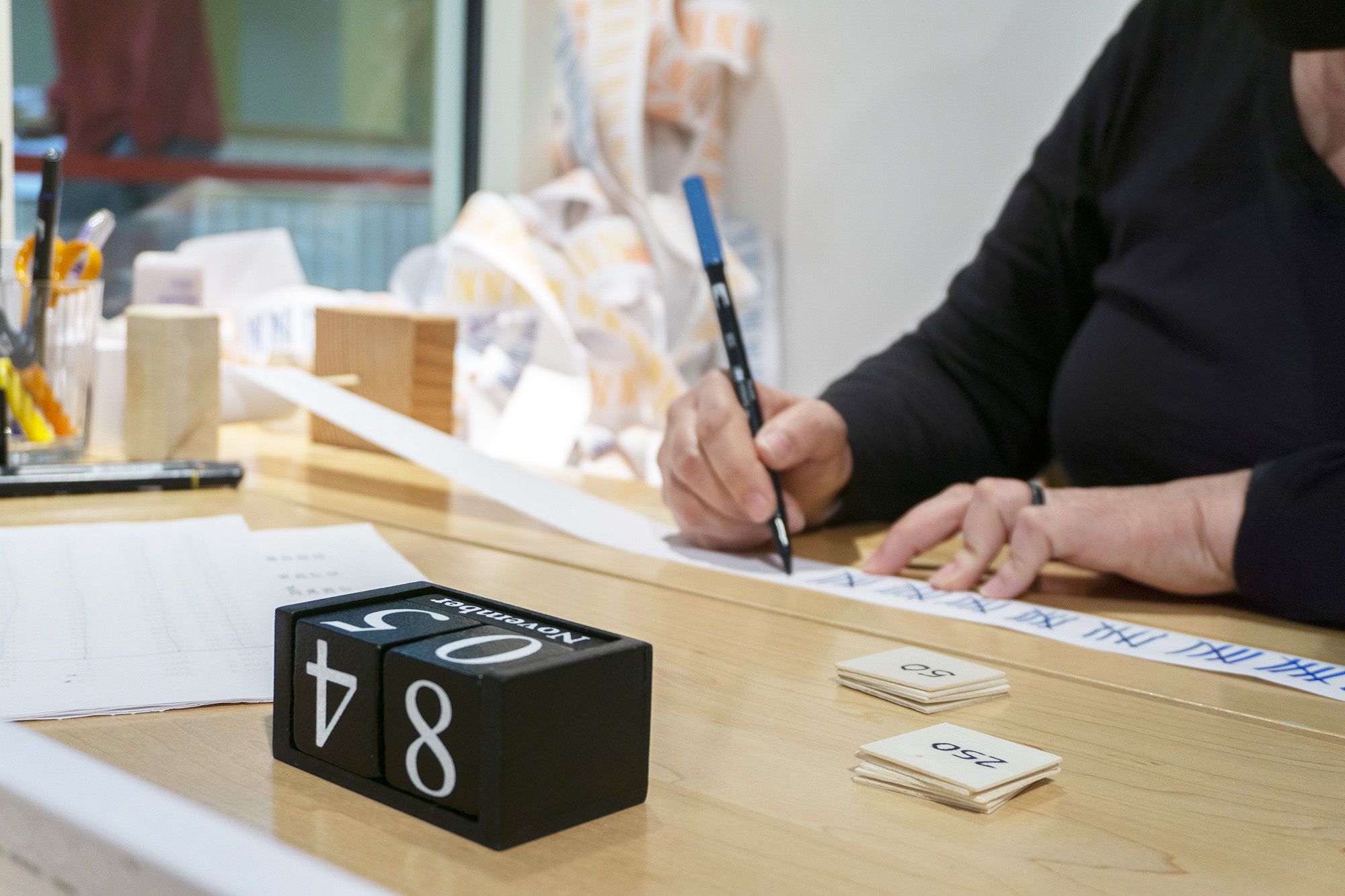 Katt plans to get through the end of 2020 for this year's show. She livestreams her work from Stamp Gallery, where visitors can interact, ask questions or tell her about their loved ones.
"I don't mind if people have questions, or maybe there's somebody they care about that passed away and they just want to tell me about that," she said.
[In his inaugural address, President Darryll Pines shares his vision for UMD]
Katt employs four different colors for the project. Dark blue represents the people who would have died from the virus no matter what. The others — light blue, light orange and dark orange — represent the numbers of deaths if the U.S. had handled the pandemic like Australia, Germany and Canada did, Katt said.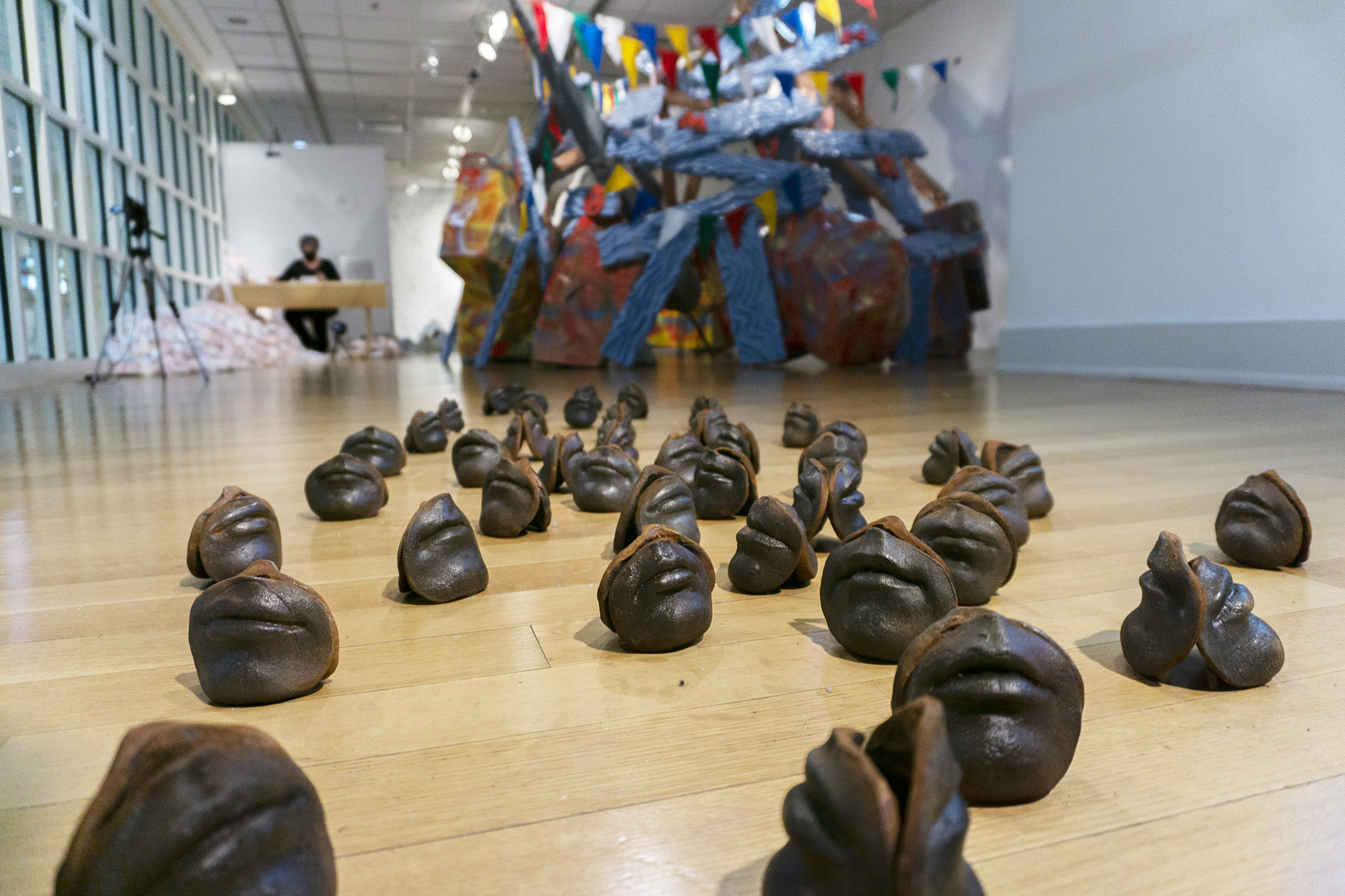 Alyssa Imes' "I Will Keep You Upright in the Cold Silence" consists of 110 cast-iron lips made from molds of women in her community. The sculpture includes signage that instructs viewers to remain silent as a token to its themes of sexual assault.
"It creates this silent sound and that awkwardness," the second-year fine arts graduate student said. "The piece really is about that awkward silence before, after and during somebody opens up to you about a sexual assault."
"Post-Traumatic Growth" is another piece by Imes on display. It features piles of shredded up bed sheets in different colors set to a background of seedlings protruding from a wall.
"After trauma, there is this wealth in the world of becoming a better version of yourself … but also having these piles, seeing these peaks and valleys and these low points and high points," she said.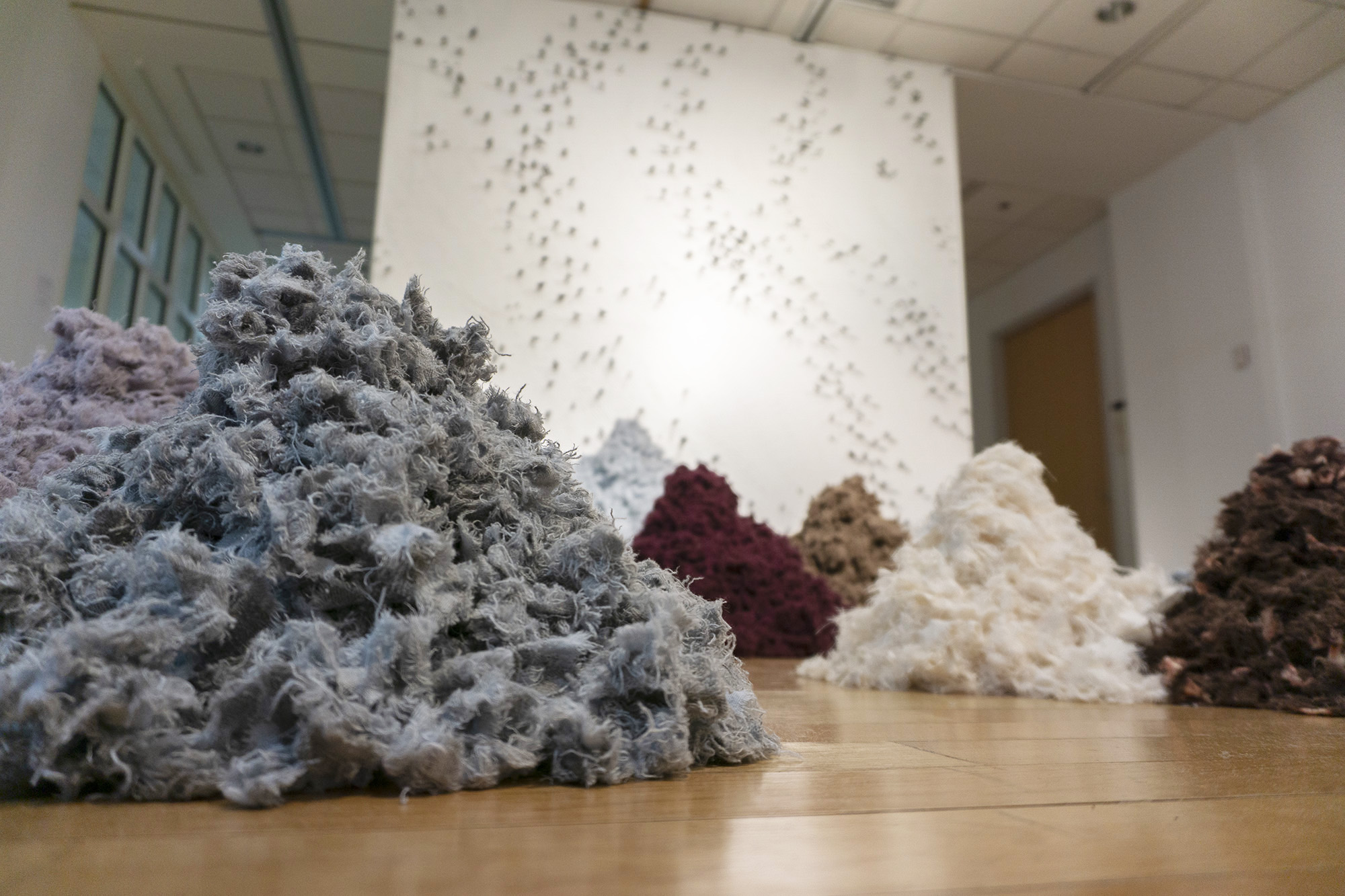 Imes, a survivor of sexual assault, said that support from her community and her network helped her get through the healing process afterwards. She wants people who see her work to recognize the importance of providing support to those who have endured trauma.
[RHA passes resolutions to renew policing committee, support changes to gen-ed requirements]
"Trauma is an unknown landscape," she said. "We're all living as we go and just embracing that growth, and becoming that better version of yourself."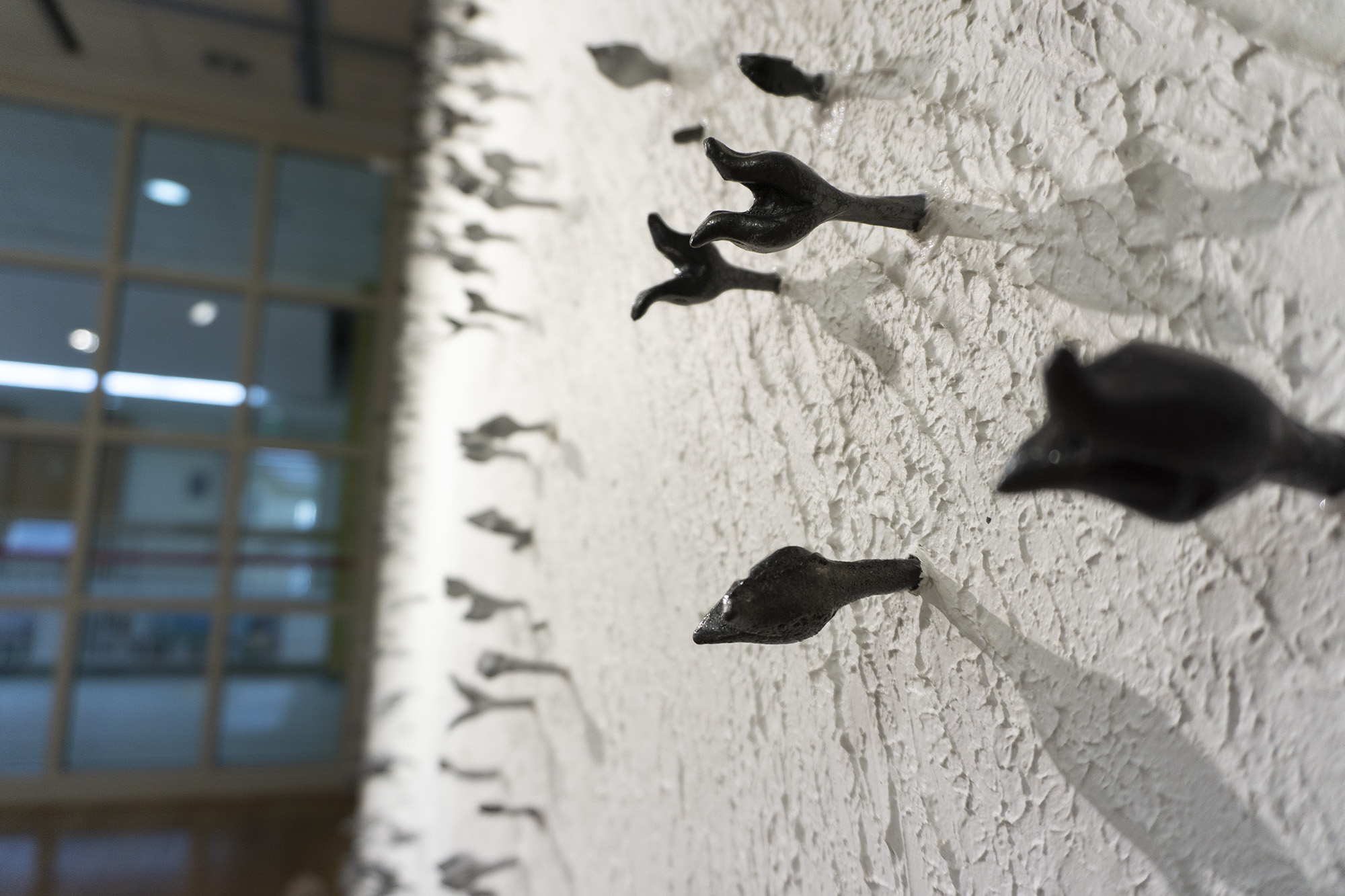 Martin Gonzales' "Transition/Resurrection" is a colorful structure made of cardboard and foam. Each time he installs the piece, it bears a different appearance.
"It's a structure of large scale toy pieces that are in the act of collapse," the second-year fine arts graduate student said.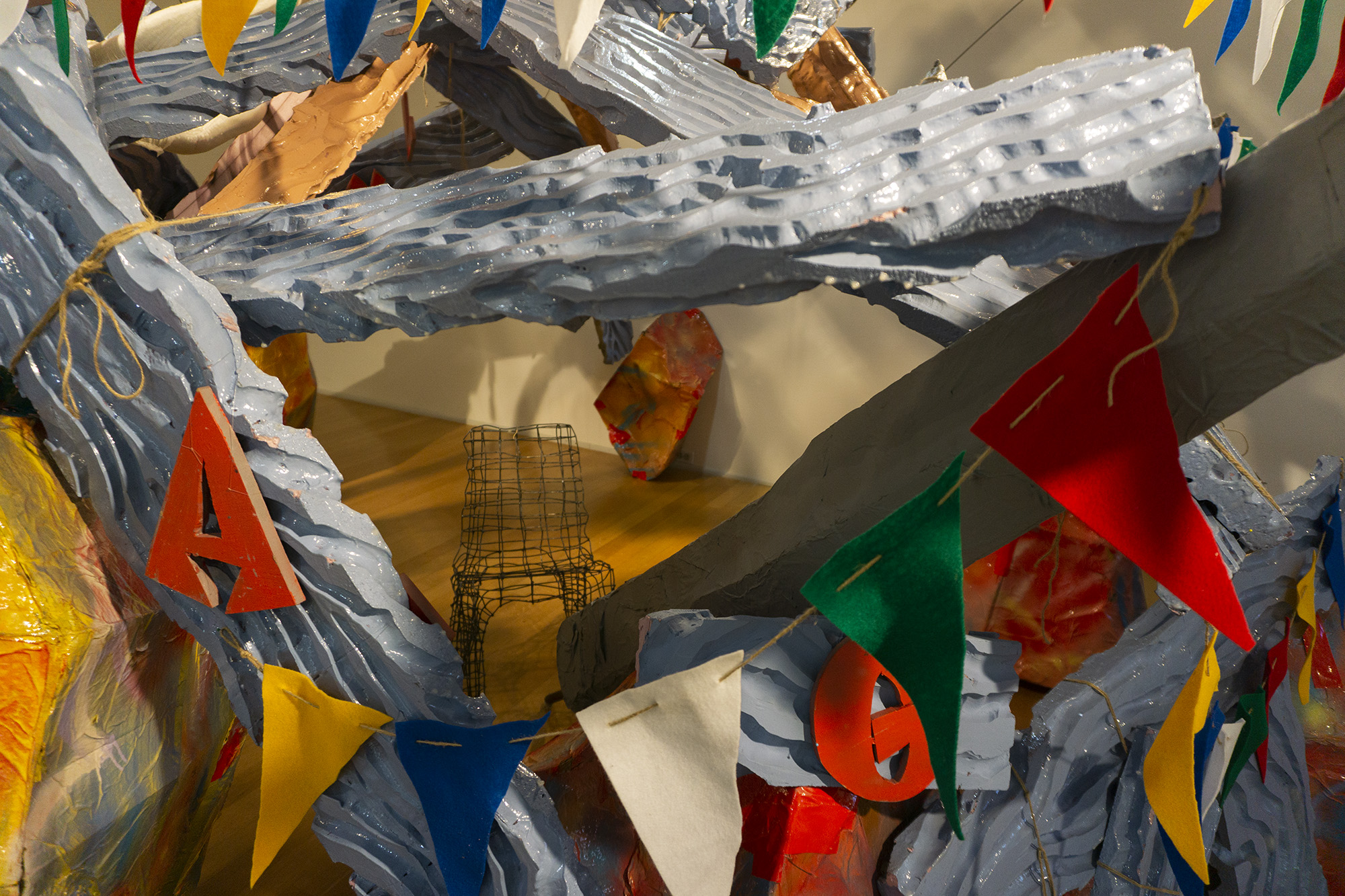 The work represents Gonzales' journey to establish a framework as he explores how to maneuver life, he said, and he wants to leave interpretation up to viewers' discretion.
As an artist, Gonzales hopes to create spaces for others to feel comfortable.
"The art world in particular isn't made for brown men in the same way that it is for white men," he said. "The common thread is carving out and creating space for myself, and creating space for people to come into."