Alexis Hogarth has always noticed the glances. They were a regular part of her youth soccer career — she and her twin sister were often the only Black girls on their teams.
For all the goals and assists they poured in, it was something else that drew the stares of their teammates: their twists.
"The girls would ask me questions like 'Oh, look at her hair,'" the Maryland women's soccer defender said.
And Hogarth didn't know what to say.
She loved the game of soccer, a game that would eventually bring her to College Park. It would yield her a spot on Sportscenter's top 10, as well as a berth in the Big Ten tournament with the Terps.
But those microaggressions? That fear of speaking out? That part was hard to reckon with.
"I didn't want it to be that I was the Black girl with the attitude," Hogarth said.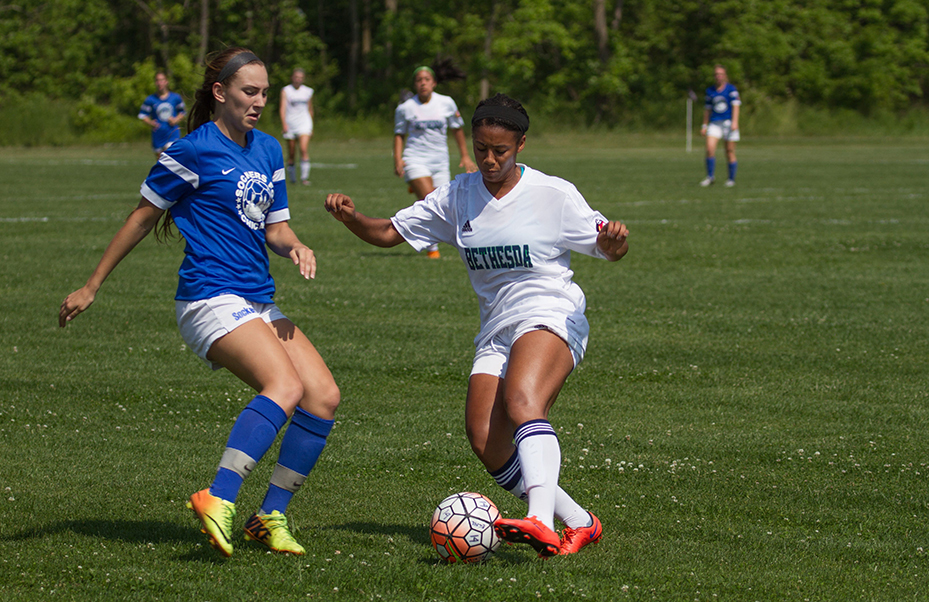 It's an all-too-common feeling among Black players, an imprint of systemic racism and its unique impact on women's soccer. It's hard to feel relaxed in a cascade of French braids and ponytails.
But, while the world of American soccer grapples with fostering a culture of diversity and inclusivity in a sport so dominated by its whiteness, Maryland women's soccer is an outlier. Coach Ray Leone's squad featured 11 Black players last season, the highest number in the Big Ten and one of the highest among Power Five programs.
Conversations about racial equity and the reality of life for Black women — both on this campus and beyond — have been a constant theme in the locker room. And it's this pursuit of true representation that motivates the Terps to keep advocating for themselves and their experiences.
You never know what little Black girl might be watching.
"We really just want to [show] …  how diverse we are," Hogarth said.  "To show little Black girls who are interested in soccer that there is representation and that they can play."
"A little uncomfortable"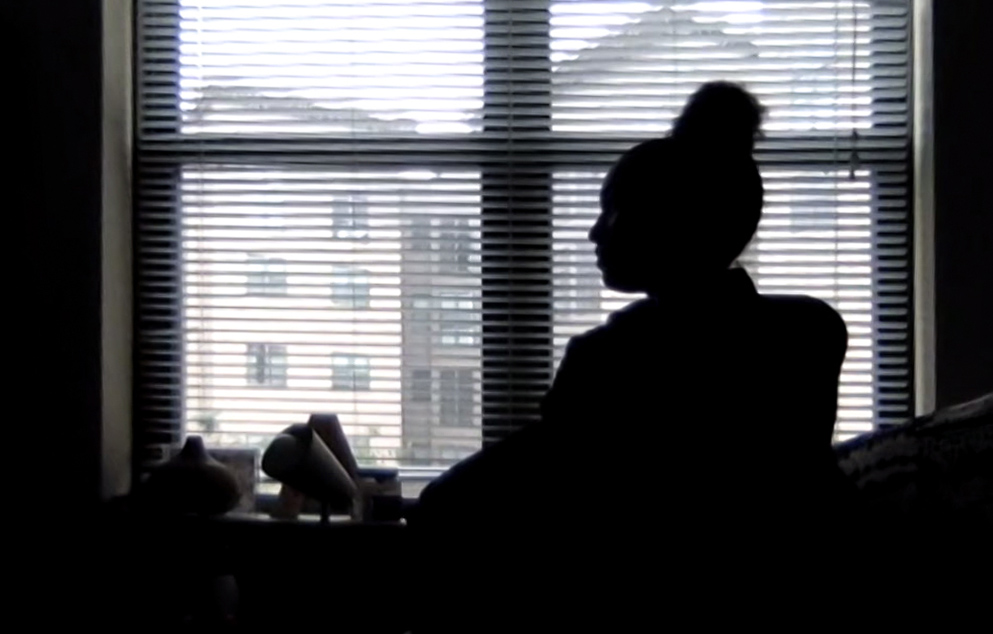 The first touch was always going to be the most important for Alyssa Poarch. She was just a youngster, watching along for the first time as her brothers and cousins knocked a soccer ball back and forth.
And Poarch just had to get involved.
It's the family business, after all. Two older brothers ended up playing Division I ball. And one of those cousins, George Campbell, has established himself as a rising prospect in the Atlanta United FC setup.
Poarch followed in their footsteps, turning out for local sides soon after being introduced to the game.
"I've just stuck with it since then," Poarch said. "It's just been part of our family."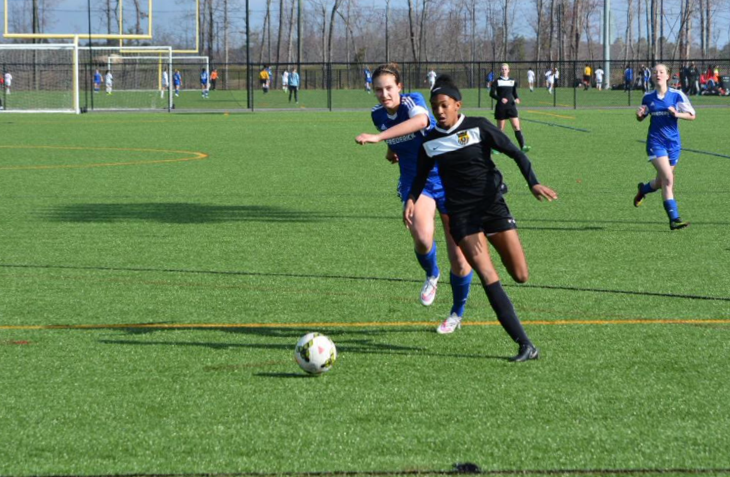 Poarch's game, defined by quick feints and even quicker step-overs, developed on those grassy fields back in Delaware. 
She'd send defenders to the turf with the drop of a shoulder, and when she tiptoed into the box, she'd conjure up magic moments: solo goals, audacious assists, fancy flicks.
But for all her skill, it wasn't easy. Not as one of the few Black players on her team.
A Women's Sports Foundation report found that Black girls account for only 28.3 percent of all current female youth sports participants, 7 percent less than any other race or ethnicity. That disparity is a part of youth soccer, as well, exacerbated by a "pay-to-play" model that largely inhibits Black and brown participation. 
Per a 2019 survey conducted by the Aspen Institute, the average annual cost of youth soccer is $537 — over $50 more than tackle football and over $100 more than basketball. Meanwhile, fees for the U.S. Soccer Development Academy system — a pipeline linking local club teams to the American soccer governing body — ranged from $2,000 to $5,000 annually before its dissolution in April due to the COVID-19 pandemic.
While soccer is often branded as "a global game," the American youth soccer machine has long funneled its resources into white, suburban enclaves.
"We were not a soccer country. The suburban, more well-to-do white people were the ones who then appropriated it," said Steven Miller, a professor at Rutgers University who teaches a class about critical issues in sports media. "When they started building their club system, it was built by people who weren't of color. It wasn't recruiting people of color."
This racial disparity can make for a jarring existence for Black players. For Poarch, this discomfort often was accompanied by self-doubt — from hairstyles to conversations, she always felt different from everyone else.
"I had to go through a lot of different things that they didn't necessarily have to … because there were a lot of girls who looked like them," Poarch said. "For me to be one of the only Black girls in situations like this, it did make me a little uncomfortable."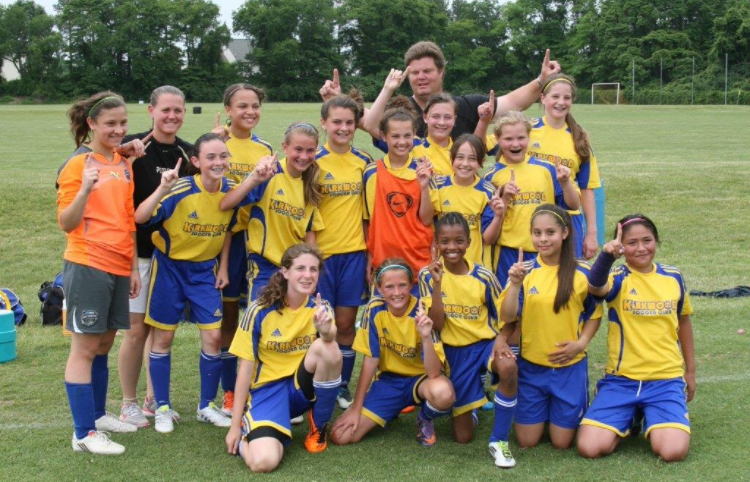 Still, Poarch persisted, rising into a Division I level prospect. With that status came a chance for a cultural reset. She wanted to feel the relaxation of being in an environment where her hair wasn't some taboo, where her existence wasn't some topic of debate.
And after weighing her options, it was Leone's program that stood out, its pursuit of diversity — on the field and on the sidelines — playing a central role in her commitment.
"I wanted to experience something new," Poarch said. "Diversity within my sport would be that something new."
"That sense of community would just feel different"
Alexis Hogarth marauded up the left flank against George Mason on Sept. 5, 2019. It was an area she hadn't exactly gravitated to in her collegiate career.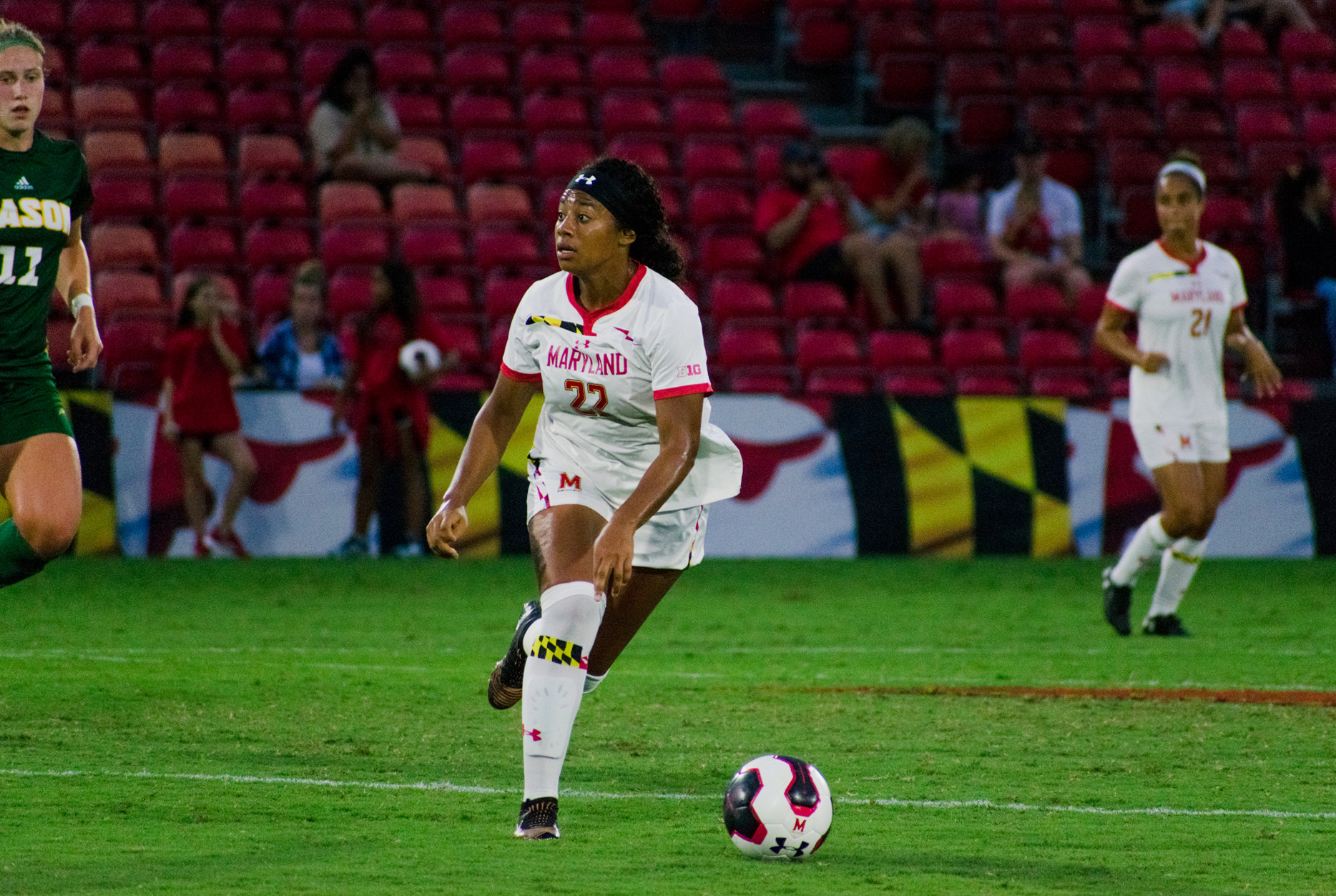 Failing to tally a goal or assist in her first two seasons in College Park, Hogarth brings more steel than stealth to Leone's squad. She's a nuisance, pestering opposition attackers into mistakes. She tackles. She intercepts. She makes clearances.
And on the few occasions when the grass opens up for her and she's able to push into the attack, Hogarth opts for a more bashful approach — feeding the ball to her more attack-minded teammates.
This time around, though, Hogarth had different plans. She latched onto a Sydney Staier pass 40 yards from goal and set herself, shuffling her feet as she prepared to whip a ball into the area.
Then, she swung her left foot.
Was it a cross? Was it a shot? Only Hogarth knows. But, as the ball swirled through the autumn sky and nestled into the top corner of the net, one thing was certain: Hogarth was officially a collegiate goalscorer.
She turned to her teammates and shrugged. She didn't have much time to think about what had happened — they all came swarming.
The goal would appear on Sportscenter the following night, pushing Hogarth into the national spotlight, if only for a fleeting moment.
But it was the celebration that encapsulated Maryland's culture. It's a close-knit group, molded on the practice pitch and fortified in the locker room — where Black women are encouraged to discuss their realities at the intersection of race- and gender-based discrimination.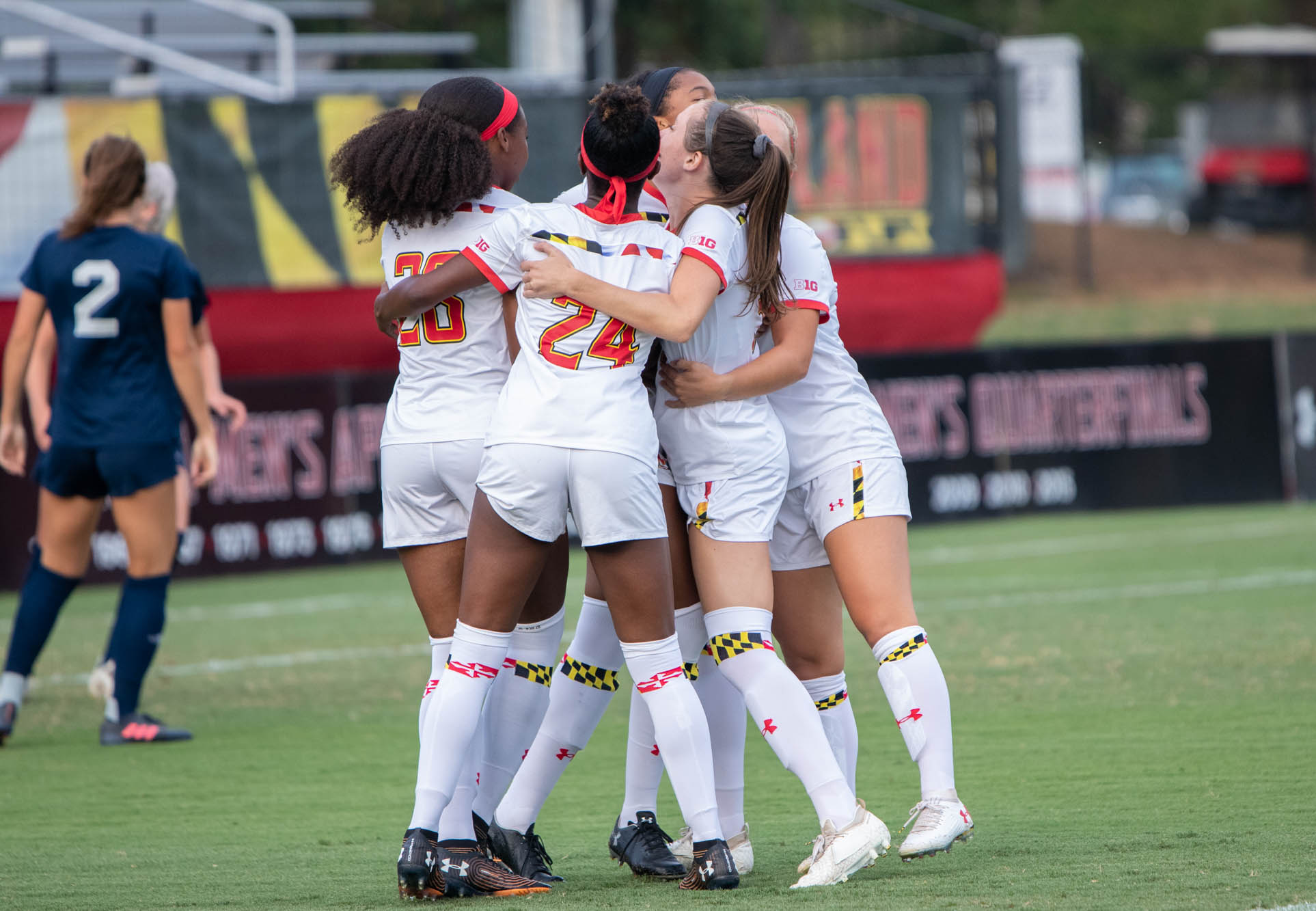 "Being able to look at the people who share those same experiences with you is super important," Hogarth said. "If I didn't have a lot of the Black girls on my team, … that sense of community would just feel different."
It wasn't an easy thing to foster. Since joining the Big Ten in 2014, Maryland has been mired in mediocrity, suffering five consecutive losing seasons from 2014 to 2018. Patience can wear thin, particularly when season after season goes by without a significant uptick in victories.
But there were signs of life bubbling behind the scenes. Leone joined the program in 2016. With him came a top-25 recruiting class — helping push the Terps to a four-win turnaround in 2017.
That commitment to recruiting has continued in the years since, a philosophy centered around bringing in players who are not only skilled but also representative of the campus community and, more broadly, the state as a whole.
"It is a reflection of the state of Maryland in general," Leone said. "We're a very diverse state and a very diverse university. … It's a great example of what a team could and should look like."
Most teams don't. Per the NCAA Race and Demographic Database, 7 percent of Division I women's soccer players are Black.
The racial disparity goes beyond the numbers. Misconceptions about Black players and their technical capabilities are rife, even in the coaching sector.
"I know there are coaches still out there who treat Black soccer players differently than white soccer players," defender Anissa Mose said.
Not for the Terps, though. Armed with an expansive recruiting policy, Maryland has brought in players from a raft of non-traditional soccer hotbeds: Atlanta; Philadelphia; Brampton, Ontario.
Leone's squad has cultivated an environment of inclusivity. It's a space where Black players can speak candidly about their experiences at the fault-line of race and gender. It's a space where their worldviews won't be invalidated.
"Just being able to have open dialogue, open conversations about what is going on has definitely made me feel better supported on the team," Poarch said.
Shaped by their commitment to create a truly inclusive locker room, the Terps began to blossom in 2019. Powered by Poarch's second team All-Big Ten antics, Leone's squad finished the season with nine wins and — for the first time ever — a spot in the Big Ten tournament.
"I just love seeing the camaraderie with this team, the chemistry with this team," Leone said. "You can just feel the experience, the chemistry, the closeness of the team. We are proud of that culture we have."
"It's giving me hope"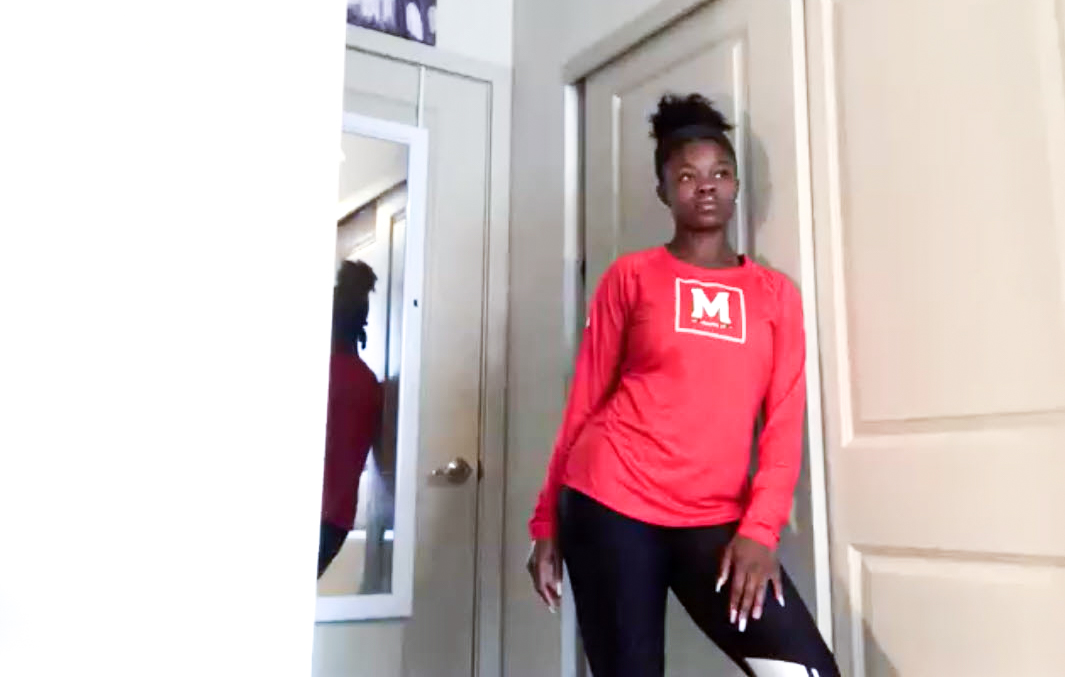 With a rainbow-colored umbrella in one hand and a handmade poster in the other, Anissa Mose was ready for a wet — and emotional — journey across Washington, D.C.
It was June 5 and, like so many others, Mose marched through the streets of the nation's capital, protesting against racial injustice and police brutality in the aftermath of George Floyd's killing.
"Black Lives Matter" was emblazoned on the center of her poster. On the sides read names and phrases that have come to define the movement: "enough is enough," "stop killing us," "no justice no peace," "Ahmaud. George. Breonna."
It was a dreary day, sopping and nasty throughout. But it was right where Mose had to be.
"The energy was just so positive, it was rejuvenating," she said. "It's giving me hope right now."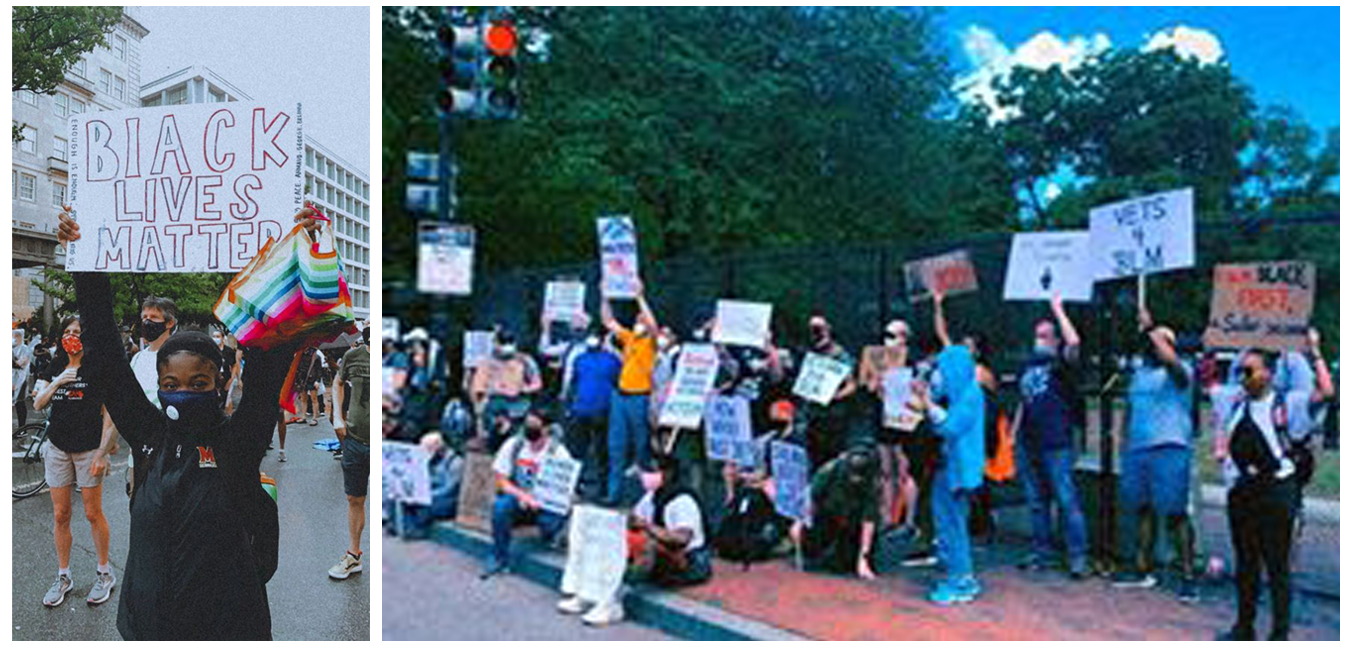 Mose wants to see greater equity and equality for Black people. Institutional racism touches every aspect of American society, an inescapable force constantly pushing down on Black life.
Those institutional forces rear their heads in women's soccer, too. For Mose and other Black players, it's yet another structure that needs re-imaging. The goal is to get Black girls into the sport — and keep them in it.
Oftentimes, that starts with empowerment. The Terps are setting the standard for college programs, a fact not lost on Mose.
"To see a team like ours," she said. "It's very promising for the sport in general and for younger girls looking for role models."
Black players have often played a central role in the American soccer machine. Briana Scurry was a force in the net throughout the 1990s, pushing the U.S. to a World Cup victory in 1999. Players such as Crystal Dunn have carried the baton in the years since, racking up numerous accolades for club and country, all while speaking candidly about her experiences as a Black woman playing a predominantly white sport.
However, the lack of diversity, even within the professional game, remains stark. It's a major motivating factor for Maryland's Black players, who want to see more representation on — and off — the field.
"People have asked me 'Do I want to be a coach?' And I'd say no," Hogarth said. "You don't see Black women in a head coach position. Seeing people speak up and saying their title that 'I am a Black coach' and getting that representation for the game can help and get more Black girls into the sport."
In the meantime, some proponents are calling for an uprooting of the current youth soccer system. 
Changes will take time, of course. But for those to happen, Miller says, the "powers that be" must put in the effort. 
"It's time for the adults in the room to take back the sports," Miller said. "Maybe it will lend itself to getting away from this [model]."
Still, optimism remains, at least among Maryland's Black players. The reignition of the Black Lives Matter movement has shown that large swaths of the American population want misogynoir and systemic racism eradicated across all institutions.
It's this belief that has powered many of the Terps' group messages and Zoom calls over the summer. Whether it be through Hope Lewandoski's VoTERP initiative to educate Maryland athletes on the voting process or distribution of reading and viewing material centered on the Black experience, the Terps are making their voices heard.
It's not a new realization for Leone's squad, though. Everyone else just caught up.
"I think that in the past, a lot of times, schools have tried to silence their student-athletes," Poarch said. "People are starting to realize that it's important to understand athletes, it's important to emphasize their voices. What they're doing doesn't necessarily only impact themselves but their platform in general just impacts a lot of people around them."