Joe Ryan and Julia Nikhinson
Senior staff photographers
SILVER SPRING — As hundreds of people filed into the Blair Park Shopping Center's parking lot early Monday evening, a crew of University of Maryland students was at the ready to aid the fellow protesters.
With hundreds of demonstrations unfurling in cities across the world in response to the police killing of George Floyd, a 46-year-old Minnesota black man, the students had come together to organize a protest of their own in Silver Spring, to stand against systemic racism and police brutality.
"This was a way for our voices to be heard," said Arsène Mutagoma, a rising sophomore at this university who helped organize the protest. "For far too long, young voices, especially those of African Americans, have never been heard as much." 
Specifically, the protest called for Montgomery County to defund its police force and improve racial equity in its public school system, said Megan Burke, a rising sophomore neuroscience major who helped organize the demonstration. Burke also stressed how important it was for her to act as an ally for the entire black community — but especially for her black friends.
Congressman Jamie Raskin — whose district includes Montgomery, Carroll and Frederick counties — added his own voice to the protesters' demands. He outlined the Justice in Policing Act, a bill introduced in the House of Representatives on Monday that aims to reform the national policing system and increase police accountability.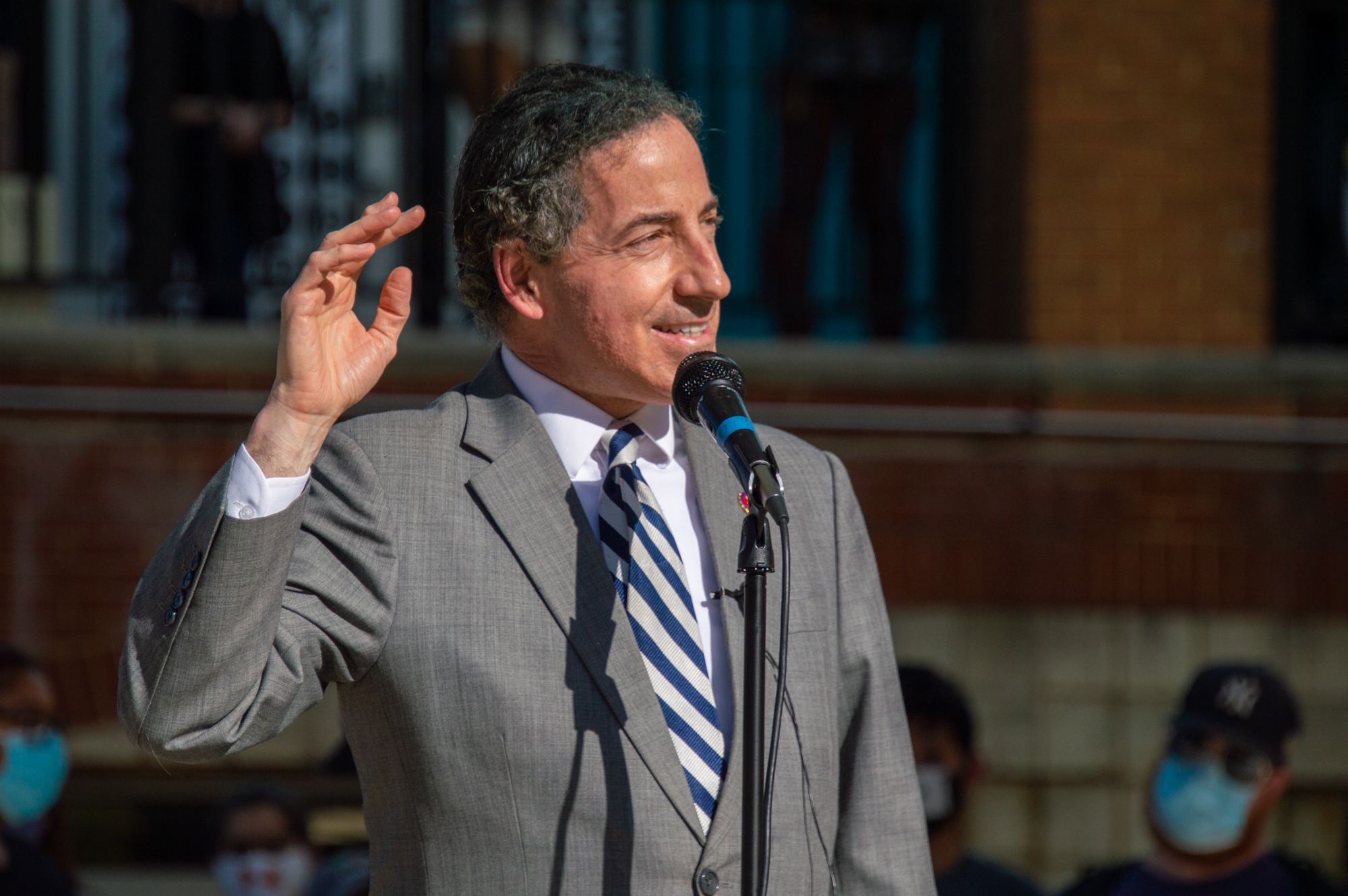 "The police work for you like I work for you," he said. "This is a democracy. Here, the people rule."
From the start, Mutagoma took charge of the march, using a megaphone to lead chants such as "Hands up, don't shoot" and "Black Lives Matter." He and the other organizers led a throng of protesters around the CVS in the shopping center and through two surrounding streets to arrive at Veterans Plaza.
As they passed, cars honked their horns and pedestrians stopped walking to cheer them on. Customers at a nearby restaurant also clapped along, and Potbelly employees stuck their heads out of the sandwich shop, filming the passing march.
Several members of the protest, including Devorah Stadisky, a 2019 alumna of this university, stressed that police brutality is not just isolated to the widely publicized killings of George Floyd and Breonna Taylor — it's an issue that even affects wealthy and liberal places such as Montgomery County. 
"There's a lot of work that needs to be done right here," she said.
The protest was also marked with tender moments and tributes. Once protesters arrived at Veterans Plaza, a young woman performed "Lift Every Voice and Sing," a song commonly known as the "Black National Anthem." Nearby, another woman urged those in attendance to raise their fists and sing along. 
As person after person spoke of their experiences with racism, a common thread emerged: All were outraged that black people could be killed by the police with few, or no, consequences. 
Mutagoma expressed hope that the current protests would spark a generation of change.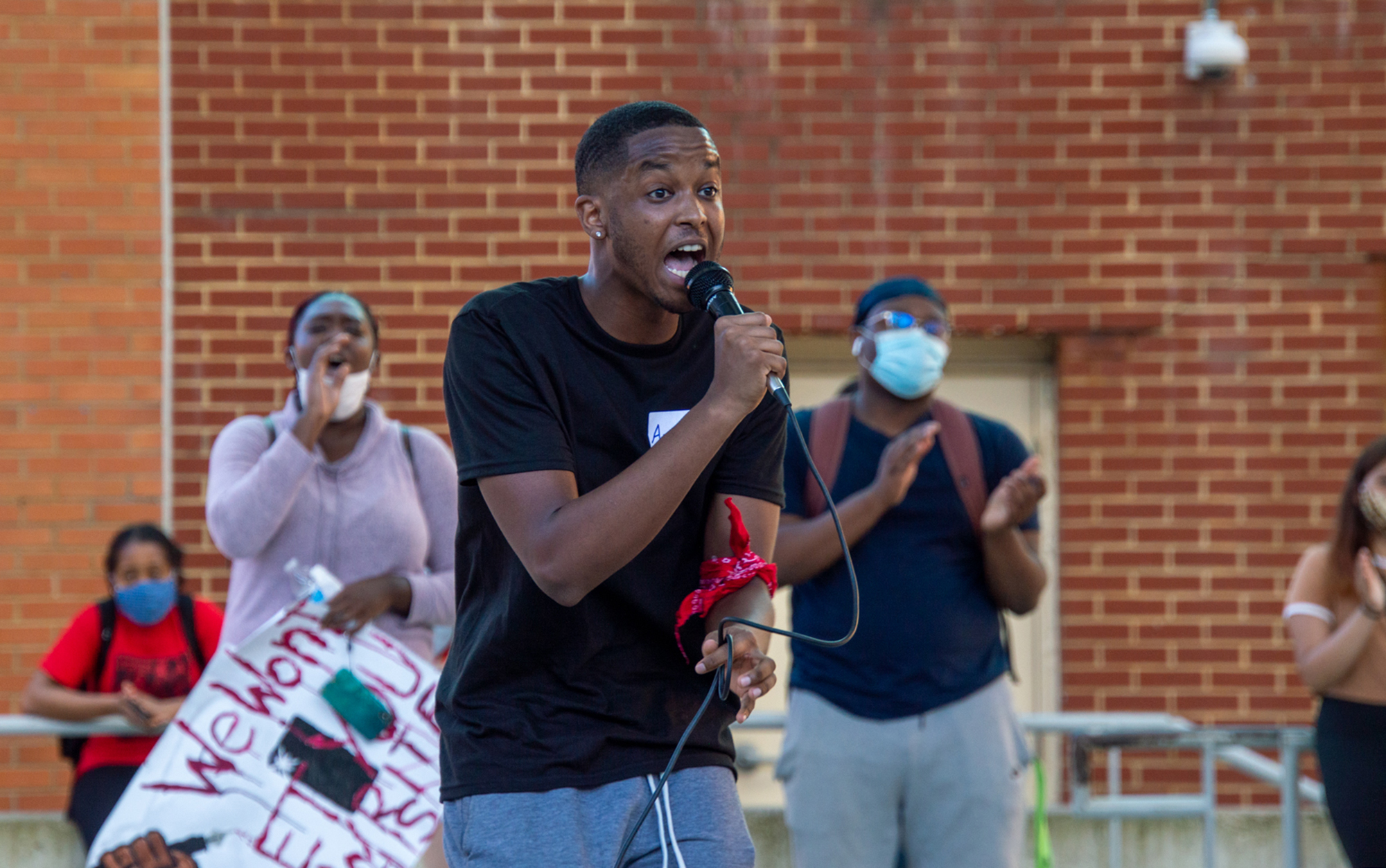 "For far too long, the black community has been traumatized by the police culture," he said. "Our generation is not going to stand here and let people be videotaped being killed in the hands of cops."
Others demonstrators, such as Gregory Jackson, stressed that they were tired of black children losing their innocence far too soon.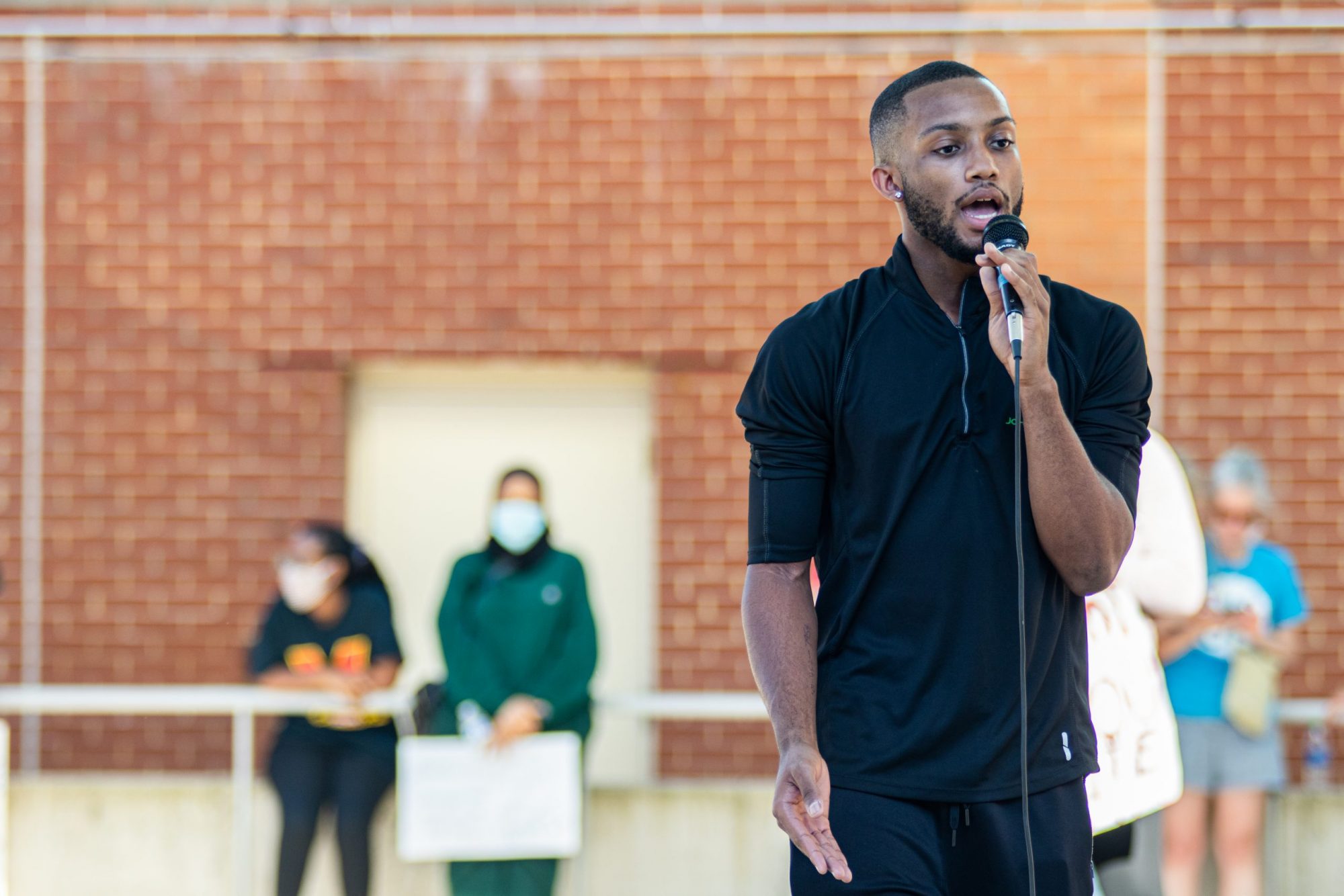 "Ever since I was 10 years old, I learned about the brutality and the discrimination that were brought on my people in this country," said Jackson, who recently graduated from this university.
During his speech, Cameron Young, another student from this university who helped organize the protest, asked the crowd to take a knee and raise their fists in solidarity with those killed by police.
Like so many others, Young expressed anger over the ways systemic racism manifests itself in violent actions committed by the police against the black community.
"I am tired of this reality," he said. "I am beyond tired of it."
CORRECTION: Due to a reporting error, a previous version of this article misspelled Arsène Mutagoma's name. This article has been updated.