Rev. Timothy Johnson stood in front of the vigil's crowd Thursday night, as it gathered on the lawn of College Park's St. Andrew's Episcopal Church holding up candles in the thick June air. 
"There was something in me that longed to be with my community," Johnson told the crowd. "It's an opportunity for us to come together as a community … to bear witness to justice, to bear witness to hope."
Johnson had been physically separated from his congregants for months, since before the state of Maryland banned in-person religious gatherings to curb the spread of the coronavirus.
But after the death of George Floyd — a black man who was killed in police custody in Minneapolis May 25 — Johnson said he felt compelled to unite and to show solidarity with Floyd's family and protests against racism and police brutality nationwide by holding a vigil.
[UMD students and alumni organize supply drive for D.C. protesters]
Before the event, Johnson reminded people to practice proper social distancing and asked for donations for a local food bank. Community members were also encouraged to bring their own candles — which they lit with the flame on the church's steps — and to think in silence as they filtered in and out of the yard. 
Some came on bikes; some came on foot. All wore masks.
Uzoma Ariguzo, who graduated from the University of Maryland in 2017, isn't a member of the St. Andrew's congregation, but he came to the church Thursday night to show solidarity with the community.
"It's the violence, the police brutality and just being with everyone," Ariguzo said.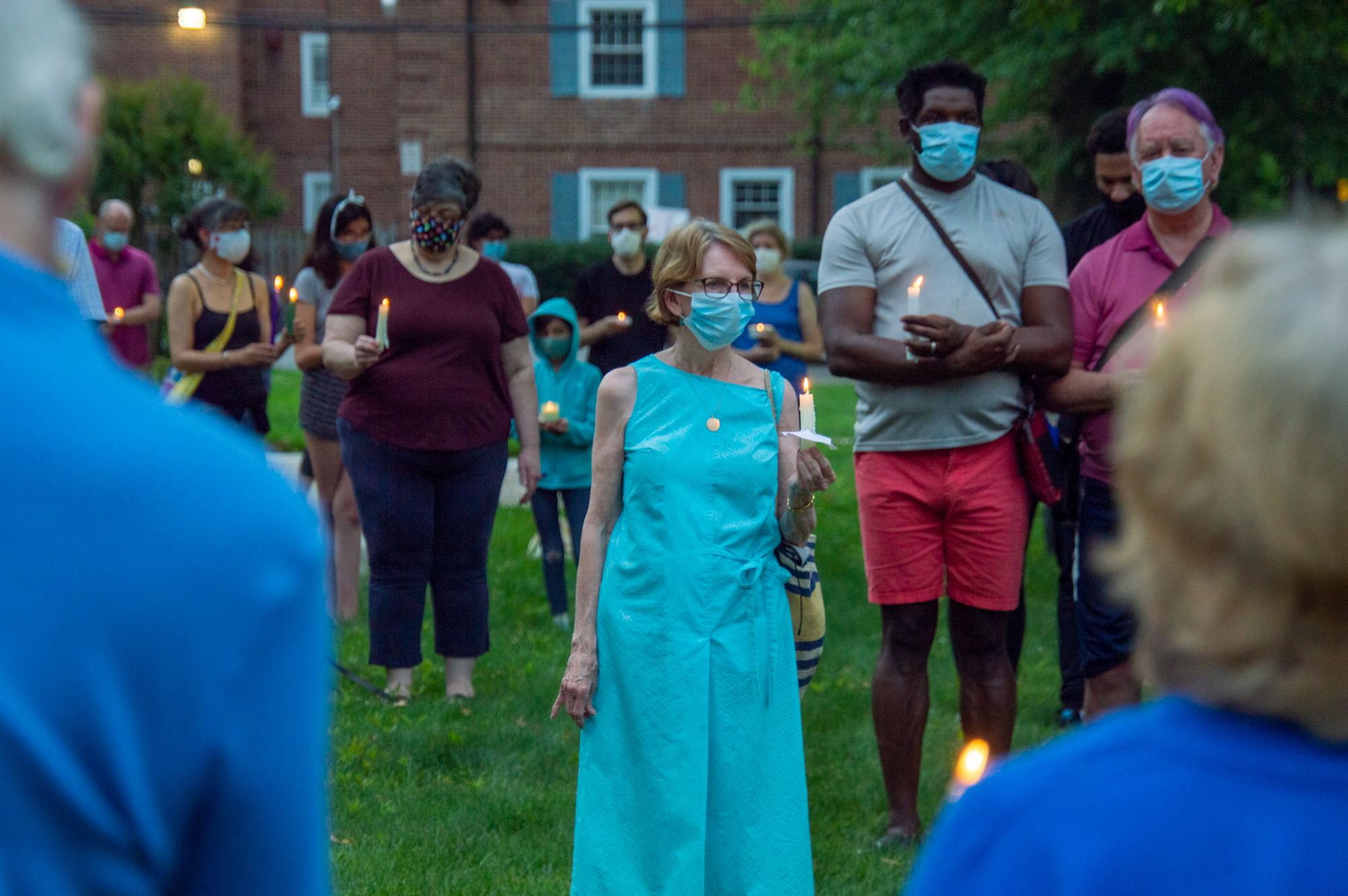 Since Floyd's death, members of the College Park and greater Prince George's County community have mobilized in support of the protests, coordinating a supply drive and uniting in prayer.  
Erin Taylor, a graduate student at this university studying history and library and information science, is a regular attendee at St. Andrew's. She's not able to attend the protests in Washington, D.C., she said, out of fear of spreading the coronavirus, but she felt the need to be physically present somewhere.
"You can know that a lot of people are feeling the same way, and you can kind of see that virtually … but there is something that is very specific about showing up in person, to see other people and stand with them physically," she said.
Rigby Douglas came to the vigil at the request of his partner. They stood side-by-side, Douglas wearing his Vietnam War veteran hat.
When asked if he thought the protests reminded him of those in the early 1970s, Douglas said he saw similarities.
"It's the way change happens in this democracy," he said. "You say, 'We're tired of this, we don't want this,' … and you make it happen."