The University of Maryland's spring commencement ceremony was supposed to be the biggest gathering of Charis Smith's family in about 10 years. Her Michigander grandma — who had never missed one of her grandchildren's graduations — was planning to come to College Park, along with family friends from Georgia and aunts and uncles from Chicago.
Instead, on May 22, Smith donned her cap and gown and spent a good five or ten minutes on the phone with her grandma, teaching her how to pull up the virtual ceremony on her computer. Then, her family turned toward the TV, and Smith graduated from the couch in her family room.
To help the milestone feel special, Smith's family put up a giant sign in their driveway and decorated the house. Still, without an in-person ceremony and all the festivities that would have come along with it, the moment felt a bit underwhelming.
"I already have a job and I'm preparing to move into my first apartment, so in that aspect, I feel like college is behind me," said Smith, who graduated with an electrical engineering degree. "But at the same time, you spend your entire life waiting for that one moment to make it feel like it's over, and it doesn't come."
The last few weeks of senior year are usually accompanied by a certain amount of hoopla for undergraduates. There's the last stop at Marathon Deli as a student, graduation photos galore and all sorts of sappy farewells to friends, professors and mentors. And to top it all off, there's commencement: an affair stuffed to the gills with celebrations designed to neatly wrap up undergraduate careers with a little bow.
But the graduating class of 2020 didn't get these moments of closure. Instead, they watched their TV and laptop screens as Provost Mary Ann Rankin asked university President Wallace Loh to confer them their degrees. Now, even though it's been a little over a week since they officially became alumni, some say it still feels as if they've set up camp in the gray zone between their final final and life post-college. 
[What it's like to defend a dissertation in the age of COVID-19]
For Abigail Disman, who graduated with degrees in psychology and biology, the realization that her undergraduate years are now behind her has been coming in phases. After watching the virtual ceremony, it set in a little bit, and it set in a little bit more after she visited campus to take graduation photos. Maybe in a month it will officially feel like she graduated, she said, laughing.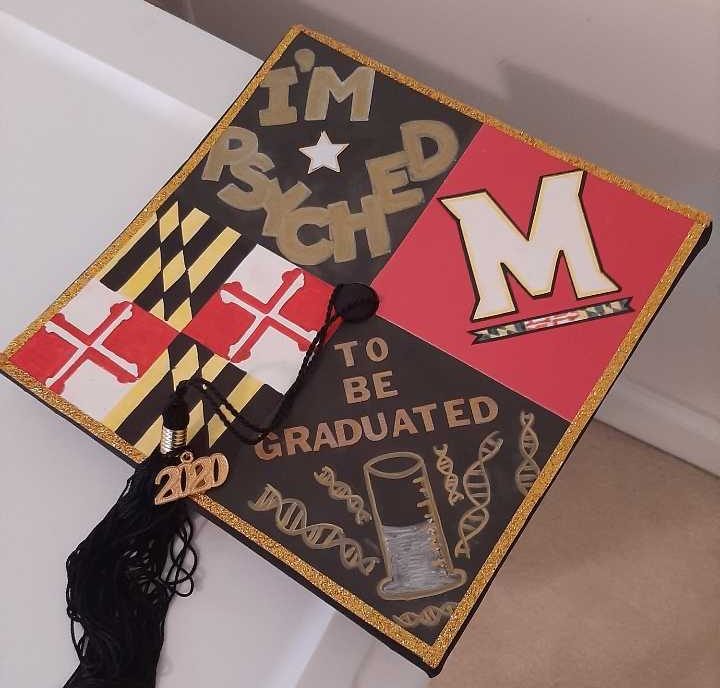 Disman watched the ceremonies with her parents and siblings, but she said it was a little hard to pay attention — her 9-year-old sister was mainly just playing games on an iPad. When it came time to watch the taped ceremony from the behavioral and social sciences college, she fast-forwarded through the list of scrolling names to find her own.
Still, Disman said, the university did the best it could with the situation at hand. She had originally thought there wouldn't be a commencement at all, so she was excited when she heard there would be a virtual one. Even so, she said she might have felt a bit more sentimental at an in-person ceremony.
"I would've seen all my friends for the last time, and I would've said goodbye to them, so I would've been more emotional about it," she said, adding, with a laugh, "'Cause now I'm just kinda like, 'Eh, okay.'"
For Leo Blondel, though, having a virtual ceremony allowed more relatives to watch him graduate. Most of his mom's family lives in Michigan, he said, and wouldn't have been able to make it to an in-person ceremony.
"It was nice that everyone was able to participate," said Blondel, who studied physiology and neurobiology at this university. "But you don't get to be in-person, saying goodbye to friends and professors and stuff like that. So I definitely missed out on that part, but I still really enjoyed the ceremony."
[UMD to hold online commencement in May, open December ceremony for spring grads]
Brian Ullmann, the university's interim associate marketing and communications vice president, recognized there's no replacement for the energy of an on-campus commencement ceremony.
Still, he said the committee charged with creating the virtual ceremony set out to make it as special as it could be for students — creating a montage of submitted photos and welcoming guests such as Under Armour founder Kevin Plank and ESPN anchor Scott Van Pelt, two Maryland alumni.
A few days after the virtual ceremony, Ullmann said he happened to be on campus when he saw some students dressed up in their regalia, taking photos by the fountain on McKeldin Mall and by university signs. He loved seeing that, he said.
"I'm glad that we delivered a special experience," he said. "This is a big moment in our seniors' lives, and [the ceremony was] different, but I think it was special in its own different way."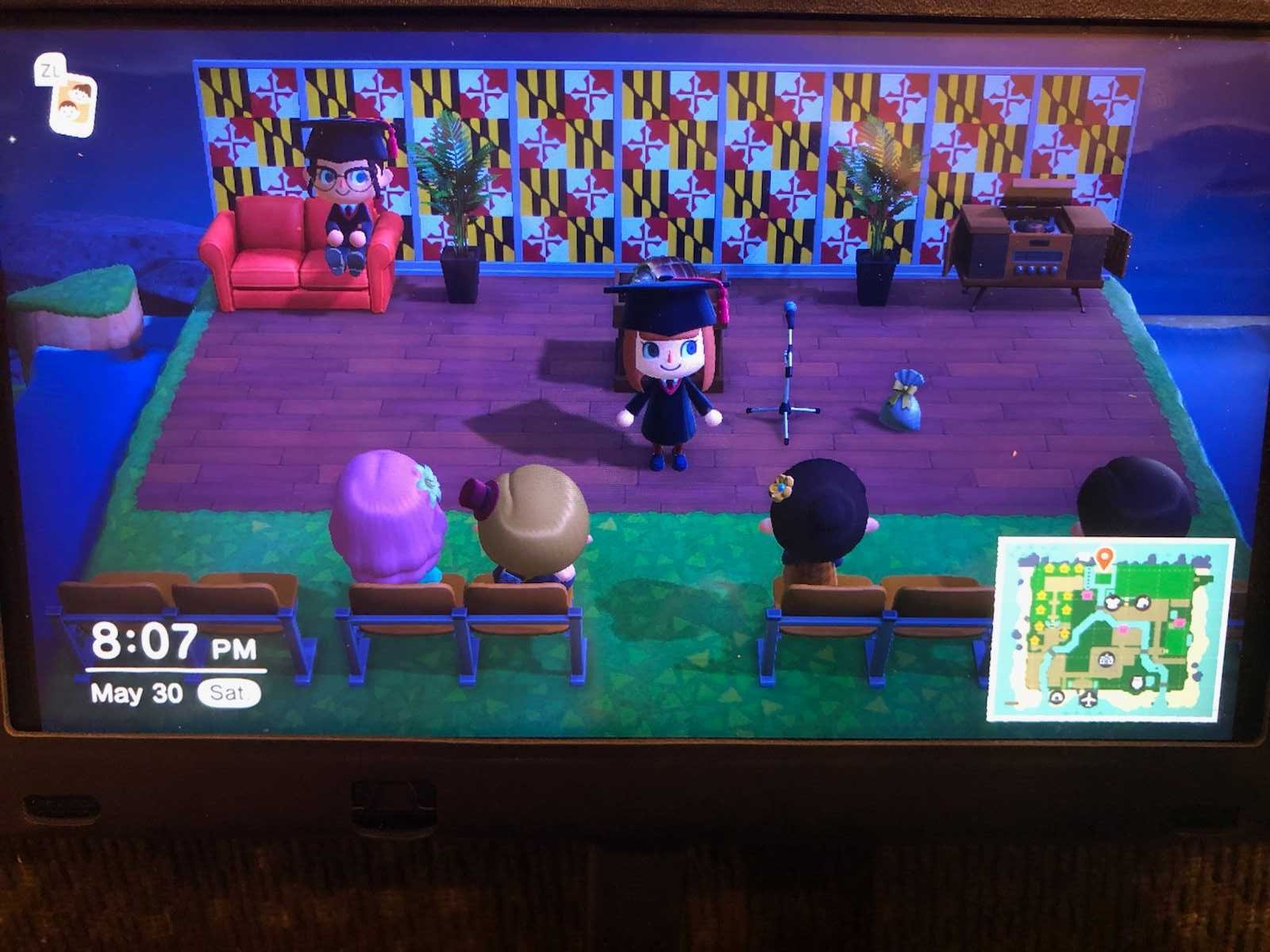 Seniors and their families also found new ways to make the milestone memorable. In an extremely 2020 celebration, Smith hosted a graduation ceremony on Animal Crossing, setting up a stage on her island and sending out invitations over the game to her friends. "Please wear your fanciest attire," the invite instructed guests.
And another graduate, Kaitlyn Davey, walked across a mobile stage attached to a truck parked on her driveway — a service Baltimore County comedian and circus performer Michael Rossman has been offering to seniors during the coronavirus pandemic. With Davey's mom capturing the moment on Facebook Live, Rossman, who has known Davey since she started attending his circus camp at age 11, handed her a diploma with a claw toy.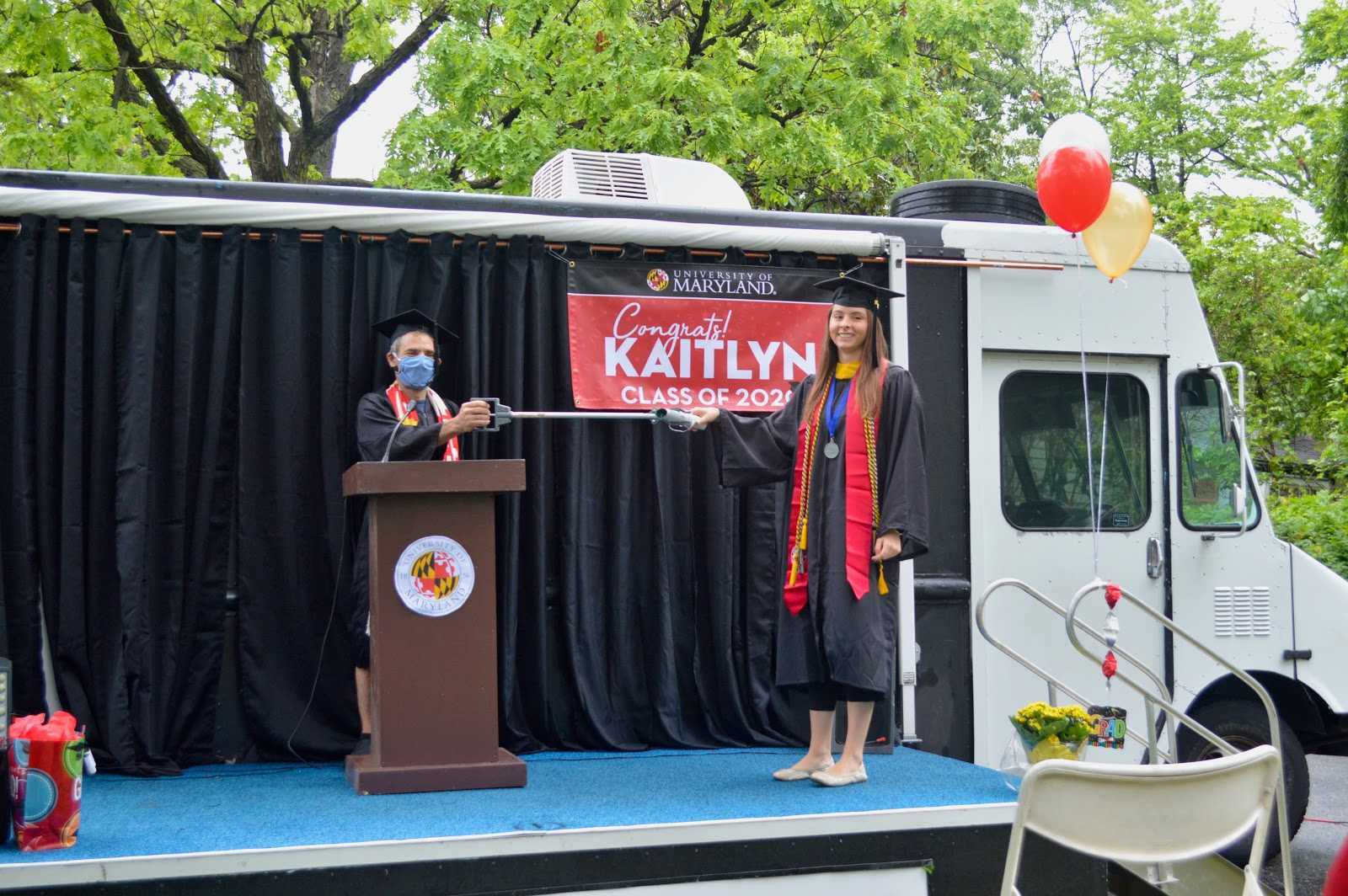 Later, Davey watched the ceremony with her family. It was definitely a different experience than what her sister had when she graduated from the university four years ago, but maybe that wasn't such a bad thing.
"Commencement is such a huge deal — you have to wait in a big line and there are a lot of people and it's very long," she said. "This was actually really nice to just kind of sit in your living room with your family, and then you graduate."
She's also planning on coming back to campus in December to join in the fall commencement ceremony. Davey graduated with a nutrition and food science degree. For how small of a major it is, she said it's pretty tight-knit — she's hoping the fall ceremony will be like a mini reunion for them.
Since Paige Sachwitz didn't have any finals — she was working a full-time internship for her last semester — her school year came to a bit of a fuzzy end. Maybe closure will come for her when the pandemic dies down and life stops feeling like Groundhog Day everyday, or maybe it'll come when she starts actually going into work at her new job instead of working remotely.
But when she thinks about it, she doesn't even know if she wants closure. She likes college, she says, and plans on coming back to visit next year. And, as she drove to her sister's virtual graduation ceremony from high school, she reflected on the experience that she said would continue to unite the class of 2020 for decades.
"You know, at least one thing we can say is that we graduated during a pandemic," said Sachwitz, who studied community health. "That's pretty unique."