Since the University of Maryland enacted restrictions surrounding on-campus research in March, some researchers have adapted by doing what they can from home. Others, though, have pivoted their operations to studying the virus that triggered the restrictions in the first place.
Over the past month, researchers at this university have been studying potential treatments for the novel coronavirus and a vaccine for SARS-CoV-2, the virus that causes COVID-19. 
"I am just so proud of the ingenuity and enthusiasm of UMD researchers in response to the COVID-19 crisis," said Laurie Locascio, vice president for research at this university.
The work of these researchers has been made possible, in part, by grants awarded by the university's Division of Research. The office has already invested $112,000 into COVID-19 research projects, awarding grants to 11 projects in April, including those run by professors in the sociology, architecture and journalism departments, among others. 
[Read more: Coronavirus updates: The Diamondback's ongoing coverage]
This funding is on top of $800,000 in external research grants related to COVID-19 that the Division of Research estimated scientists at this university have been awarded as of Tuesday. The office added that it will soon have helped researchers submit over 40 proposals requesting over $50 million in funding for COVID-19 research.
Margaret Scull, a professor in the cell biology and molecular genetics department applied for a grant from the university with her colleague, Jeffrey DeStefano. She said it didn't take long for them to receive a response.
"We applied and within a week, even six days, we heard back," she said.
Scull and DeStefano have separate labs and research focuses. However, since April, they've been collaborating to combine their expertise in the hopes of identifying a treatment for COVID-19.
DeStefano's lab works with aptamers, small molecules similar in structure to small pieces of DNA or RNA that bind to structures, such as proteins, to affect their activity. As part of this project, his lab is trying to identify an aptamer that effectively binds to a protein on the surface of SARS-CoV-2. Such an aptamer could prevent the protein from interacting with a receptor on human cells — a key step of the infection process. 
This is where Scull's lab comes into play. Her lab specializes in the development of complex cell systems that resemble the human respiratory tract — the part of the body that SARS-CoV-2 affects. Previously, her lab has studied the interactions between the respiratory tract and other viruses. Now, it's working on designing a system to test DeStefano's aptamers.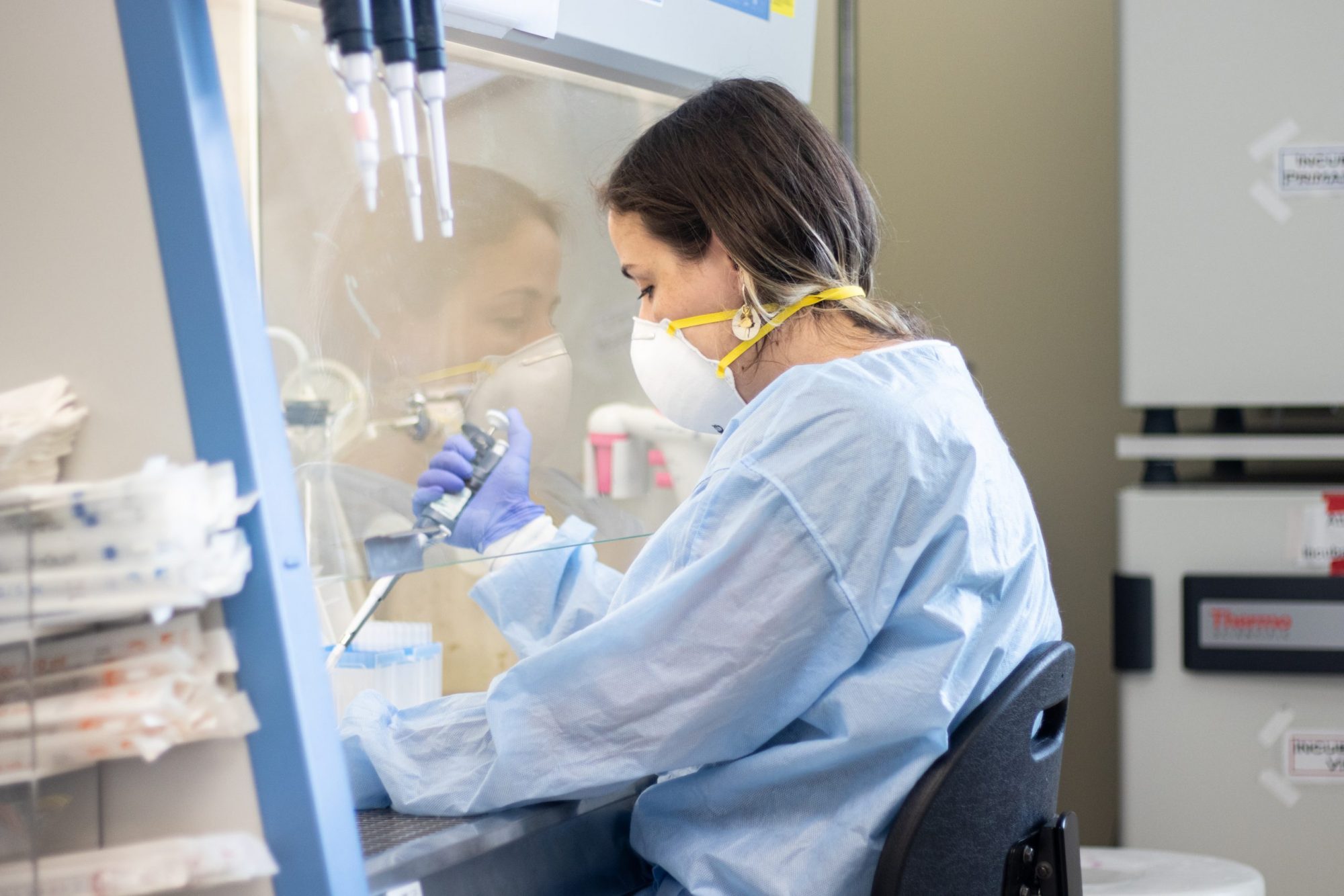 Scull's lab is using pseudoparticles for the project: structures that are similar to SARS-CoV-2 on the outside, but lack the genetic material on the inside that makes the virus dangerous. This is necessary because labs that work with actual SARS-CoV-2 are required to have a safety infrastructure called Biosafety Level 3 that neither DeStefano nor Scull's lab possesses.
Additionally, the scientists have been concerned about getting all the materials they need to conduct their experiments. As an increasing number of scientists shift their research to COVID-19, there is an increased demand for the cells that Scull's lab purchases for its research, which has caused the commercial supply to deplete faster. 
 Also on campus, George Belov, a professor at the Virginia–Maryland College of Veterinary Medicine, runs a lab that is working to develop a vaccine for the virus — a race tearing through universities and scientific institutions across the nation. As of Thursday, the Regulatory Affairs Professionals Society, a global organization involved with the regulation of health care products, estimated over 40 potential vaccines for SARS-CoV-2 are in development across the world. 
Belov has been using strategies to develop a vaccine against SARS-CoV-2 similar to ones his lab employed to make a vaccine against the virus that causes polio. The viruses share a similar structure — positive-strand RNA — and thus share many characteristics in common.
[Read more: RNA research at UMD could give insight on new coronavirus strain]
 For the last few weeks, Belov's lab has been working on manipulating a virus that does not cause severe disease in humans to express a protein found on the surface of SARS-CoV-2. When administered to people, this virus would enable the human immune system to develop antibodies to the SARS-CoV-2 protein, which might prevent the actual SARS-CoV-2 virus from being able to cause severe disease. One benefit of this vaccine design is that it can be produced quickly, enabling faster dissemination.
 One challenge Belov's lab faces is acquiring the SARS-CoV-2 genetic material from a certified source. Belov is still waiting on the Material Transfer Agreement between this university and the University of Texas Medical Branch — which houses a center charged by the National Institutes of Health to distribute viruses to researchers — that would enable this to happen.
 "It has been about a month since we applied, and we are still at that point," Belov said.
 Belov has also been studying the specifics of how SARS-CoV-2 replicates. He believes having a fundamental understanding of virus biology is critical for discovering effective treatments and vaccines, rather than running at the things with a trial and error approach.
But sadly, he said, the funding climate is more favorable to "visibly practical projects" than those that further that kind of understanding. 
 "The first SARS outbreak came and went away, and since that time, we have learned really not that much about the biology of the virus," Belov said. "We don't have the fundamental understanding of what is the best way of moving forward."