This article is part of The Diamondback's 2020 Senior Edition. Click here for the rest.
From the walkouts after the 2016 presidential election in their freshman year to the Key of David counterprotest during their last full semester, our seniors have known a student body packed with activism. Here's a look at some of the moments of social advocacy that punctuated the class of 2020's time in college.
November 17, 2016: Post-election walkout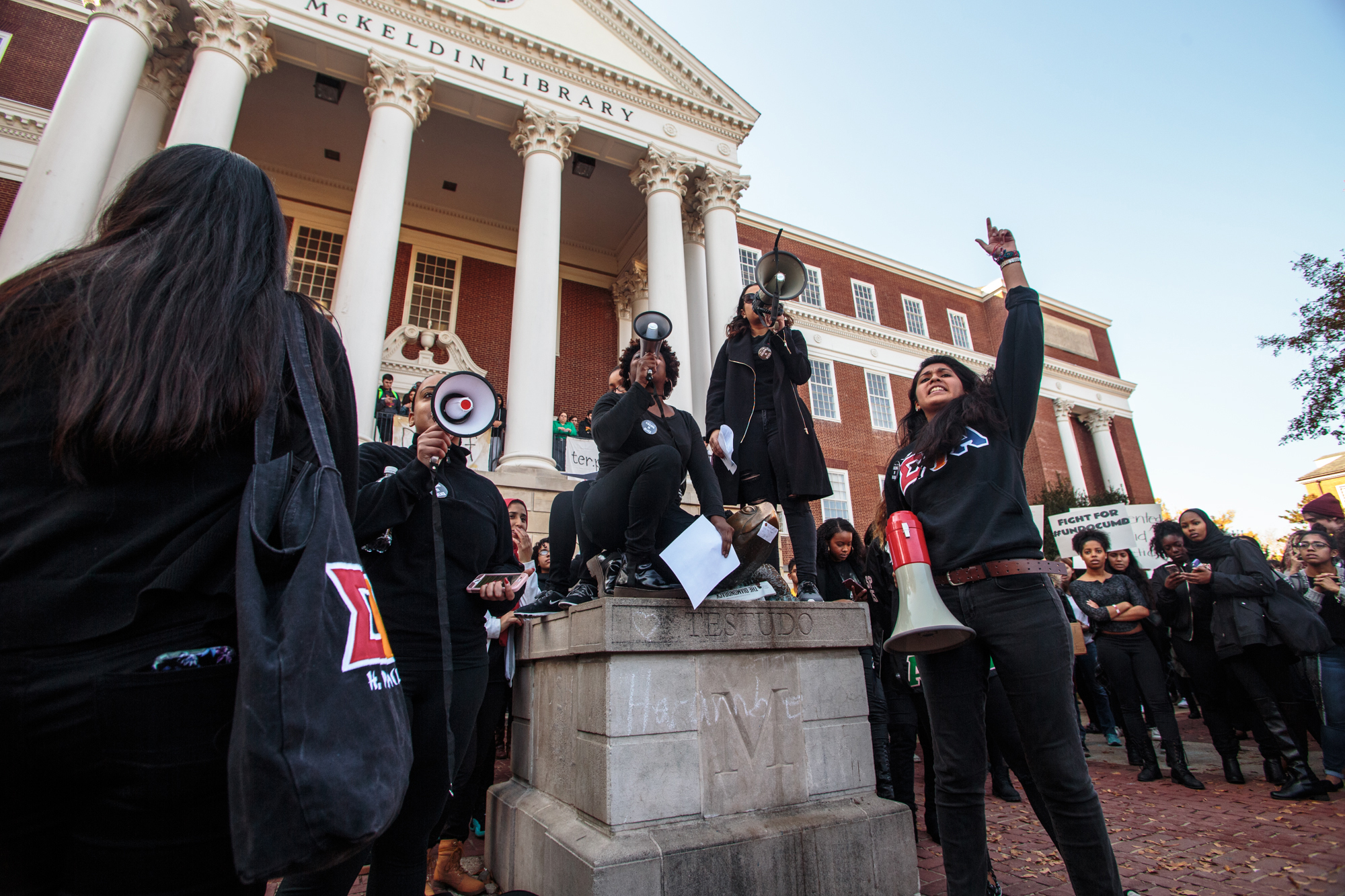 Some teachers canceled classes. Others came to class crying. Meanwhile, students staged a walkout.
Hundreds of students from various organizations gathered on McKeldin Mall wielding signs, megaphones and a whole lot of passion. Signs sported messages such as "Abolish White Supremacy" and "Brown is Beautiful." Protesters dressed in all black as a symbol of unity in the face of a presidency many of them feared would be riddled with injustice.
May 10, 2017: #A[DIFFERENT]UMD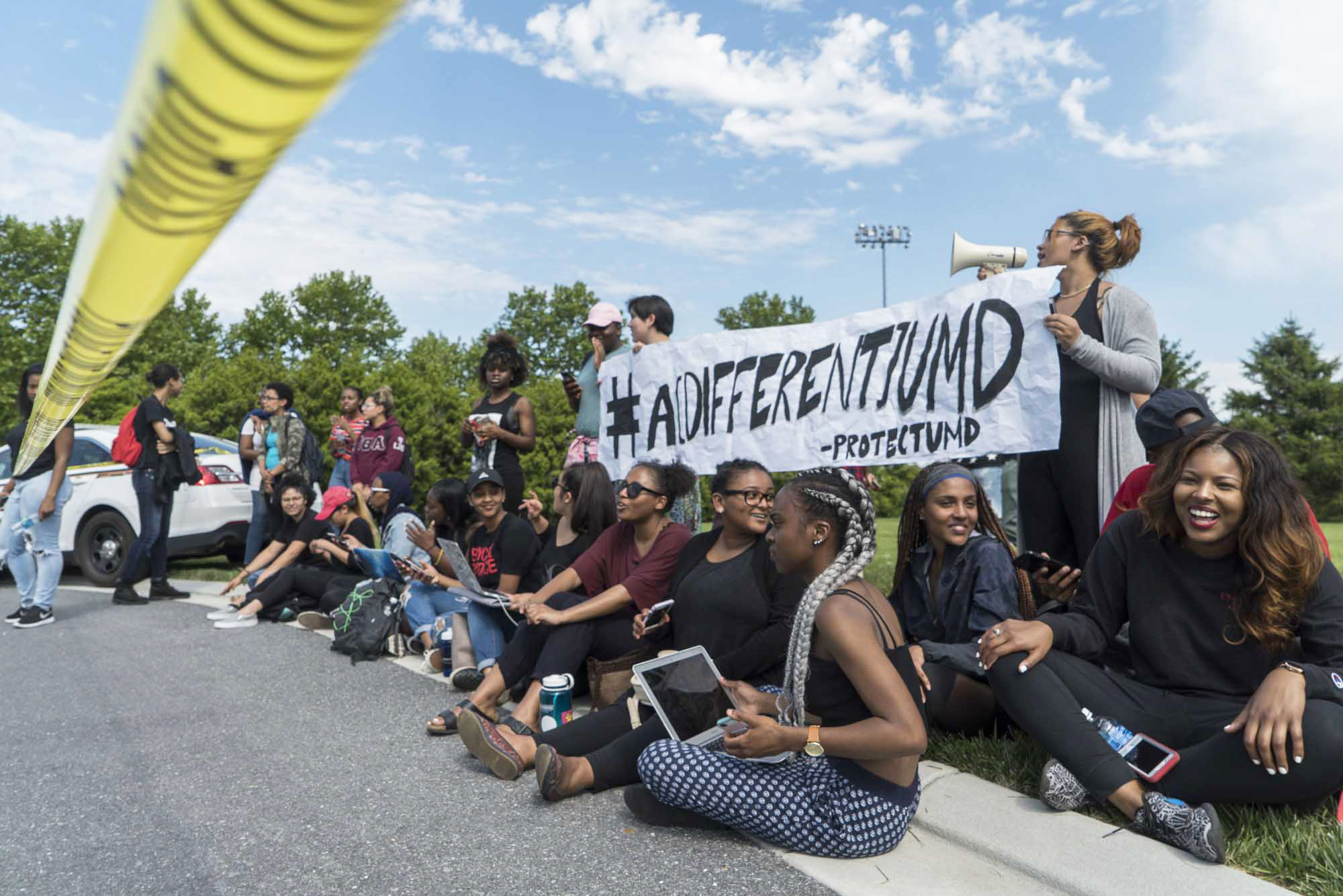 In early 2017, following a string of incidents threatening minority students at this university, a noose was found in the Phi Kappa Tau fraternity chapter house.
In response, members of ProtectUMD arranged a sit-in at the Main Administration Building to demand that university President Wallace Loh take action. When Linda Clement, then-student affairs vice president, came out instead, protesters claimed Loh was hiding and avoiding taking legitimate action.
So they marched to Loh's house.
As protesters reached the house, 10 University of Maryland Police officers prevented further entry onto the grounds with caution tape. Frustrated with not being taken seriously, the crowd dispersed and planned to reconvene for next steps
November 5, 2018: Fire the Liars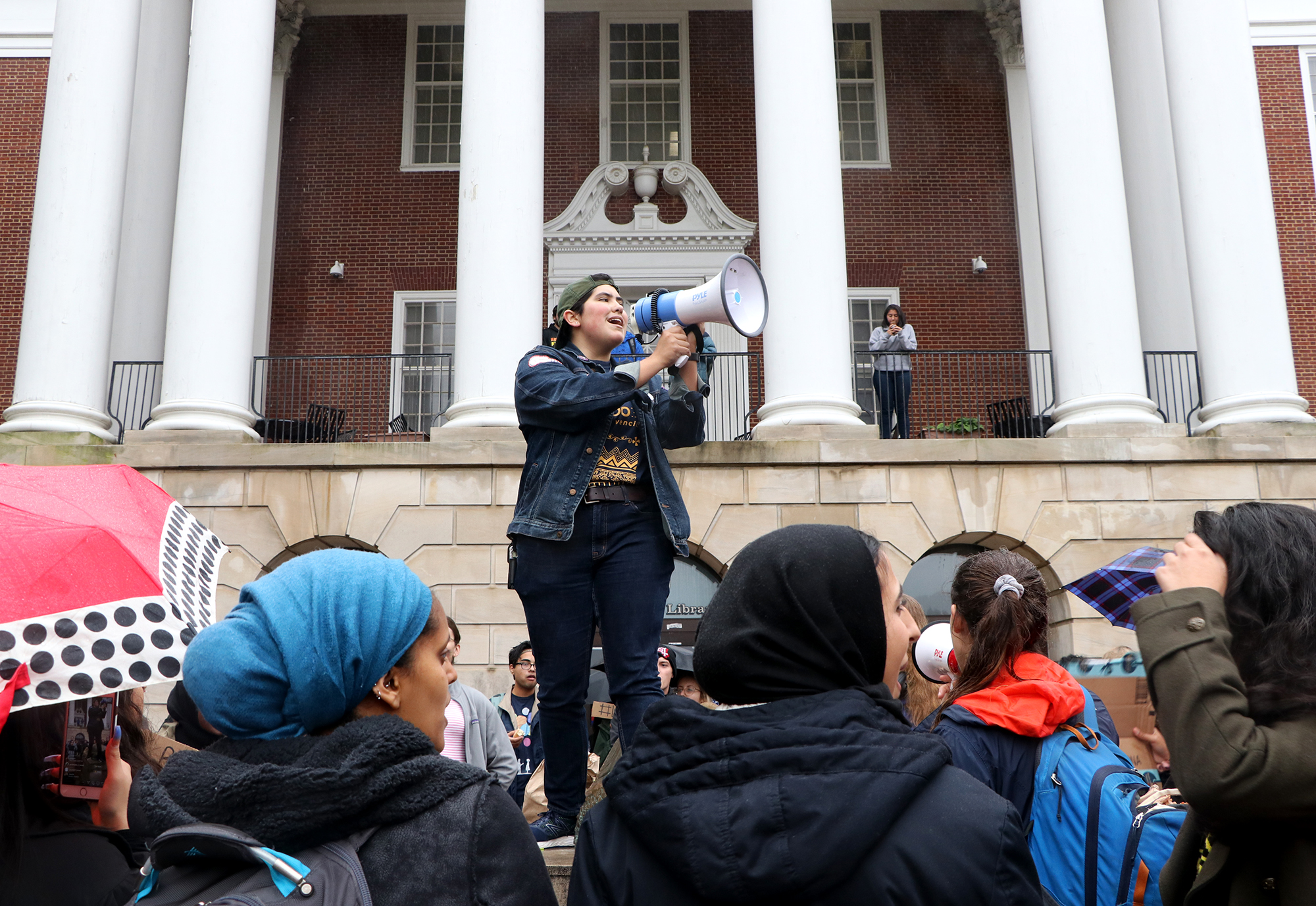 On June 13, 2018, Maryland offensive lineman Jordan McNair died from complications of heatstroke he suffered during a football practice 15 days prior. In September, an independent investigation into McNair's death found that university athletic trainers recognized the severity of his condition too late and failed to properly treat it once they did.
Another investigation into the football program found that mismanagement of the athletic department — by Loh and athletic director Damon Evans, among others — allowed an abusive culture to take root.
Student groups organized a "Justice for Jordan" rally on Nov. 1, originally intending to protest head football coach DJ Durkin's reinstatement. But when he was fired, it became a rally in support of student-athletes — a message some students didn't support. The rally quickly devolved as protesters clashed with one another.
The following Monday, a rally to "Fire the Liars" took place. Twenty-four student groups assembled in front of McKeldin Library to protest the administration's lack of respect for and acknowledgment of its student body. The coalition of student groups published a list with three demands for the university's administration and the Board of Regents and used the rally to reiterate those demands: that Loh remain committed to retiring, that his successor be selected with student input and that the regents be democratically elected through a process that involves students.
October 2, 2018: Brett Kavanaugh protest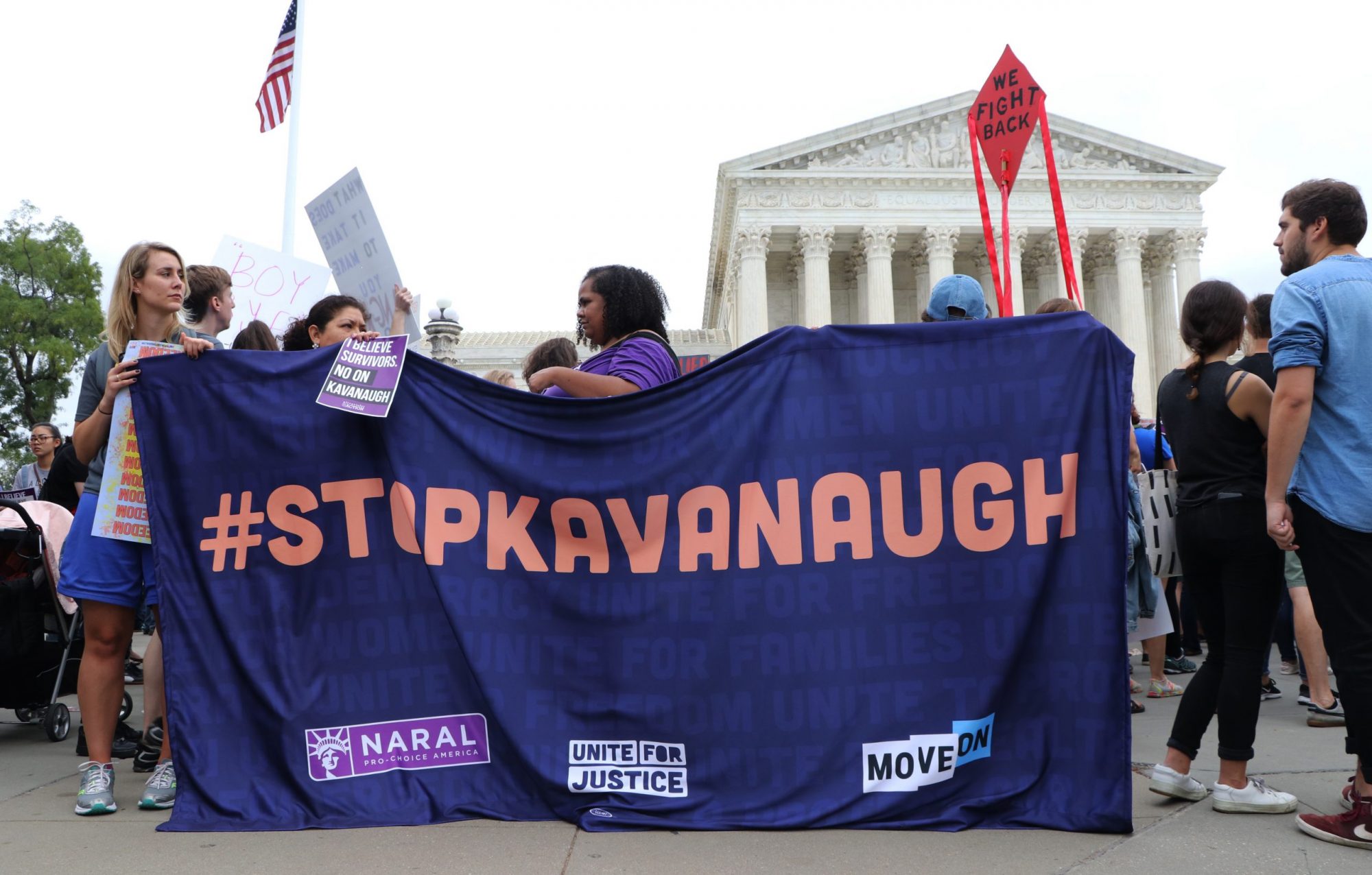 About two years after a shift in national leadership came another pivotal — and controversial — moment for America: When U.S. Supreme Court Justice Anthony Kennedy retired, a new justice had to be appointed.
After President Trump tapped Judge Brett Kavanaugh as Kennedy's successor, three women accused Kavanaugh of sexual assault in his high school and college years.
Days after Kavanaugh and one of his accusers, Christine Blasey Ford, testified before the Senate Judiciary Committee, students gathered on McKeldin Mall, hoisting a banner that read, "Solidarity Trumps Hate." The protest was organized by this university's International Socialist Organization chapter and co-hosted by the UMD Pride Alliance and Preventing Sexual Assault.
September 17, 2019: Key of David counterprotest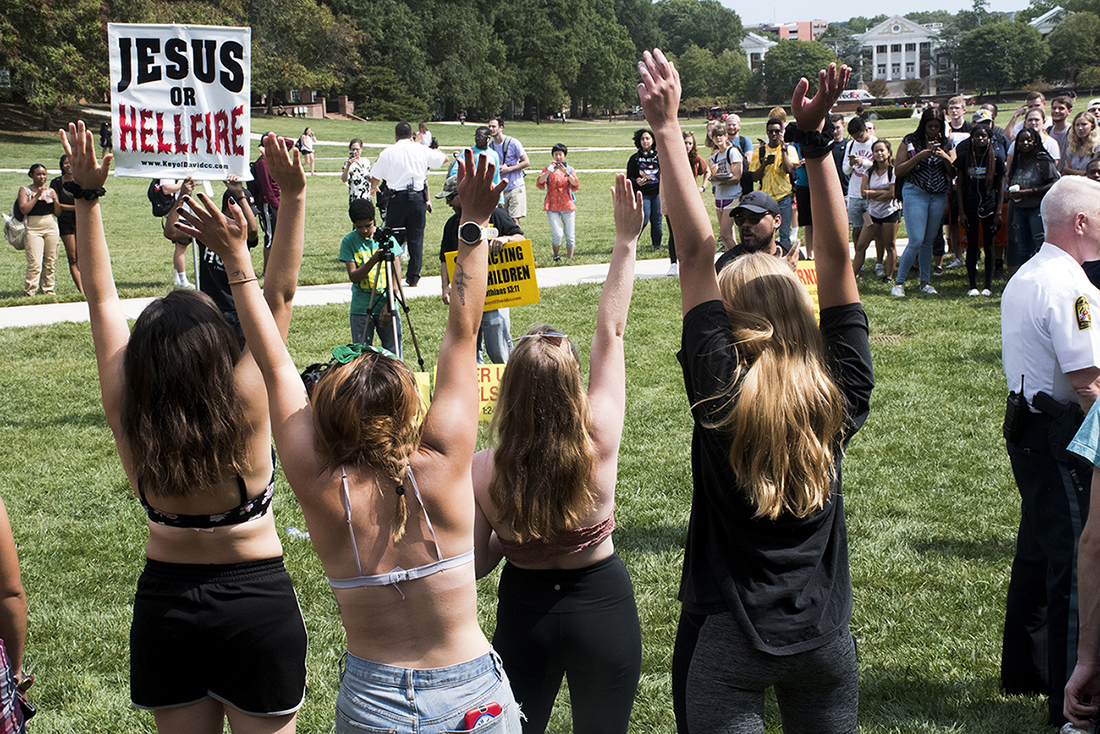 Hundreds of students came together in a loose ring surrounding two men and two boys, demonstrators from the Key of David Christian Center carrying signs with phrases such as "Jesus or Hellfire" and ridiculing Muslims, the LGBTQ community and women.
As the demonstrators derided members of the crowd, labeling them "whores" and asking them if they had been raped when they were younger, some students yelled back. Others threw their middle fingers up, thrusting them toward the demonstrators, while still others kissed and embraced each other, cheered on by the crowd. "I've never seen UMD come together like this," Jasmine Green, a senior government and politics major, said at the time. "This is an eye-opener for me."
September 20, 2019: Climate strike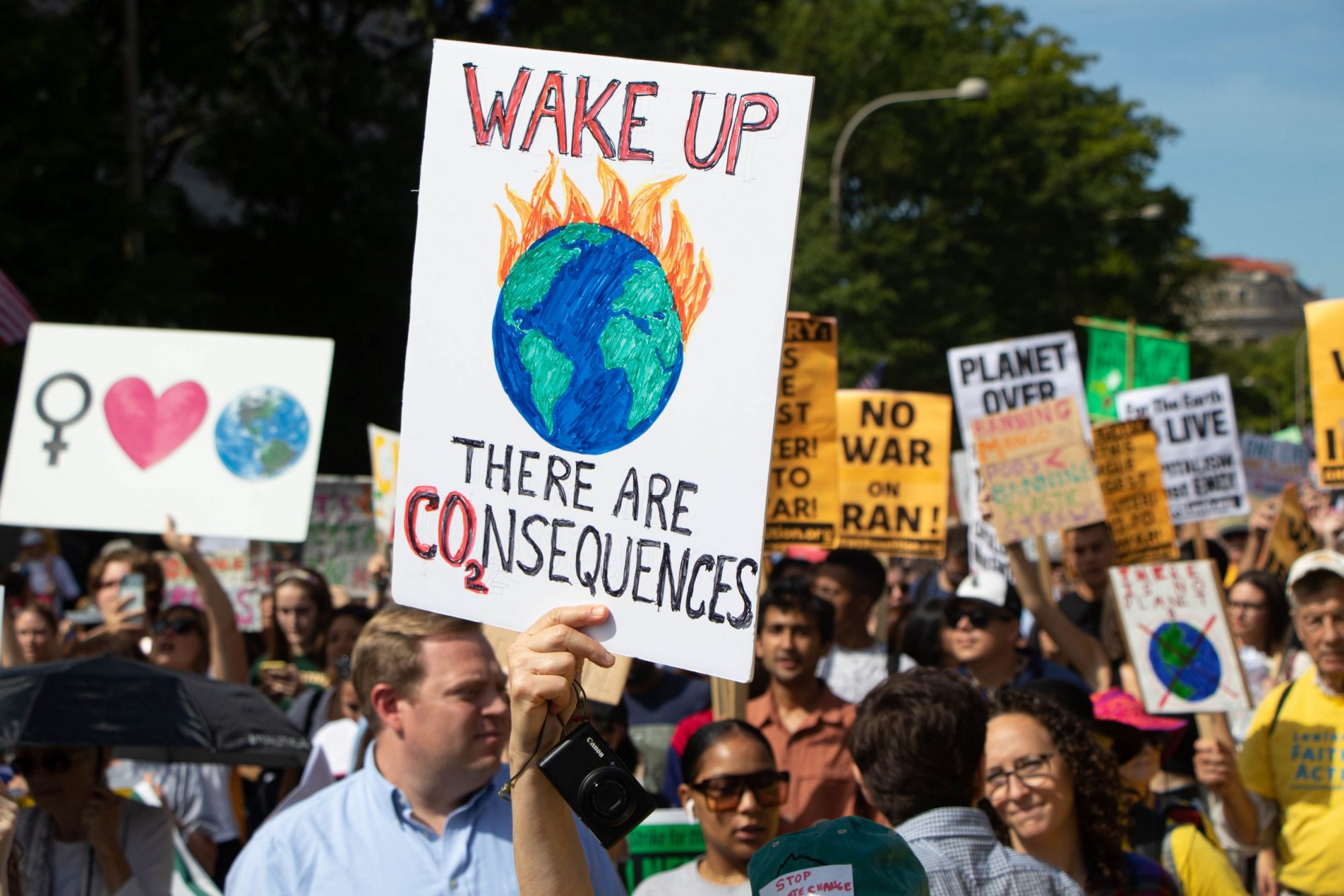 Days after confronting the Key of David Christian Center demonstrators, university students attended a global climate strike in Washington, D.C.
Starting at McKeldin Mall, the group of more than 100 student-activists marched a mile to the Metro station to head to D.C., adding their support and voices to a crowd of thousands. Campus organizations such as the Sustainability Cooperative and MaryPIRG banded together to represent the university's students in a national fight for climate change.
November 12, 2019: "I Stand With Dreamers"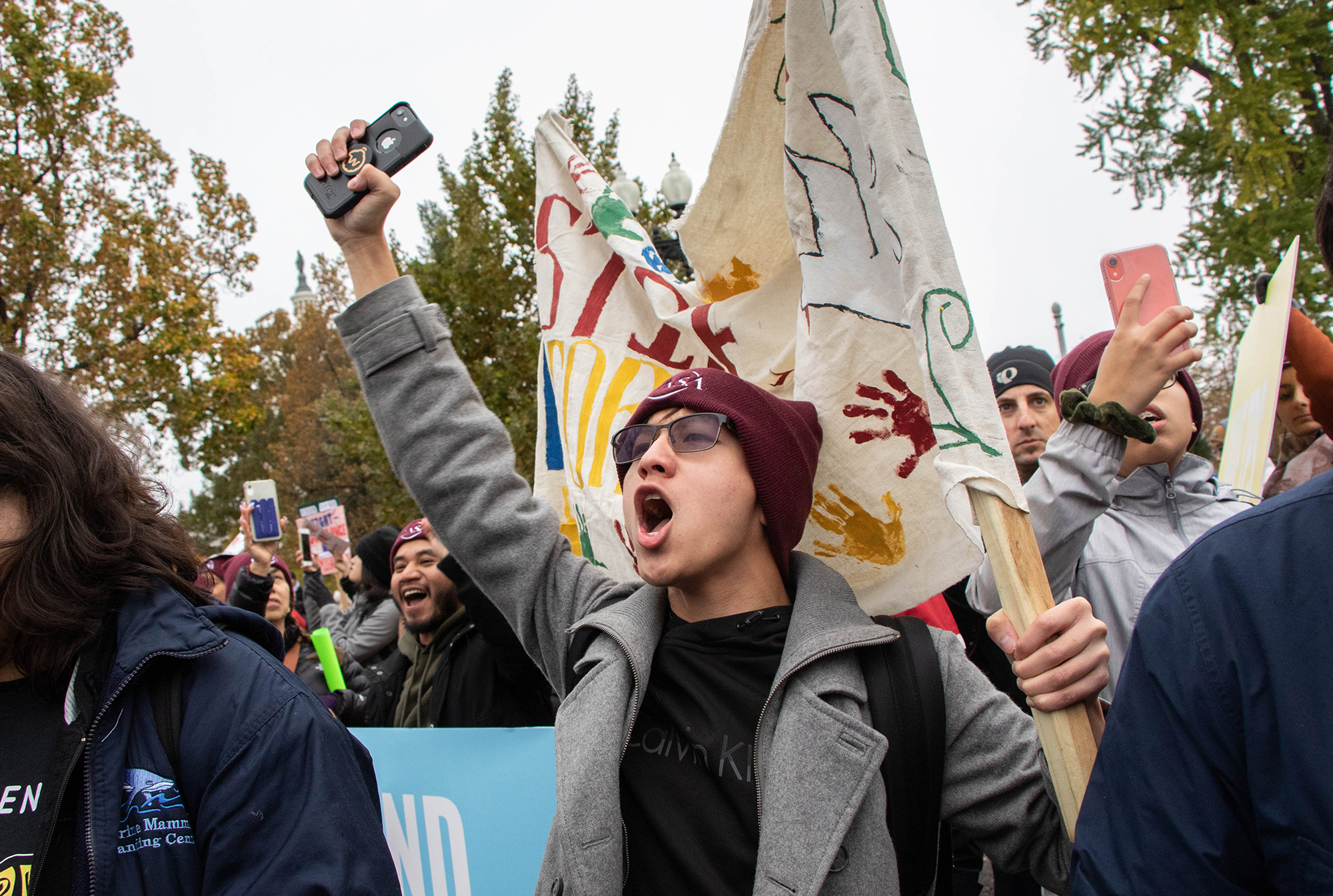 The Deferred Action for Childhood Arrivals program is an immigration policy that allows undocumented immigrants who arrived to the U.S. under the age of 16 reprieve from the fear of deportation. As the federal government threatened to take the program away, people took to the streets up in arms.
Students and faculty of this university joined those in the nation's capital, adorning their clothing and signs with monarch butterflies — a symbol of migration — and standing at city blocks surrounding the Capitol Building. Signs unified "Dreamers" and their counterparts alike, emphasizing that "Borders Are Not Healthy."