By Clara Longo de Freitas and Jonathan Tercasio
SGA election season looks different on campus this year. There are no in-person debates or campaigners handing out fliers in front of McKeldin Library. 
As the coronavirus pandemic emptied out the University of Maryland campus, social media managers have had to get creative, launching TikToks, finstas and Spotify playlists.
Julia Novick, who is running ImpactUMD's campaign, said the move online has helped the ticket by offering the party an opportunity to get its message out in unconventional ways. TikTok, for example, is serving as a platform to gain support, the senior English and public health science major said.  
"TikTok is really popular right now, so that was a fun way to get our message out," said Novick. 
In one TikTok, Simran Chertara — ImpactUMD's candidate for chief financial officer — danced to Megan Thee Stallion's "Savage" to explain how she plans to simplify the funding application process.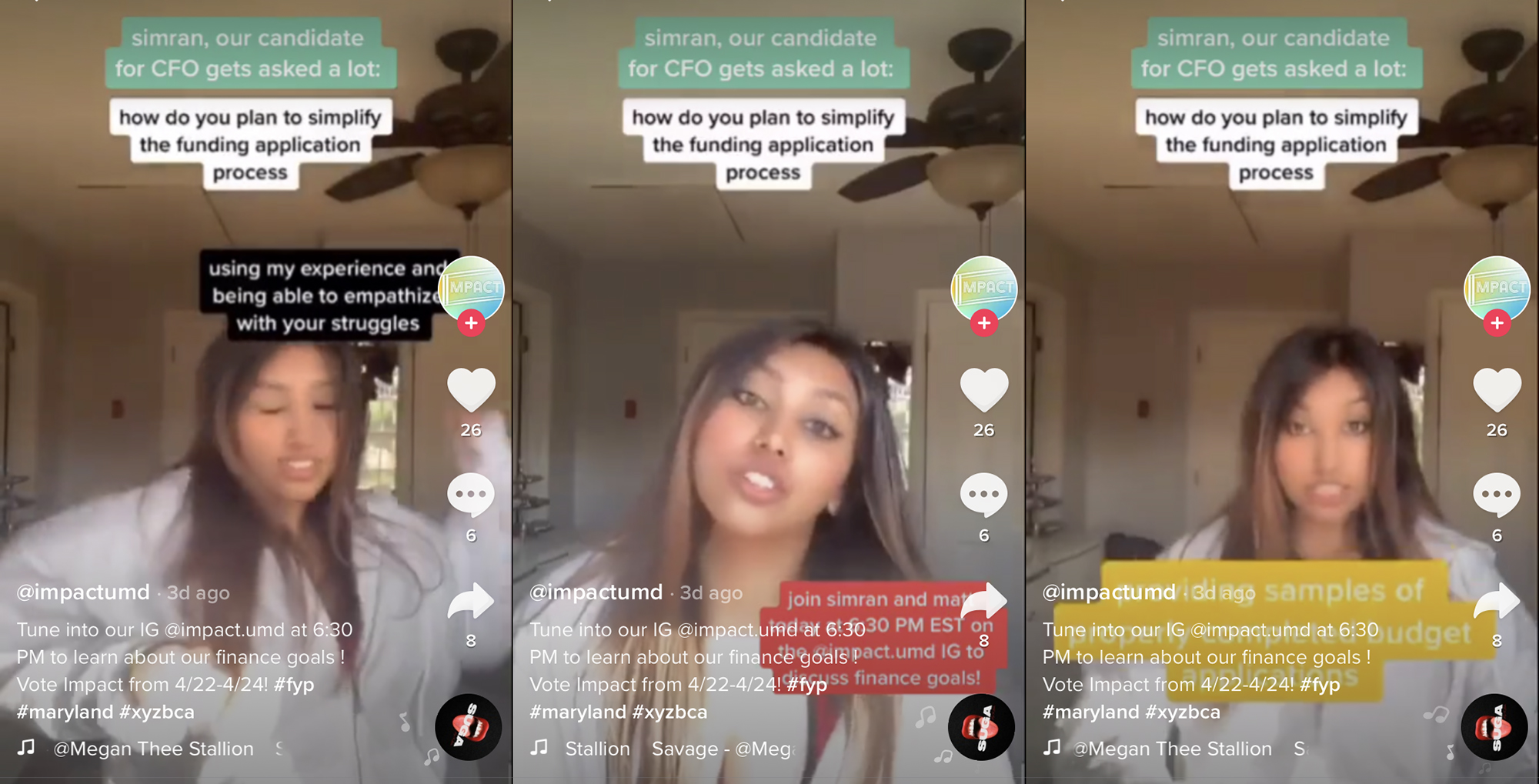 Campaigning online has even made some things easier, Novick said, since the cost of fliers, for example, is no longer a concern. But Novick said she thinks person-to-person interaction is the easiest way to mobilize students, and that adapting to an online campaign has required flexibility from the party. 
Dan Alpert, the presidential candidate for Forward Maryland, said that online campaigning has allowed for more meaningful conversations with students. While canvassing outside McKeldin Library, he can only engage with students for a few minutes — but over Zoom, he can talk to students for up to an hour, he said.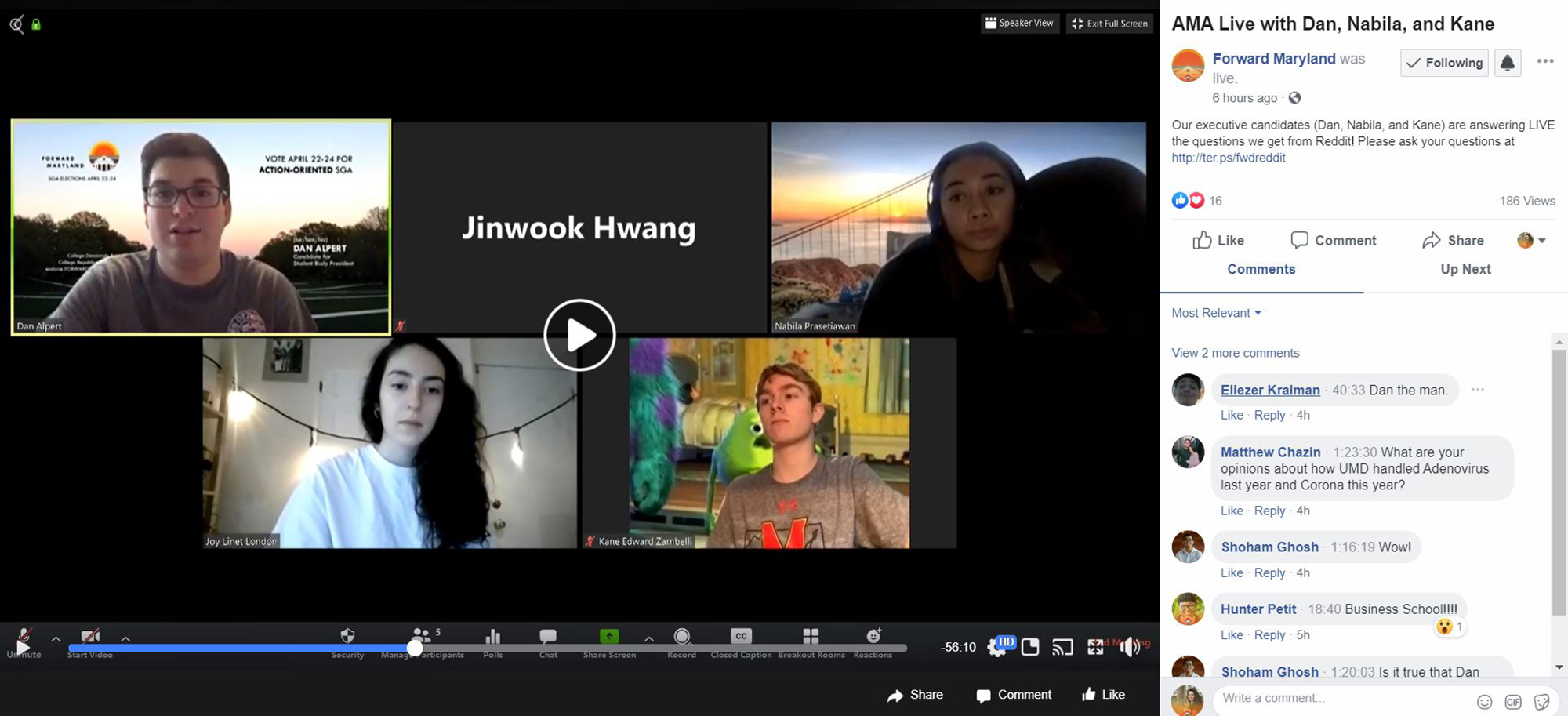 In addition to TikTok, ImpactUMD, like Forward Maryland, also has a presence on Instagram, Facebook and Twitter. And Eleanor McGuire, an independent candidate running for Behavioral and Social Sciences representative, wrote in a statement that she has been reaching people through her Instagram and in group chats.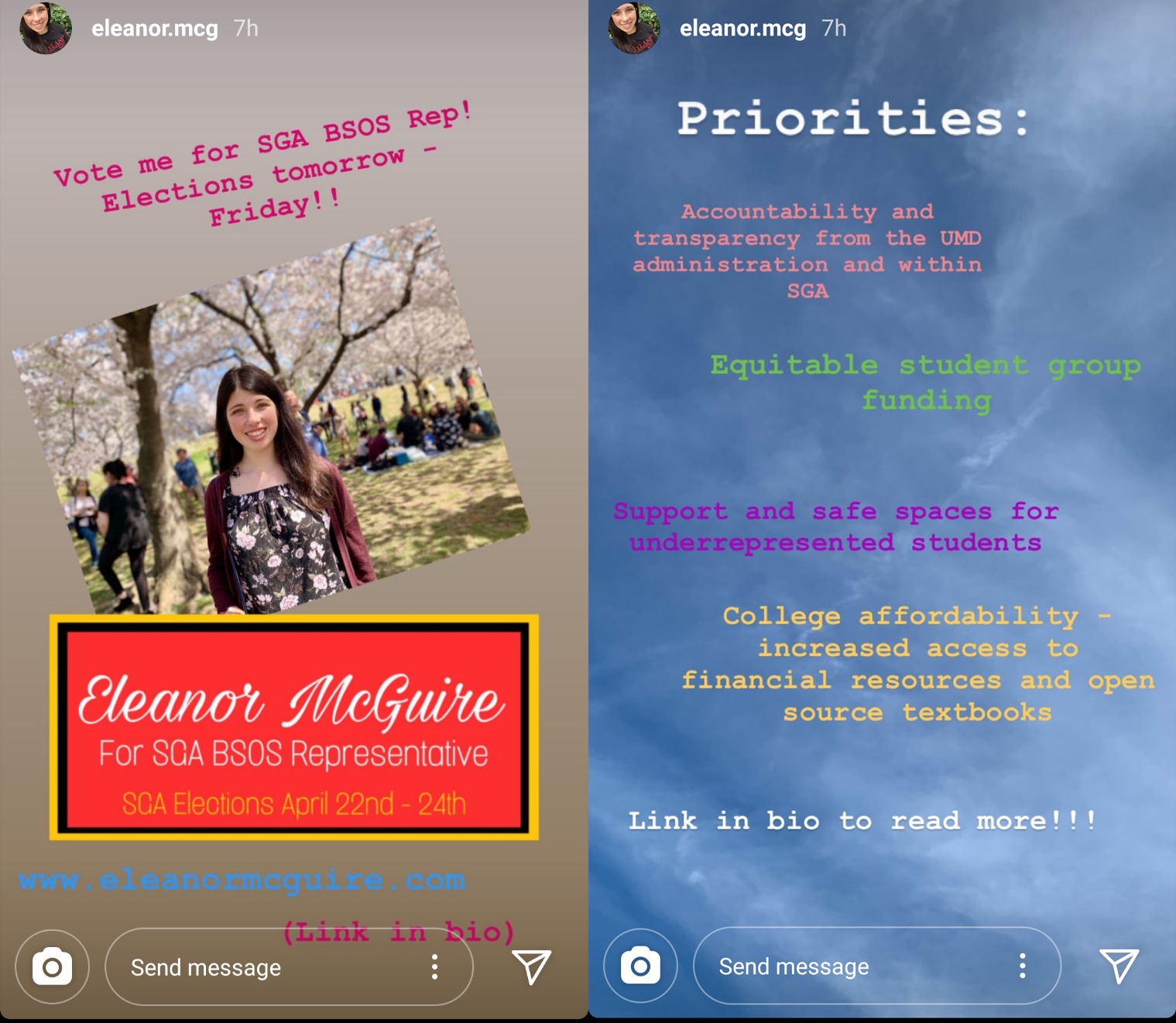 Joy London, the senior adviser and communications director for Forward Maryland, said that one of the party's main strategies is using humor to spread the word.They launched a finsta, which is a "lighter version" of their official account. They're also using Spotify playlists — such as "Wallace LOH(fi)" and "marathon deli line at 2am" — and parody music videos. 
Bella Simon, Forward Maryland's candidate for education representative, changed the lyrics of Megan Thee Stallion's "Hot Girl Summer" to describe what her party's campaign wants to accomplish in a video on her Instagram. 
"Now let me tell you what will happen if you vote for me, advocating for the students is what you will see," the sophomore elementary education major rapped. "Forward Maryland is the best, when you vote just hit that check. So tell them you are with me when they ask, and that's a wrap."
But London stressed that, while she wants to set her party's point across, she didn't want to weigh people down with information. 
"[I] just highlighted the important information like our fresh ideas, our candidates and tried to really convey who we are," London, a junior communication and government and politics major, said. "We can make the most substantive information available on our website."
Since Student Government Association elections already don't often see high voting totals, Novick said, the virtual election campaigns could compromise voter turnout. Some students may be less busy and have more time to go on social media, while others may be going through difficulties and won't be thinking about the SGA, she added.
But the lightness of social media does not mean students are easily reachable, London said. In ideal circumstances, candidates would physically meet students where they are — at multicultural events, in club meetings and just around the campus. 
Kelly Sherman, the presidential candidate for ImpactUMD, said posting on social media has been a "fun, collaborative" effort to see which content would have the most engagement. While creativity poses its own challenges, Sherman said, it's also been rewarding. 
"It's just really great to have a ticket that is so willing to put themselves out there and just act like goofballs and get our message across," said Sherman. "It puts us in a very approachable light."