When you print a paper for 110 years, it's impossible for every story to be salient, hard-hitting news. Over the years, The Diamondback has printed its share of outrageous content, and we'd be remiss if we didn't look back at some of the silliest stories.
"Pancake politics" — Kellie Woodhouse, April 7, 2008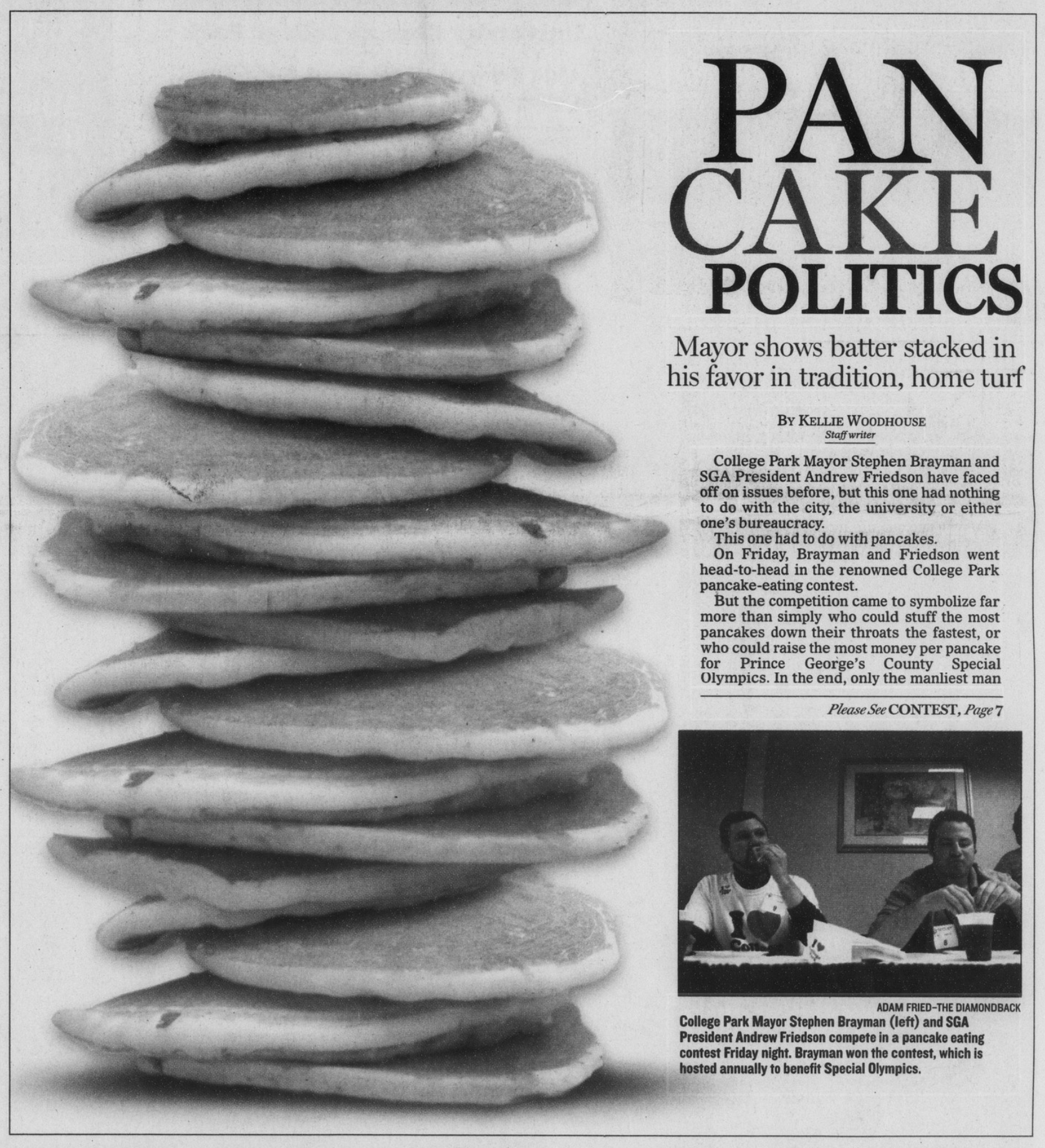 The thought of the Student Government Association president and the College Park mayor engaging in a pancake-eating competition sounds too much like a simulation to ever be reality. But alas, in 2008, it happened.
SGA President Andrew Friedson and Mayor Stephen Brayman engaged in what, on any other occasion, might seem borderline grotesque. But Woodhouse's writing in this piece has such steady momentum that it feels as if you're watching a WWE smackdown. And the expert use of a blind lede would make any journalism professor sip their coffee with satisfaction.
"Nude woman on ticket sparks Cabinet debate" — Rob Wishart, April 24, 1968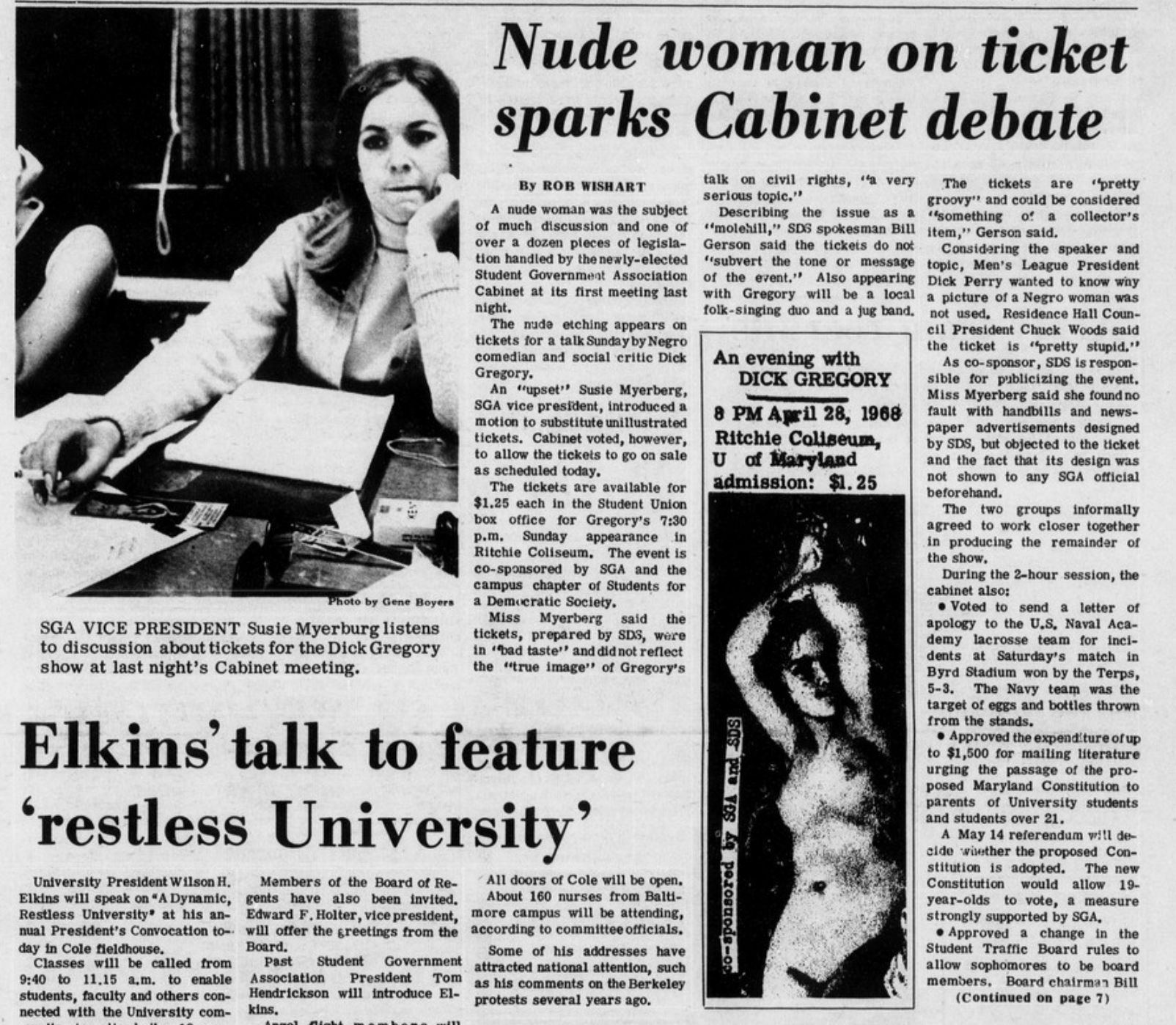 The figure appeared on the ticket for comedian Dick Gregory, and people were big mad about it. But at least one person interviewed was at peace with it, going so far as to call it "pretty groovy," in the most spot-on, dated way possible.
While this article may not seem like anything out of the ordinary, it raises the question: Would people react any differently if this were to happen today? And though it's over 50 years later, I'm inclined to say no.
"Nude runs penetrate campus lifestyle" — Carolyn Spears, Nov. 9, 1973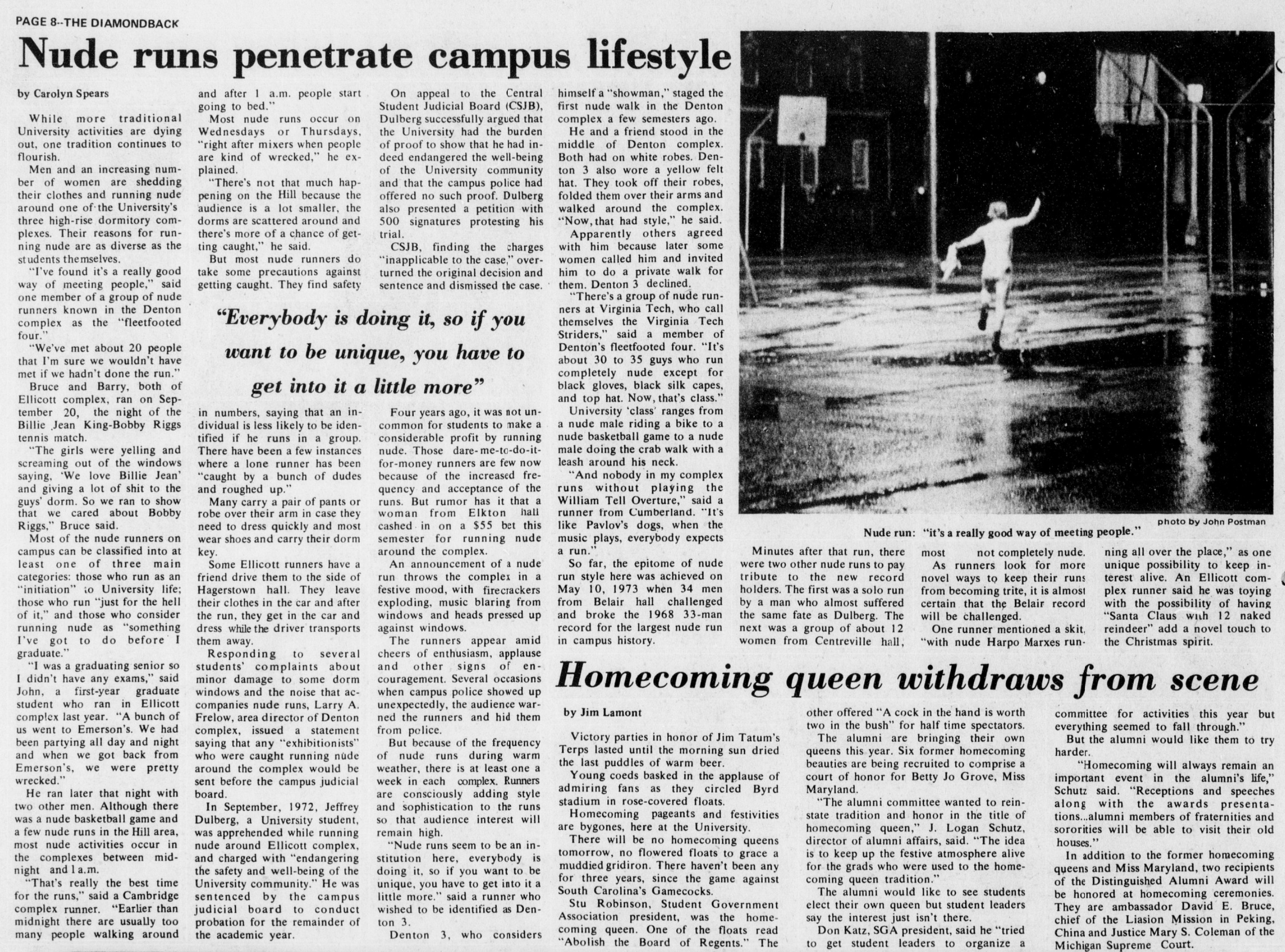 Okay, what is it with this university and nudity? Back in the early '70s, a group of students came together for their shared passion: running around butt-ass naked.
There were three types of runners: those who did so to feel "initiated" as college students, those who did it just for shits and giggles and those who were looking for one last thrill before graduation. A lot of nude runs happened on Wednesdays and Thursdays, when people were kind of "wrecked." (I propose we cover more of the university's "wrecked" community.)
None of the runners quoted in the article are named, preserving their anonymity. A tradition like this probably wouldn't be possible nowadays, as social media erases any potential for anonymity, so maybe this university is in need of another campuswide bonding activity. Shuffleboard, anyone?
"Planned food ruckus erupts in upper main dining hall" — David Sturm, March 5, 1970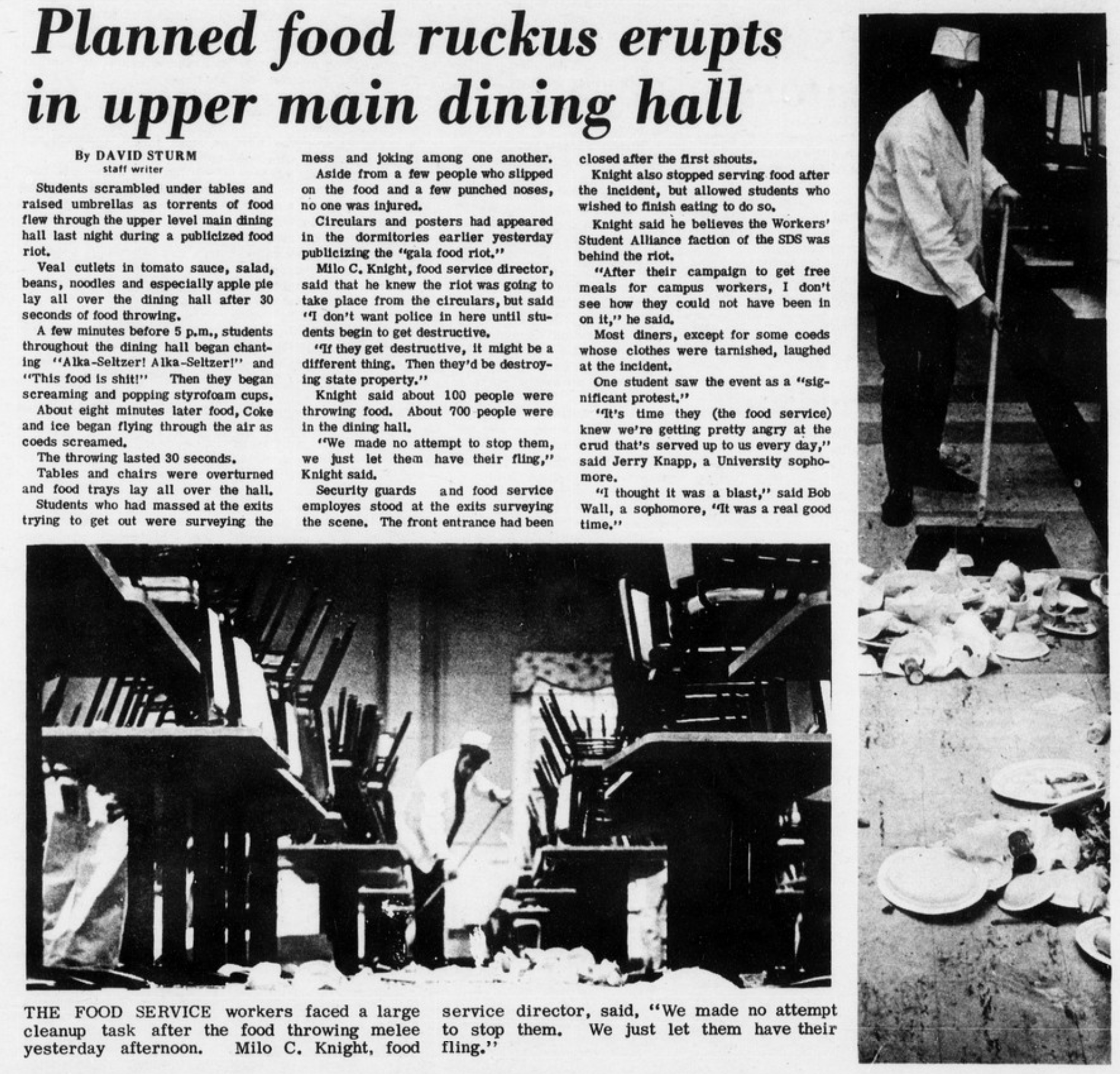 Nowadays, the idea of a cafeteria food fight just seems like an unrealistic film trope, but in 1970, this campus actually saw one of its own — in epic proportions. The article details vivid images of the veal cutlets and apple pie strewn across the floors of the decimated dining hall. And the best part? Dining Services knew about the planned edible massacre, and still chose to do nothing.
The food melee — a planned protest against the dining hall "crud" — caused such a ruckus that the worker-student alliance faction of Students for a Democratic Society even felt the need to publicly deny any connection to it. The idea of some crew of student and campus employees having to clean the mess of some privileged college students didn't really mesh with their agenda. But apparently, a good part of the 100 participants thought it was a "blast."
"Cops crash newsroom party" — Mara H. Gottfried, May 7, 1998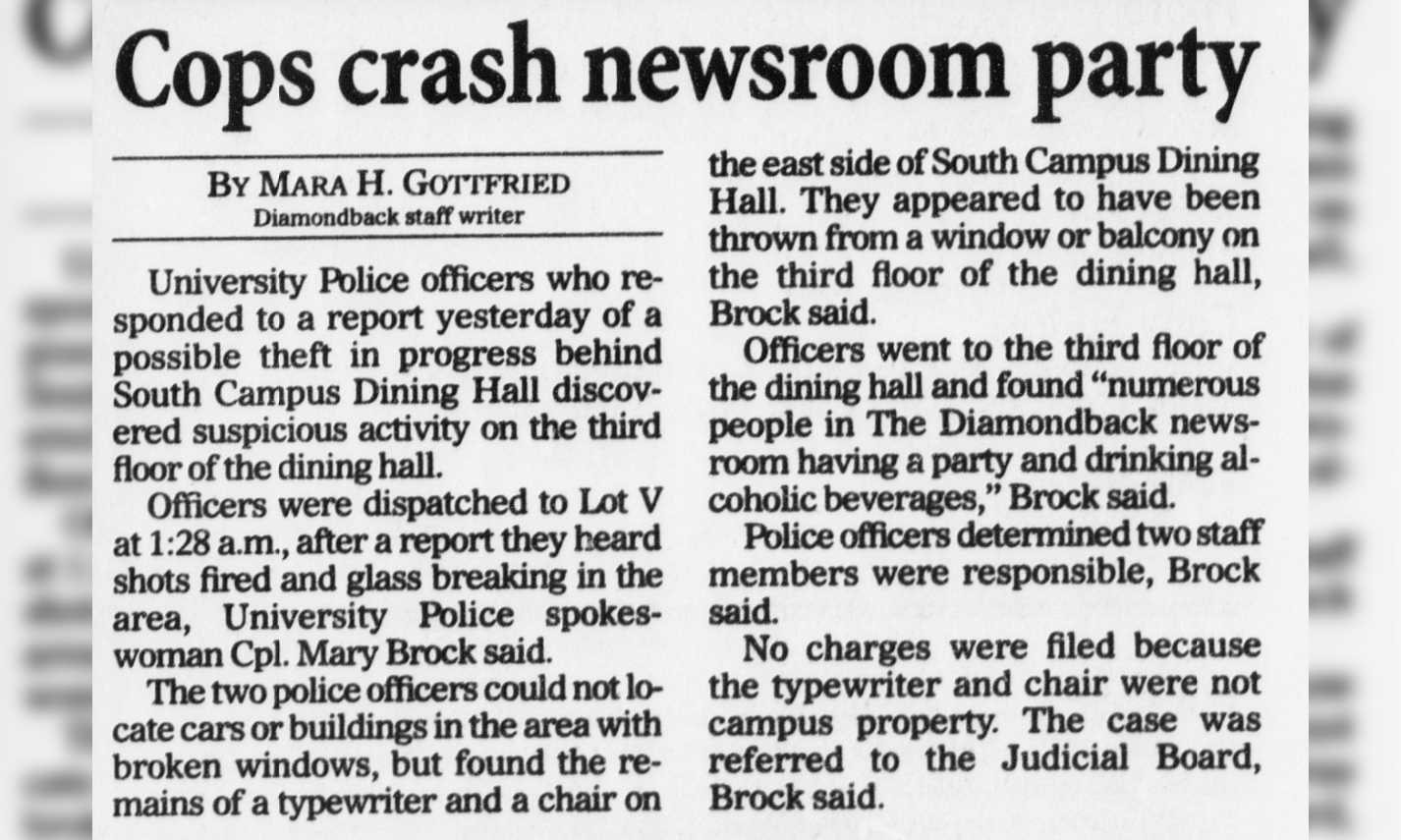 Clocking in at a mere six paragraphs, embarrassment is almost oozing out of this article. University Police noticed a disturbance coming from the third floor of the South Campus Dining Hall while investigating a possible theft.
They went inside the building, only to find what a police spokesperson described as "numerous people in The Diamondback newsroom having a party and drinking alcoholic beverages." Imagine getting busted by the cops, only to have to write about yourself getting busted by the cops, so your entire college community could read about you getting busted by the cops.
The laughably short article was also tucked in the bottom right corner of a page, so small you could've missed it. Damage control at its finest.