Eugene Williams sat in his darkening living room last week, smiling as the sun set through the window behind him. 
"Alexa," he called out. "Play 'Lift Every Voice and Sing' by Beyoncé."
He let the sound wash over him. The song — often referred to as the "Black National Anthem" — is a rich, soaring hymn, its melody a slowly building crescendo.
"It gives me a sense of liberation," Williams said. "It inspires me. It exhilarates me."
"Lift Every Voice and Sing" was written about 120 years ago as a poem by James Weldon Johnson, an NAACP leader and prominent artist during the Harlem Renaissance. Johnson's brother later set the words to music, and Williams, like many other black Americans, grew up singing the song right alongside "The Star-Spangled Banner." 
For more than two years, Williams, now a 78-year-old Clinton, Maryland, resident, has made it his mission to convince basketball teams across the country — professional and collegiate alike — to play the tune before games begin.  
And last week, the University of Maryland obliged. 
Before Maryland basketball's victory over Rutgers Tuesday night, Maryland Gospel Choir singers Tiffany Blossom and Erin Stewartson performed "Lift Every Voice" in front of a sizable Xfinity Center crowd. Williams couldn't be there, but news of the performance made him "jubilant," he said. 
University athletics spokesperson Jason Yellin said the department was "thrilled" to share the song with the crowd. He added, though, that there aren't any plans to make it a recurring tradition. 
"That's the night that it was going to be played because that was the night we were celebrating Black History Month," Yellin said. 
Since he began his mission in 2017, Williams has seen considerable success. He spends his days reaching out to sports teams' spokespeople by phone, introducing himself and making his case. He's gotten NBA teams such as the Washington Wizards, Golden State Warriors and the Brooklyn Nets — and colleges like Georgetown and George Washington universities — on board.
And last year, Prince George's County Public Schools issued a proclamation encouraging all schools to introduce students to the song at least once during the month of February. That proclamation sits in a frame on Williams' piano, alongside a photo of President Obama and a row of baseball caps. One of the hats — which Williams designed himself — has "Lift Every Voice and Sing" embroidered on it in cursive.
Despite his victories, this university — which Williams said he first contacted with his request in 2018 — remained a point of special interest. It's in his home county, for one thing.
Plus, his wife of nearly 30 years, Mary Johnson, is an alumna — one of the first black students to receive a doctoral degree in math education from this university. Years down the road, while she was running a science and technology high school in Washington, D.C., she made sure her students sang "Lift Every Voice" at commencement each spring. The lyrics, in their entirety, were printed in the program year after year, too.
At 85, Johnson still volunteers to teach third-grade math at two schools in the county, but she helps her husband with his calls to universities and professional teams when she can. She realized with a laugh that there was a kind of serendipity in being brought back into contact with her alma mater all these years later.
"I think this will be very beneficial, not only to players, but the audience should know about it," she said. "And this gives them the chance."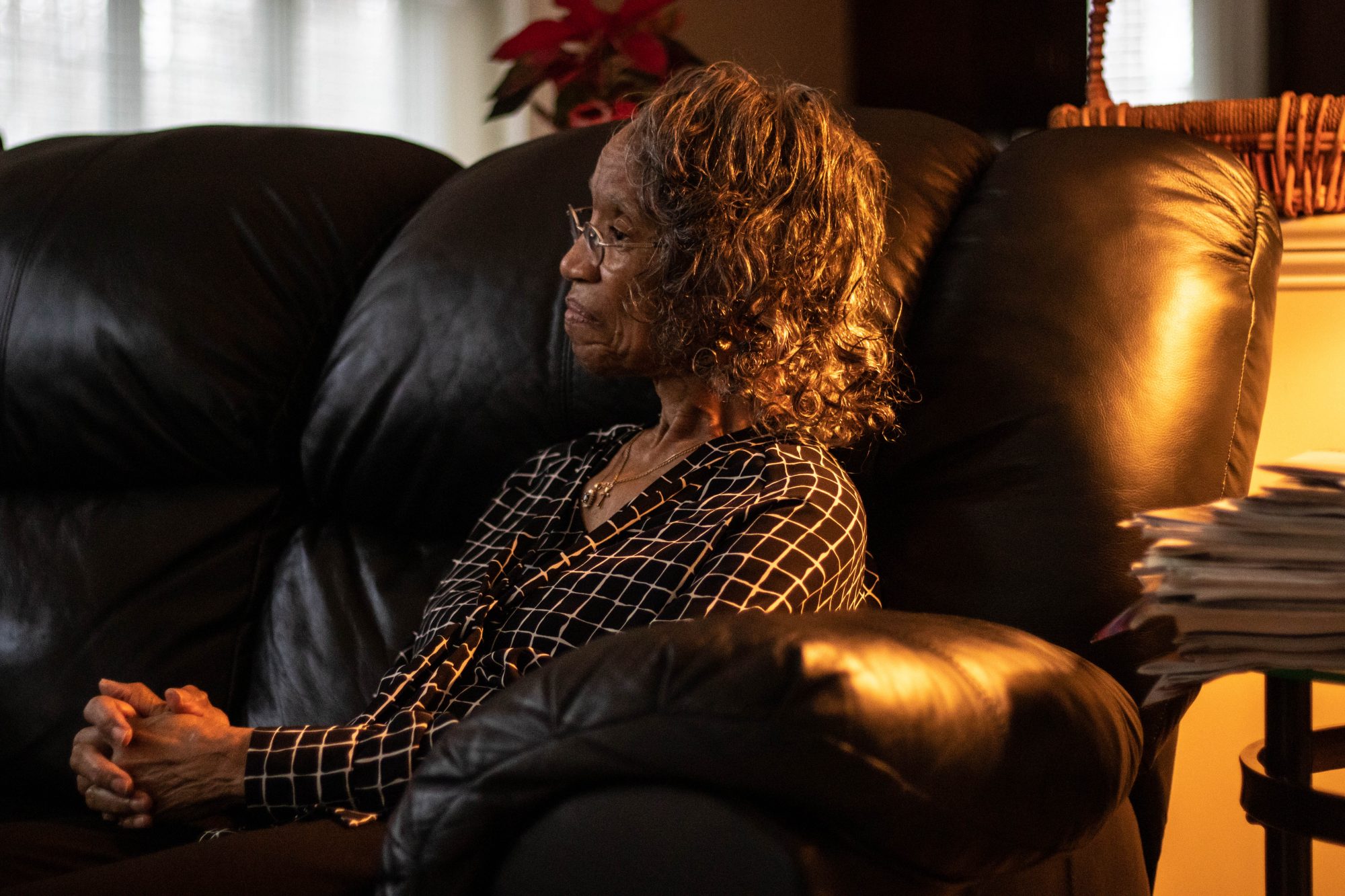 Both Johnson and Williams stressed that the vast majority of basketball players — both professional and collegiate — are black, even though coaches and team owners are overwhelmingly white. 
"It's only fair that we would recognize [the players'] value and their worth," Williams said.
And "Lift Every Voice" fills Williams with pride in a way that "The Star-Spangled Banner" never quite will, he said. The national anthem's author, Francis Scott Key, was a slaveowner, and many interpret a third verse that's not often sung as embracing slavery.
"Lift Every Voice," meanwhile, has long been a staple of civil rights movements across the country. It's a combination of mournful lines reflecting on the horrors of slavery and upbeat ones filled with optimism. 
"Sing a song full of faith that the dark past has taught us," the lyrics read. "Sing a song full of the hope that the present has brought us / Facing the rising sun of our new day begun / Let us march on till victory is won."
Blossom, one of the two women who sang Tuesday night, said she was introduced to the song as an elementary schooler. She was only given a week's notice of the performance, she said, but she wasn't too concerned — the melody and lyrics were a fixture of her childhood.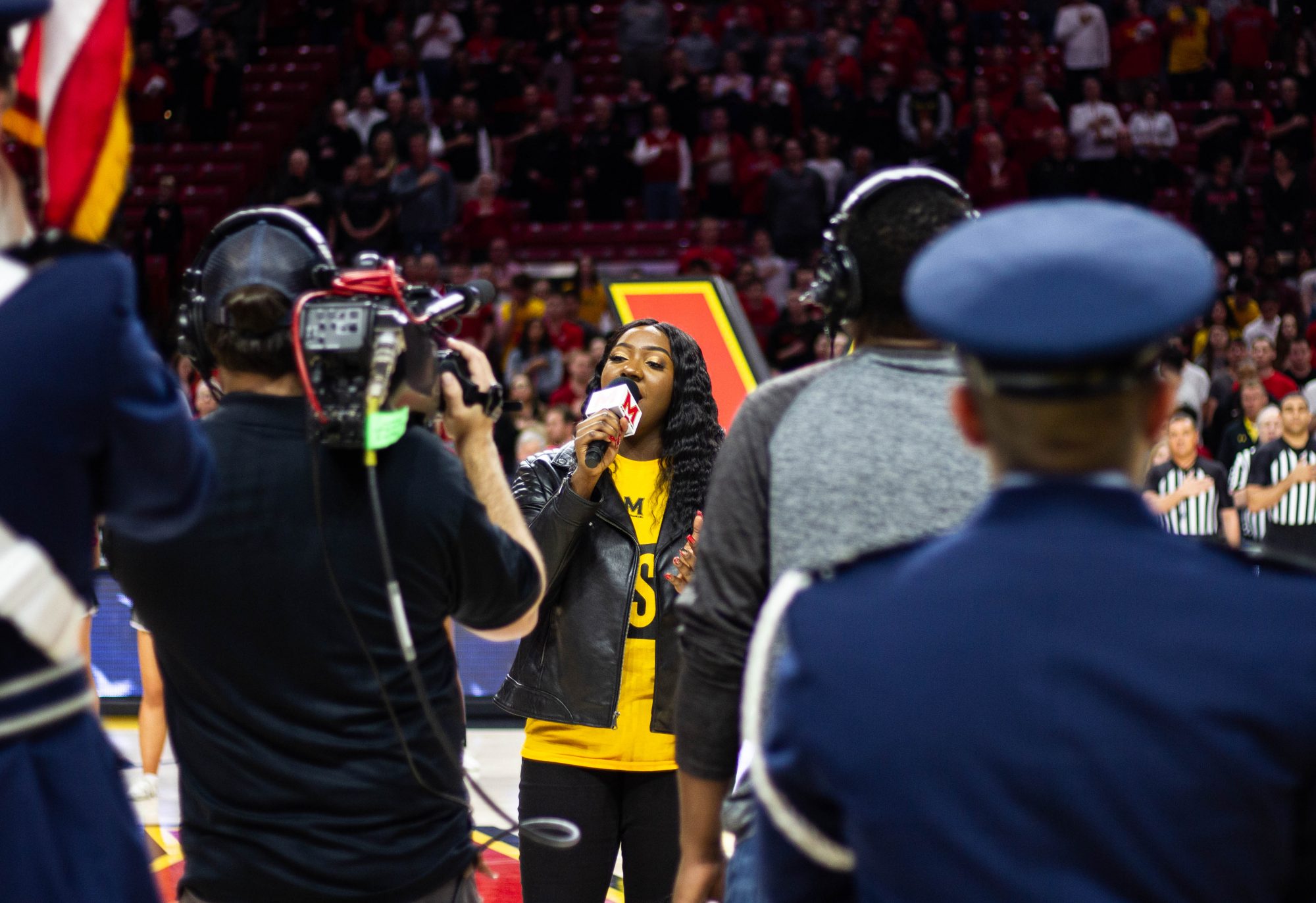 "It was really an honor," Blossom said. "I had no clue that they wanted to have this song done at a basketball game, and it really meant a lot to me."
She's hoping the department will make the anthem part of an annual tradition, she added.
Monique Small, a senior criminology and criminal justice major at this university, said that while playing the song was a "good gesture," it also "opens the door for a lot of disrespect."
Small, who is involved with the Nyumburu Cultural Center, learned "Lift Every Voice" growing up in Prince George's County schools. And despite her appreciation for the song, she expressed concern — worrying that on a campus long troubled by hate, it could be criticized or misunderstood by non-black students. 
"We have a lot more progress to make before that's something that would be wholeheartedly accepted," Small said. 
Still, Williams describes himself as an "eternal optimist." And he's not done with this university yet.
"Certainly, I will be following this up, and I will be desiring that it be played regularly," he said. "This is the beginning." 
Since he began this work in 2017, Williams has been featured in about a dozen news articles. He's been interviewed by publications such as ESPN, the Washington Post and the Associated Press. And quietly and calmly, far away from the buzz it's created, Williams still regularly sings "Lift Every Voice" to himself.
"It will always be a part of me," he said. "And I'm praying and hoping that it will also be a part of all other people who listen to it."
Listen to the third episode of Offbeat, where you can hear about Eugene and his mission, here: