Whenever he could, Eli Crognale would make the trip to College Park with his parents to watch his older brother, Alex, play at Ludwig Field. Watching those matches, he was always deep in thought, dreaming of one day being on the pitch for Maryland men's soccer instead of in the stands.
That dream didn't come to fruition after his high school graduation from his Ohio high school — he wasn't physically strong enough. So instead, he settled on Belmont University for his freshman campaign.
But before heading to Nashville for the start of his own college soccer career, Crognale visited his brother at Maryland over the summer, the part of the offseason when the team scrimmages at night after hosting summer camps during the day.
His brother asked coach Sasho Cirovski if Eli could join in on the scrimmage. At first, Cirovski was hesitant, fearing the quality of play would decrease. But once the coach relented, he saw that the youngest Crognale could hold his own.
And a year later, when he sought to transfer from Belmont, Crognale sent his older brother a highlight tape. Impressed, Alex Crognale passed it along to then-assistant coach Brian Rowland.
It eventually reached Cirovski, and the longtime coach got to see the best plays from the midfielder who had developed into a Horizon League All-Freshman selection since his cameo in the Terps summer scrimmage. And it was enough for Cirovski to offer Crognale a place on the team.
He pounced on the chance.
Crognale sacrificed his scholarship at Belmont for what was initially a non-scholarship spot with Maryland. But since joining the Terps, Crognale has evolved from a seldom-used reserve in his sophomore year to a standout midfield contributor and team captain in his senior season. In doing so, the younger Crognale has stepped out of the shadows of his older brother and carved his own legacy.
"He's proven that he's a player whether he was my younger brother or not," said Alex Crognale, who was a Big Ten Defensive Player of the Year during his time with Maryland. "If he had a different name on the back of his jersey, people would still be giving him the credit that he's one of the hardest workers in the room, he's motivated [and] he's a winner."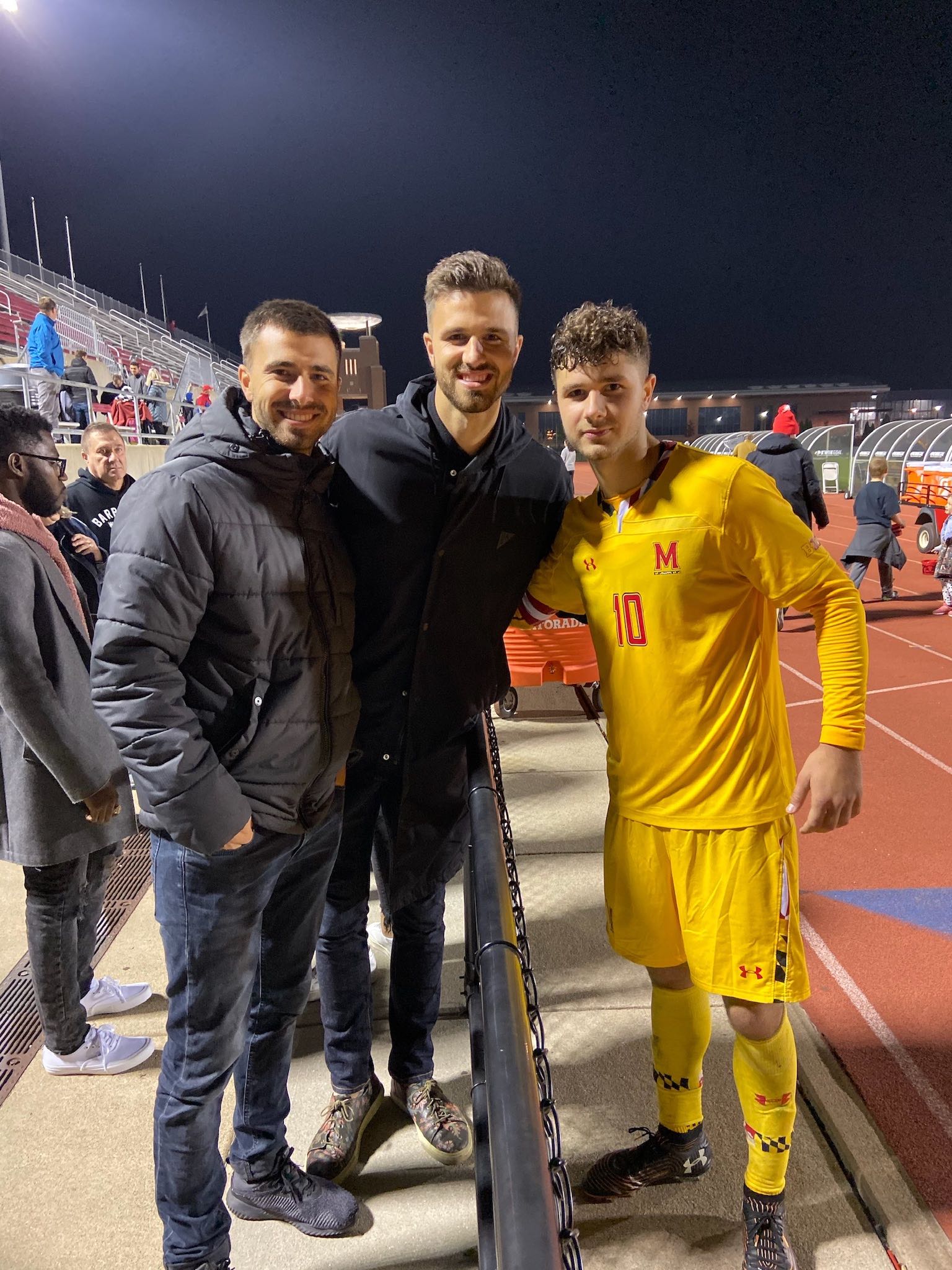 Constant comparisons
Truth be told, Crognale is used to trying to stand out from his two older brothers.
It started when they were young, playing with neighborhood kids, a group that included current U.S. Men's National Team midfielder Wil Trapp and his older brother.
Throughout their countless backyard games, Crognale always tried to compete with the older kids. But he also paid attention to their habits.
"I was just surrounded by professional guys. I looked up to Wil like he was one of my brothers, and tried to mimic everything he did," Crognale said. "It made me realize the kind of work you have to put in to be great."
Growing up, it was to be expected that others would compare the youngest Crognale to his brothers, who both led distinguished soccer careers.
Ben, the eldest of the Crognale brothers, played with Trapp at Gahanna Lincoln High School, where they won a state championship. After high school, he went on to play Division I soccer at Loyola of Chicago.
Alex Crognale also starred at Gahanna Lincoln and committed to the Maryland team, a prestigious college soccer program.
"Every step of the way, Eli has been following some major accomplishment in some way or another by an older brother," said Corey Crognale, the soccer family's patriarch.
Eli Crognale emerged from Gahanna Lincoln to earn his own spot with a Division I team. Ironically, it was at Maryland's summer soccer camp before his junior year of high school that Belmont's coach saw him and began recruiting him.
Cirovski had been familiar with Crognale since he was a teenager, but he deemed the midfielder not yet physically ready to play at a program like Maryland.
"He was just a physically underdeveloped young man that wasn't ready for Maryland," Cirovski said. "And then, he went [to Belmont] and tore it up."
After Cirovski saw his highlight reel, he asked Alex Crognale if he thought his younger brother could play with the Terps. Alex Crognale said he thought Eli could, but he'd need to get stronger.
"He was right. Eli came in his first year and the speed of play, and just the physical nature of the competition we play against was a little bit of a challenge," Cirovski said. "But you could see him every day in training do some terrific things, and I could see his potential."
During his first full season under Cirovski, Crognale appeared in just eight games and played a grand total of 66 minutes.
For somebody as competitive as Crognale, that took a toll.
Crognale's father mentioned the possibility of transferring again to find consistent playing time. Crognale didn't want to transfer, though. He was intent on finishing his college career with the Terps.
So when he returned home to Ohio for winter break after his first year with the Terps, Crognale set out on a mission. He connected with a trainer and devoted his free time to getting in the physical shape necessary to find the field more consistently.
"I've never seen a kid work so hard," said Eli's mother, Karen Crognale. "He's relentless in his pursuit of the game, beyond anything I've ever seen."
His hard work continued into the spring and summer, as he geared up for his junior season.
In the first game of that season, though, Crognale only played eight minutes, a frustrating experience after his hard work during the offseason.
"I was not prepared to sit through another season [on the bench]," Crognale said. "So I was like, 'Well, maybe if this is what [Cirovski] thinks of me, I'm going to have to look elsewhere.' But the next game, I started at Stanford, and the rest is history."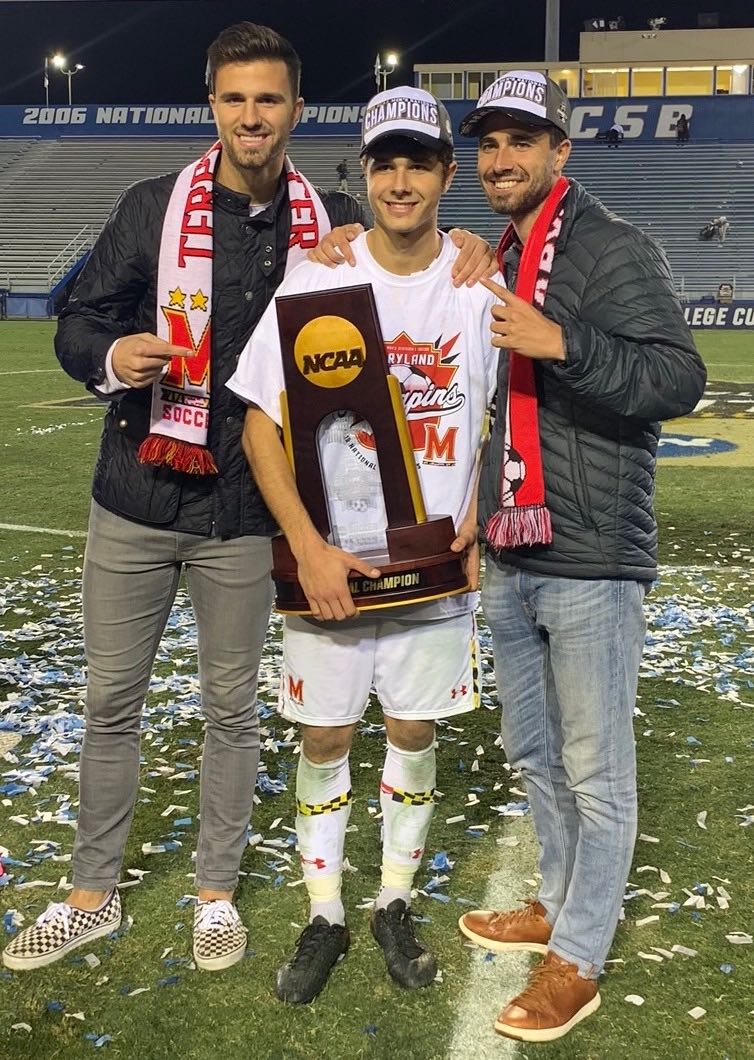 Making his own name
In his junior year, Crognale started 21 games, dished out four assists on the season and earned a scholarship. And when the team shifted to a defensive approach with two holding midfielders, Crognale paired with Andrew Samuels to lock down that area of the field.
His contributions alongside Samuels played a leading role in the Terps turning their season around and making an unlikely run to winning the program's fourth national championship.
"It was the most unbelievable moment for all my kids and their accomplishments. I still don't have words for it," Karen Crognale said. "He had come so far and worked so hard, that it was what he earned."
Fortunately for Alex Crognale, who was playing for the MLS team Columbus Crew SC, the offseason had begun, so he was able to join his family in Santa Barbara, California, for the College Cup.
Alex Crognale watched the game and couldn't help but think of the pressure. He had firsthand experience of a game of that magnitude — in his freshman year, Maryland had lost the national title game to Notre Dame.
"I've been in that setting and seen how much work goes into it. The margin of error is just so small in those tournaments," Alex Crognale said. "I'm super happy that he was able to get one, because at least I can say a Crognale won one."
Now, as Crognale prepares for his senior day match on Sunday against Michigan, the family knows its time with Maryland soccer is nearing its end.
Over the seven consecutive years the family has had a son in the program, it has become famous for its support.
During a preseason match at the University of Akron in 2014, a mass of friends and family of the Crognales came out to support Alex Crognale and the Terps. Then-midfielder George Campbell looked at the massive group and dubbed it "Crognation."
Crognation is bigger at some games than others, especially for road matches at Ohio State, near Eli Crognale's hometown. But Karen and Corey Crognale have only missed a handful of games, both home and away, in their seven years with the program.
"I'm going to miss them. I'm going to miss Crognation tailgate parties," Cirovski said. "We have to make sure the family stays connected."
The Crognale parents have watched both Alex and Eli captain the Maryland team over the seven years. The two recognize the healthy sibling rivalry that exists between the brothers — it's natural, but it comes from a place of support, they say.
Crognale acknowledges it's that competition that has driven him to become more than just "Alex's younger brother" during his time at Maryland — and it's what's allowed him to leave his own mark on the program.
"If I'm able to beat him, then, great. I'd love to. But if I'm not able to get as many accolades as he did, or win Big Ten championships, then that's just going to be unfortunate, and he's going to have that on me," Crognale said. "But I've got the national championship."