On a campus filled with over 30,000 undergrads, students try to differentiate themselves in whatever ways they can. Clothing, shoes, hairstyles, hobbies, clubs — there are so many ways to express yourself. But what's the most effective in a lecture hall of a hundred students? Laptop stickers.
Laptops are an integral part of life as a student at the University of Maryland. We read, work, study and find entertainment on our laptops. In a backpack or on a desk, students know exactly where their laptop is at all times. It makes sense that students would want to personalize something so ubiquitous, yet so important, in their college careers.
There are probably millions of different sticker combinations possible for laptops, which makes it a very unique form of self-expression. However, to me, there are a few stereotypical laptop stickers that come to mind.
A classic sorority girl might have Greek letters on her laptop, with Jeep and Dunkin' Donuts coffee cup stickers. A typical liberal might have an Obama meme and a Save the Earth sticker. But, even if there are common types of stickers, it's not likely any twostickered laptops are exactly the same on this campus.
People like to talk about their interests and quirks. So, when I asked a few students sitting around campus to explain their stickers, they were all willing to. Clara Niel, a sophomore journalism major, went through each of her stickers for me, which taught me a lot about her personality.
"It's definitely me, as a person. It's very all over the place because I'm a person who likes a lot of things," Niel said.
Her favorite Vine is "My name is Trey and I have a basketball game tomorrow," so she has a sticker to reference it. She also has USA Volleyball and Terps Vote stickers, as well as a mermaid sticker, because she is passionate about the ocean and the environment, Niel said. It's an example of how even if the laptop stickers are only meaningful to you, it's still a way to express yourself.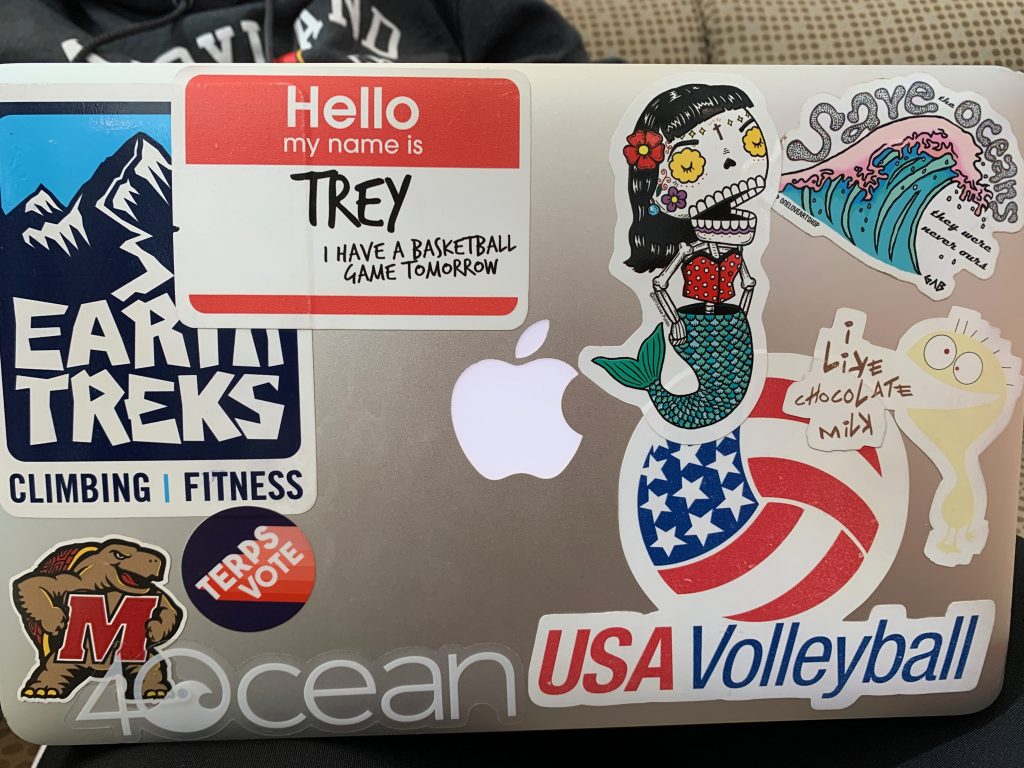 From my observations, guys tend to have fewer laptop stickers than girls with some guys on campus with the occasional few laptop stickers. Peyton Oakes, a senior English major, said he randomly collects his laptop stickers and just chooses what looked "cool." Even when they are randomly thrown together, the stickers can also be a form of expression.
"I just ordered these, I got this off of a soda can, I work here, I got this in Florida… I think this is a water bottle brand?" Oakes said, explaining his collection of various stickers. Featured were Grace Adventures Day Camp, a skull and surfboards saying Ft. Myers and some sort of cereal with ghosts.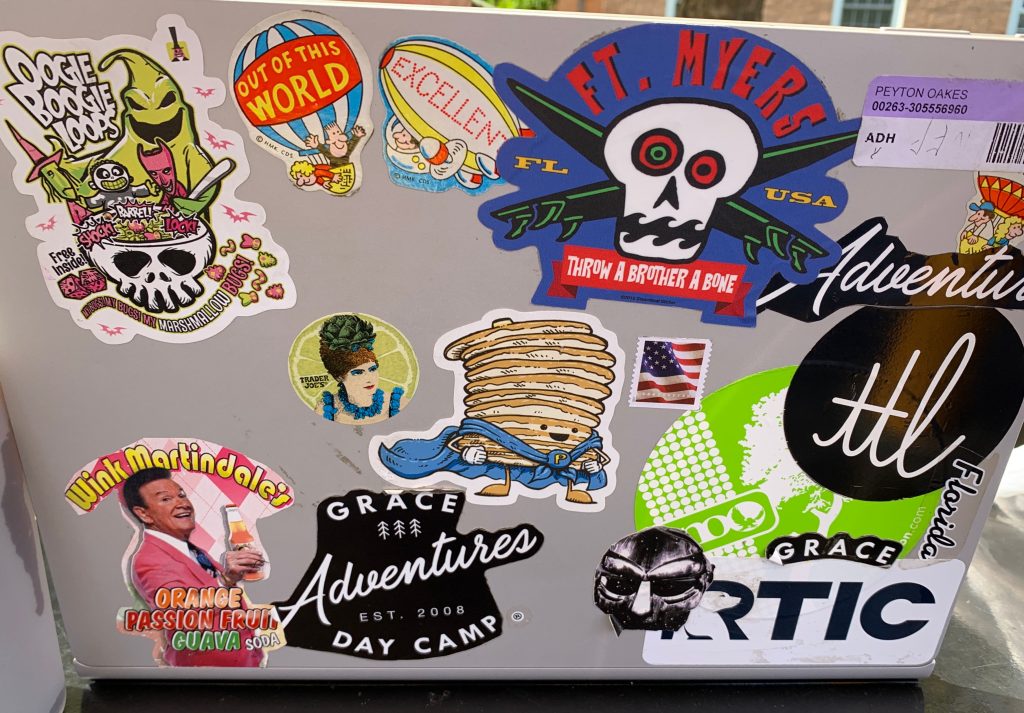 There is also something to be said for the stickerless laptop. It is a minimalist aesthetic. Maybe the person likes to remain incognito about who they are and what they like. They like to be mysterious. Some people have a laptop case or cover but no stickers. Or laptop case and stickers. Honestly, the possibilities are endless.
Christina Hallam, a senior economics and psychology major, said you can tell a person's hobbies and interests based on their stickers. Hallam has an electric blue case, with an earth and flower sticker and a sticker of the continental U.S. that said: "I <3 Our Public Lands."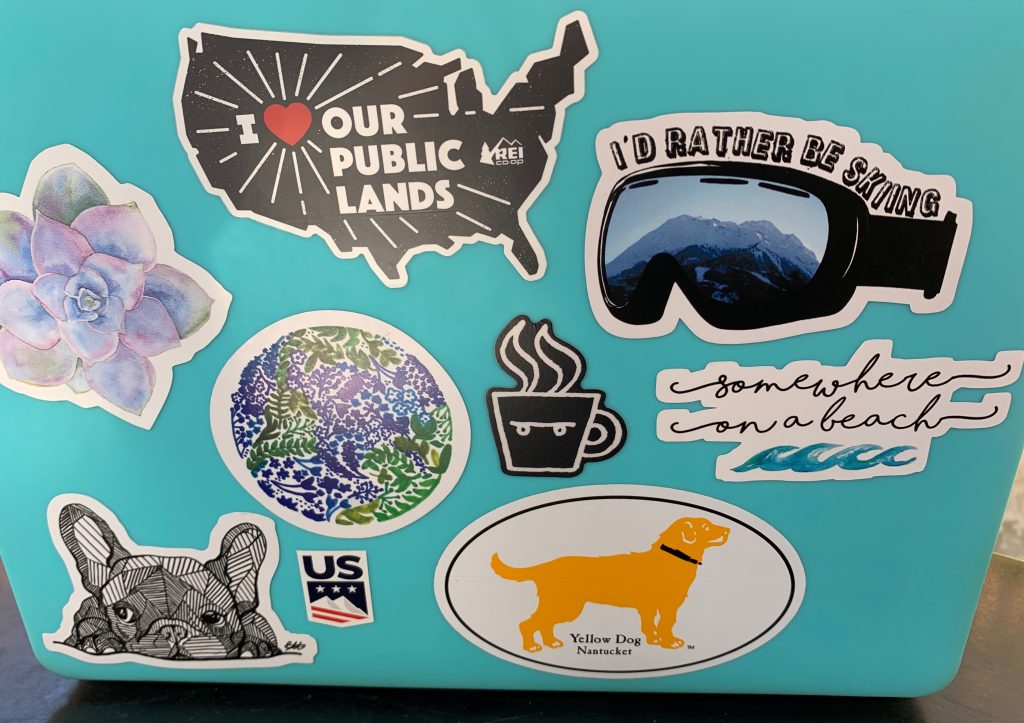 "My friend and I have very different personalities and values and you can tell by our laptop stickers because she has a lot of pink stickers — or I guess commercialistic stickers — and I have a lot of environmental and outdoorsy type of stuff," Hallam said.
Maybe you think stickers are just stickers. At the end of the day they are. But self-expression comes in many forms. Whether the way you design your laptop is meaningless or not, stickers can be a way to show other people what matters to you. Take a look around at your next lecture and see what stickers your classmates use to express themselves.