Every year, The Clarice Smith Performing Arts Center hosts NextNOW Fest, a celebration of arts and culture from across our University of Maryland campus, our state and the world. On Friday and Saturday, The Diamondback's Diversions staff attended some of the biggest performances and shows at the festival. Here are our reviews:
---
A colorful tribute to Jim Henson
By Morgan Pravato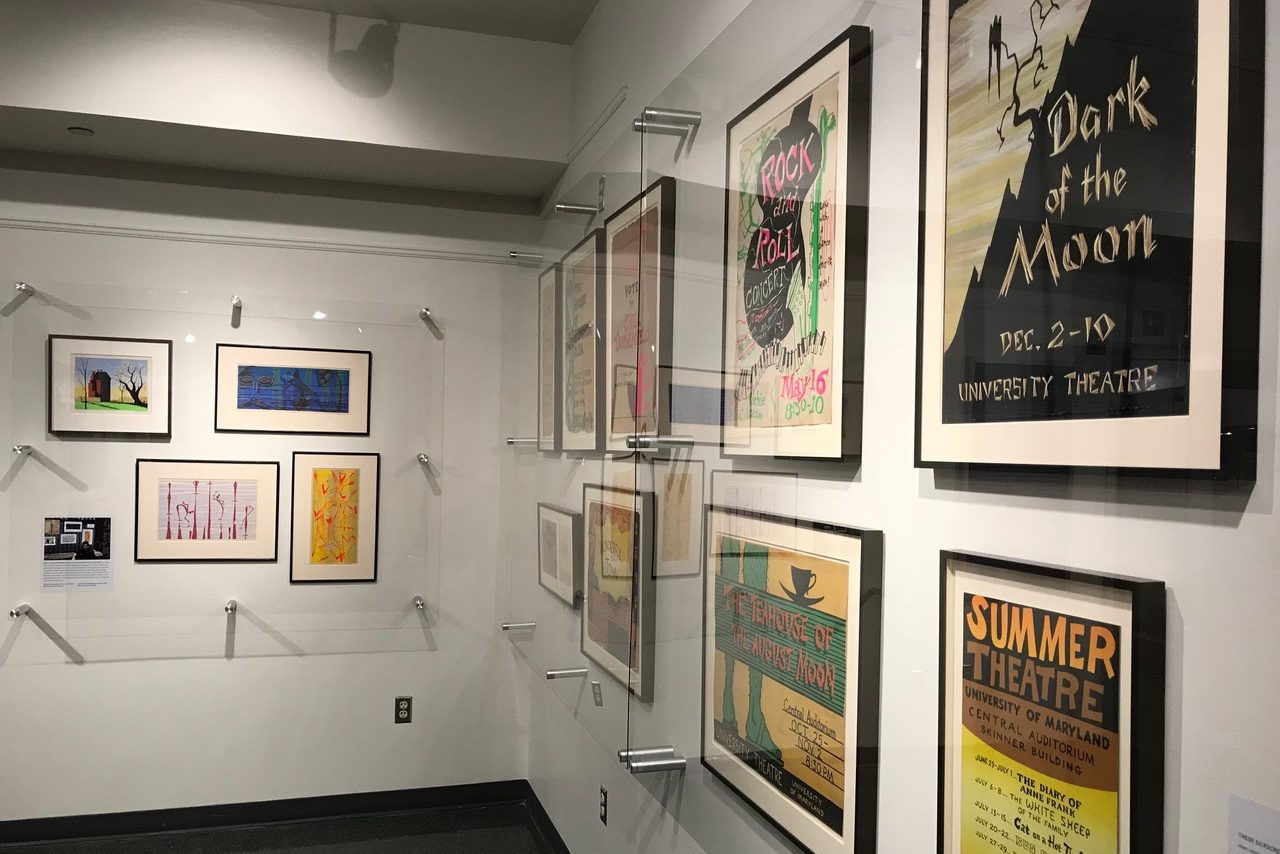 NextNOW Fest offered opportunities to see the work of many up-and-coming artists, but the Michelle Smith Performing Arts Library paid tribute to past successes. An exhibit celebrating Jim Henson's creative work and campus contributions was a new way to honor the University of Maryland graduate. "Inspired! Jim Henson at Maryland" was much more than an opportunity to brag, it was an opportunity to educate the campus on the alum's notable accomplishments.
"Jim, out of all the alumni, is on the more creative side of the spectrum," said Gabrielle Wanneh, a senior journalism major, who added the exhibit successfully displayed his "distinct artistry."
Despite being in a small space, "Inspired!" filled the library's entryway with striking colors. The walls were lined with vivid posters Henson created through a silkscreen process, many of which advertised theater productions. The exhibit featured some of his other projects as well including storyboards, sketches and puppets.
"He actually drew this," said Wanneh, which is especially shocking now in our digital age, roughly 60 years later. Hand-drawn projects require much more work, and Wanneh said she would be more likely to go to a production if it were advertised to have that level of care.
For many students, it's surprising to see Henson's coursework. Puppetry courses, like the one where Henson met his wife, still exist at this university. Fascinating projects from his fashion illustration and advertising layout courses were also on display.
…
When visual arts and music collide
By Audrey Decker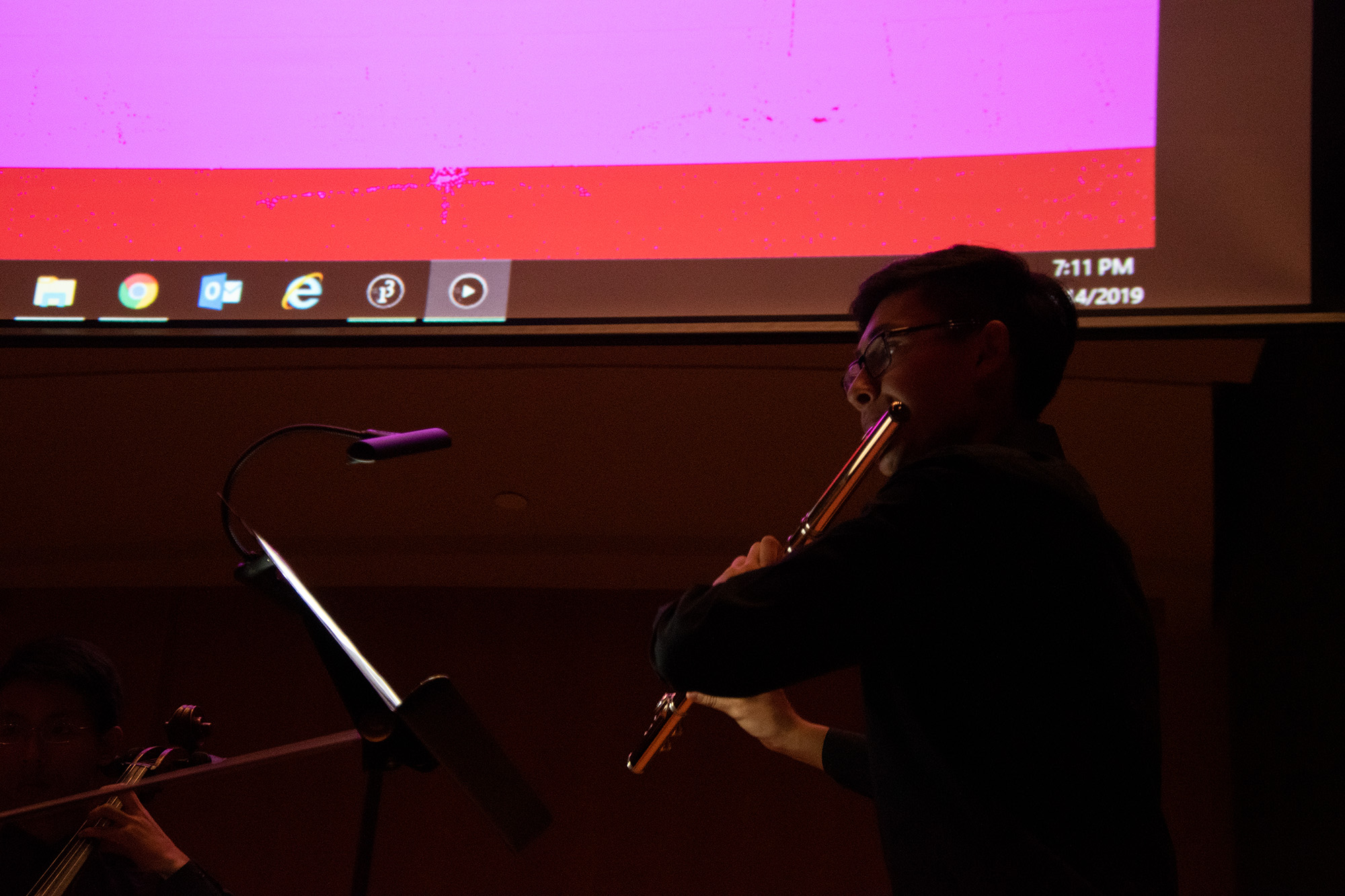 Two student-led groups, musical ensemble TEMPO New Music Ensemble and art and tech group Immersive Atoms, presented newly-composed works on Saturday night at NextNOW Fest. They came together for a beautiful and interesting performance that combined both of their focuses.
Not only did the students write all the music that was performed, they did it during a 72-hour challenge. The two groups had 36 hours to write a piece from scratch and another 36 hours to put it together and practice it. It blew my mind that the songs were written in such a short period of time and with a vast array of instruments including the flute, harp, bass, trombone among others.
For each song, different visuals were projected on a large screen above the student performers. Moving blocks and balls or lines that vibrated and contorted with sound appeared on the screen, giving listeners something to interact with visually. Not only did you hear music, but you could also utilize sight to create an immersive experience with the sound.
It takes a deep level of understanding to be able to compose music. My favorite song there, "Summer Day," took listeners through three parts of a summer's day and was composed by a sophomore. This reminded me of how many noteworthy student musicians and artists we have at this university. The intersection of sound and visuals proved that technology can be a beautiful facet of music — and students at this university are working to develop and expand this new world of art.
…
JPEGMAFIA delivers in a jam
By Manuela Lopez Restrepo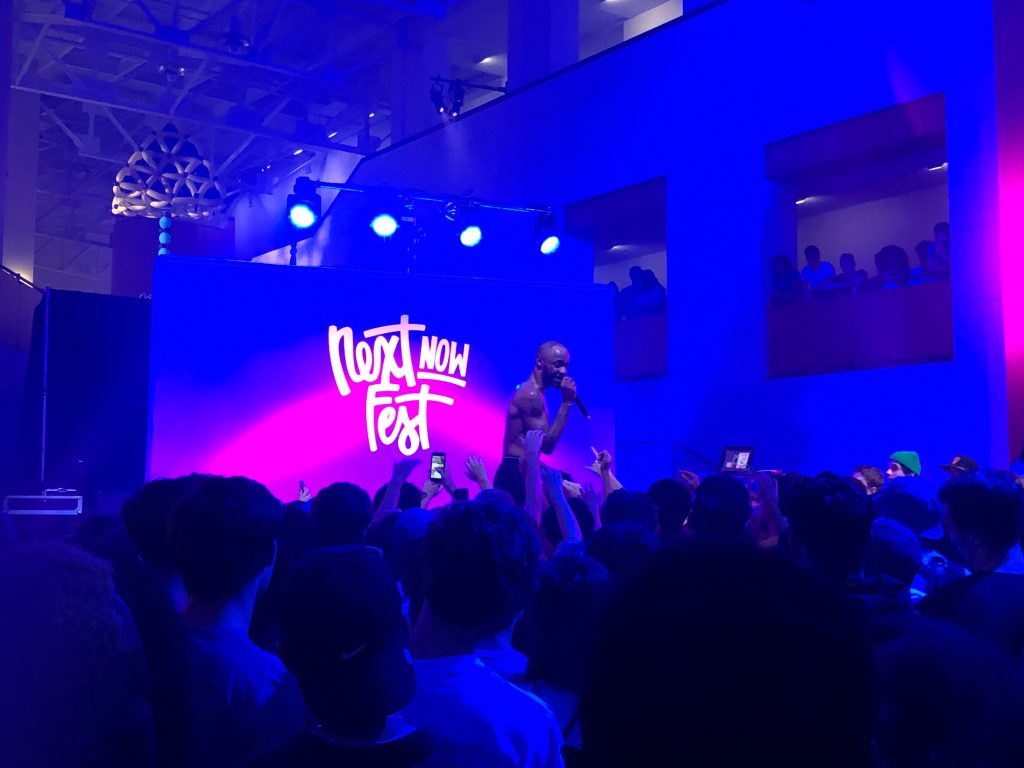 JPEGMAFIA is generating a lot of buzz these days, fresh off the release of his well-received album All My Heroes Are Cornballs. JPEG's eclectic sound is a combination of homemade beats and rapping delivered with an energy that can only be described as captivating.
On Saturday at NextNOW Fest, JPEG — also referred to as Peggy — was able to prove one thing. He can do his thing just about anywhere. Awkwardly sandwiched on a stage within the main hall, next to the staircase of The Clarice and between some of the balcony walkways, the Baltimore native performed a show that could have taken place in the basement of any lauded punk venue.
The strength and control he exercised over his audience — at one point running through the crowd and immediately returning to the stage with no issues — established that he knew his fans and they knew him.
Though part of his appeal is the grittiness of the audio and the rawness of his vocals, it felt like the venue was not sufficient for someone of his caliber, with the feedback from his microphone at times making it nearly impossible to understand his commentary and banter in between songs.
Though technical hiccups are certainly frustrating, any adversity in a live act's performance is an opportunity to prove their skills. Through his sweaty, dynamic and mosh-filled set, I'd say he did more than that.
…
Who knew an improvised musical could be so good?
By Paige Munshell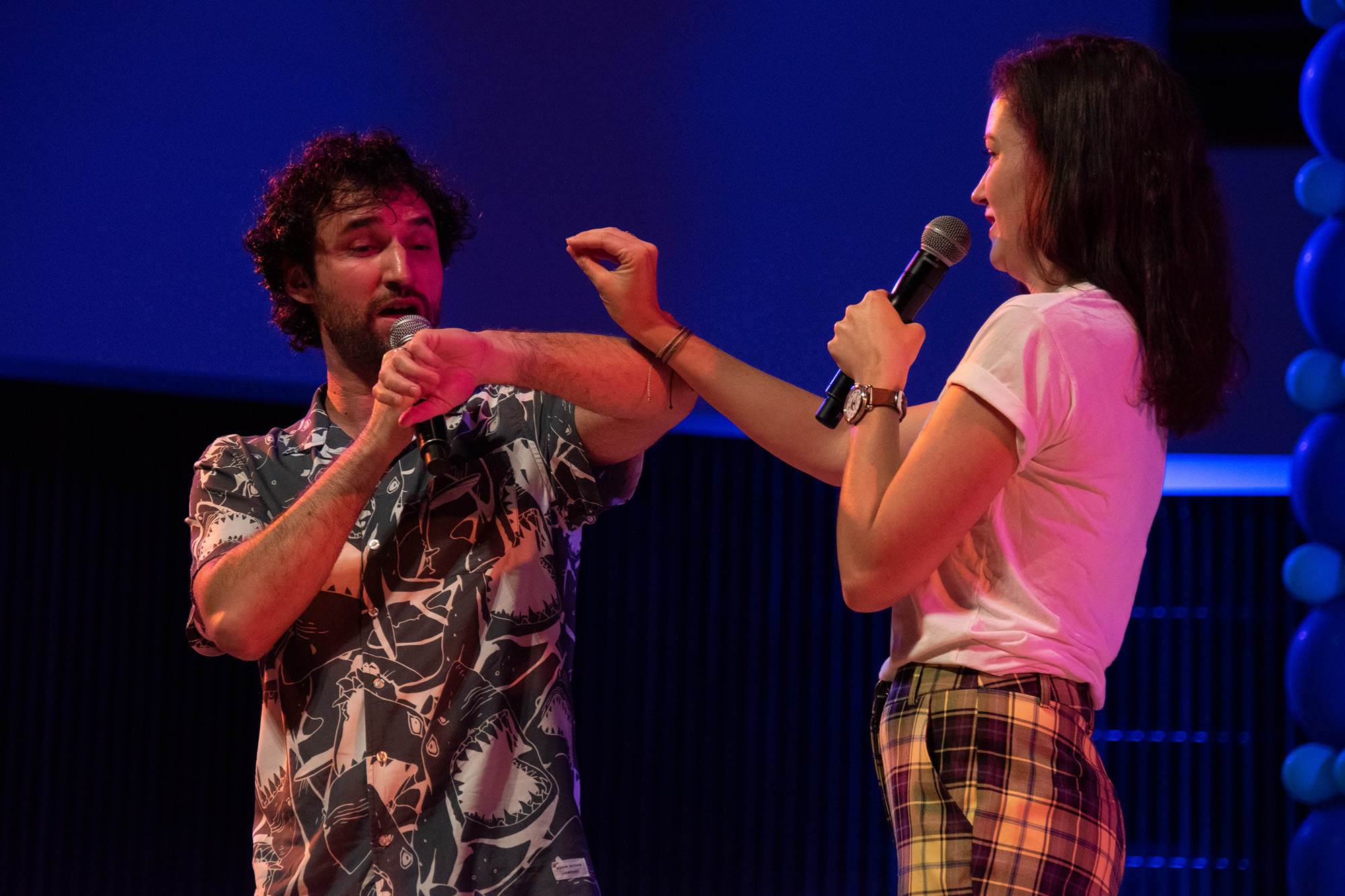 Off Book: The Improvised Musical seems like it would be a hit or miss — it's a risky thing to pull off. As leading man Zach Reino pointed out, both musicals and improv can be pretty terrifying — to perform or to watch — on their own.
But at NextNOW Fest on Friday, Reino and his improv partner Jessica McKenna proved that they could pull it off. Improv takes confidence and true humor — you can't fake it with already written and rehearsed jokes. With a one-word suggestion from the audience — "unicycle" — Off Book churned out a full hourlong musical that was hilarious and thematically sound, with on-the-nose humor that college improv teams dream of achieving.
It was everything that great improv can provide. Both team members challenged the story to become more absurd, and the other responded by tying it back into the storyline. The actors surprised their partner — and even themselves — with some turns of the story, struggling not to laugh on stage, but once it was out there, that's the way it was played.
And they aren't just live performers: Off Book has a podcast with more than a 100 equally original musicals, with full scores and emotionally invested characters. Off Book was a laugh-out-loud gem of NextNOW, and the Off Book: The Improvised Musical podcast is a can't-miss.
…
Snail Mail performed the set of my dreams in the midst of a personal nightmare
By Allison O'Reilly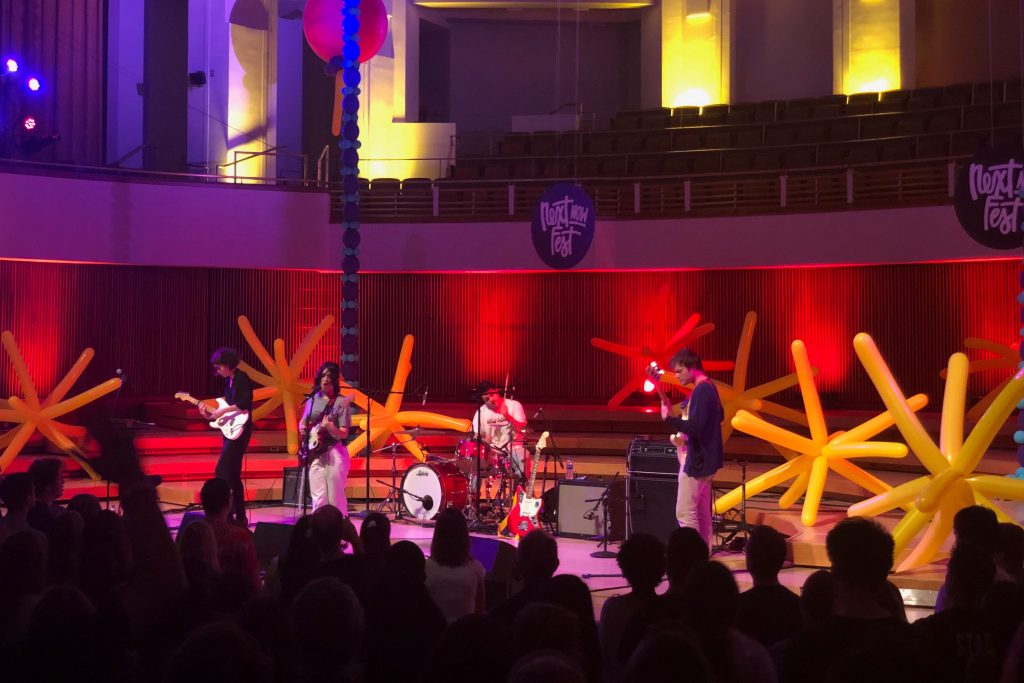 I arrived at The Clarice Smith Performing Arts Center for Snail Mail's Friday night performance at NextNOW Fest about five minutes before it started. I was immediately directed to the back entrance of the building because I needed a fancy press pass to roam the halls with my camera bag.
A nice young man walked me through some secret hallways of The Clarice to the side door of the stage for Dekelboum Concert Hall, and there stood frontwoman Lindsey Jordan and her bandmates in all their glory. I was starstruck — which is really embarrassing because Lindsey is about 5'2" and a year younger than me — but I said a meek "hi" and walked out seconds before the band so I could prepare to snap some photos.
And then I realized, I forgot my only memory card at home. Two songs, lots of stress tears and some deep breaths later, I was finally able to enjoy the music of one of the best bands to come out of Baltimore, even though I couldn't take pictures of them as I had planned. Lindsey's laid-back attitude made me feel happy and comfortable as I watched her become a part of her music.
At times, it was hard to hear Lindsey's airy singing voice in the echoey concert hall, largely because the sound coming out of her guitar was loud, powerful and mesmerizing. I can say with full confidence she's one of the best guitar players I've ever seen live.
Lindsey closed her set with two new, untitled songs performed without the help of a band — just a girl and her red electric guitar. The songs were so somber, they made me cry, and the entire room stood still as she shared her latest works.
Snail Mail's debut album Lush is one of those bodies of work everyone can connect to — it's young, full of passion and angst and visceral releases of emotion — and those feelings translated flawlessly on stage.
…
UMD designers shined for MasTERPiece fashion show
By Oyinkansola Awosika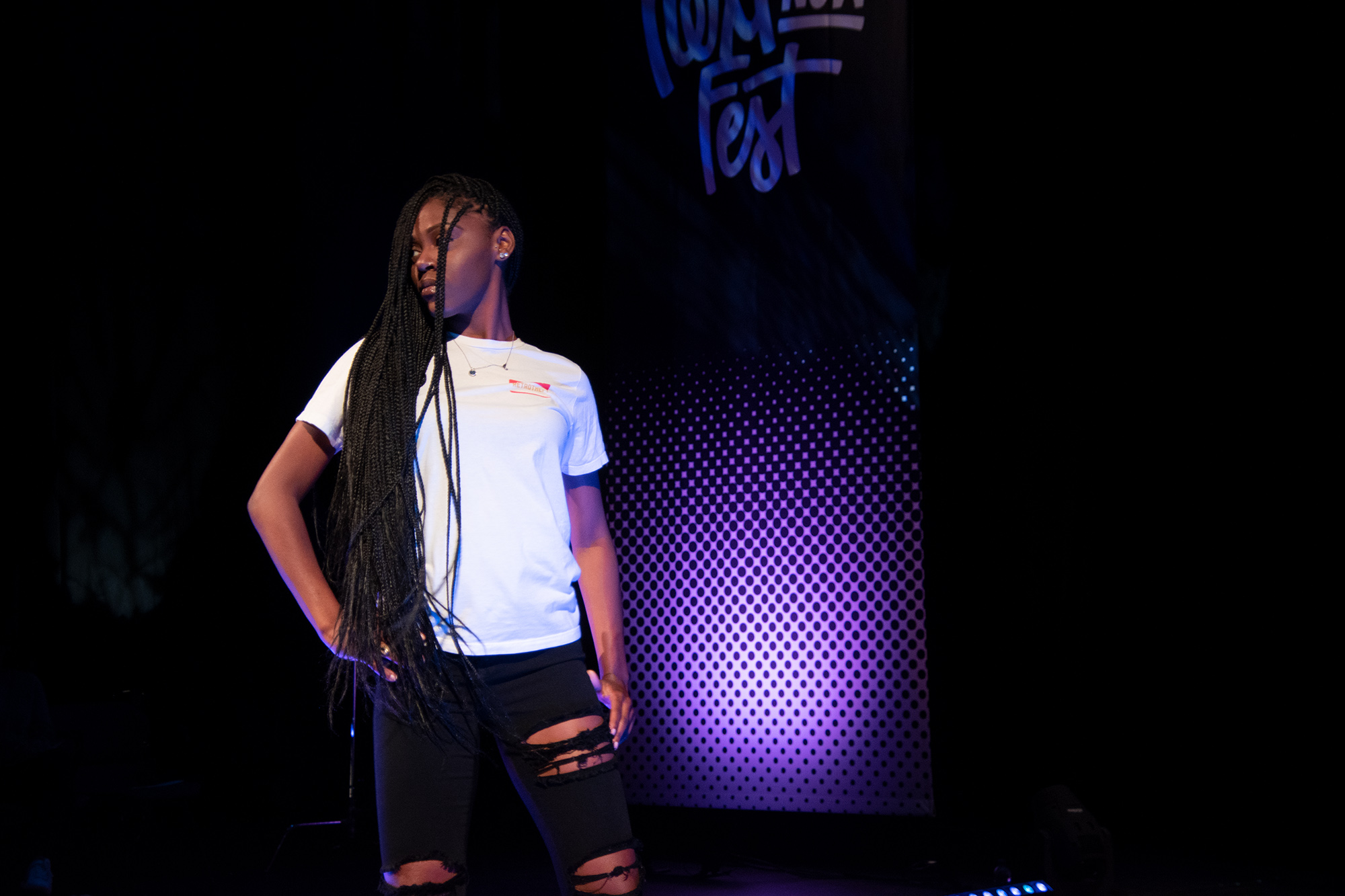 The University of Maryland student group MasTERPiece hosted a fashion show as part of NextNOW Fest on Friday, allowing student designers the opportunity to showcase their work and increase awareness about the university's only club dedicated to the fashion business.
The show featured work by two designers connected with the university— N.W.A.D. by Ifechukwude Nwando Arah, a senior African-American studies major, and C'est L'Afrique by Ashley Ako, a UMD alum who graduated in May 2019.
Arah created N.W.A.D., which stands for "Nwando with Attention to Detail," in March 2018 as a way to express her life experiences as a black woman and the shared experiences of other members of marginalized groups around the world. Arah's work, which consists of graphic T-shirts and poster prints adorned with her artwork, is heavily inspired by the work of other black artists and thinkers such as Fela Kuti, Angela Davis and Janelle Monáe.
C'est L'Afrique draws inspiration from West Africa and features unique Ankara fabric creations. These fabrics, which were traditionally made into dresses, shirts and blouses, Ako instead sewed and fashioned into more contemporary styles.
The styles featured at the MasTERPiece fashion show both spoke directly to the experiences of the African diaspora, and as a first-generation Nigerian-American, I was very pleased with what I saw.