Presentation days are a big deal in Architecture Design Studio I at the University of Maryland. It's when students unveil their projects not only to their classmates, but also to professional architects who take a break from their day jobs to observe.
Jason Abramowitz took Abrams' class in 2016, and on these days, he'd roll up to class wearing a crisp white dress shirt and a bow tie to stand out among his peers.
Abramowitz wasn't messing around. Throughout that semester, he didn't miss a single day in the studio, Abrams recalled. Three days a week, Abramowitz would brave the traffic from his home in Columbia and navigate his wheelchair through the oftentimes not-so-accessible campus to make it to the four hour-long class.
"You see students — if you teach for a while — that you know that they really want to be architects," Abrams said. "They have something extra special. Jason definitely had that." 
Abramowitz — who Abrams described as a "sweet soul" — died Aug. 18 after contracting pneumonia. He was 34, a year into the architecture master's program at Morgan State University.
Witty and smart, Abramowitz was happiest when those around him were happy. He was an ardent sports fan — a Washington Capitals devotee who also loved a good D.C. United game. He loved to laugh and always had a joke at the ready.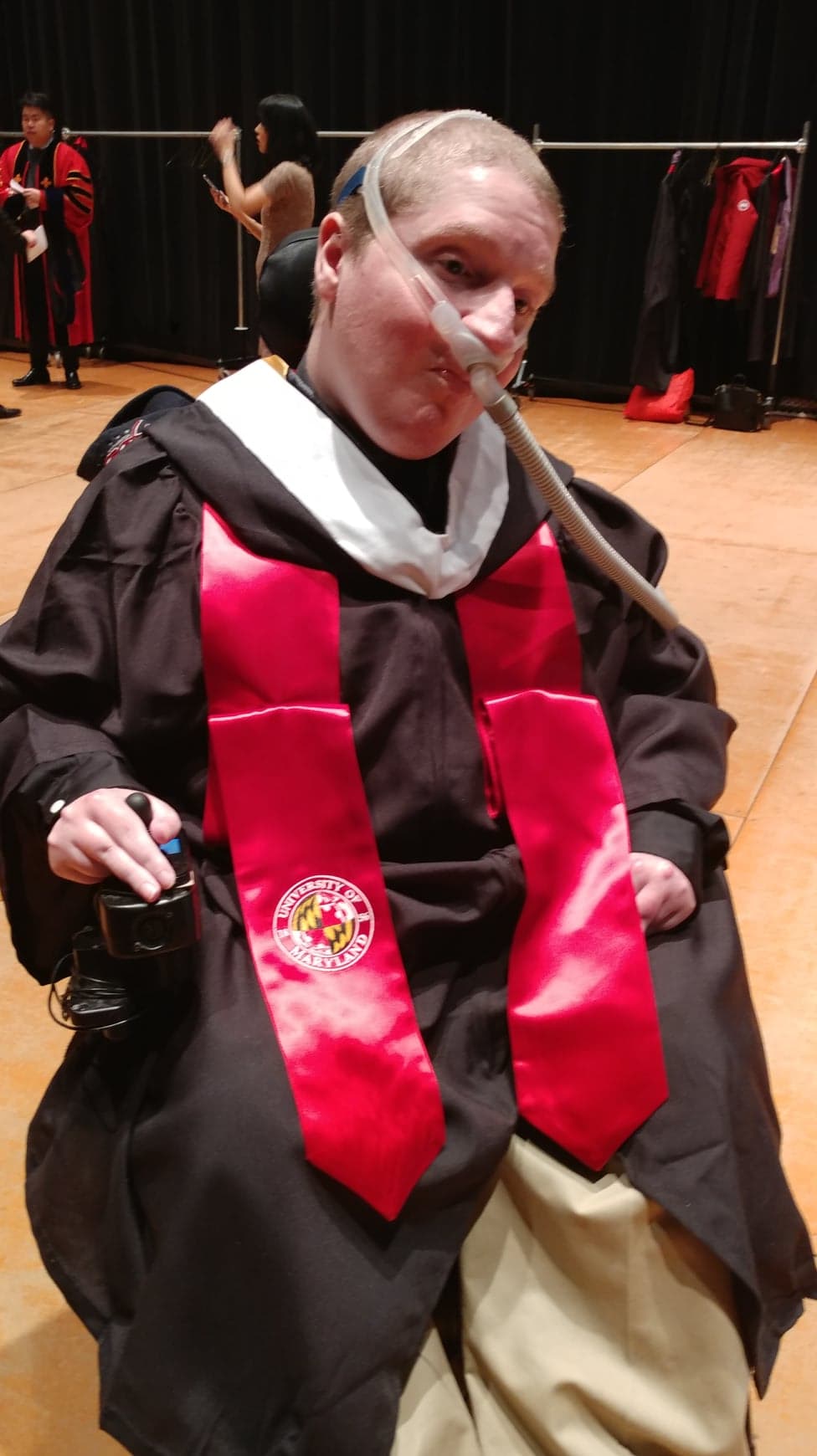 Abramowitz came to this university in 2013. In the architecture program, he ran into his fair share of obstacles. He had muscular dystrophy, so he wasn't able to sketch out designs or build models by hand, as is dictated by the curricula of some classes, such as Abrams'.
Instead, Abramowitz carved a new path, opting to 3D print his models and use his computer when manual drawings were required.
"I quickly realized that Jason has a willpower that's unsurpassed and amazing stamina and talent. I mean, the guy is very creative," Abrams said.
His essence was "just joy," said his best friend Brandon Richard. But that doesn't mean they were always nice to each other. Quite the contrary: the two never stopped ribbing on one another, Richard said, batting sarcastic jabs back and forth.
It all started back when they were both in sixth grade. It was an awkward time for Richard, who had just moved from Montgomery County to Howard County. And, in his words, he was kind of like a "fat Harry Potter without the magic."
Shortly after moving to his new school, Richard walked in a bit late to his reading class and grabbed the last free seat: right beside Abramowitz. It was his first time ever seeing someone in a wheelchair in person, so Richard said he stared a little. Abramowitz was quick to shut him down.
"He goes, 'What the hell are you looking at? I'm not a sandwich,'" Richard said, cracking up at the memory.
From that moment on, they were friends. Every day after school, Richard went home with Abramowitz, and the two did homework together until Dragon Ball Z came on. He started sleeping over Abramowitz's house almost as much as he slept at his own.
Abramowitz was just as dedicated to school then as he was in college, Richard remembered. Sometimes, his friend would get frustrated when he didn't understand something, but he always carried on.
"He just never quit," Richard said. "He never quit anything," 
After graduating from Oakland Mills High School in 2003, Abramowitz started out at Howard Community College. It was there that a few of his professors talked him into pursuing architecture.
Looking back at his brother's childhood, this path made perfect sense to Josh Abramowitz.
"At a young age, he could take a set of Legos and pretty much throw away all the instructions and not make what you were supposed to make with that set, but make something completely different," Abramowitz said.
Later, at this university, Abramowitz's interest in design evolved into a passion for architecture and a dream — Josh said his brother wanted to map out hospitals and medical centers that were easy to navigate for people with disabilities. He even went abroad to study strategies and techniques used in other countries to embed accessibility in facilities.
Outside of class, Abramowitz co-founded an architecture service fraternity, and helped the women's ice hockey club team with its website and social media.
His involvement touched Adrienne Baer, who was the hockey club's captain and president at the time.
"When I first started there, we didn't have a huge fan club," she said. "People aren't exactly clamoring to watch women's sports all the time."
Leading up to his graduation in 2017, Abramowitz's classmates chose him to speak at their commencement ceremony, said Brian Kelly, director of the architecture program. 
Kelly filmed his student's big moment. A shaky video shows Abramowitz telling a crowded auditorium that becoming an architect had always been a dream of his, but that he had reservations about "pretty much everything" when he started at the university. He didn't know if he'd be able to complete such a physically demanding program.
But throughout his time at this university, Abramowitz said his self-confidence increased, and he grew socially and academically.
"My one piece of advice to everyone is that anyone can persevere in their goals and dreams," he said. "Only doubt is a disability."
The video ends abruptly as Kelly stops filming to wipe away his tears.
Abramowitz left behind a crowd of loving family members, including his nephew. Josh Abramowitz said his 2-year-old son is still too young to really understand that he won't be able to call his uncle up on Skype anymore to talk about the latest Capitals game.
But in a year or so, Josh will sit down with his son, bring out some photos, and talk about his brother.
"He was always there to offer his advice to anybody, whether somebody with another disability or an able-bodied person," he said. "He was always there to help them in any way he could."
Staff writer Rosa Pyo contributed to this article.