Every time Mykell Hatcher-McLarin enters a bathroom, he makes a statement.
As the wooden door with the universal sign for "man" attached to the front swings open, Hatcher-McLarin "assures his malehood." Each time he goes unnoticed is a victory in a series of small battles that accumulate throughout the day.
He makes sure to keep his eyes on the floor as he enters and exits a bathroom to avoid all eye contact. Sometimes, he strategically drapes a jacket over the small opening created by the hinges on the stall. He doesn't like the idea that "someone can see me in my most raw state of mind."
Showering in dorm bathrooms such as those in Caroline Hall, where he lives now, is a "prisonlike procedure" for Hatcher-McLarin — get in quickly, get out quickly, don't draw attention to yourself. "A lot of quick movements, a lot of timing." Stay in the shower stall until everyone else leaves.
Mykell (pronounced "Michael" by friends, "My-kell" by family), formerly Mercedes, is a senior sociology major who came to college with one gender appearance and will leave having transitioned to another. 
Hatcher-McLarin has identified openly as transgender since his sophomore year of college, a process he began to phase into the year before. He'd test the waters, giving people the option to call him Myke or Mercedes, then she or he, as he transitioned. The director of his CIVICUS living-learning community, Sue Briggs, was the first authority figure to call him Myke, and others soon followed suit, albeit with some mistakes along the way.
"At first, there were a lot of trip-ups, because it just seemed out of nowhere to be honest," he said. "But I think once I started emphasizing a little more, my teachers were calling me Myke."
Hatcher-McLarin has seen the university progress in terms of transgender inclusiveness on the campus in the past few years. However, even as the state makes advances in transgender rights, Hatcher-McLarin and officials said the university still has room for improvement.

On March 27, the Fairness for All Marylanders Act passed in the House of Delegates, and it is expected to be signed into law by Gov. Martin O'Malley. The bill — which updates the state's anti-discrimination laws to include protections for transgender people in areas such as employment, housing, public accommodations and credit — directly affects transgender students at the university, said Keith Thirion, Equality Maryland's advocacy and programs director.
"Without it, students at the University of Maryland could step off the campus into Prince George's County, and unless they were in the town of Hyattsville, not be covered for anti-transgender discrimination," Thirion said.
Over the summer, Hatcher-McLarin worked with the Maryland Coalition for Trans Equality, running phone banks and gathering volunteers to work toward passing the Fairness for All Marylanders Act. He has felt the sting of a lack of legal protection for transgender people firsthand before the bill was passed — it's the reason he decided to live in university housing all four years of college.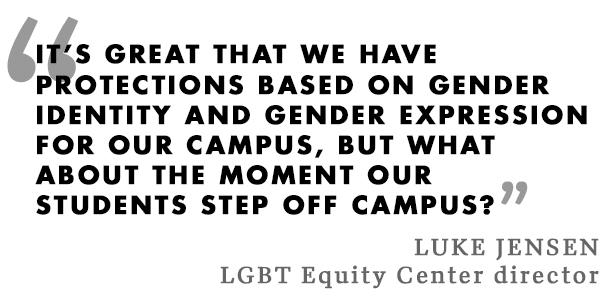 "I've been on campus because I didn't know whether it was safe to go somewhere else," he said. "I was nervous about whether I'd be able to find safe, stable housing off campus."
Luke Jensen, director of the university's LGBT Equity Center, said the bill protects students not only when they leave the campus but also in their futures when they are seeking employment. Jensen said he hopes students feel they could work in the state post-graduation because of the bill.
"We need to be uniform in how we protect all of our citizens throughout all of the state. It's great that we have protections based on gender identity and gender expression for our campus, but what about the moment our students step off campus?" he said. "In thinking about people's futures, where are they going to work? Are they going to work in the state of Maryland? Are they going to want to work in the state of Maryland?"
Although the bill gives transgender residents in this state the legal recourse to address instances of discrimination, Thirion said there is still "a real lack of understanding about what it means to be transgender and who transgender students are."

This university has gained a reputation for being relatively LGBT-friendly — Campus Pride named it one of the top 25 colleges for LGBT students in 2012 and 2013 — and Hatcher-McLarin said inclusiveness was "definitely a big part" of his decision to enroll at the university. Since his freshman year, he said, resources for LGBT students have improved drastically.
He also met his first transgender person at the university, a fellow student in his UNIV 100 class. But it wasn't until he overheard the student discussing gender qualities with a fellow transgender person — the director of Equality Maryland — at the LGBT Equity Center's welcoming reception that he mustered the courage to approach them.
"You're the first trans person I've ever met!" he said to the student. "I literally just pulled them both in, and we all hugged."
However, problems persist — issues invisible to most students, faculty and staff. 
Science professors sometimes still use terms such as "transgendered" instead of the preferred "transgender," Hatcher-McLarin said, and other people use incorrect gender pronouns. He's felt excluded from campus organizations — a sense of isolation because of his gender identity that's existed since before he came to college. He went to a progressive high school where he felt accepted when he identified as a lesbian, he said, but no one at the school was openly transgender or indicated he or she was familiar with the identity.
Jensen said experiences like these reflect those of many transgender students on the campus. 
"Someone might not use the pronouns that you think they should use, and sometimes it's forgivable in an initial encounter. But when someone tells you, 'No, my pronoun is this,' you need to respect that," he said. "It's really a slap in the face."

Hatcher-McLarin also faced some hostility living in university housing. Junior year, he lived in Oakland Hall, where a small whiteboard hung on his door. He wrote several of his identities on the board such as "black" and "queer," only for another student to later cross them out.
"It still is very jarring," he said. "People would be really, really confused when they'd interact with me."
A lack of privacy in dorms often presents a challenge for transgender students, said Erin Iverson, Department of Resident Life assignments and public inquiry manager. 
"We don't want students to fear where they live, and we want them to feel safe," Iverson said. 
At Oakland Hall on North Campus, Resident Life officials draw attention away from students who don't conform to traditional identities. A transgender student living on a single-gender floor might feel uncomfortable, Iverson said, but it could be easier for students of different gender identities living on the same floor to blend in.  
There are about 365 mixed-gender beds throughout the traditional halls on the campus, and the department plans to expand the number of mixed-gender floors in traditional halls. In North Campus buildings, the department will offer at least one floor for mixed-gender housing in each building, Iverson said.
In the fall semester, the department piloted a program that allowed students to choose between single-gender, mixed-gender and gender-inclusive housing, Iverson said. Gender-inclusive housing allows students, regardless of gender, to live together in the same bedroom on mixed-gender floors.
"I think the perception is by offering an option that students of different genders can live together that there'd be this huge flock of boyfriends and girlfriends living together, but that's a total perception," she said. "Students kind of recognize that that's a bad idea."
The needs of LGBT students, voiced at an LGBT forum in 2011, initiated a group within the department to respond to direct feedback quickly. This led to the formation of the university's gender-inclusive housing task force in 2012, Iverson wrote in an email.
The department did not want to give an unfair advantage to LGBT students in the housing selection process by predesignating suites, semisuites and apartments as mixed gender or gender inclusive — a process that would have required students to participate in a separate room-selection process. Instead, students received mixed-gender and gender-inclusive housing based on their priority numbers administered by the department, as part of the traditional room selection process. Students formed 35 mixed-gender groups in spring 2013, and 11 of those groups received it based on their priority numbers; an additional 150 students chose a room in a traditional hall on a mixed-gender floor, Iverson wrote.
"For any student, the level of privacy that our residence halls offer is just a challenge," Iverson said. "Our bathrooms aren't necessarily the best in terms of offering great privacy. It really becomes an issue if you're a transgender student."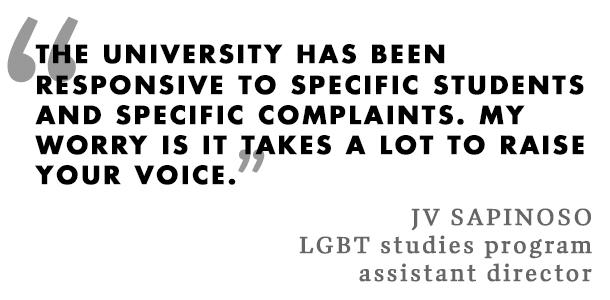 JV Sapinoso, LGBT studies program assistant director, said dorms are just one of the many challenges transgender students face on the campus. He has been at the university for 13 years and has identified as transgender for more than six years.
Often, Sapinoso said, the university effectively addresses individual concerns but not the larger problems — "The squeaky wheel gets the oil."
"The university has been responsive to specific students and specific complaints," Sapinoso said. "My worry is it takes a lot to raise your voice."
At the start of the LGBT 200 classes Sapinoso teaches, he passes out index cards for students to fill out with their preferred name, their name on the university roster and their preferred pronoun. Being called the incorrect name or addressed with the wrong pronoun by a professor can be a large source of stress for transgender students, he said.
"One of the difficulties is when teachers don't ask students names and just go by the list," Sapinoso said.
However, one of the improvements Sapinoso has seen during his time at the university is the introduction of the "preferred name" initiative. Although it takes a court order to change students' names legally on official documents, through the initiative, students can change their preferred name on their school identification cards, in the online system teachers use for grading and in their student email addresses.
Despite resources for LGBT people on the campus — such as the LGBT Equity Center, the Rainbow Terrapin Network, Trans U and Safe Space — misconceptions about the transgender community persist, Sapinoso said.
"There are lots of trans folks who do want medical intervention. There are some who don't," he said. "That notion of being trans is a much more complex process."

For those who choose medical gender-identity treatments, there is Penny Jacobs, a nurse practitioner at the University Health Center who provides primary care and women's health services. She is also charged with providing hormone therapy for transitioning transgender students on the campus, covered under the student health insurance plan.
Although the center does not have the medical expertise to start the hormone therapy process with students, Jacobs can continue to administer treatment as long as students started receiving it elsewhere, she said. Some health center professionals will receive additional training in June with the hopes of students being able to start the transition process on the campus, she said.
There are several clinics nearby, such as Whitman-Walker Health in Washington and Chase Brexton Health Services in Baltimore — where Hatcher-McLarin undergoes hormone therapy, a process he started his junior year — which Jacobs can recommend to students interested in undergoing the therapy.
"Some students will elect to go there, get started, and then they can transition here after their initial period," she said.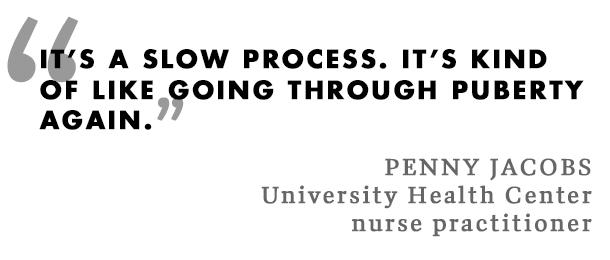 Each patient requires a "very individualized" treatment plan, Jacobs said, and each begins to exhibit changes in different ways at different times. However, transgender students typically don't see the full impact of hormone therapy until one to two years after beginning, she said — and characteristics such as facial hair, body growth and redistribution of fat can take as long as five years.
"It's a slow process. It's kind of like going through puberty again," she said.
Jacobs is providing hormone therapy to two students, and she said she's administered it to about 10 students since the health center began providing the service about three years ago. However, as more insurance plans start to cover hormone therapy, Jacobs said, there likely will be an increase in students who seek it out.
"I think that the tide is changing," she said. "I think we're becoming much more aware of transgender and transitioning people and their needs, and I think insurance companies are beginning to rise to that."
Hatcher-McLarin said deciding to undergo hormone therapy was exciting and "a very positive experience," but there were drawbacks to going through a second puberty at age 20. His thought processes changed — he felt less creative, and his voice dropped from a second soprano to a baritone more quickly than he expected.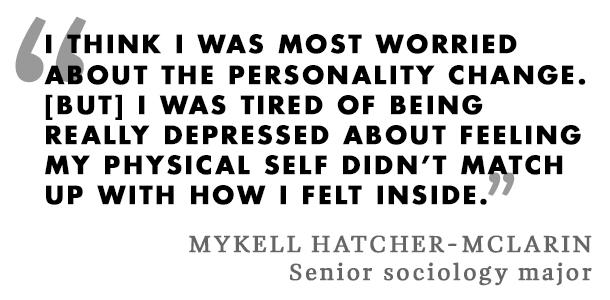 But Hatcher-McLarin hasn't looked back. He wasn't happy trapped in a female body, a body he knew didn't belong to him by the end of high school. After Googling terms such as "body discomfort" and "female to male," Hatcher-McLarin stumbled upon the term "transgender," which he hadn't heard before, and immediately knew it described him — so he decided to make a change, despite the fear and the drawbacks.
"I think I was most worried about the personality change," he said. "[But] I was tired of being really depressed about feeling my physical self didn't match up with how I felt inside."

It was a change Hatcher-McLarin's mother eventually came to understand. She initially had trouble with her daughter's transition into a son, but then saw Hatcher-McLarin was much happier as a transgender man and supported him. However, Hatcher-McLarin's older sister still refers to Hatcher-McLarin as her sister and does not use his preferred gender pronouns, even while she calls him Mykell.
While Sapinoso said university policy has kept up fairly well with the increasingly visible needs of the transgender community, some of the hardest things for transgender students are dealing with "microaggressions" — pervasive slights not commonly considered offensive — and one-on-one interactions with peers, professors and students.
For example, students might not want to participate in class because they fear their voice might "give away" the gender with which they do not identify. Sapinoso still deals with peers in his department who have known him as transgender for six years but still call him "she" or use his old name.
"I wanted to identify as trans … I was really sick of the gendered assumptions people made about me when they thought of me as a woman," he said.
University officials do not know the number of transgender students on the campus, Sapinoso said. But he hopes to move toward tracking self-identified transgender students, as well as all LGBT students, the same way the university tracks other demographics, in order to determine trends such as dropout rates and note which areas need improvement.
Sapinoso likened the extensive planning that goes into a day as a transgender person on the campus to someone with a disability — seemingly simple tasks such as finding a bathroom become major ordeals. Jensen said most of the university's new buildings have single-user bathrooms, and Stamp Student Union has a multiuser gender-neutral bathroom near the Maryland Food Co-Op, but it remains an obstacle for transgender people on the campus.
"I'm so used to having to plan ahead," Sapinoso said. "I've gotten used to it and accepted it." 
Although there are transgender resources on the campus, Hatcher-McLarin said he hasn't "utilized them so much." He knows some other transgender students on the campus and has mentored some students struggling with their transition, but he said he doesn't really hang out with other transgender students. To live as a transgender person is to master the art of getting by, and a group of transgender students walking down the quad is a lot more noticeable than just one, Hatcher-McLarin said.
"Sometimes, I kind of just want to live my life," he said. "Some days, I don't want to be the trans bullet."