For the Diamondback
By Dylan Jaffe
Anna Boyd, a sophomore plant science major at the University of Maryland, balances her busy academic schedule and social life on top of her self-run business, Slut for Yarn.
Boyd sells handmade crocheted clothing and accessories mainly through her Instagram page.
While her grandma taught her how to knit, Boyd took it upon herself to expand her skills and learn how to crochet by watching YouTube videos. She practiced by crocheting hats, stuffed animals and baby items for her mom's friends.
[UMD student affairs VP Patty Perillo, RHA discuss optional mask policy for fall 2022]
As she began creating clothes for her friends and herself, Boyd realized she wanted to continue her hobby on a broader scale.
After creating her Instagram account, she began to gain followers and more customers. Because crocheting is a tedious process, balancing a business on top of academics and a social life can be tricky.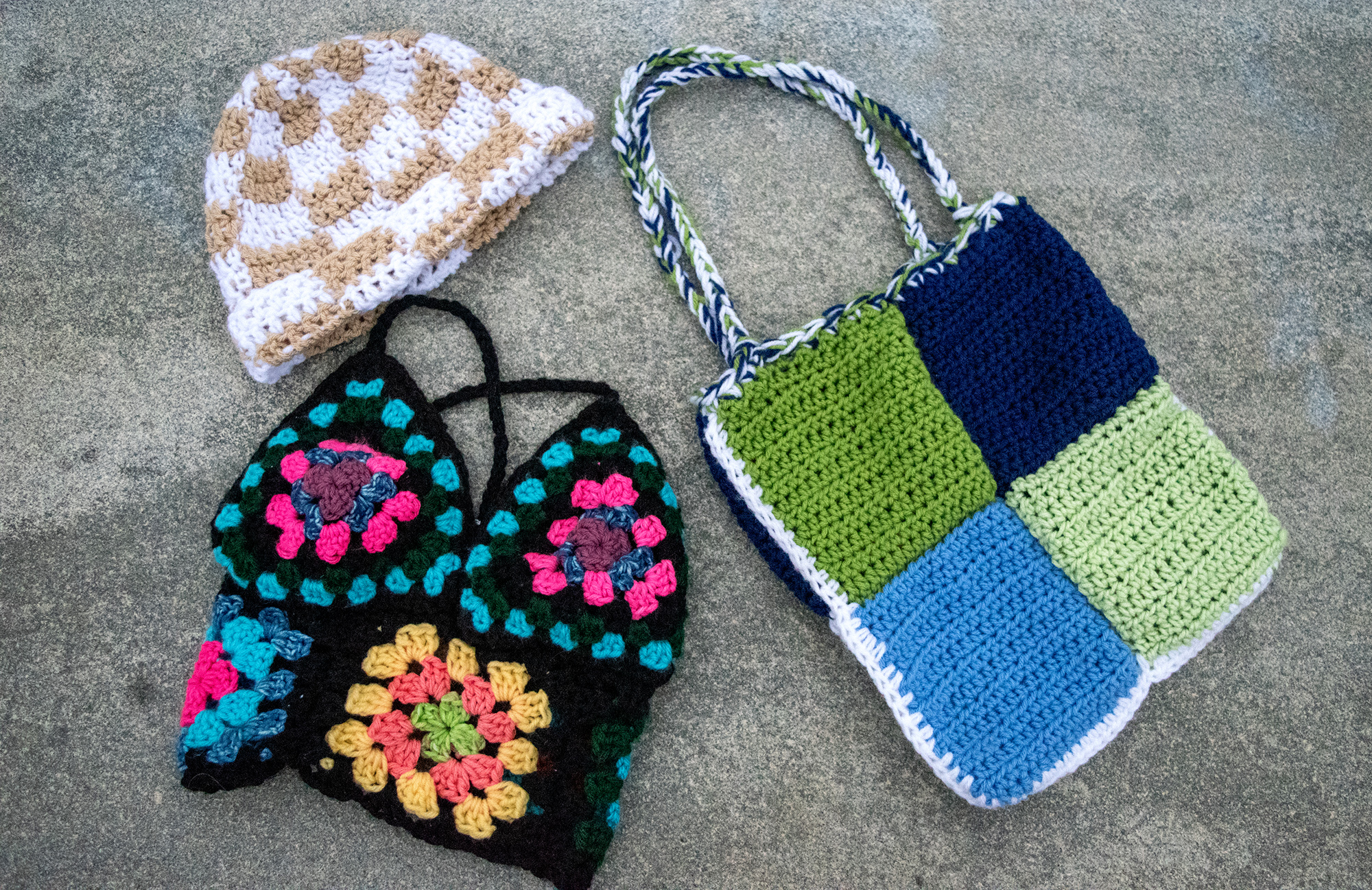 "I treat it like a job — a lot of people, a lot of my friends have jobs on top of school work but it's not super hard because it's something I can do when I'm just relaxing and because I enjoy it so much," Boyd said. "I come back from class and I'm like, 'OK, I can watch Netflix and crochet.'"
Boyd tries to be as sustainable as possible when it comes to her business. She reuses all of the packaging for shipping products such as cardboard boxes, Amazon mailers and bubble envelopes.
With the uptick in popularity, Boyd has considered adding a business minor in addition to her plant science major. Being a full-time student can be very time consuming, however, she has begun thinking more about what her future holds in regard to her business.
[Students, faculty reflect on changes to diversity general education requirements]
"It's definitely a side hustle right now because I'm in school but if I didn't have school or a job and I could crochet all day I bet I could make it a real thing to support myself fully," Boyd said. "I would love it if I could have a real business or a little shop or something, I think that would be really cool."
Having the support from her friends and family is something Boyd greatly appreciated. Some of her customers have commented on the efficiency and quality she puts into her business.
"The experience was 10/10 and amazing. She was really quick and responsive," said senior mechanical engineering major Rebecca Massarik. "I ordered it actually through her Instagram account … and she was willing to customize it for me so I'm so happy with it."
Kiera Green, another customer who purchased a top and a freshman enrolled in letters and sciences, said, "I saw Anna for the first time wearing one of her tops out … and I immediately followed … [her Instagram]. [The piece] came in a few weeks, it was very well made, I got to completely customize all the colors and it was super cool."