Growing up in Bethesda, there was nothing better for brothers Daniel and William McKinnon than cooling off on a hot summer day with Clayboys Shave Ice.
"Kids basically hovered around this shave ice cart because it's been there for so long, and it was reliable," said Daniel McKinnon, a senior English major at the University of Maryland. "Everybody loved it."
But when William McKinnon graduated from Tulane University in spring 2021 and took up a job as a DoorDash driver amid the pandemic, he noticed that Clayboys — a Bethesda area staple for more than 20 years — was gone.
"I was just itching for a shave ice," William McKinnon said. "I didn't see the cart anywhere."
After scouring the Clayboys Shave Ice Yelp page, the McKinnon brothers found that the business owner of 30 years had put it up for sale.
"We immediately bought it," Daniel McKinnon said. "We knew [the significance] it held in our area and wanted to keep it going."
Former Clayboys owner and University of Maryland alumnus, Scott Styer, felt lucky the McKinnon brothers bought the business. The pandemic made it hard to continue selling shave ice, Styer said. He also has Dupuytren's contracture, a gradual tightening of hand tissue that was starting to make it harder to run the business.
[Footage Society, a Laurel sneaker boutique, embraces culture and community]
Even though Styer doesn't own the business anymore, the McKinnon brothers are working to carry on the unique ice shaving techniques that made Clayboys a Bethesda-area staple.
Clayboys moved to Bethesda in the early 1990s after Styer spent time in Hawaii perfecting the art of shave ice.
Styer used only cane sugar in his products, rather than the corn syrup used by many competitors, and found a man who would sell him rich flavors to add to the ice. To grind the ice, Styer used a Japanese Fujimarca Ice Shaver Machine.
Daniel McKinnon said these techniques helped Clayboys stand out when it relocated to Bethesda. The Fujimarca machine shaves ice on a sharp blade to produce a thin and snowy consistency, which allows the ice to hold the flavor better.
"It's as simple as making snow cones for everybody," Daniel McKinnon said. "Our signature is that we have like a little small Swedish Fish at the bottom of every cup."
After buying the business from Styer, the McKinnon brothers met him in Baltimore to learn how to make shave ice. William McKinnon said Styer gave the brothers all of his equipment and taught them how to use it, as well as set them up with the same Hawaiian flavor salesman he had used for about 30 years.
"Shaving ice is an art," Daniel McKinnon said. "We just tried to take everything that [Styer] said really seriously about that process and stick to it."
Despite many crediting these techniques for Clayboys' success, Styer said there is a different reason why Clayboys is such a staple in Bethesda: building strong family connections.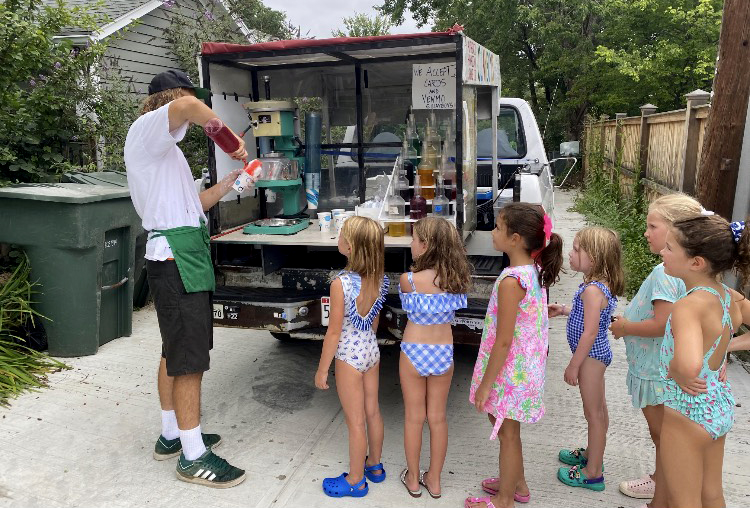 [UMD students launch small businesses born out of pandemic hobbies]
Styer named the business after his first son, Clay, who was born within a week of Styer beginning his shave ice sales in Hawaii. Styer named the Clayboys cart for his middle son, Calder, and the business added a bike named after his youngest son Jackson was born.
This family approach is something the McKinnon brothers hope to continue. William McKinnon said part of their reason for buying Clayboys is to give the two youngest McKinnon brothers, ages 13 and 17, good summer jobs.
"That's all part of it, it's the whole camaraderie of having my sons be there, my brother," Styer said. "Then passing it off to these guys, it's like 'That's perfect, they're gonna have the same experience I had.'"
With Daniel McKinnon attending this university, Clayboys recently obtained a permit to sell in Prince George's County. Daniel McKinnon brought the Clayboys truck to school this fall and found success selling shave ice to construction workers around College Park.
By next summer, the McKinnon brothers plan to have another Clayboys truck so they can sell in both Montgomery and Prince George's counties. William McKinnon is also expanding the brand recognition by making merchandise for the business, which Styer did on the side during his years as owner.
The McKinnon brothers want Clayboys to eventually become a staple in the D.C.-Maryland-Virginia region with franchise locations throughout the area. In the wintertime, William McKinnon said the truck may road trip to Miami to keep selling shave ice without having to worry about frigid East Coast winters.
"You get out of it what you put in," William McKinnon said. "If you work hard, if you put in all your time, you really dedicate yourself to it, it can be super lucrative, it can be super successful, it can be a lot of fun."