The University of Maryland's Dining Services culinary team is offering a series of tastings — from tuna tartare to vegan tinga tacos —  that are compliant with the Cool Food Pledge, a global initiative to reduce greenhouse gases tied to food production.
This university signed the Cool Food Pledge in 2019. It's the first institution of its kind to sign the pledge. Under the program, which is an initiative of the World Resources Institute, companies, universities, cities and municipalities commit to reducing their food-related greenhouse gas emissions by 2030.
The institute uses an ingredient list to calculate a dish's carbon footprint by analyzing the agricultural supply chain and land used to produce the meal, according to WRI's website. If the carbon footprint falls below an established per-meal threshold and meets nutritional standards, it is certified as a Cool Food Meal.
"The World Resources Institute helps us track our data to make sure that we are meeting our commitments relating to the pledge," said Allison Tjaden, the assistant director for new initiatives in the dining services department. 
This week, there were three tastings, one outside each of the university's dining halls. Dining services offered marinated mushroom lentil bowls by 251 North on Monday. On Tuesday, they offered sweet chili tempura butternut squash by the South Campus Dining Hall and portobello fries with truffle lemon aioli by the North Campus Dining Hall.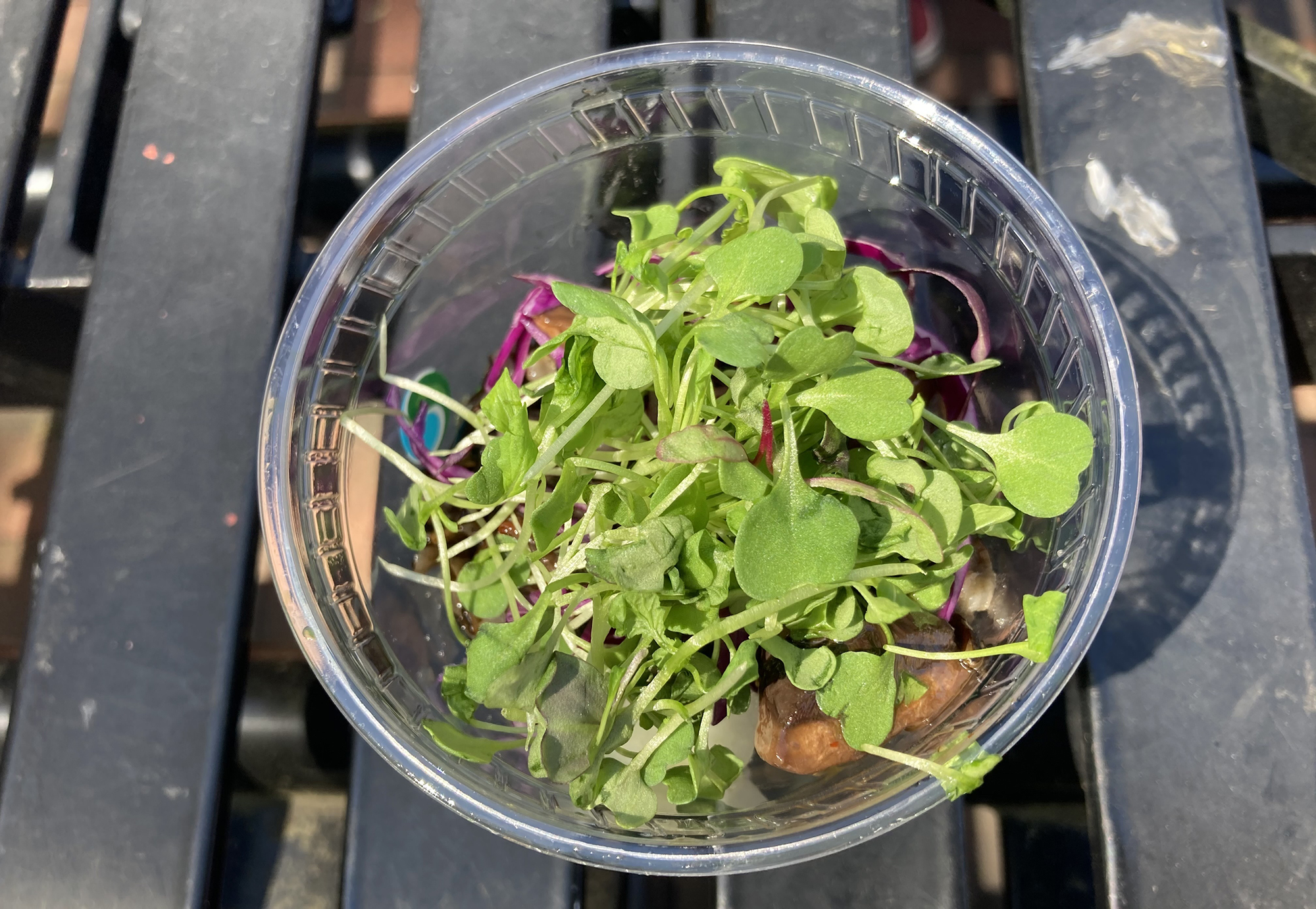 Sophomore Emmanuel Corporal sampled the mushroom lentil bowl, which consisted of marinated mushrooms, wild rice, lentil, red cabbage, cucumber and microgreens.
"This mix [is] overall pretty solid," the international business and supply chain management major said. "It's definitely better that it's more natural, no extra sodium or other stuff on it."
He said he plans to try more of the samples if he finds himself in the mood to try something new when they're offered.
Freshman anthropology major Faith Antonetti didn't expect to enjoy the butternut squash dish because she's used to squash that is "not as well prepared," she said.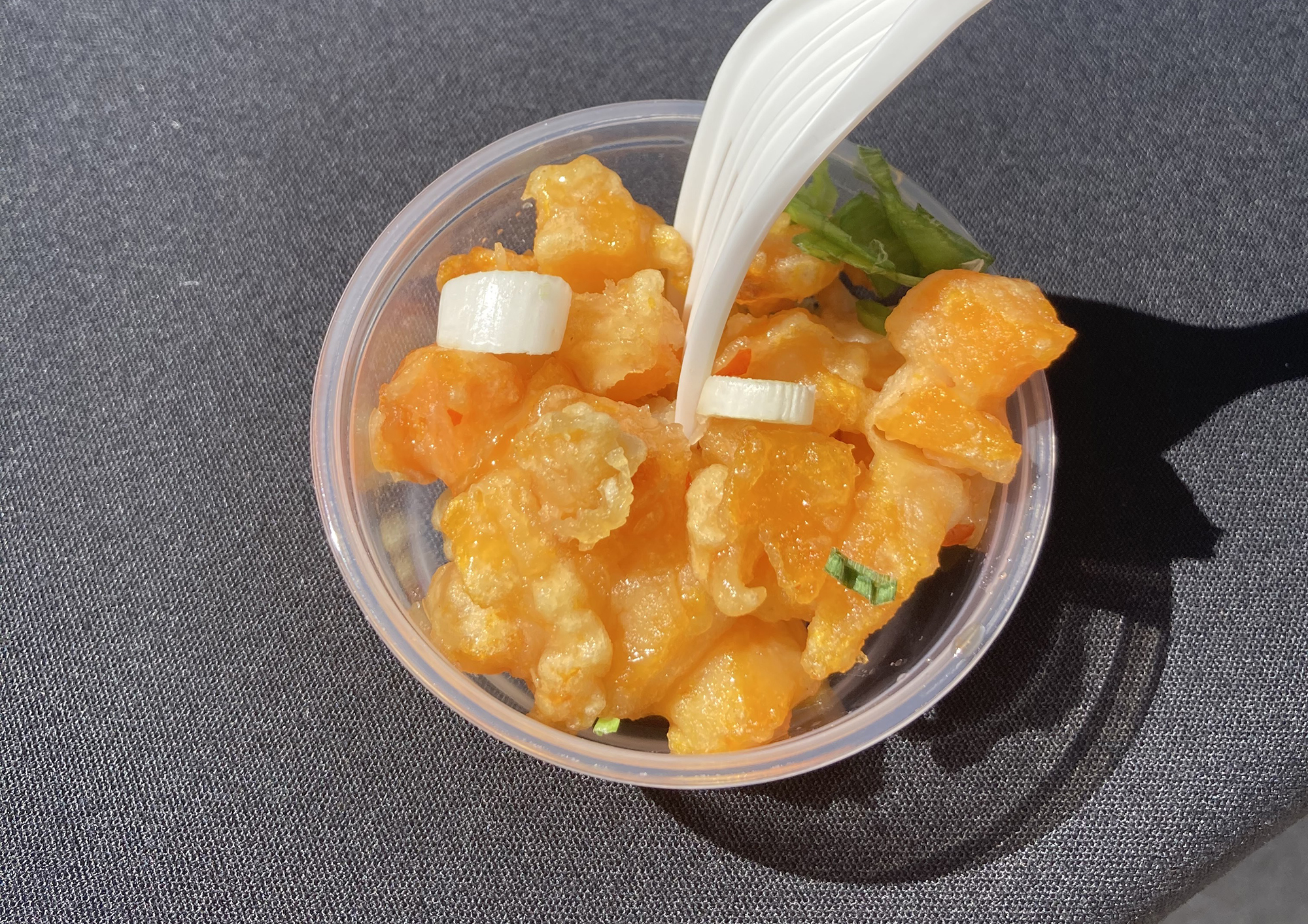 "I think it's actually really nice," she said. "It's kind of savory … It's just a different texture and flavor for me, but I enjoy it."
Freshman Emma Sampson said they would recommend the portobello fries.
"It's crunchy on the outside and soft on the inside. It definitely has the taste and texture of what you would expect from a mushroom," the biological science major added. "It's a good and healthy alternative to French fries."
At each of the tastings, there are handouts with QR codes, which students can scan to provide feedback about each dish.
"We always take that feedback into consideration when we're thinking about what to put on the menu," Tjaden said.
The Cool Food tastings will continue outside dining halls over the course of the next two weeks. They are subject to change based on weather and availability. A tentative menu is provided below, and updates are available on Dining Services' social media accounts: @umddining on Instagram, @UMDdining on Twitter and @umddining on Facebook.
North Campus Dining Hall
May 4: Tuna tartare with avocado on wonton crisps with Sriracha mayo and toasted sesame seeds
May 11: Vegetable and quinoa paella with shiitake bacon
South Campus Dining Hall
May 4: Saffron rice with dates and raisins
May 11: Falafel ball with lemon tahini sauce
251 North
May 5: Vegan nachos
May 15: Vegan tinga tacos
CORRECTION: Due to a reporting error, a previous version of this story misstated the Twitter handle of the University of Maryland's Dining Services. This university's account is @UMDdining, not @diningumd. This story has been updated.