In March, when the coronavirus pandemic began spreading to Maryland, Laurie Lemieux didn't know if her business would have to shut down. Gov. Larry Hogan had announced the closure of all non-essential businesses, sparking uncertainty for some business owners such as Lemieux, the co-owner of Proteus Bicycles. 
Suddenly, her store, which has been around for almost 50 years, was in jeopardy.
But now, more than a month later, two bicycle shops in College Park — College Park Bicycles and Lemieux's Proteus Bicycles — are seeing a spike they haven't experienced in years.
"Here we are, thriving in the weirdest time of all," Lemieux said. 
The increase in customers comes as states have instituted stay-at-home orders nationwide, leaving people confined to their homes with limited distractions. So, people who haven't ridden a bike in a long time — sometimes even decades — are deciding to either buy a new bike or get their old bikes serviced during the quarantine, Lemieux said. 
 "They're trying to get outside and get some exercise," said Lemieux, who has co-owned Proteus Bicycles since 2012. "I don't blame them."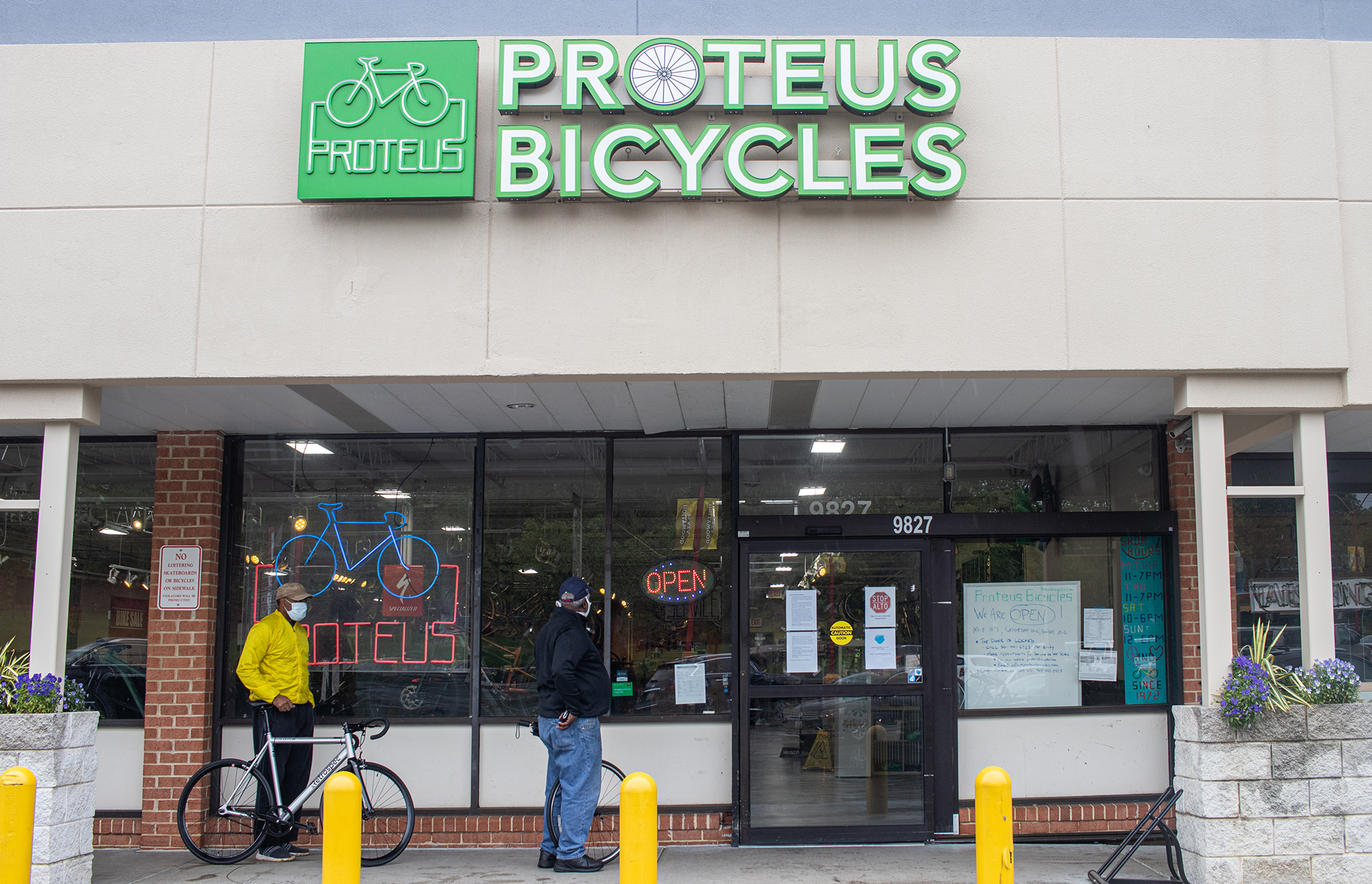 [Read more: With limited federal funding, Prince George's County businesses are relying on local help]
Since mid-March, Proteus Bicycles has experienced a 37 percent increase in new customers compared to the same time last year, Lemieux said. Some customers are buying new bikes — usually those in the sub-$500 range, which are best for casual riding — and others are bringing in older bikes that have sat unused for years.   
Larry Black, the owner of College Park Bicycles, said some of his customers have recently brought in 50-year-old bikes, which he enjoys servicing. In fact, his business specializes in older bikes, he said. 
Black attributed the uptick in business to the fact that for some, every day feels like the weekend. The biking experience has been more enjoyable recently, he said.
"Bicycling right now has never been better because the air is clean, and there's no traffic," Black said. "They'll continue to reap the joys of biking." 
The industry is reaching a level of success it hasn't sustained since the early 1970s — when bicycles temporarily out-sold cars in the United States, according to The New York Times.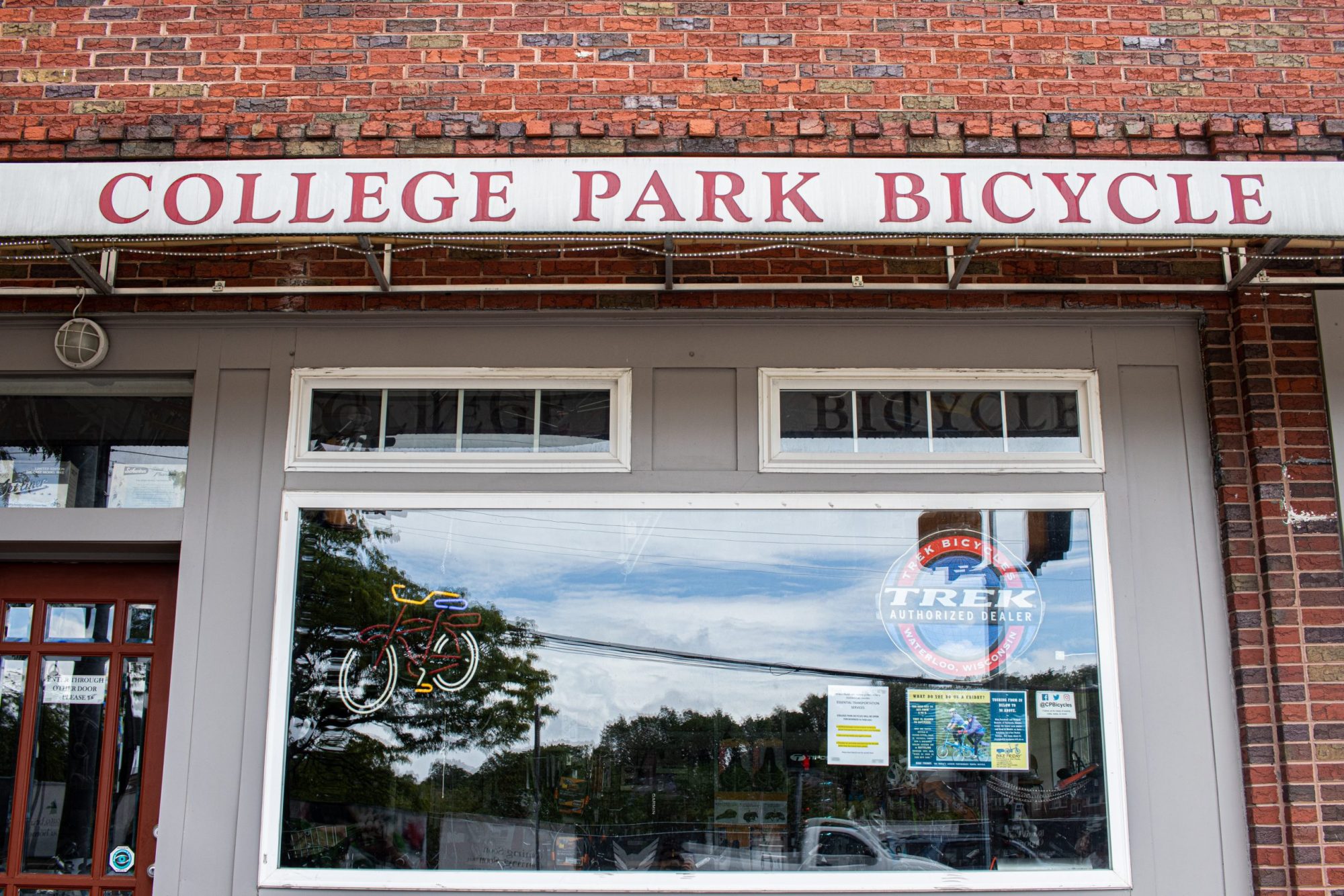 However, the current surge brought on by the pandemic comes at a time when similar brick-and-mortar shops have struggled to stay afloat. From 2001 to 2015, there was a nearly 40 percent decrease in bike shops nationwide, according to the National Bicycle Dealers Association. 
"It's always been a business that's been overlooked," said Black, who worked at a bike shop through the 1972 cycling surge. "It's a practical business. Bicycles stores are a source of neighborhood gathering."
Part of the increase in business for Maryland bike shops can be attributed to the work of bicycle advocates, including College Park Mayor Patrick Wojahn, a member of the Washington Area Bicyclist Association. 
After Hogan announced in March that non-essential businesses — including bike shops — in Maryland had to shut down in response to the pandemic, Wojahn and other advocates reached out to Kelly Shulz, the state's secretary of commerce, to voice their concerns. 
It didn't require much convincing — the next day, a clarification was issued affirming that bike shops are an essential service. 
[Read more: Small businesses in College Park struggle through coronavirus pandemic]
For Wojahn, advocating for bike shops to remain open was an easy decision. Many people use bicycles as their primary mode of transportation, he said, so they rely on the bikes being in good condition. Before the coronavirus, he biked 12 miles to his job every week during the warmer months. 
"This is waking up people a little bit to the opportunities that exist on a bike," Wojahn said. 
College Park resident Millie Tansill said she's biked in recent weeks to exercise and run errands. She's even noticed more people in her neighborhood who seem to be new to riding bikes. 
"I get to see lots of people bicycling," Tansill said.  "[Rhode Island Avenue] is a very popular route for bicyclists to take in north College Park."                                    
Lemieux worries that her business will not be able to keep up with the high demand, she said. Since many bike shops around the country are experiencing a spike in sales, Lemieux's vendors are beginning to run out of stock, she said.
"This is not just us," Lemieux said. "This is a nationwide phenomenon."
Some stores have already begun to run out of bikes, Black said, so they're sending their customers to his shop. But he said he thinks the supply will catch up in late May or June because bike shops are still feeling the "echo" from the Chinese New Year in January — when bicycle shipments are halted for about two weeks as many suppliers are celebrating the holiday. 
Black said he's optimistic that his business will hold steady even once things return to a semblance of normalcy.
"There's a silver lining for the bike business," Black said.