Alex Lane stepped to the plate with two outs and two runners on for Bryant in the sixth inning, looking to break through against right-hander Nick Dean, who was nearing the end of his outing and had worked himself into a jam.
It would take just two pitches for the battle to end in Dean's favor, with the freshman getting Lane to ground out. Dean could finally breathe a sigh of relief as he strolled into the dugout and was greeted with high-fives. The right-hander — the Terps' highest-rated recruit — flashed his potential Saturday in his fourth start, tossing six scoreless innings.
His effort, along with a three-hit day from Randy Bednar, helped Maryland (9-4) knock off the Bulldogs 8-3 Saturday in College Park.
[Read more: Chris Alleyne, Bobby Zmarzlak lethal from plate in Maryland baseball's 14-3 win vs. Bryant]
Bobby Zmarzlak and the Maryland offense kept rolling in the first inning. The freshman designated hitter — hitting cleanup after a two-homer, seven-RBI performance on Friday— drilled an RBI double to the left-center field wall to open the scoring.
And after a walk from Bryant right-hander Tyler Schoff to load the bases with one out, Matt Orlando and Ben Cowles each stroked RBI singles, giving the Terps an early 3-0 lead.
That was enough of a cushion for Dean. Though the freshman did not record a three-up, three-down inning, he worked in and out of trouble all afternoon. Dean issued a walk in each of the first three innings but stranded each runner in scoring position.
He largely kept the Bulldogs (2-10) off-balance with an electric fastball and sharp offspeed pitches, limiting them to just three hits over his outing. For the Bulldogs, Schoff tossed a scoreless second and third innings, but Maryland added to its lead with two outs in the fourth.
Bednar stood on third base with Troy Schreffler coming to bat. The left fielder then dropped a squeeze bunt down the third base line, surprising Bryant. Bednar scored and Schreffler reached base, putting the Terps up by four.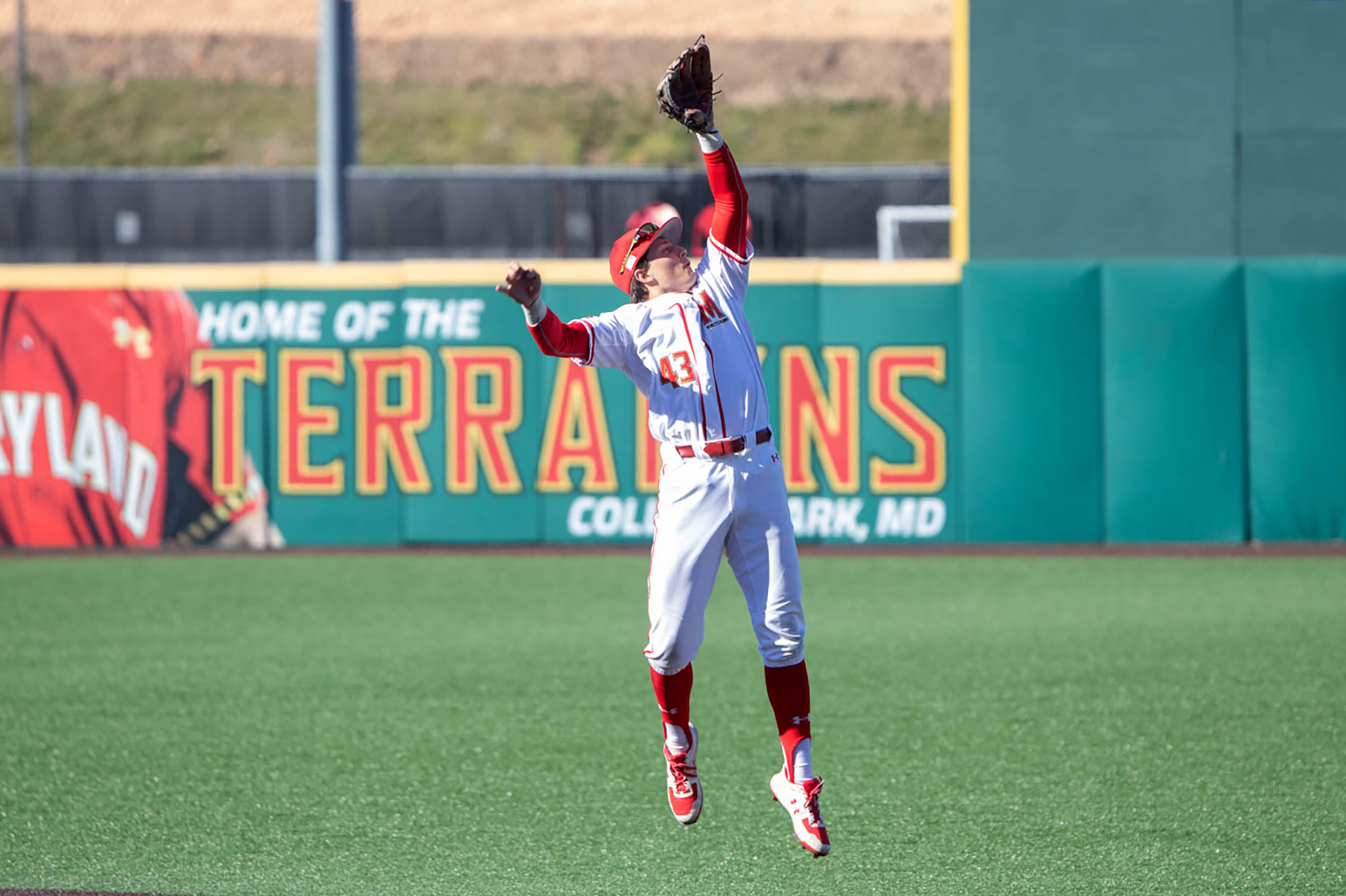 [Read more: With 5-RBI day vs. Delaware, Ben Cowles broke out of season-opening slump for Maryland]
Bryant turned to their bullpen in the fifth. In four innings, Schoff allowed four runs on eight hits while striking out three and walking four.
Maryland jumped on right-hander John MacDonald. With two runners in scoring position and one out, Bednar clubbed a two-RBI double to the left-center field wall, pushing his team-leading RBI total to 14. Bednar then stole third and scored on a Maxwell Costes sacrifice fly.
Meanwhile, Dean kept cruising into the sixth. Though he walked two hitters with two outs, the freshman gutted through the inning. He got Lane to ground out to Cowles, ending the best outing of his young career. In six scoreless innings, Dean struck out six and walked five.
With Dean out of the contest, Bryant tagged left-hander Ryan Ramsey. The freshman did not record an out in the seventh, surrendering three singles before being lifted for Elliot Zoellner.
The Bulldogs got on the board on a passed ball, while center fielder James Ciliento stroked a two-run single to right field to cut their deficit to four. But Zoellner settled in after that, ending the inning by freezing Gaby Cruz on a breaking ball.
Leading off the bottom of the seventh. Brenton Davis responded. The junior college transfer launched a solo home run to right field for his first hit as a Terp, giving Maryland a five-run lead.
Zoellner held the game down from there, tossing a spotless eighth inning and getting out of a bases-loaded situation in the ninth by inducing a game-ending double play to clinch the series victory for the Terps.